Preparing for a baby to come?! Today we are sharing 5 registry must have items to add to your list!
Preparing for the Twins!
We are currently 32 weeks along now in our twin pregnancy! Before we move we have wanted to make sure we have everything ready for the girls so we can focus on unpacking and enjoying the new home! There have been a few items on our checklist we have been needing and now that we have them we are feeling more ready for the girls to come! Today we are so excited to share with you 5 of those checklist items and why they are a must for your baby registry!
Floor2Table 7-in-1 Highchair
How cute is this Graco Floor2Table highchair?! This highchair is not only super innovative and grows with your child, it's super cute too! Even though we are moving next week, I couldn't resist ripping open this box and putting the chair together! I had seen this highchair online and thought it was pretty cool and wanted to see how it worked!
The neat thing about all of these products that we are sharing with you today is they are all products that grow with the baby and family as they grow. It's pretty neat, and saves on having to buy multiple items in the future.
This highchair is pretty innovative with 7 growing stages from an infant floor seat to a big kid table and chair. The seat pad is stain-resistant and machine washable. There are 2 trays, one which is snack size and a full size one as well that has a dishwasher safe insert. Plus 3 reclining positions! Pretty neat huh?!


Modes2Grow Stroller
If you are looking for an affordable stroller that will grow with your family, the Graco Modes2Grow stroller is the perfect fit for your family. This stroller can grow with your family by attaching an infant car, infant bassinet, toddler stroller, and even turn into a double stroller. It starts out as a single stroller and adapts to become a double stroller to grow with your family. The nice thing too is this stroller is made for children up to 50 pounds!
Pack 'N Play Newborn2Toddler Playard
We had gotten one Graco Pack 'N Play at our baby shower, but everyone was telling us with twins, we would want to get two of these since we are having two babies! It was so nice getting a second one and getting that marked off our checklist! This Newborn2Toddler Playard is super neat how it grows with your child. It comes with a bassinet that can be raised to different positions , a travel bassinet that removes from the playard and even converts to a toddler cot for a 'big kid' bed. Also includes a portable napper with 2-speed vibration to soothe baby, diaper change with easy wipe-clean fabrics and more! All of the accessories quickly remove from the playard to for easy portability too!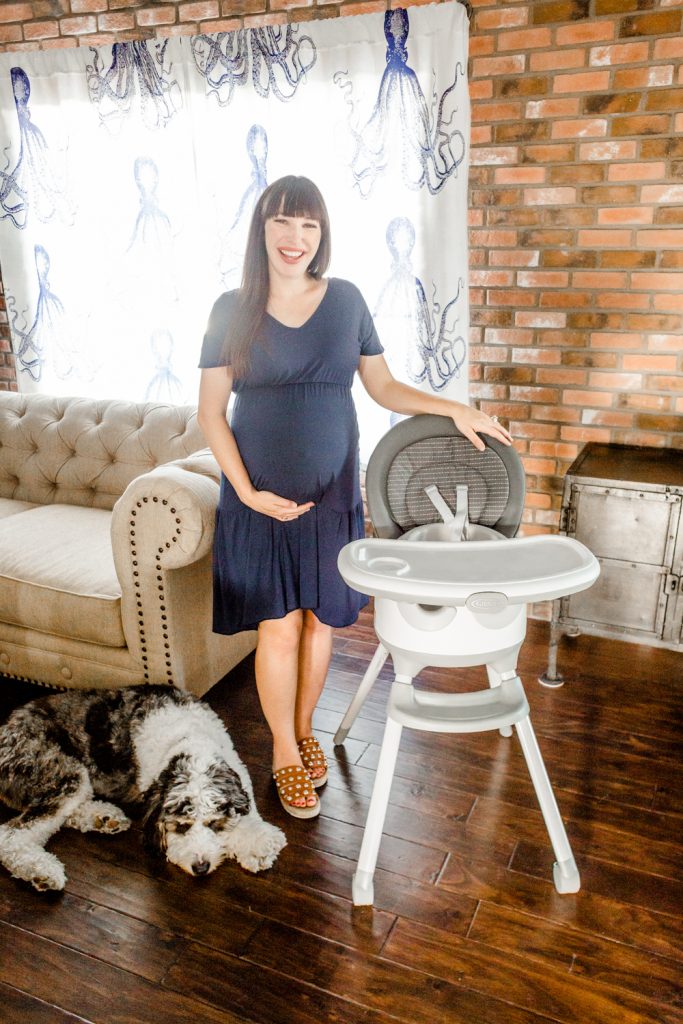 SnugRide Snuglock 35DLX Infant Car Seat
This car seat is for Rear-Facing use only for babies 4lbs-35lbs and up to 32 inches. The SnugRide Snuglock 35DLX has a detachable base so you can easily click in your carseat to your stroller.
Sense2Soothe Swing
The Graco Sense2Soothe Swing has some neat technology to help your job as a parent! The swing has Cry Detection Technology that responds to baby's cries to soothe him or her. It is actually the only Cry Detection swing on the market as of now. There is eight soothing motions that mimic how mom would naturally move. You can also remove the seat as a portable rocker to use throughout the home. There is also three reclining options, three swing speeds, in addition to 15 songs and sounds to fit the baby's preferences. It also comes with a toy mobile that is removable, which I love because when the baby is just little I'll want to look at them and see their cute face!
Well… that's a wrap on todays blog post! Thanks so much for stopping by today! Have you had a chance to try any of the Graco top 5 Registry items?!

Thank you Graco for sending us these fun 5 baby registry must have items to try out for our baby girls! We can't wait to put it all to good use! As always, all opinions are our own 🙂
To learn more about the Graco Registry Collection, click here. #GenerationGraco #GracoRegistryCollection