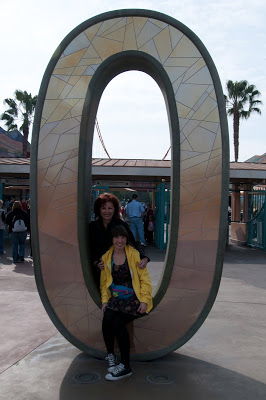 Disneyland is the happiest place on earth! We got to go for 3 days! So lucky! The first day it was Mom, Jake and I. We all had a blast being able to spend time together.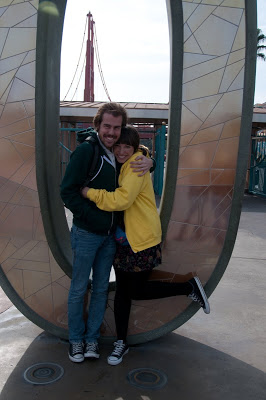 This is Jakes first time at California Adventure! Excellent.

No lines! Yes I was genuinely this excited. About to get on Soaring over California.
Mom and Jake. We were getting ready for the toy story 3D shooting game.
Mom and I thought we did really good on the game until we found out Jake got over 100,000.

Getting ready to watch a bugs life! I forgot how scary the 3D show was! Bugs stinging you, and crawling underneath your seat! So much excitement in a short period of time! Inside they had the cleverest signs for "bug movies" coming to theaters, and the neatest 3D bug eyes!

We never noticed, or they put up a whole new area of California adventure with kid rides. We went on the caterpillar ride and got to smell yummy animal circus cookies and watch the catipillar eat candy corn and everything in site. It is so cool how they can put scents in rides and you can smell things; usually yummy things.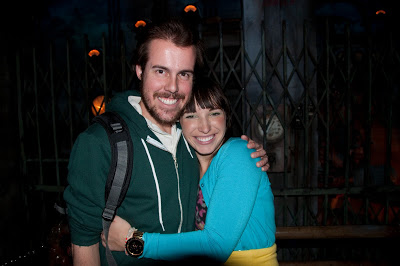 Just about to get on the Tower of Terror. This could be intense and scary.

Make sure to hold hands on all of the rides to be safe. We all really enjoyed seeing this sign everywhere. I like the people hanging out of the seat.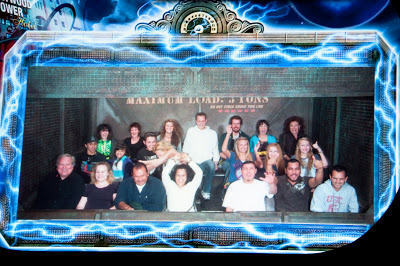 Check out my mom in the back corner. She is holding onto the railing so tight. The first drop on this ride gets me every time because you have no idea when its going to fall. INTENSE.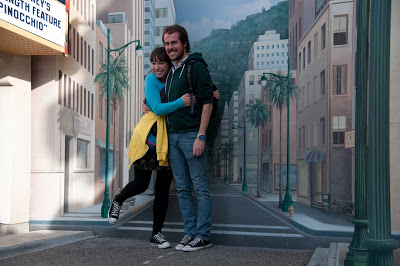 Big people in a little world.

Just getting ready to watch the street dance show of High School Musical 3 class reunion. Mom and I are eating a Carmel apple, and goofy sour gummies. Jake really wants to watch all the High School Musical Shows now!

Thought this man in the yellow sweater and his family were super cute. Disney, bringing families together.

Waiting in line to get our picture at the front entrance of DISNEYLAND! with the mickey flowers!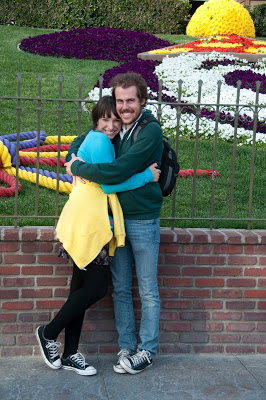 Hey mickey your so fine, your so fine you blow my mind, hey MICKEY! Check out Jakes feet in most of the pictures. He is always doing something cute with them.

I have the cutest mom ever! She is the best for taking us to Disneyland! and California Adventure!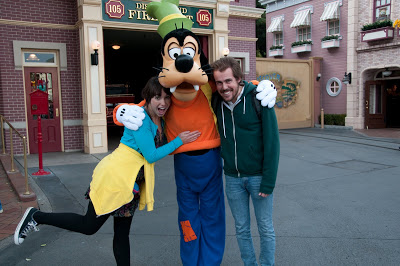 Goofy! Its really him!!!!!

My favorite Indian man, who I must always get a picture with!

This is the first time I have ever seen Aladdin or Jasmine at Disneyland! So lucky!

Climbing threw some caves and small crevasses to get onto the Indiana Jones rides!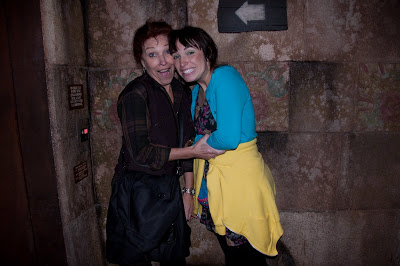 We lost our way to the ride so we got to take the secret elevator! wahoo! It has always been a dream of mine to take it! Best day ever!

Sadly, Jake didn't fit on the ride because we went single rider line, so mom, Indiana and I toke off for the adventure ride. Live long and Prosper.

Who knew a live elephant and alligator would just be hanging out at Walters home.

R2D2 backpack! This happened to be the only one on Disneyland, and we happened to get it! Now we keep all of Jakes R2D2, and Star Wars little toys in it. Perfect! I really wanted to get the Yoda backpack, but I just couldn't pass up getting R2D2.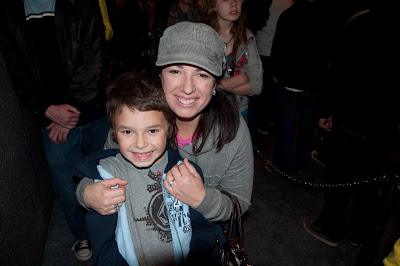 Bryce got done with school so him and Amber came to meet up with us and play at Disneyland! This was so awesome because we didn't think they were going to be able to make it! They were so much fun to play with and have there! In this picture we were waiting in line for Space Mountain. This was our first line we really had to wait in, for an entire 20 mins. We lucked out and went when there were no lines all day long! A great time of the year to go, and fantastic weather to!
Disneyland
Fall/Winter