I love Dinseyland! It really is one of my favorite places ever! Well this trip was exciting because it was My mom, Jake and I, and Jake parents and his brother Cameron. Jakes Dad and Cameron have not been to Disneyland for many many years, and have never been to California adventure! So we started the day off at California Adventure! Tuna brought Andrew. This was his first time to come to Disneyland to!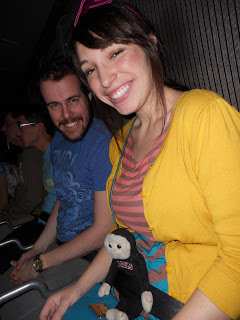 After we grabbed our fast passes for World of Color, we headed over to our first ride of the day, "Soaring Over California." I love the smells on that ride! We even got to sit in the middle on the front row! Best spot!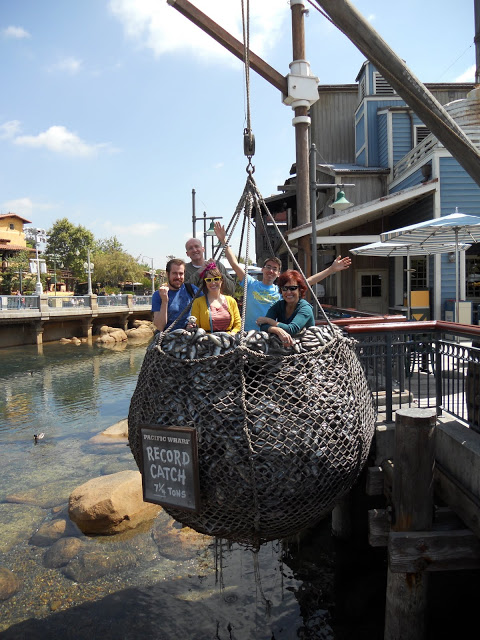 We are all fish.
Getting ready to ride the Toy Story 3D shooting game. This is one of our favorites! My mom even got the recored score for the day last time we were at California Adventure( and it was night time)! Go mom!
Jake and I's score. He barely beat me this time!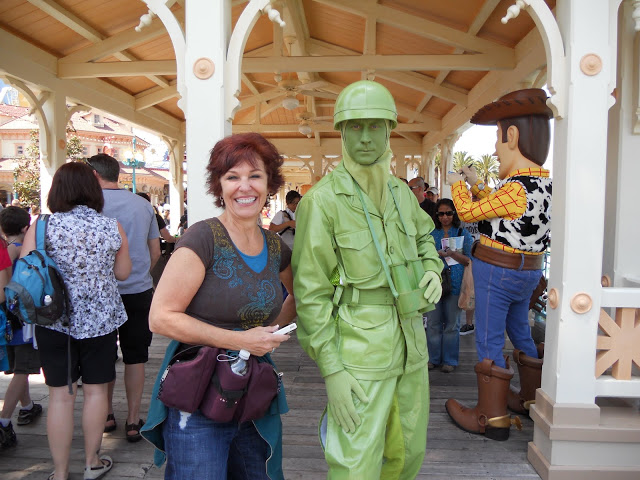 I have never seen so many Disney Charters out as we had this trip! Every where we went we saw them all over! Here is cute mom and a Toy Story Solider. Every corner I felt like there was a character! Even Rapuselle from Tangled was here!
California Screaming.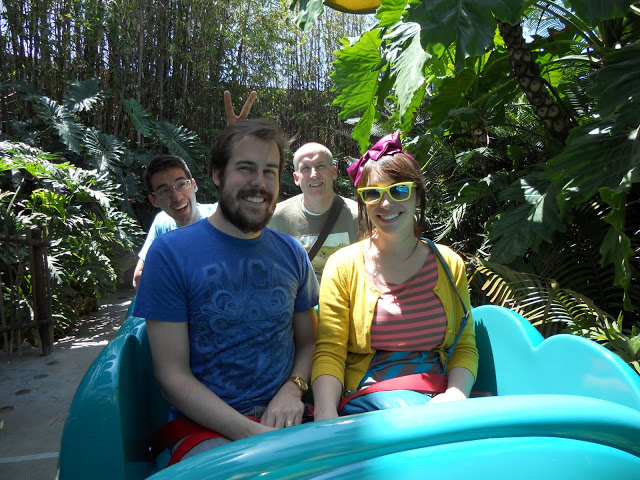 The Bugs Life world is way to cute! We love riding the caterpillar and joining him while he eats a variety of foods. "Yumm.. CANDY CORN!"
Ok, have you ever seen the Aladdin Broadway play here? It is fantastic! I have already seen it and loved it, and we all went and saw it and it was even better this time! It is a great show! Highly recommend to go to it! Here all 6 of us are in this phone both. Because of the glair and sunlight you cant seem my mom or Jakes dad.
The Bugs Life movie "Its Tuff to be a Bug" is always scary and cute. Mom and I always get a picture by this lady bug leaf every time we come to Disneyland!
Things we love about Disneyland….THE FOOD!
Hollywood Tower of Terror. With the new drop sequences this ride is intense.
Oh the sour dough bread bowls are always amazing! Never disappointing! After a great day at California Adventure, we headed over to Disneyland!
I love how they did an old fashion mickey in the flower beds!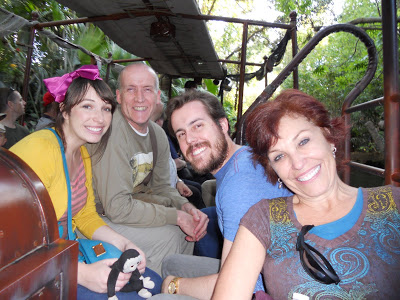 We love the Jungle cruz!
Thunder Mountain! Try riding this at night time! I thought I new this ride down to a T, and riding it at night time made it a whole new adventure! Such a blast!
I swear they keep coming out with the cutest mickey ears.
Nice Cameron……haha Mom and Cameron wanted cotton candy!
Waiting to ride Autotopia! My mom is so cute!
Tuna feels so cool because Jake let him drive the whole way. He did a great job.
After some fun rides at Disneyland, we grabbed the best corn dogs ever and headed back over to California Adventure to see the water show "World Of Color!"
The water spectacular is huge! I think one of the coolest parts is when the flames come out and make the whole area warm! Rad!
After the water show we went to a kids play area! It was a blast! We even got to see a great view being up high on the play ground of the fire works over at Disneyland.
Playing in the squirrel cage. You would run threw a rope obstacle course! It was fun!
We even got to do some rock climbing!
My rock climbing skills are out of shape.
and to finish the day…we got to race out of log tubes! Cool! After a wonderful day, we headed back home to get some good rest to wake up bright and early again! We love Disneyland!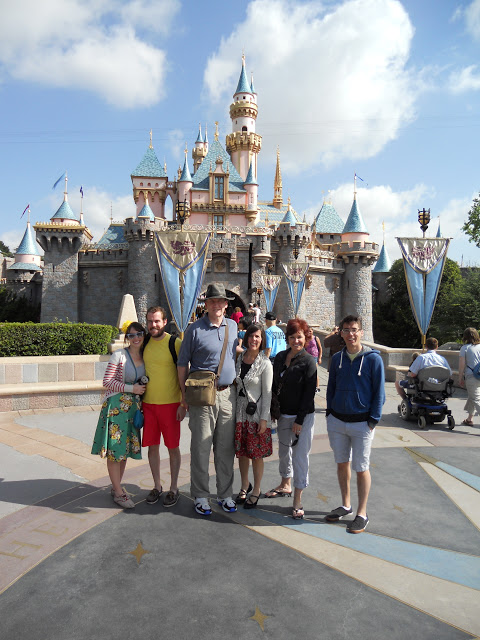 Day 2: A whole day at Walters!
The flowers were so beautiful! All around Disneyland was bright and colorful flowers! Spring is in California!
To start the day off, we got to ride the Peter Pan ride!
Although we were in a tea cup, we didn't ride the actual tea cups. We were all to scared.
Inside the Finding Nemo Submarine Ride.
Getting ready for take off underwater!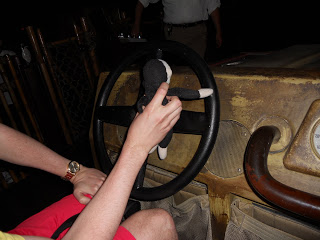 Now that Tuna has great driving experience from driving on Autotopia and always sitting on my lab driving around, he was ready to drive us all threw the Indian Jones Ride.
We saw Peter Pan! He was hopping up and down on benches and rolling around. It must of really been him.
My mom and I have always wondered what this place was….and we got to go see! Dad wanted to have a big lunch before him and Cameron had a plane ride back to Utah. I think this defiantly was a big meal.
Fun jar cups! While we ate a yummy meal, we got to hear great tunes from a Banjo player, singer and piano player.
All you can eat chicken and ribs meal! Well after this, Jake and I took Cameron and Dad to the airport. Mom's played on main street and did some shopping. They had fun walking threw all the shops.
When Jake and I got back, we got some ice cream and then met up with our moms in Tomorrow Land!
Rabbits house.
Memory lane. I have a picture of me in this door, because I was the size of this door. I had a shirt with 6 large different colored smiles and stripped spandex and a high pony tail and a cool jean jacket. Isn't it funny the things we remember?
Isnt it funny how you think you know Disneyland and you continue to find new things?
Jake tried a mint julep which was a mint leaf and lime drink. It was yummy!
Mama Harris got a funnel cake!
While we ate we got to enjoy some fun jazz music from "The Bachelors."
Cutest carmel chocolate apples!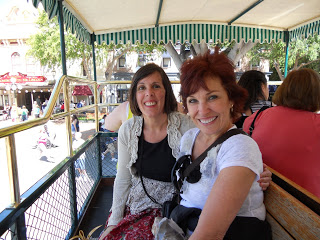 Taking the tram for a ride around. A nice break to sit down!
Finally found a hat big enough to fit dad Harris's head. To bad he left before this happened!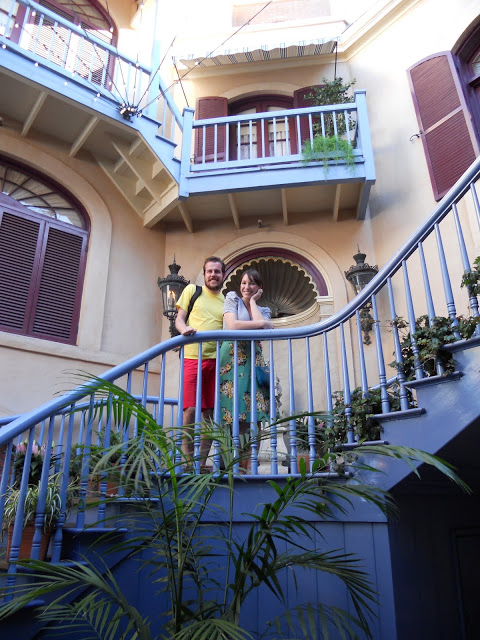 Hanging out in New Orleans.
I love how she is evilly looking into the camera. Fabouls!
Best score I have gotten yet of Buzz Lightyear ride! It may have been because the ride stopped on the middle of the ride for about five minutes so I kept racking up points on the same target getting double points. But lets not tell anyone that.
Mickey Pretzels!
With Pirates 4 coming out they had a special preview for it! It was a big theter they made with fire, skeletons, and crazy talking pirates! It was awesome! We got to see a few scenes from the movie! You know I am seeing it now when it comes out! And get Disney movie Points from it to! Heck Yes!
Johnny Depp came to tell us about the movie to. After the Pirates 3D preview we got to go watch the firework! I am not going to tell you about our secret spot we found that we were under Tinker bell flying and got to see fireworks all around us, but it was amazing! Ok, we were sitting on the rocks by the Dumbo ride. Lets just keep that our secret though because that is a magical spot to see everything from the amazing firework spectacular!
This was an amazing trip! I love Disneyland, and even better to go with family! I hope to go again soon! Thanks families for a great time!
Disneyland