Hello friends! Here is a tutorial on some Burlap Christmas Stockings!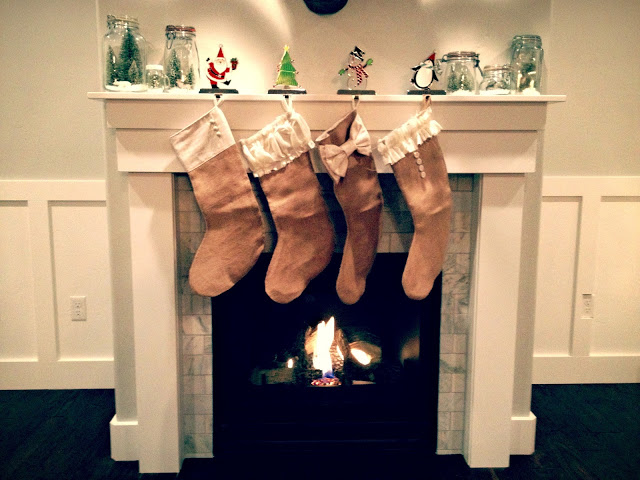 Heres the 2 stockings we will be making today!
Lets get started with making stockings! 
For 4 christmas stockings:
*1 and a 1/2 yards of burlap (available at Walmart, Joanns, fabric stores. (
burlap comes in lots of fun colors
)
*2 yards of a thick white fabric (or what ever color you choose) for borders around stocking and inside lining. If you opt out the lining you probably would only need 1/2 a yard of fabric.
*scissors
*sewing machine
*optional….buttons or other creative ideas you have to add to stockings.

1. Get your supplies together
2. Cut out your pattern for a stocking. I used a sock and made my pattern off of that, but if you don't want to do that I am working on a download-able pattern and it should be posted in a few days (hopefully)! Cut out how ever many burlap stockings you are going to make. If you are making 4 stockings you will need 8 burlap stocking pieces.
3. Cut out the white fabric by tracing one of your burlap stockings. This will be your lining inside the stocking so it looks like you have nice seems and the inside of the stocking will not be itchy.
4. Use your left over white fabric to cut out what you want to decorate your stocking. For a traditional stocking, cut a two pieces of fabric the width at the top of your stocking and the length you want it to come down (plus a little extra for sewing a seam).
*Make sure to also cut a 2inch by 4inch piece of white fabric for each of your stockings to hang by. So if you are making 4 stockings, for 2inch by 4inch pieces.
Now all your cutting is done! Lets move onto sewing!
-I used 1/4 inch sewing seams on the entire stocking.

5.
Take your two top white pieces and fold each of them pretty side to ugly side about half an inch and sew a seam. This way when you flip the pice of fabric over on its pretty side, it will have a nice seam and look good on the stocking. If you made a toe piece, fold over the right side of that so it will have a pretty seam when it is done to.
6.
Now flip over your two top stocking pieces to the pretty sides and pin them to the top of your stocking. Sew around the squares. If you made a toe piece sew that on to. Make sure to not sew the squares on the same sides of the stocking, do them like the picture above so the top white part will be shown on the outside of the stocking no the inside.
7.
Take your two pretty sides of the stocking and put them together so the all red/ugly side of the stockings are on the outsides. Pin the stocking together and sew around the edges! But don't sew the top together, or else you will sew your stocking closed.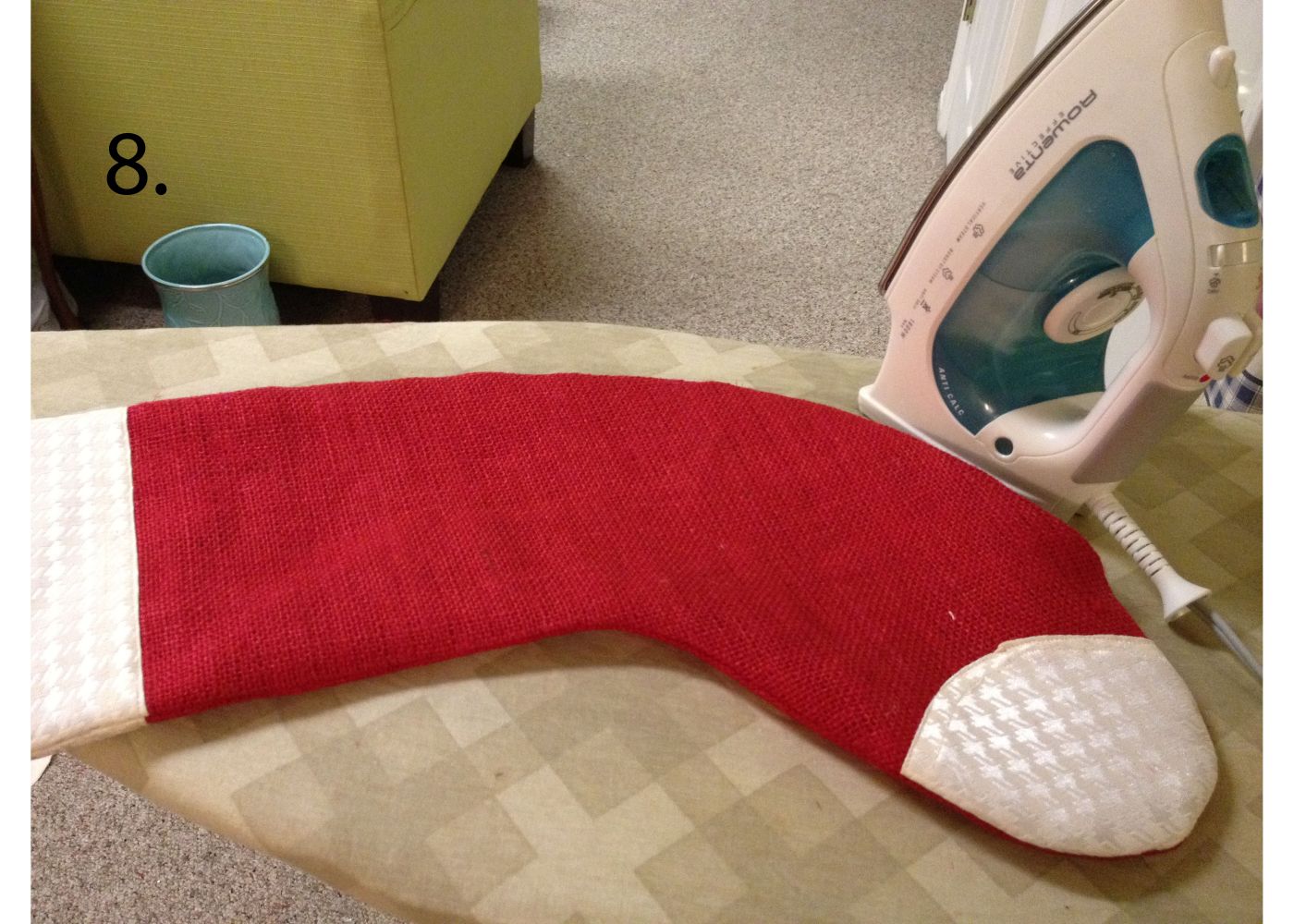 8.
After you sew around your stocking, turn it right side out and iron all the seams flat. This will help your stocking have a nice crisp look.
Now you are half way done!
*If you are

not lining

your stocking, this is where you fold over the top of your stocking (the opening) and fold it over half and inch and sew around it, and then put on a loop so it has a nice clean edge on the top of your stocking.
Make a loop to hang your stocking!
*you could choose not to do this option and not have a hanging stocking, or use some type of yard, tweed, or something else to sew a loop on the right side of you stocking to hang it by.
9.
Take your 2inch by 4 inch piece of fabric.
10.
Pin that fabric in half long wise ugly sides together. Sew around the piece leaving one small end open.
11.
Flip your piece of fabric right side out. I used a screw driver because the loop is small.
13.
Fold your loop in half and sew on the right side of the stocking.
Lining the inside of your stocking!
14.
Take your white fabric for the lining of your stockings and pin pretty sides together. Then sew around the stocking, leaving the top of the stocking open.  DO NOT FLIP this part right side out.
15.
Put your burlap stocking pretty sides, inside the lining (white fabric).
16.
Pin around the top of the edges leaving a 3 inch gab not sewn. (this is where you will pull the stockings out right sided. Sew around the top. Make sure to leave your 3 inch gap.
17.
Flip your stocking so all the right sides are out. This takes some time trying to get the stocking though the 3 inch hole you left in the top of the stocking. After you got your stocking, with both sides flipped out and are the pretty sides, push the white lining, into the burlap stocking.
18.
Pin around the top of your stocking for one last step! Where you have your hole, pin it into itself from both sides so you don't see any seems and pin it.
19.
Sew around the top of the stocking to finish it off with a nice look! Then iron one last time to get the stocking looking great!
Now you are done with your cute stocking!
Hang it to enjoy! Or hot glue gun a couple buttons down the right side of it to add a cute touch! Way to go! You finished 🙂
If you want to make a
bow
for your stocking, cut out two 8 inch by 18 inch strips. (I would look online for a bow tutorial that is more clear that this…:) sorry, I am not to great at explaining…
1.
Fold both of your strips in half, pretty sides together and pin it. Sew around the strip leaving one of the smaller sides open. Turn each strip ride side out and iron.
2.
Take one strip and fold it in half.
3.
Then fold the other side in half so it is overlapping a little bit the other side folded over. Then sew those pieces down the middle so they are secure.
4.
Next make your bow shape and put a pin through it to hold its position. Then put the bow aside.
5.
Next put your second strip of fabric across the top of the stocking. Cut it one inch longer on each side of the stocking so you have some wiggle room to play with. Then take that extra part that is not being used on the fabric and make it into a loop and fold around the bow and the strip you have laying on the stocking.  Then sew the back of that loop so the bow is secure. I even hot glue it for extra measure of security. Then pin the sides of your bow to the sides of the stocking and sew it down.
*
Then you will sew pretty sides of the stocking together, turn it right side out, iron it, sew the loop on the right side of the stocking, and do your lining!
Now you are done! Hope you enjoy your stockings! I probably left out a lot of information because it is hard to make a long tutorial, so if you have any questions please feel free to leave a message on this blog with a way to contact you back, or email me at kelseybang(at)yahoo.com 
Thanks for stopping by!
Christmas