Thursday was our Day 2 in Seattle! We had a fun day planned out and ready to party! We had no plans when we got to Seattle, but ended up filling our days with tons of stuff we wanted to do around the city. We ate breakfast at a place called Specialty's Cafe and Bakery that was right across from our hotel entrance. Jake and a sort of chocolate roll, I got a bacon, egg, cheese breakfast sandwich! YUM!
Then we headed over to Troll bridge. Jake really, really, really wanted to see this! We were both shocked to see how huge the troll was! We didn't realize how big he was. He really was a troll!
We didnt walk behind him because there were alot of people living behind him….
Jake and I also purchased City Passes this day! It was the best choice ever! All the places we wanted to go were on the city pass, so we got great use of it! It was $69.00 per person for a pass, with 6 places of entry tickets. Totally worth it! Each place we wanted to visit was $20 or more, so this pass was great! I would highly recommend it! You can pick up one of these passes at any place that excepts CityPass.
Jake and I's first thing we really wanted to do in Seattle was go to the Zoo. We got tons of pictures from that so that will be a separate blog post! It was to much fun!
Driving back to the city from the zoo. The zoo is only a 10 minute drive from the city and totally worth it! It was our favorite museum/exhibit/place we went to on our entire trip!
Jake and I found some fun things on our walk over to go to the Pacific Science Museum.
Always have to stop and get some treats!
Can you see how the top of the Space Needle is orange? Well the owners painted the Space Needle that orange color (really called Galaxy Gold) to celebrate 50 years the Space Needle has been open. They built the Space Needle 50 years ago for the Worlds Fair taking place in Seattle. The needle was going to be ripped down after the convention but the city member petitioned for it to stay because they liked it so much. The needle ended up being bought by some private investors who still own it today. When the needle was built, it was a guess of what apartment buildings would be like in the 20th century. Funny huh?
At the end of our walk, we came to our destination at the Pacific Science Center! Wahoo! More pictures for this adventure to come soon! We had fun seeing a laser light show, an imax movie, king tut exhibit and the Science center itself!
After our fun time at the PSC we went across the way to the Space Needle to go see a nice view. More pictures to come from that later as well 🙂
After a long day of walking…we were exhausted with hurt little feeties. Luckily there was a metro to take us right back to our hotel from the Space Needle. We were more than happy to pay the $2.25 fee to ride!
We saw a candy shop when we got off the Metro. Of course candy calls to stop and eat some!
Walking to dinner..down to the water front.
For dinner we went to Ivars Acres of Clams. We heard from many locals it was amazing and a must go to! Jake and I thought it was good, but bummed it was not as tastey as we thought it would be. I dont mind spending money for food when it is amazing but its a bummer when you food is $35 a plate and not super delicious. Dont get me wrong it was great! But…just not my favorite flavor mixes with my fish. I got Bacon wrapped halibut. With the fun environment and for a taste of Seattle, I would say try it out.
Jake got grilled salmon over a cucumber, mint, tomato salad. His was good, but he felt the same way.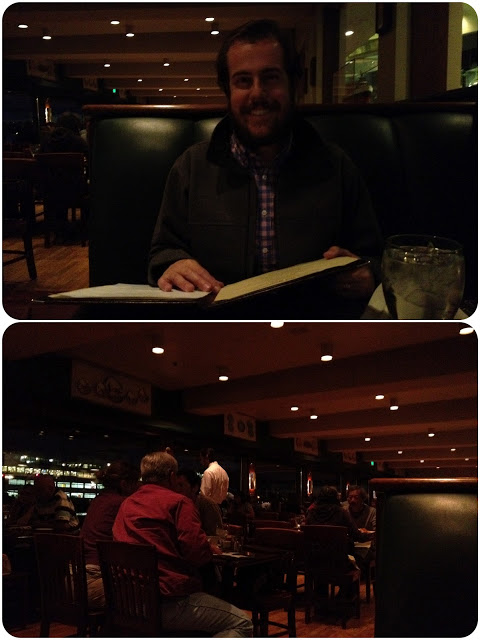 The Restaurant itself is pretty neat though, and worth the money for dinner. Its right next to the water, and a neat environment.
After dinner, we hung out in the gift shop next door and had fun looking at things. Then we walked back to our hotel for a good nights rest!
Seattle