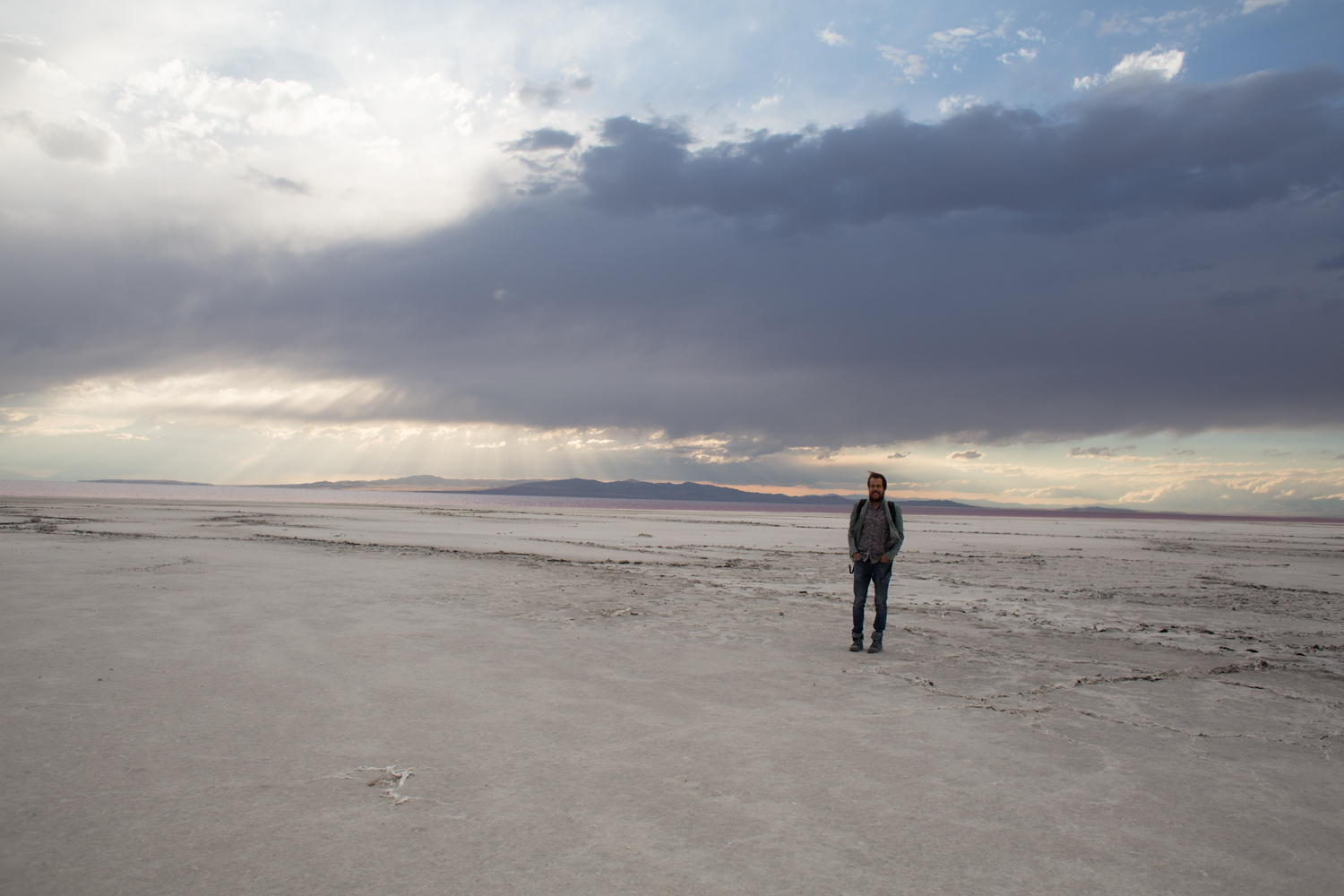 HIS LOOK
HER LOOK

Isn't this pink water beyond cool?! I didn't color correct any of these photos because I loved them raw just how they were! I still can't get over how pink the water was! When we were out exploring, we felt like we were on another planet or in a cool sci-fi movie. I need to find out what makes the water so pink, but I think the combo of the storm rolling in, and the white salt intensified the color even more! If you ever get a chance to visit here, DO IT! It is beyond magical and feels like a slice of heaven in the middle of nowhere!
ABOUT THE SPIRAL JETTY:
The Spiral Jetty is an art piece out in nature. It was designed by Robert Smithson and completed in 1970. The spiral is made up of black basalt rocks, is 1,500 feet log and 15 feet wide winding counterclockwise off the shore of the water. Depending on the water level the spiral can be covered by water, or exposed. If you care how you will see it, make sure to check the water levels before you go on google maps!
LOCATION:
The Spiral Jetty is located about 45 miles outside Brigham City, in Utah at Rozel Point on the Northeastern shore of the Great Salt Lake. It is right next to the Golden Spike National Monument! If you have extra time, or have all day to explore, make sure to go check out that historic site too! It is $7 per car and I heard they have restrooms there! We were just driving through the area and got to the Spiral Jetty late in afternoon so sadly we didn't make it over to the Golden Spike! To go to the Spiral Jetty there is no charge.
You can find step by step driving instructions
HERE
. Make sure to screen shot these directions to your phone or pay attention following the signs because your phone GPS internet will most likely cut out. Ours did!
We you arrive to the Spiral Jetty, there is a small parking lot. You will be driving a good 25 miles on a bumpy dirt road. If you have a 4 wheel drive car, we would recommend taking that. A small car would probably do just fine if you drive slow and the weather is good, but 4 wheel drive can be really helpful!
COST:
None! How cool is that?! It does not cost anything except your car miles, gas and time 🙂
TIPS:
-Pack treats, food and water. We always make sure to have some sort of food with us when we are out and about because you never know when you will get hungry and need something to eat. There is also nothing close to grab a quick bite to eat or go through a drive through. If you want a meal, the closet places to eat are 45 miles away!
-Have a full tank of gas. Once you are out there, there is no place to get gas. The last place to get gas is in Corinne so make sure to fill up there!
-Dress accordingly! We knew we would be playing in the water so we made sure to bring shoes that could be thrown in the wash or just wipe off! You can go swimming in the water so bring your swimsuit if you know you will want to jump in some magical pink water! (It's not always this vibrant pink but should have some pink hues. The storm rolling in helped make the water look brighter.)
-If you need to go to the restroom before or after your visit to the Spiral Jetty, make sure to go at the Golden Spike National Historic Site Visitors Center. They do not charge to go to the visitor center and use restrooms. They have a sign to that says last call to use restrooms.
-If you plan on playing in the water, or walking in it, bring a spare pair of shoes! You don't want to have to drive home or to wherever you are going with super stiff clothes and shoes after they dry. Plus it will get your car super dirty! It is really salty, and by really salty…. its intense! Jakes pants looked like they were stone washed after playing in the water, but all the salt rinsed out just great in the wash. We brought garbage bags and just tossed our shoes in them, and wore spare shoes to drive home in.
-It can get super windy so bring a jacket, especially if you plan on spending time by the water! It can get chilly!
When we left, Jake snapped a picture of the sunset and a rain drop fell on the camera lens. When we looked at the camera and saw this was the picture from it, we both thought it was pretty rad 🙂 If you want to see more the Spiral Jetty, or how pink the water really was, heres our
VLOG from the day
!
Dresses
Eliza J
Floral
Salt Lake
Spring
State Parks
Summer
The Great Outdoors