I LOVE holidays!!! I told Jake I really wanted to have a Halloween party and he was all for it! I was so excited for it, I think I bought everything for it all two months ago 🙂 We decided to have a dessert party and have some fun games! Here is the treat table! I had a lot of fun making all the treats!
Jake cut out most of these spider webs! He did such a great job! I liked this spider to!
Here are the drinks and supplies!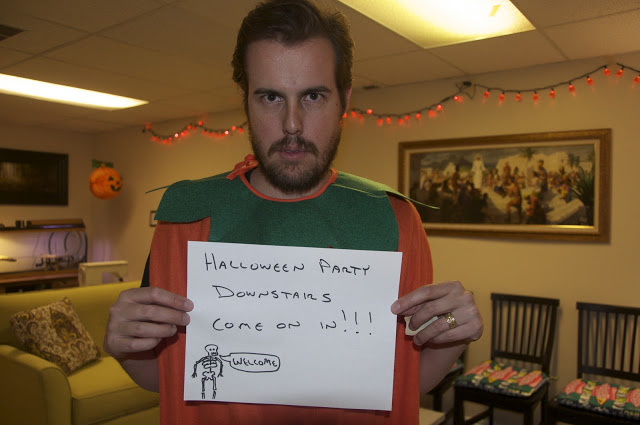 Jake did a great job making a sign to put on the door! I like his skeleton man.
Now to the games…
We had Scooby Doo playing in the background and Halloween music playing in the kitchen. By the end of the night we all watched "Witches." That movie is still scary and creepy even though it was an 80's PG movie! Tuna and Shi Shi were excited for the party to begin! Tuna was hoping he would win the costume contest.
Jakes parents were cute and stopped by the party before it started. They couldn't come because they had tickets to see an opera at BYU.
Megan and Jake! Cheers!
Allan and Robbie in the background!
Sandy and Allan looked really good from behind! I was cracking up at them playing pumpkin bowling!
Nicole and Josh Snow. They became the bean bag toss experts! I can't wait to snowboard with these guys this year!
Jamie (Stacey's cute sister), Aaron, Rachel and Stacey (Stacey's cute sister Lindsey also came to!!)  Isn't Aaron's dolphin outfit awesome?!
Josh, Nicole, Sandy, Allan, Jake, Kelsey, Stacey, Steven! Thank you so much to all who came to the Halloween party! I had so much fun visiting and seeing friends! I love Halloween! I can't believe October is almost over 🙁
Halloween
Parties