HER LOOK
Fur Vest: Linda Richards | Blouse: Equipment | Snakeskin Print Pants: Hudson | Leather Clutch: LumillaMingus   (All these items were from the 
Montage Pique Store
)
HIS LOOK
Sweater: Under Armour | Shirt: Robert Graham  | Corduroy Pants: Bugatchi
Recently Jake and I had a chance to visit one of our all time favorite resorts, the Montage Deer Valley Resort!  We checked out their boutique called Pique and had so much fun looking through the store and creating spring His and Her looks!  We also got to visit our favorite pup Jonas, so that was quite the treat! He is such a sweet and polite pup!
We loved that Pique carried a lot of our favorite brands and we were able to learn about new luxury brands as well!  We picked out two more outfits from the Montage Deer Valley Resort Pique store and can't wait to share the rest with you soon 🙂
Today we were excited to share with you some of our favorite Spring 2015 Trends!  Jake and I each wrote a little segment about our outfits and our favorite trends below.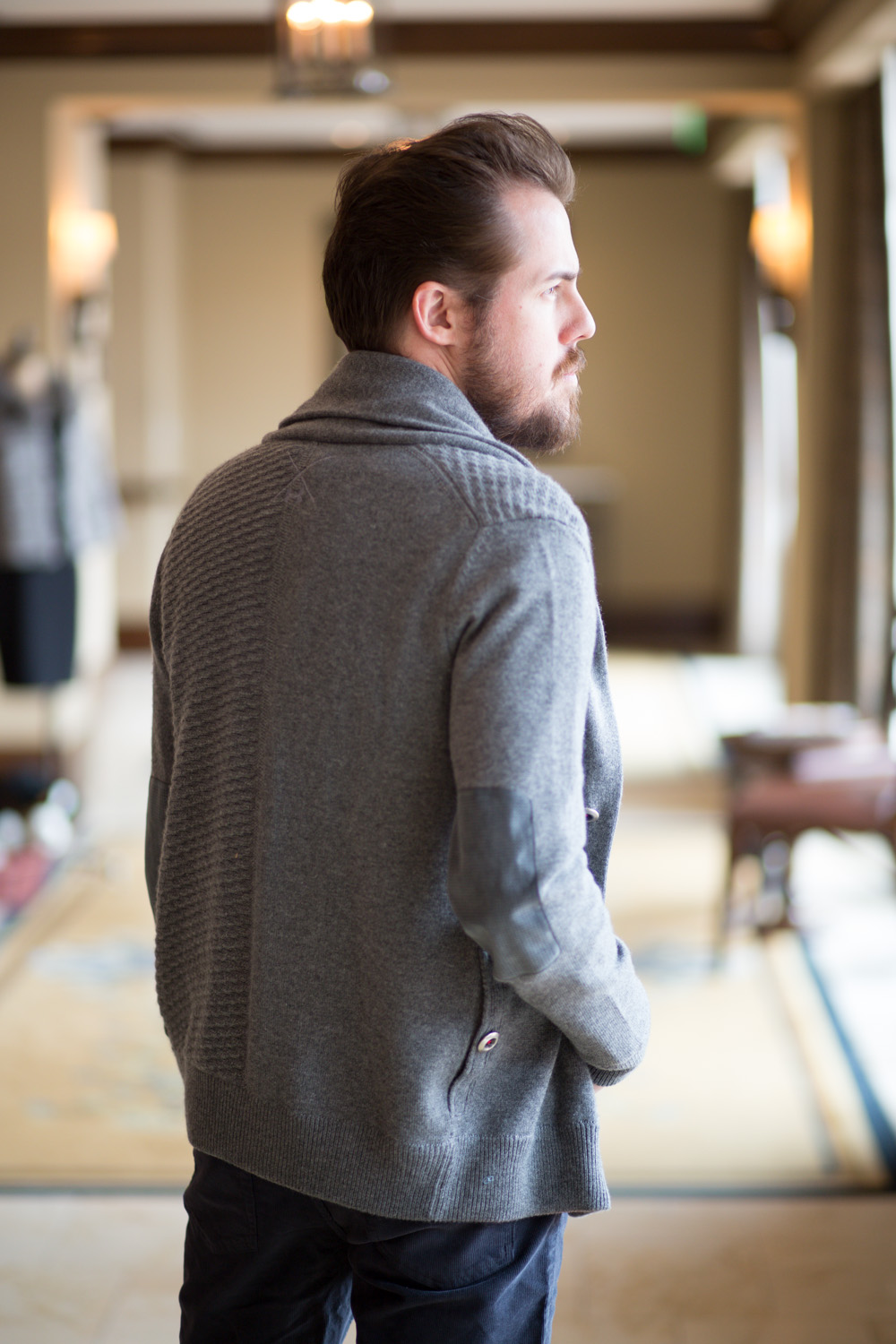 FROM JACOB:
I've always loved spring time.
The air is still brisk and not too hot. As nature becomes more vibrant I find splashes of color working their way into my wardrobe.
The Pique store at Montage Deer Valley had me covered this trip up to the mountains and I was able to find these amazing pieces right on trend for spring fashion.
Spring is always the perfect time to start mixing in fun colors and I don't think that will ever change.
You can't go wrong this season with floral prints and I especially love this Robert Graham button up.
The hidden pops of floral are just enough for my taste without being too bold.
I loved the hidden glimpses of print inside the collar and especially the cuffs themselves.
This shawl collared cardigan from Under Armour was a surprising find for me.
I had never seen their luxury line which I discovered is only being sold at Montage Deer Valley resort and possibly one other location in the US.
The woven cashmere felt comfortable and luxurious.
The hard lines, contrasting textures and elbow patches still stayed true to the active-wear brand Under Armour is known for.
I also liked seeing the bold pop of red on the inside layer.
I've been seeing a lot of active-wear making its way into mainstream fashion and I love it.
The blue corduroy Bugatchi pants offered great fit and comfort, giving my outfit another layer of texture that I paired with my walnut colored wing-tips.
FROM KELSEY:
This spring there are so many trends I'm excited about and have been wanting to incorporate into my wardrobe.  I love how spring time is the perfect time to try out new trends and bring some color and unique prints back into the wardrobe!
Some of my favorite women's trends for Spring 2015 are gingham, culottes, statement stripes, out-of-the-ordinary animal prints, sporty athletic wear, high collar neck lines, subtle 70's, colored suede and fringe.  I love that with any of these trends you can either wear an outfit head to toe in any one trend, or start small by incorporating just bits and pieces like a fringe handbag or a tasseled shoe.
I recently had the pleasure of visiting the Montage Deer Valley Resort and spent some time in the Pique store.  I loved seeing the unique items they got in for spring time.
I put my entire outfit together with items they had on hand.  I loved how easy it was to navigate the store and find the perfect pieces to make a complete outfit.
One trend I particularly like for spring and wanted to incorporate in my outfit today, is black and white. Black and white for spring time to me is very unexpected yet welcome.  I paired a jewel collared blouse with a long fur vest.  Living in Utah, I find myself pairing winter accessories during spring time to help transition my wardrobe.
 I love that wearing simple black and white allows you to have fun with other pieces of your outfit.
When I saw these snakeskin print pants from Hudson, I fell in love with them.  I felt that by pairing these pants with the black and white on top, more focus would be on the snakeskin print and neat zipper detailing.
Cities
Faux Fur
Montage Deer Valley
Montage Hotels
Park City
Spring/Summer