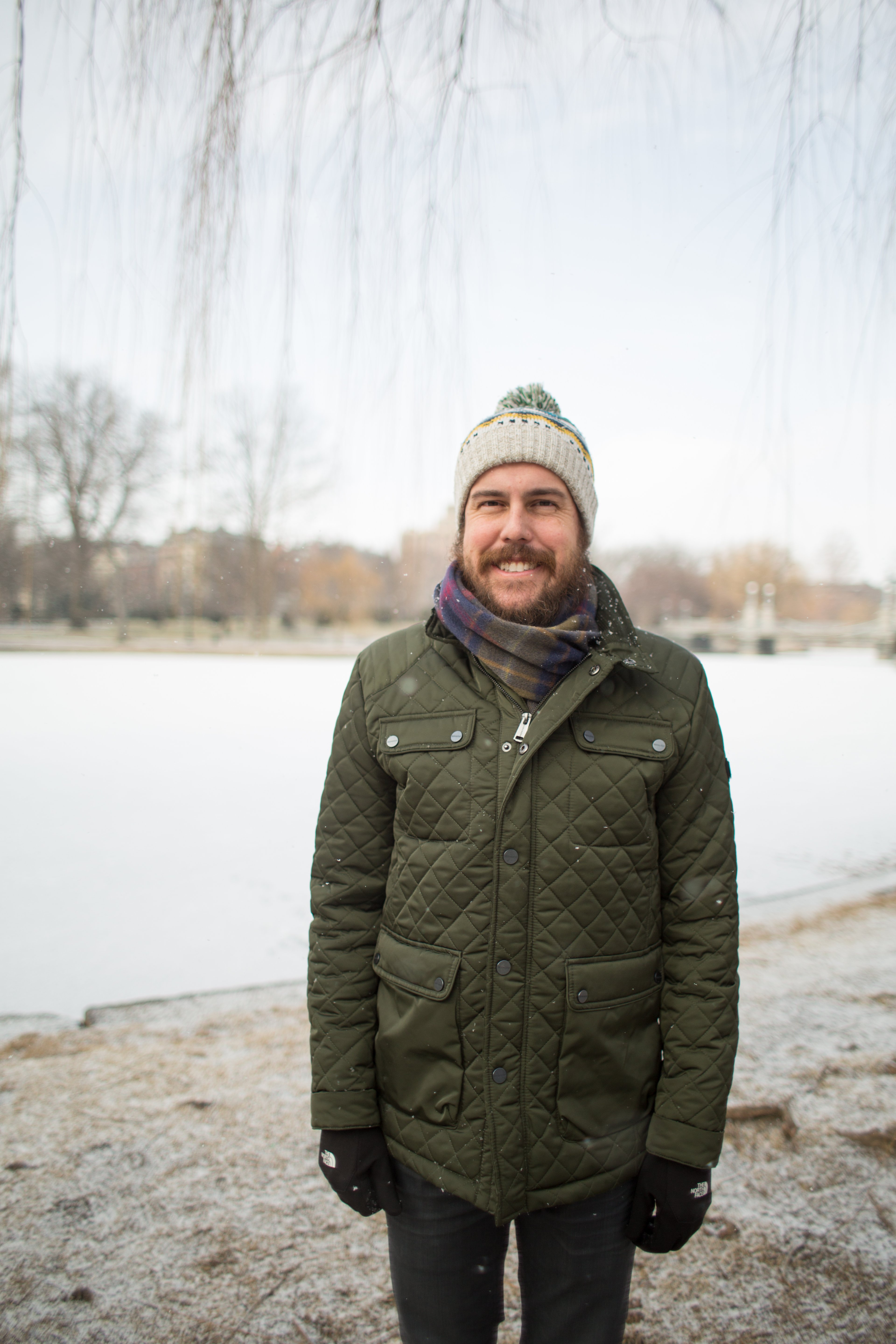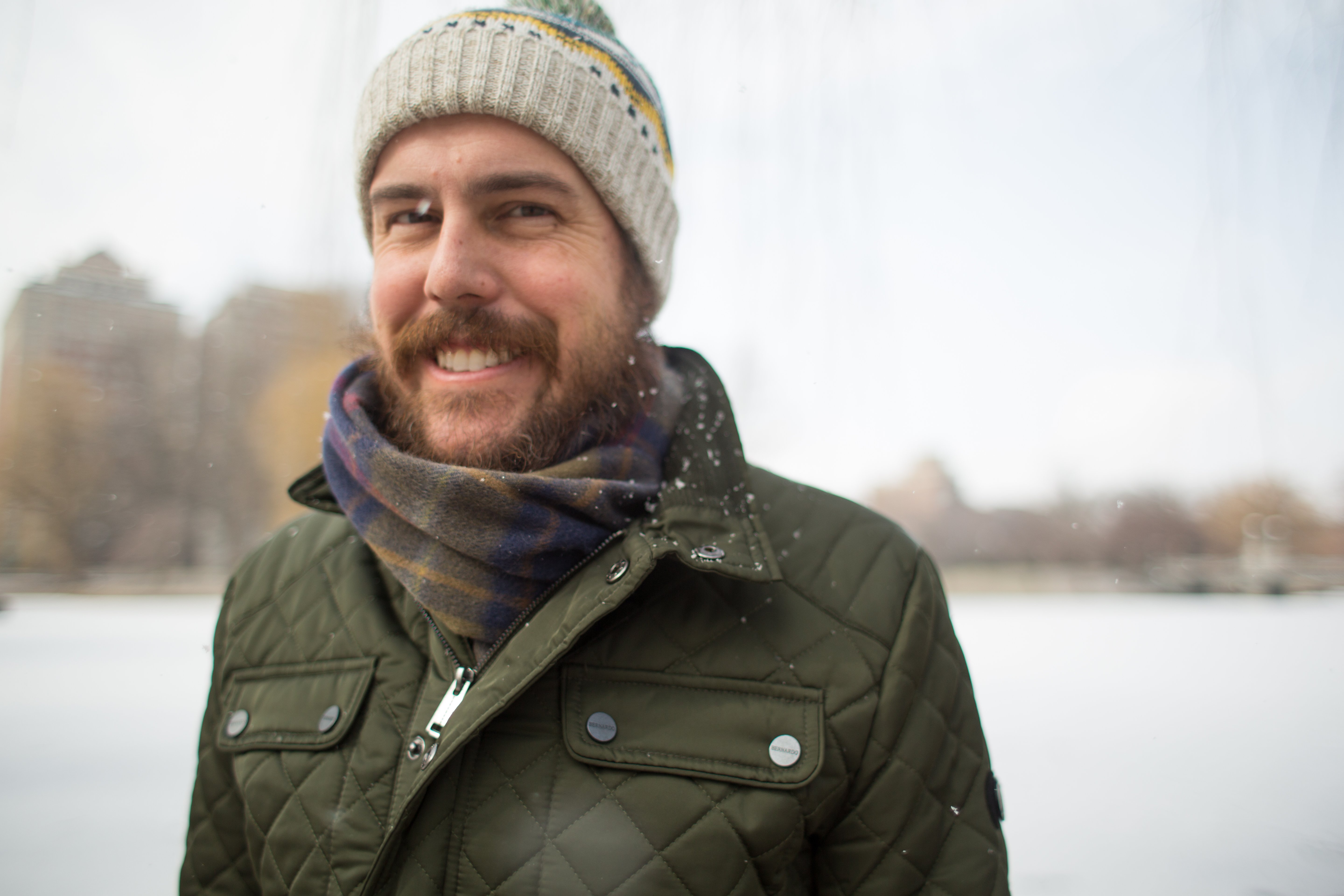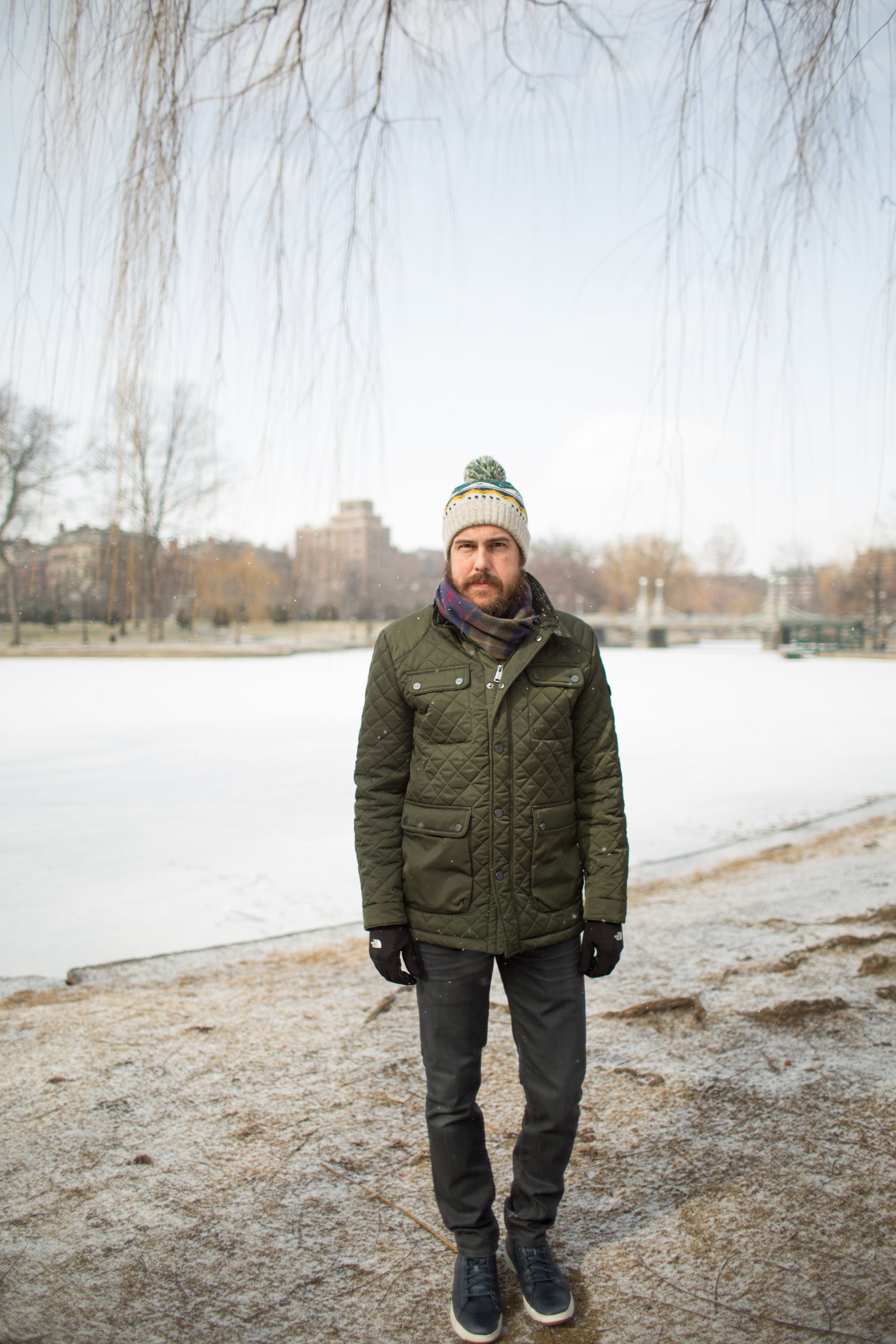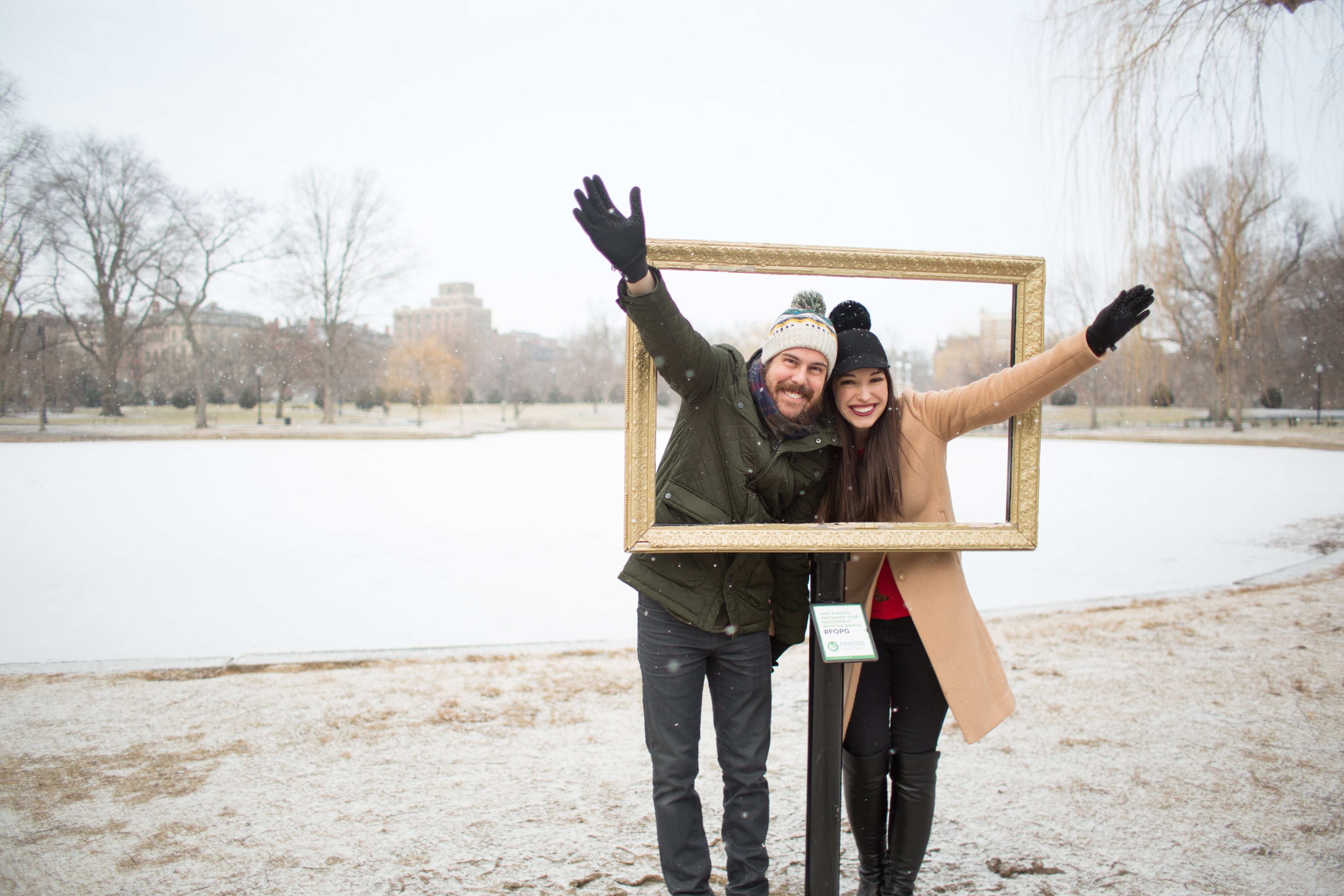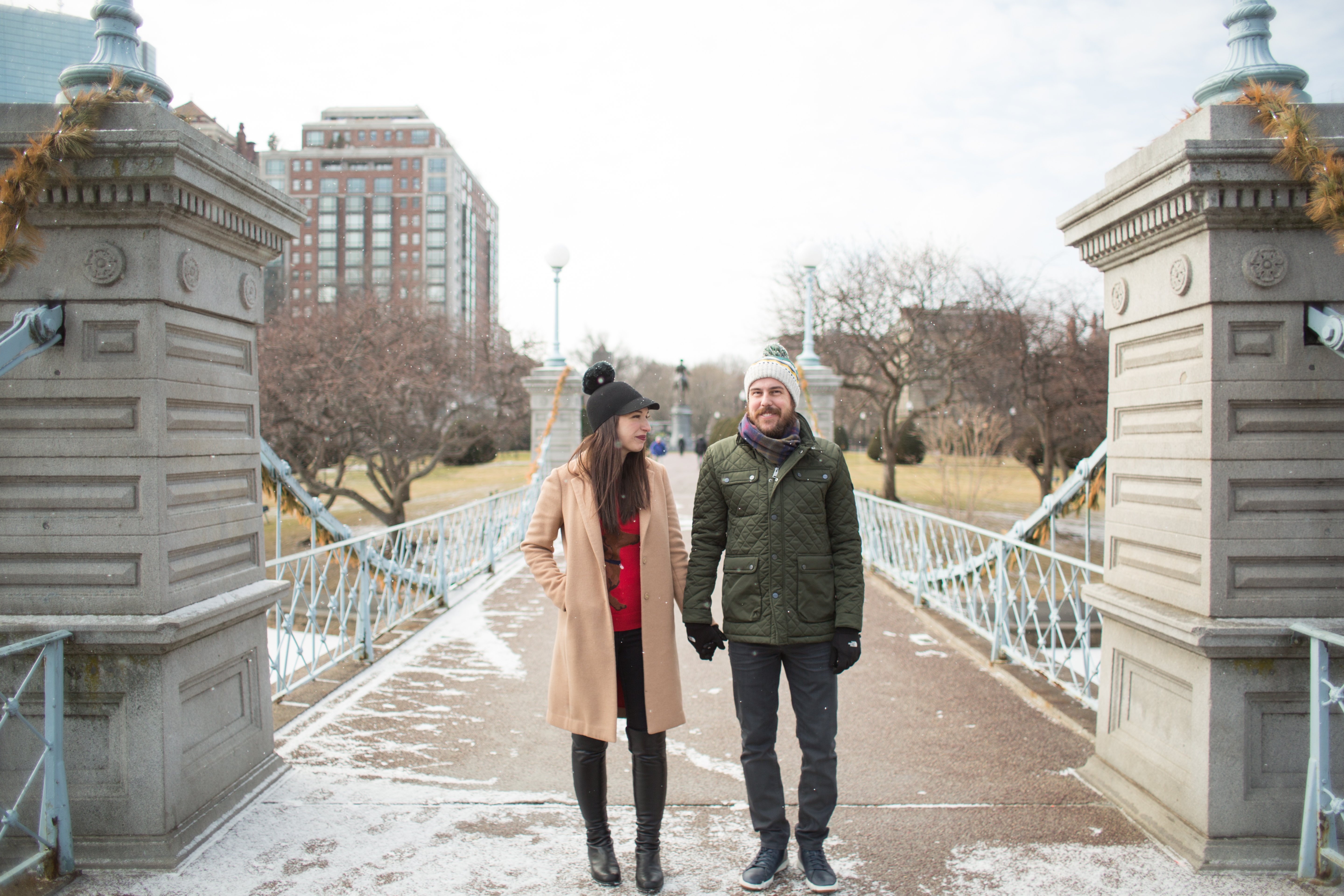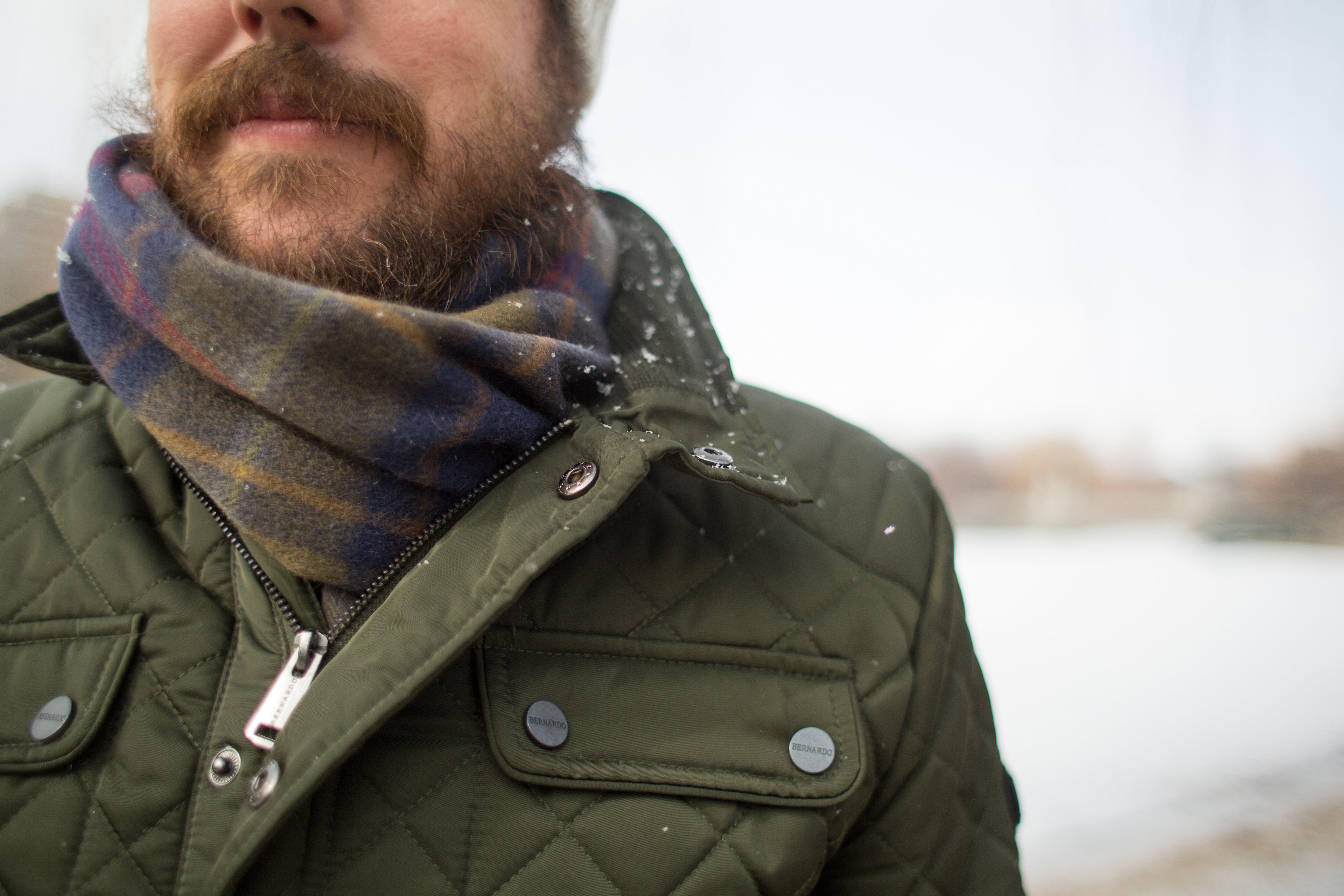 HIS LOOK
Beanie: American Eagle | Scarf: Joules USA | Jacket: Joules USA | Jeans: DSTLD | Shoes: Cole Haan
HER LOOK
Hat: Kate Spade | Sweater: Joules USA (on SALE!) | Coat: Ann Taylor | Pants: DSTLD | Shoes: Stuart Weiztman | Lipstick: Mac-Diva
Boston Public Garden
How gorgeous is the light snow at the park!?  When we were in Boston we kept crossing our fingers everyday that there would be snow!  One morning we woke up, looked out the window and saw some snow fall so we had to go run out and play!
On our trip we stayed at the Four Seasons Boston and loved it so much!  The Boston Public Garden was right out our window view!  It was fun to explore it and walk around!  At the Boston Public Garden you kind find cool frames, monuments, statues, and our favorite…. the "Make Way For Ducklings" statues.
Jake and I had heard about the little duckling and mama statues and so we wanted to make sure to go see them.  We had no idea how much we would like them!  Every year during the winter/super bowl time fans will dress up the ducks in cute outfits!  If you have not had a chance to read the story "Make Way For Ducklings" buy it and read it!  It is such a darling story and one that really gives you a fun overview of Boston too!
Boston Public Garden is the first public botanical garden in America.    Its in the charming Back Bay area that is full of charm and character.  If you have ever seen swan boats on a lake in Boston, this is the lake that that you can find them running during the warmer months of the year.   The pond itself is only 3 feet deep at deepest points but freezes over in the  winter.  We saw several people braving the ice and walking on it!  If you want to go ice skating, close by at the Boston Commons there is an official ice skating rink there.
This park also has small suspension bridge called the Lagoon Bridge.  It is super charming a landmark you will not want to miss while exploring the garden.  There are also tons of friendly people out in the park so don't be shy and wave, say hello and make new friends!
The Vlog
Come join us for a snowy morning in Boston, shopping on Newbury street, and checking out the 360 views of Boston at the Prudential Building!
Boston
Snow
winter