Outfit Details
HER LOOK
Hat: Brixton | Kimono: Asos | Shirt: Asos | Pants: G Star Raw | Shoes: Mexico | Lipstick: Mac- Hot Chocolatey | Sunglasses: Karen Walker | Purse: Kate Spade, aslo here
HIS LOOK
Hat: Stetson | Coat: All Saints | Shirt: Ted Baker | Jeans: DSTLD | Shoes: Palladium Boots

Road Trip Through Wyoming
After we got to spend some time in Jackson Hole, Wyoming we got to drive through the continental divide and head into the town of Dubois.  Wyoming is such a gorgeous place to drive through.  Every where we looked there were tons of great views and lots of neat scenery changes.
There are lots of neat places to stop and hang out at in Dubois, but when we were there it was raining off and on so we are going to share a few of our favorite stops in town that are great to visit rain or shine!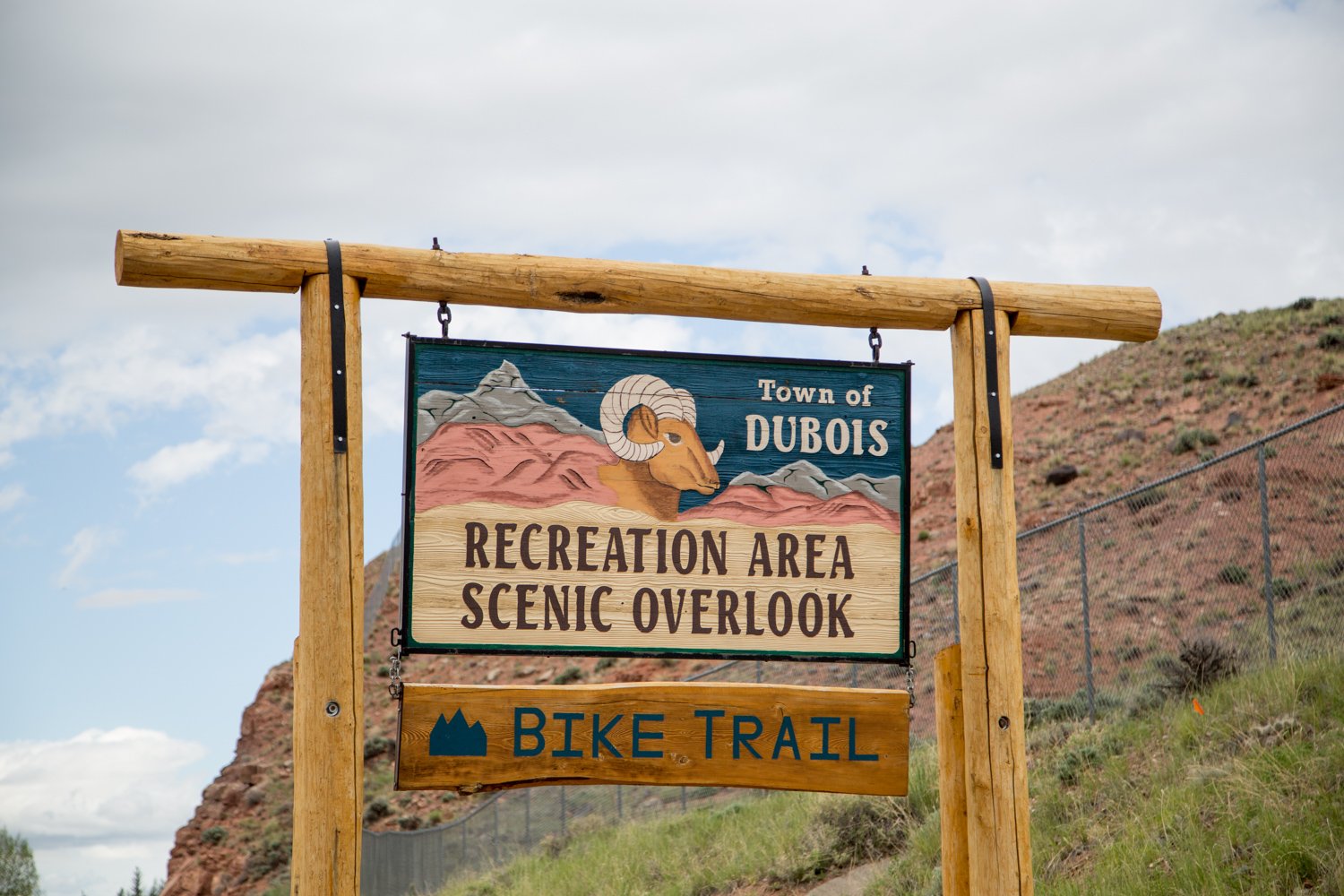 Dubois Scenic Overlook
Right when you pull into town you will see the sign for the Dubois Scenic Overlook.  We had heard the views were fantastic from above, so we were super excited to check it out!  The rain had just cleared up and so it made everything so green and vibrant!  It is a short drive up on a dirt trail and was so worth the stop!
When we were at the top we saw this cute older man sitting up there with a helmet on.  He was so cute and had rode his bike from town, locked his bike up at the bottom of the trail and hiked up to the top to see the views!  I want to be like him when I am older!
Nostalgia Bistro
We stopped in for lunch at Nostalgia Bistro with our cute friend Bridgette.   Jake got a burger with sweet potato fries and I got a grilled cheese and chili! YUM!  It's is a super cute restaurant that has a fun vintage vibe with lots of cute details! Plus the food was super delicious!
After your meal make a stop across the street to the Cowboy Cafe for some homemade pie! There are a couple Cowboy Cafes throughout Wyoming, but the one in Dubois is the original!
National Big Horn Sheep Center
The National Big Horn Sheep Center is super neat!  It is a one of kind museum featuring Big Horn Sheep.  In fact that have horned sheep from all over the world!  We had a lot of fun exploring around and reading all the signs.  There employees are super knowledgeable too so they are a great resource to ask if you have any questions!  Make sure to check out their gift shop to because they carry a lot of items that are local to Wyoming!
Worlds Largest Jackalope
A giant jackalope at a gas station?!?! Count me in!  There are tons of signs and a jackalope out at the street corner so you can't miss this stop!  (Exxon 404 W. Rams Horn St.)  Go in and grab a drink, a yummy treat, and take a picture riding the giant animal!  They even have props and fun items you can use during your jackalope photoshoot! Who knew the legend was real………. 🙂
There are also a lot of cool photo shot spots in Dubois if its a nice day out!  There is an abandoned mine, a really cool laundromat and a giant black bear at the black bear inn!
Thanks so much for stopping by today!  If you want to see more of Wyoming, you can check out our vlogs here.  Hope you have an amazing day!
Road Trip
Spring
Wind River Country
Wyoming