Mickey's Not So Scary Halloween Party
We LOVE Halloween Time at Disneyland! Halloween is my favorite holiday and so it is one to celebrate all month long. One of our favorite traditions is to visit Disneyland during the month of October and attend Mickey's Halloween Party!
Last year we missed seeing all of the new Halloween Decor at Cars Land since we spent Halloween at Walt Disney World and a Halloween Disney Cruise. I was dying over all the decorations at Cars Land! We literally spent most of our time there because it was so dang cute! Every angle you would turn it was full of spooky surprises!
Mickeys Not So Scary Halloween Party just takes place at Disneyland, but if you are there at the parks for a few days, I would recommend getting a ticket to California Adventure just to see the Cars Land Halloween decorations! It is totally worth it!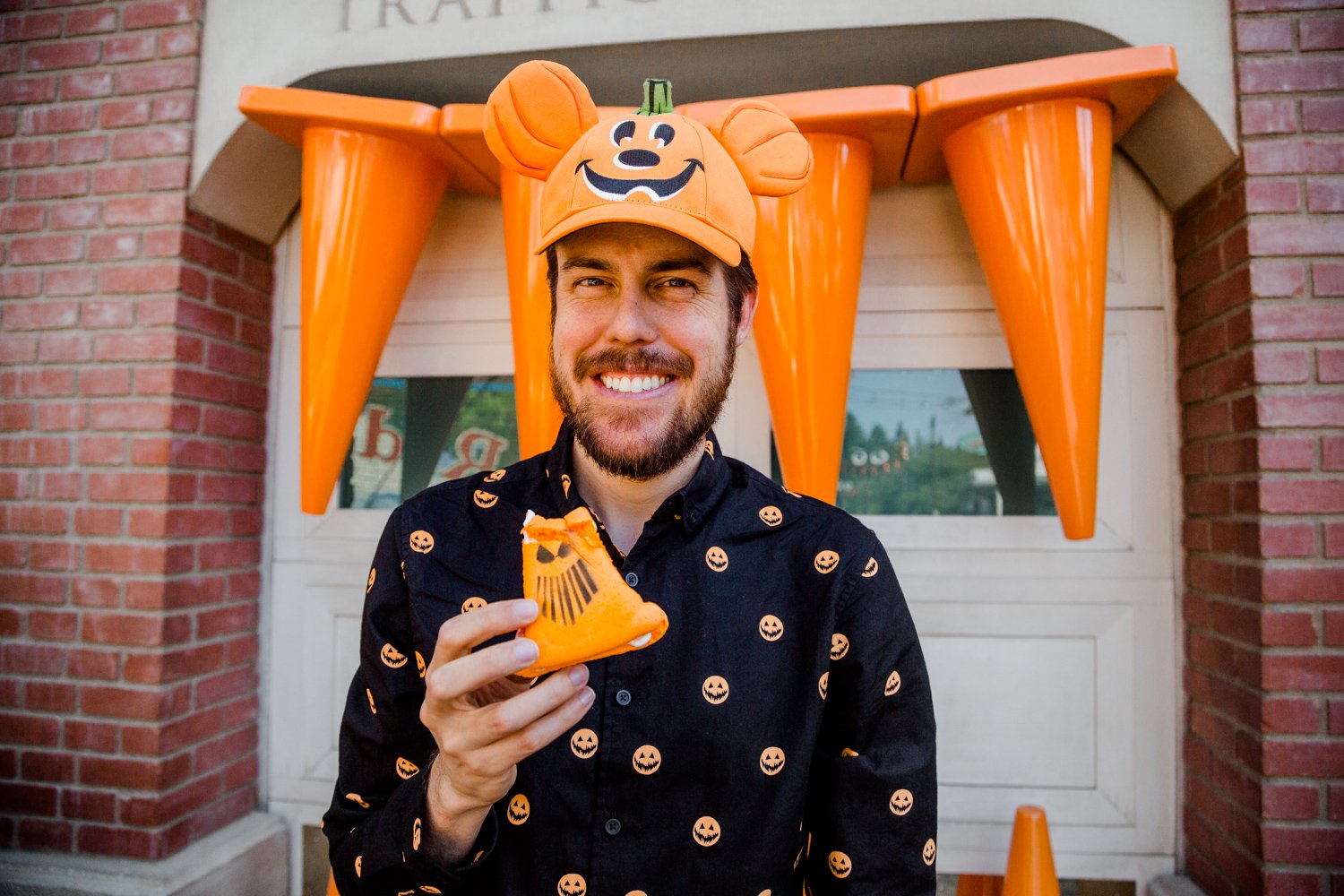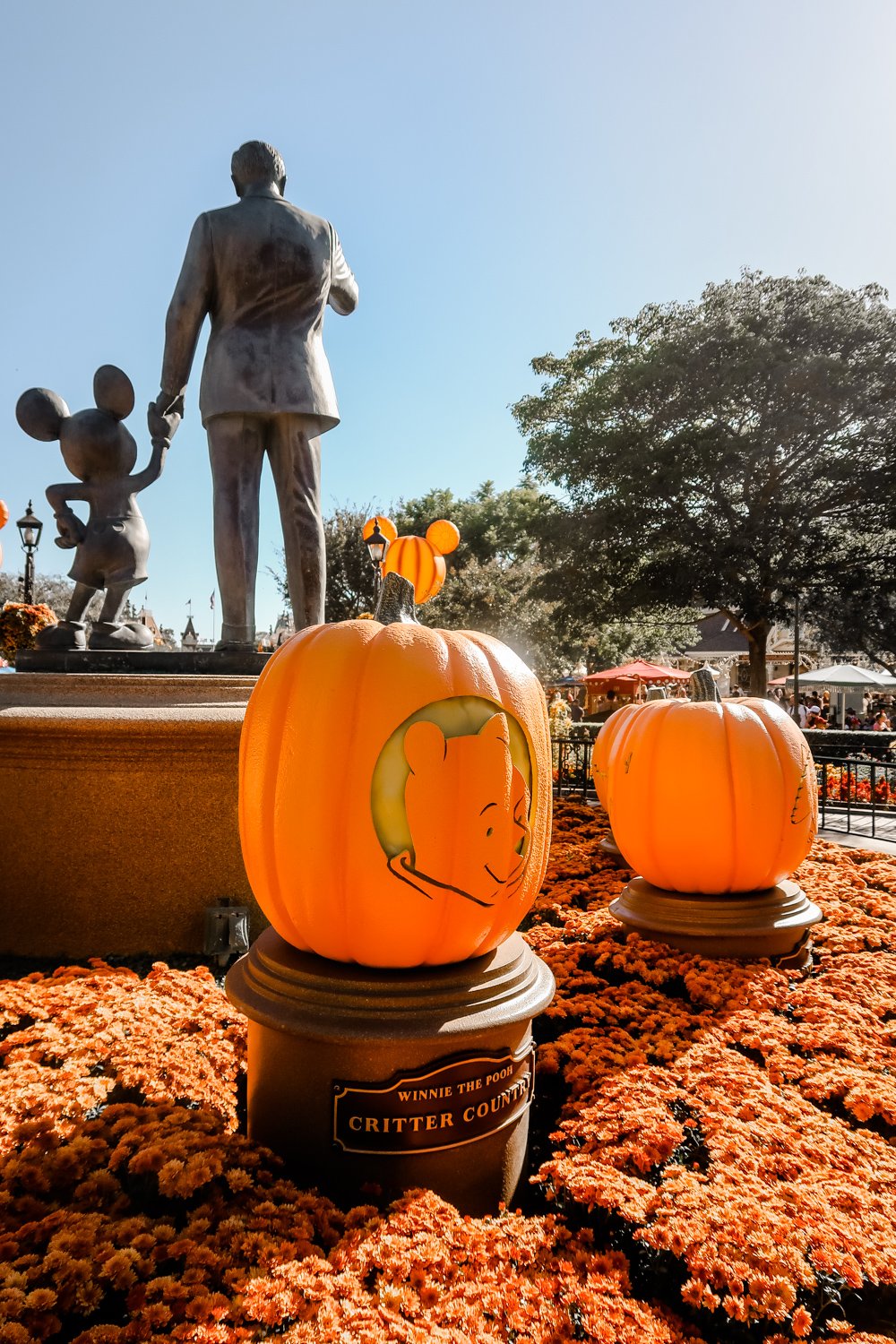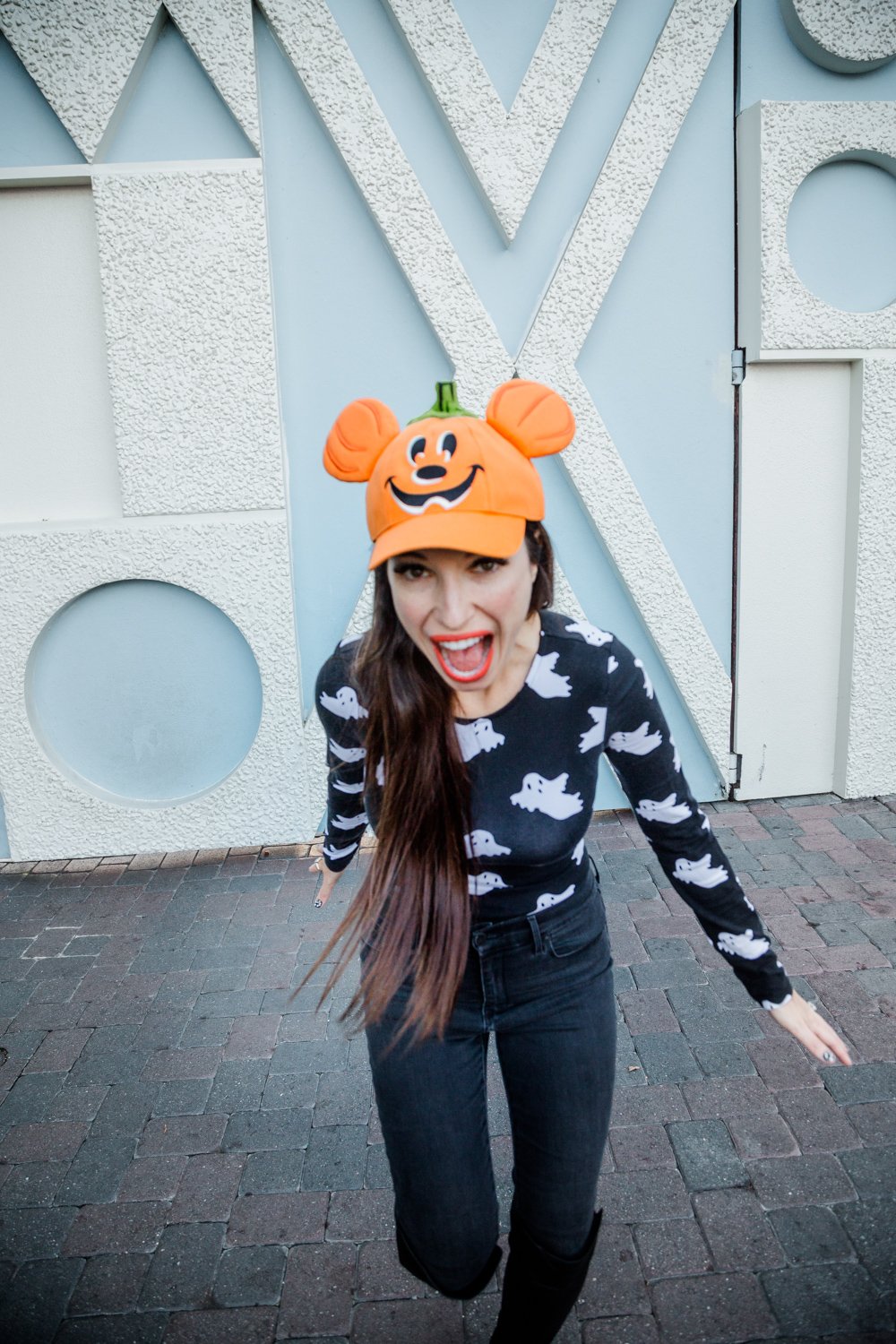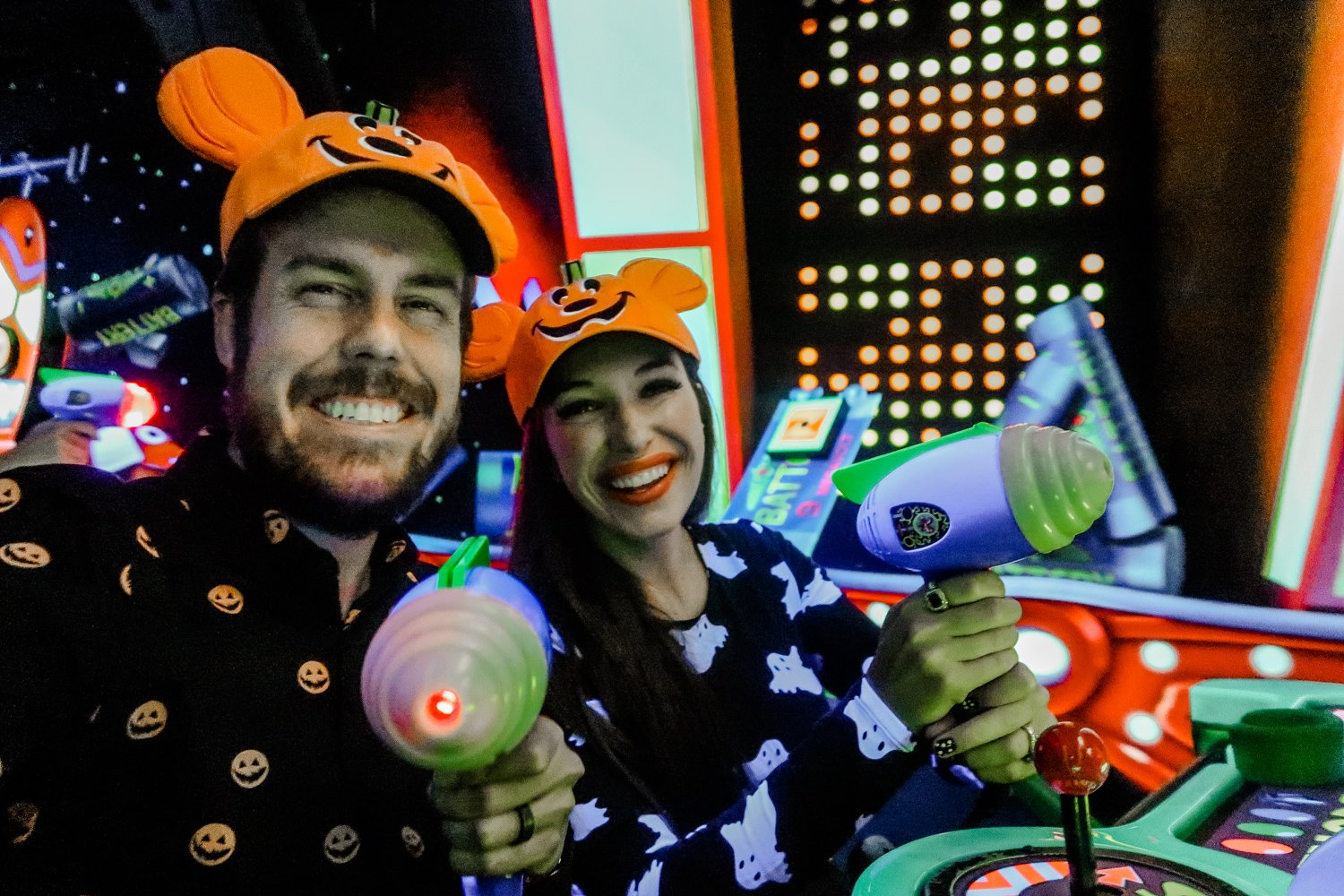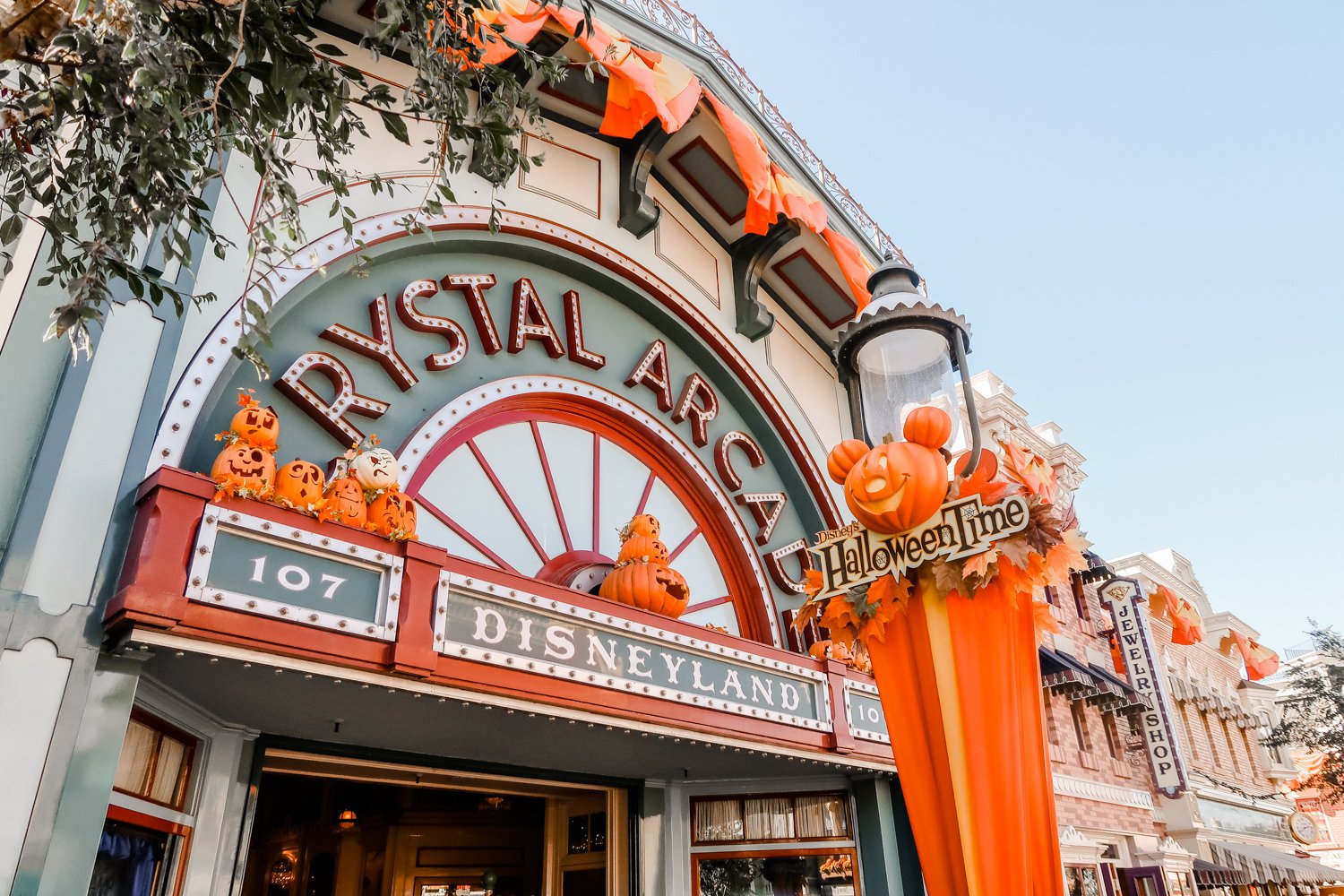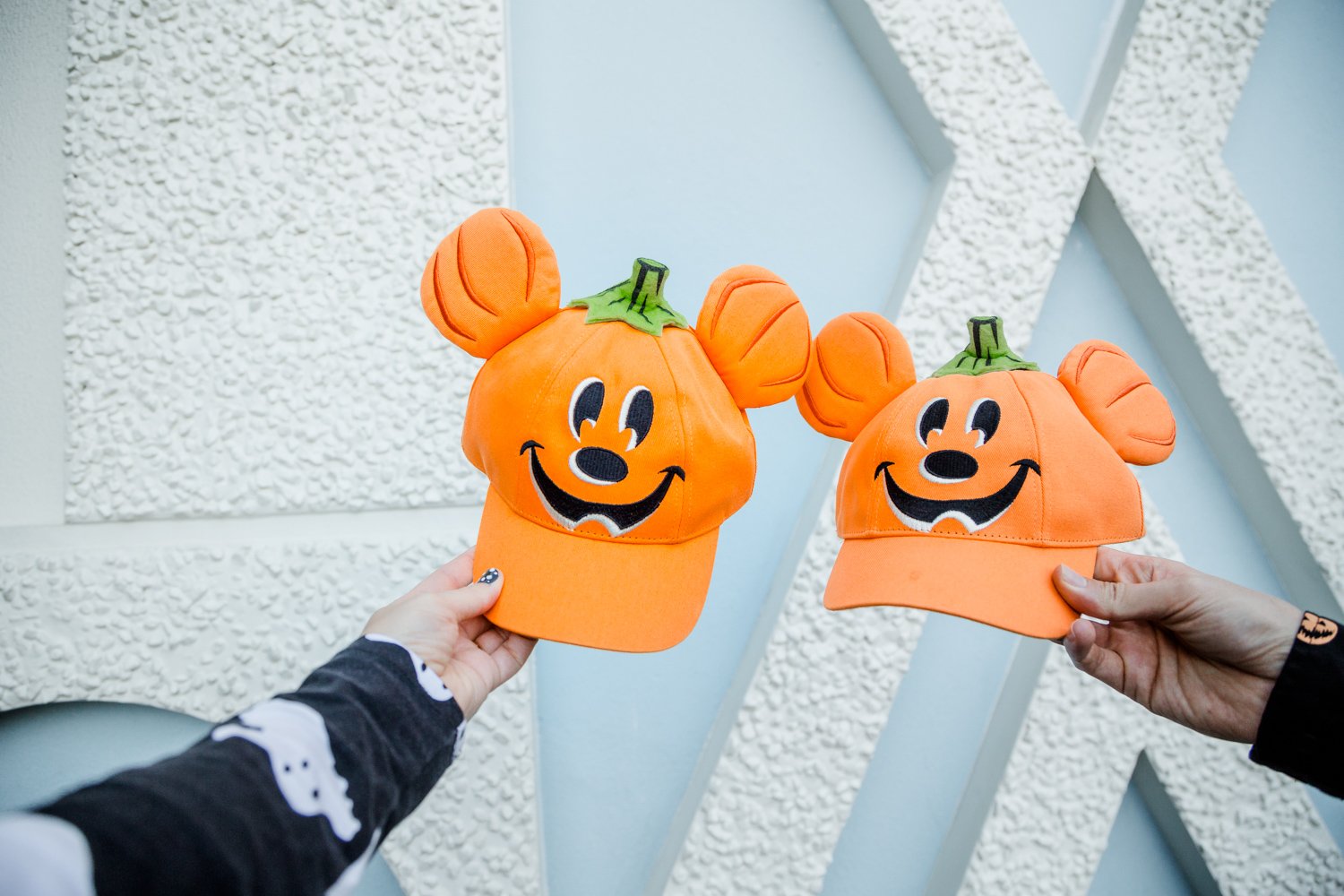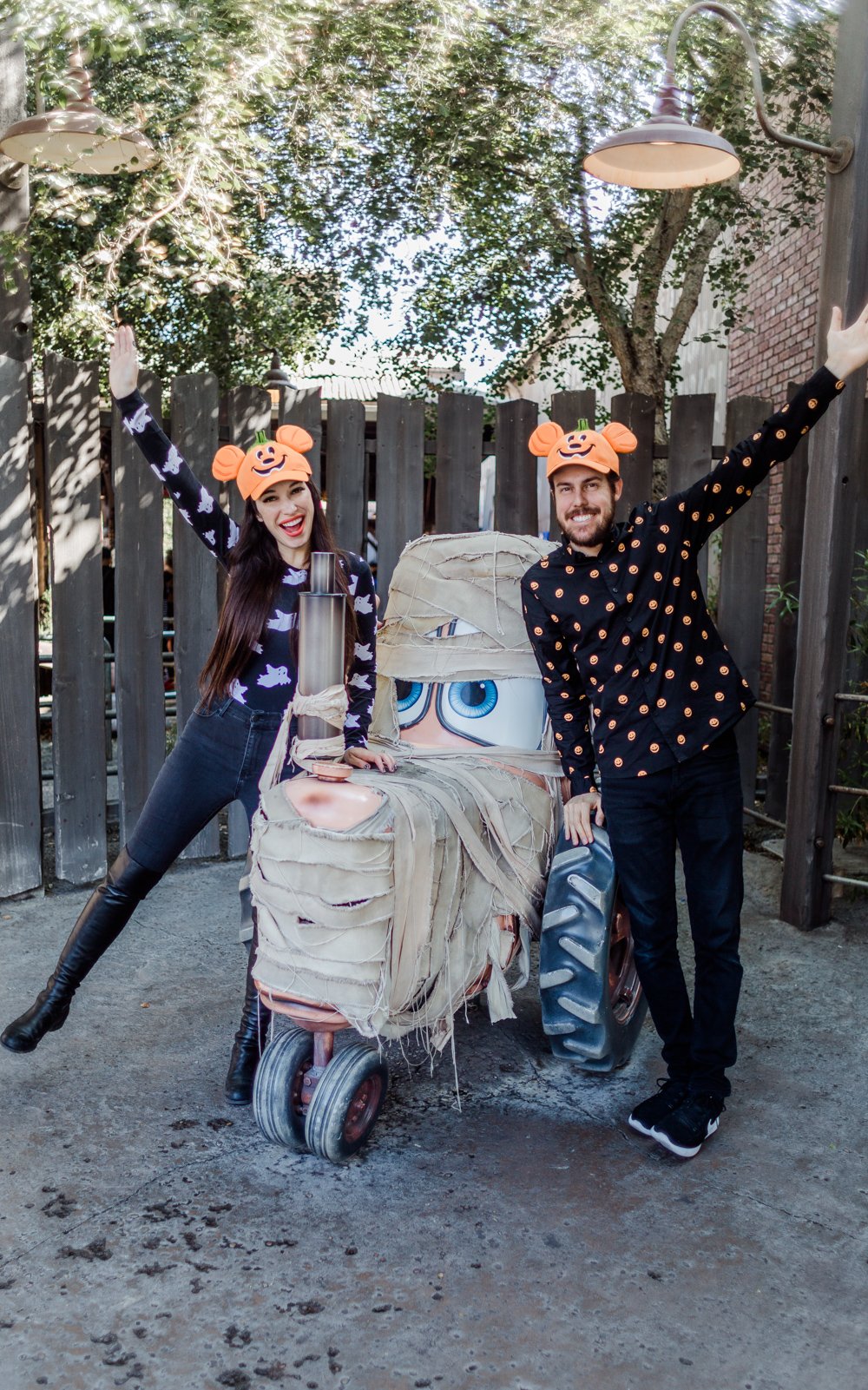 HER LOOK
Ghost Shirt: Asos | Long Sweater: Nordstrom | Jeans: Mott and Bow | Boots: Stuart Weitzman | Lipstick: Mac- Neon Orange | Pumpkin Hat: Disneyland
HIS LOOK
Pumpkin Shirt: Asos | Pants: DSTLD | Sneakers: Nike | Pumpkin Hat: Disneyland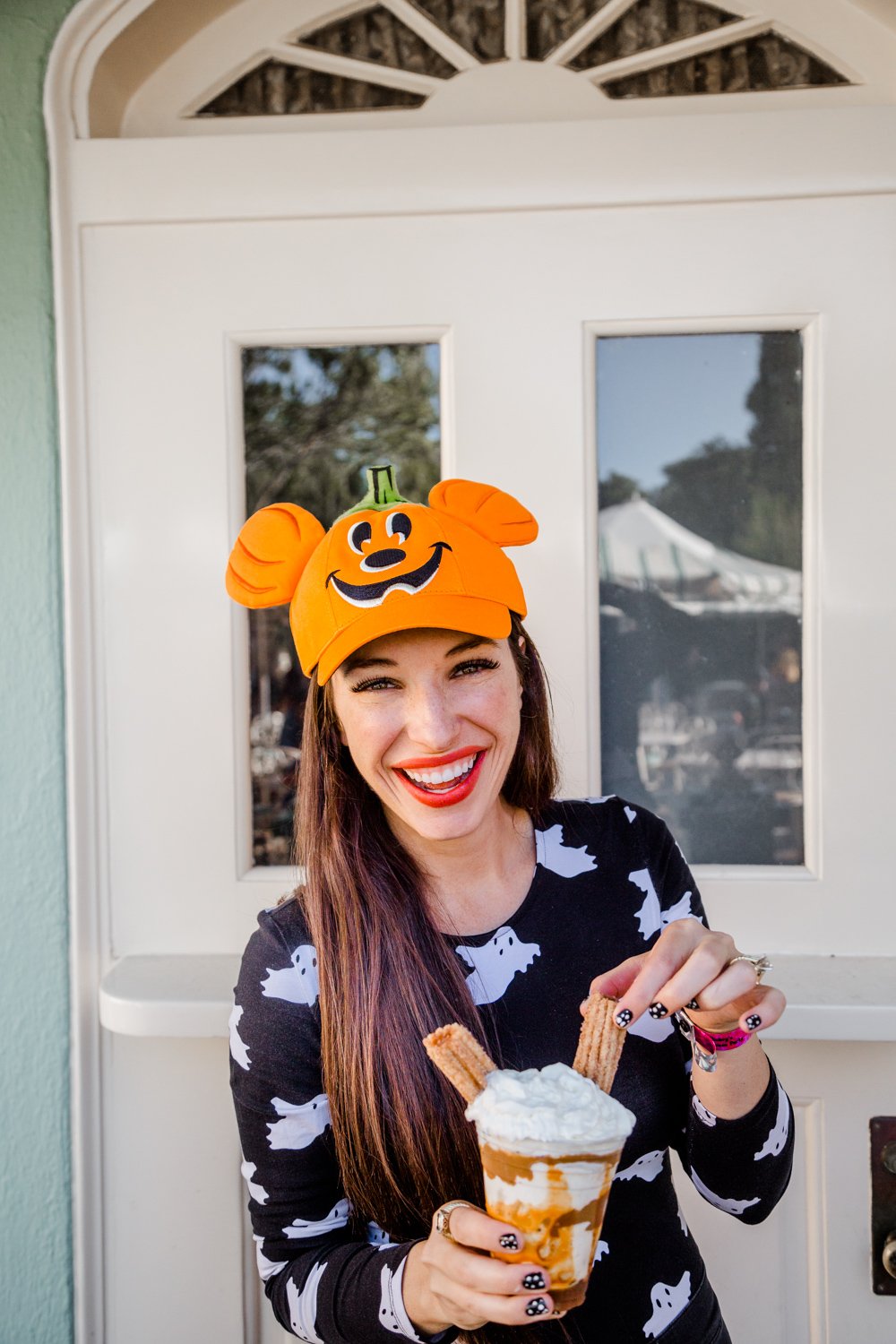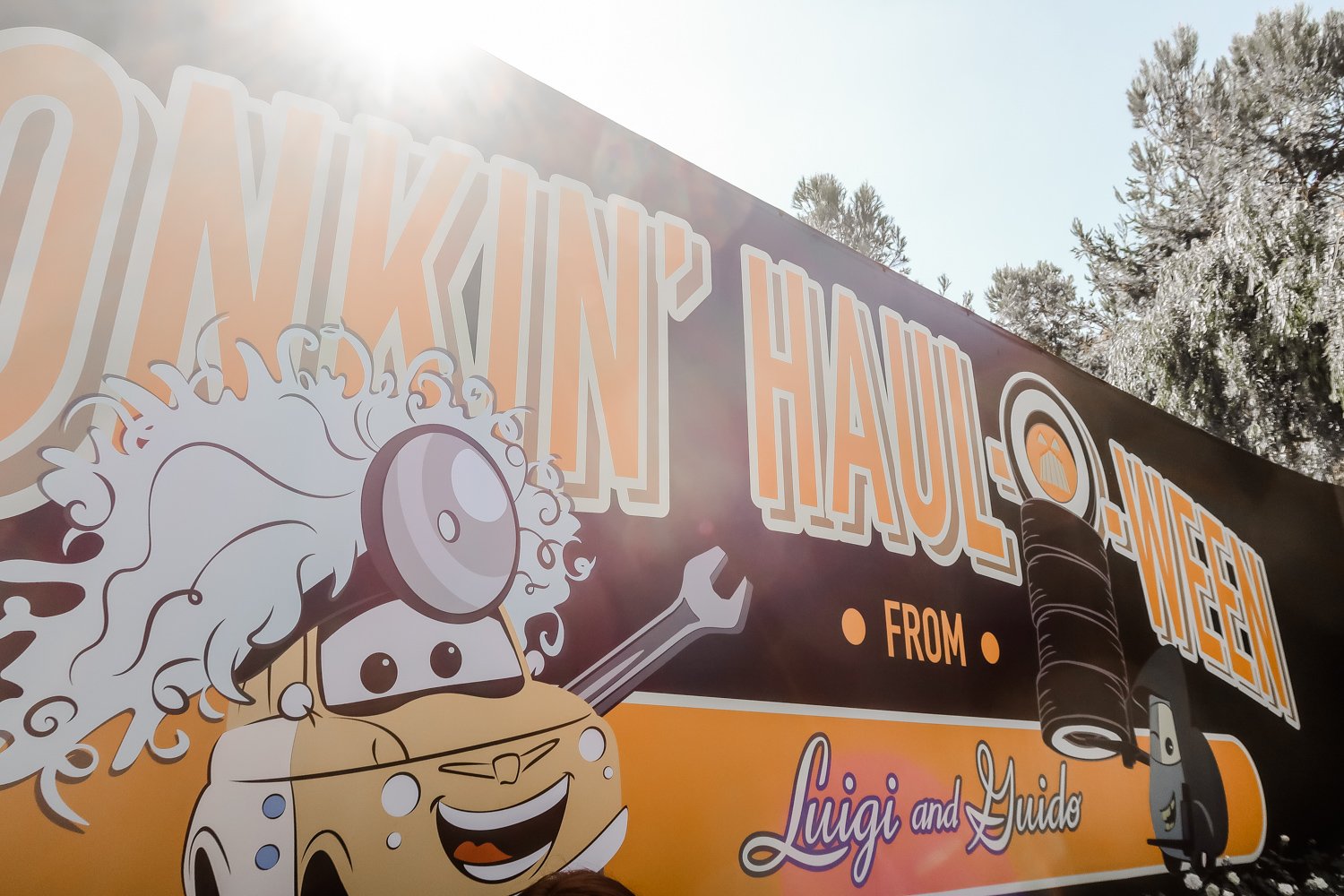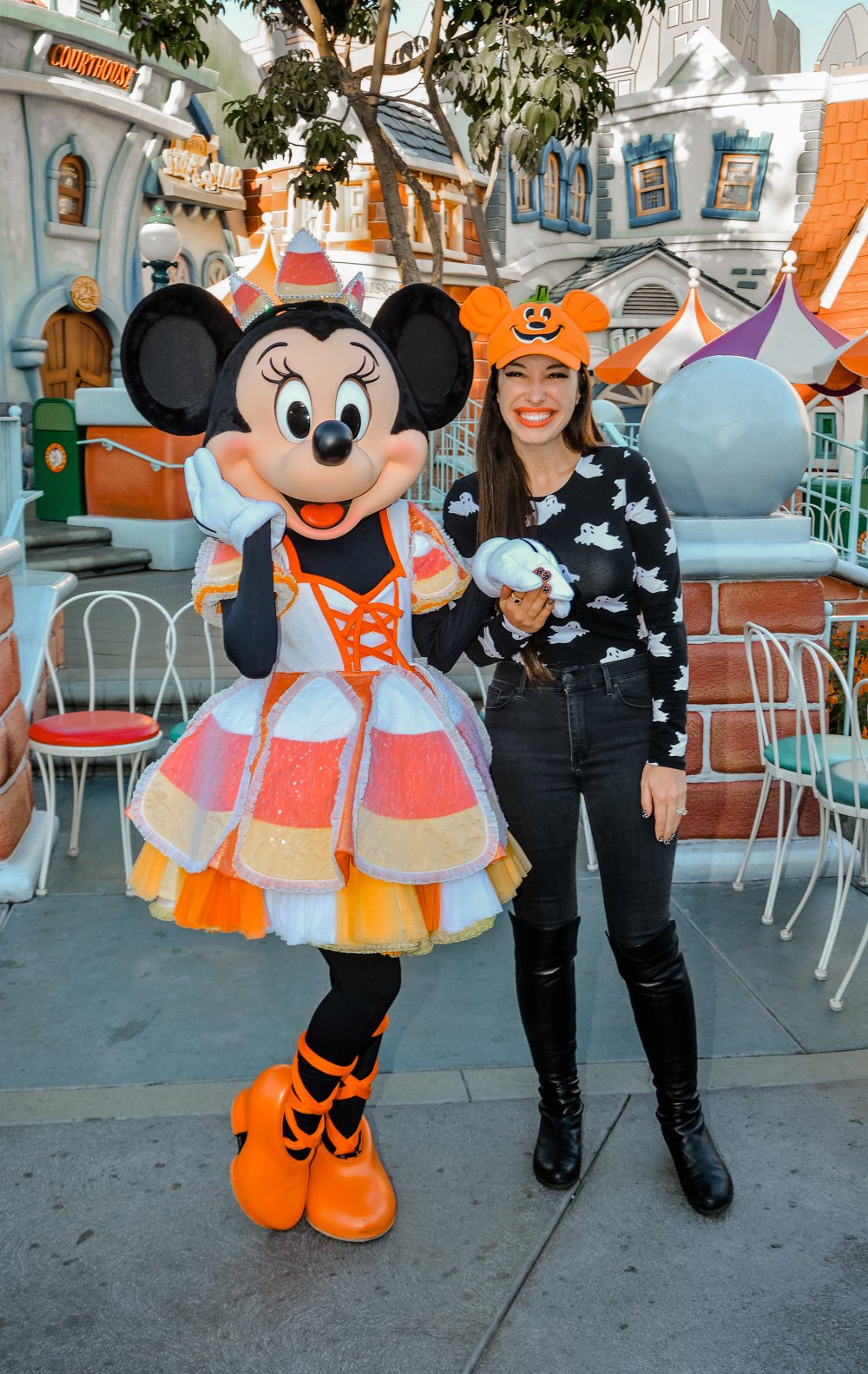 Trick or Treating
Mickey's Halloween Party is so much fun because you get to be any age and go trick or treating! There are tons of trick or treating stations and you can go in each line as many times as you want! If you want to trick or treat all night long, you can!
Tips: If you don't want to carry around your candy you collect all night long, get a locker at the beginning of the day you can put your candy in while you ride rides, walk around, etc.
Character Meet and Greets
They also have tons of characters out you don't normally spot! Not only are there tons of villains but also supporting role characters you don't normally get to see! We saw Jane (from Tarzan) Hades, Captain Hook and Smee, Jafar, Ursula, Maleficent, to name a few. The regular characters like Mickey, Minnie, Donald, Goofy, Chip and Dale, are all dressed up in costumes. You will see them costumes during Sept and October for halloween, but they were diffrent costumers for Mickey's Halloween Party.
If you like taking photos with the characters, there will be tons you will not want to miss! They have so many out and about you could spend your entire night taking photos with them if you wanted!
Pro Tips for Mickey's Halloween Party
We have been going to Mickey's Halloween Party every year since it began! Over the years we have learned a few tips we wanted to share with you all for you to have a fun and successful time!
Tips To Prep Before You Go To Mickey's Halloween Party
Get your tickets for Mickey's Halloween Party when they go on sale. At Disneyland these tickets sale out fast! You will want to prepare in advance and get your tickets asap. Tickets typically go on sale in June.
Download the Disneyland app before hand so you can be aware of wait lines for rides, and be able to download your photo pass photos.
Make dinner plans in advance. If you want to sit down and eat, a lot of the restaurants have special menus for Halloween but are limited on the amount of Halloween meals they can serve. We did a dinner at the Blue Bayou and they had a fun 3 course Halloween themed dinner. You can make reservations on the Disneyland app or by calling the Disneyland Reservations line. I would recommend making reservations at least a month in advance.
Bring a backpack or large sturdy bag just for candy! You really get so much treats/snacks trick or treating. Between Jake and I, we usually get about 10-15 pounds each of treats. Each trick or treating station has multiple stops so if you only do a few candy stops, you will still get a lot. If there are short lines you can go in the same line as many times as you want!
Food allergies? Don't worry this event is for you too! The treat stations have healthy snack options, plus sugar free candy. Disney really tries to make this activity fun for everyone! I don't eat sugar or flour anymore (just pretend for the photos above 🙂 and it was so nice to have apple slices and carrots to snack on from the Trick or Treating lines.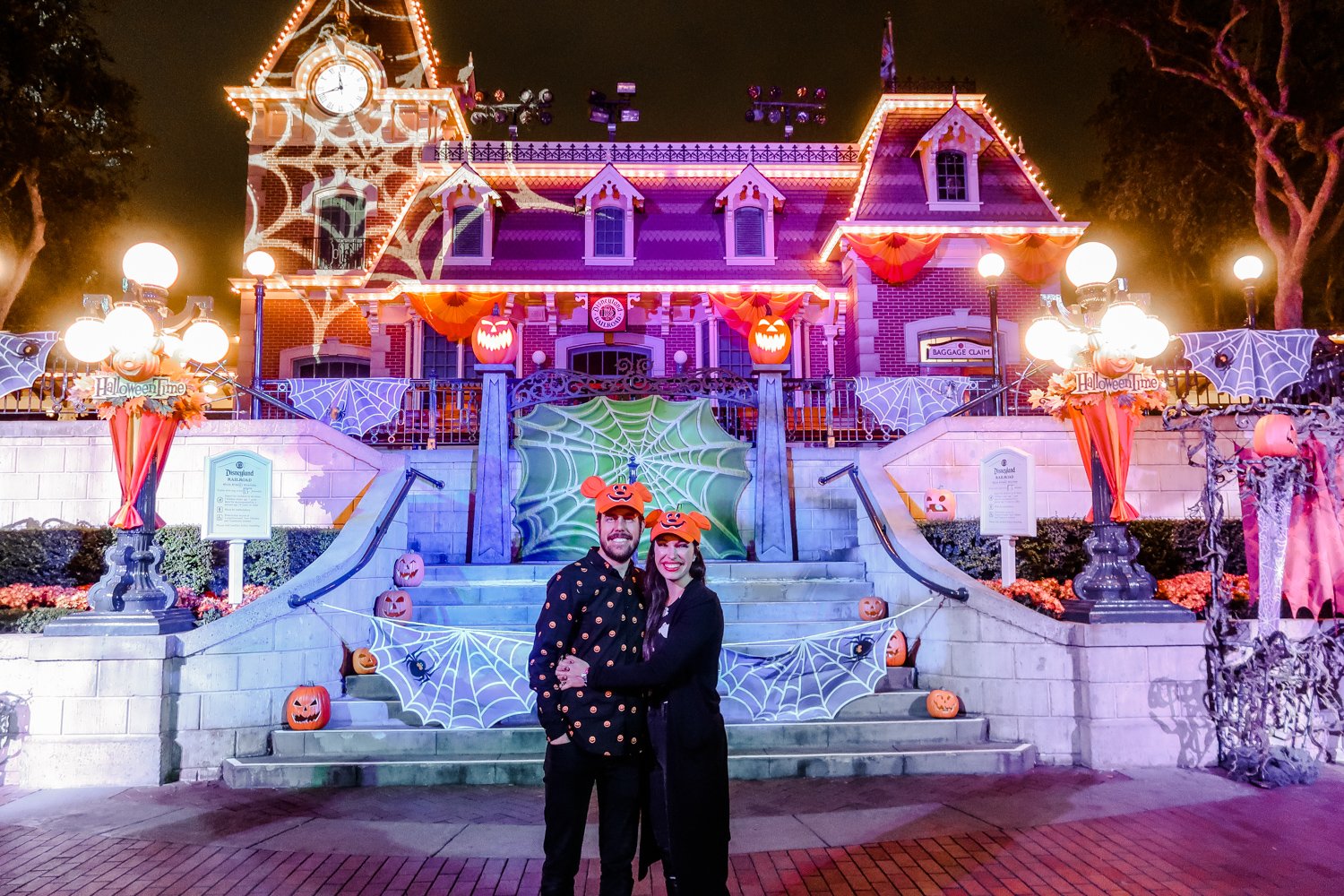 Tips for Mickey's Halloween Party Event
Grab a Mickey's Halloween Guide Map. This will be different map than the regular Disneyland map. You can usually pick up the Halloween Guide Map when you get your trick or treating bag. The Mickey's Halloween Guide Map marks all the trick or treating spots, photo locations as well as speciality shopping experiences.
Get a locker when you first arrive to the park. If you don't want to carry around your candy you collect all night long, get a locker at the beginning of the day you can put your candy in while you ride rides, walk around, etc.
Toon Town opens early for trick or treating. Skip the trick or treating there and take pictures with the characters. This is the only place you can find Minnie wearing her Candy Corn Dress. She as well as all the other characters change Halloween costumes so if you see them again in the park they will be in different Halloween looks. If you find Minnie several times that night, you might notice she will have a different outfit on each time. I couldn't her change 4 outfits this last Mickey's Halloween Party night.
Most of the photo spots will have photographers. Make sure to have your Max Pass handy to give the photographer. They will scan your pass and then a few minutes later you can download the high resolution images straight to your phone! Its awesome! This year the Mickey's Halloween Party tickets came with the free photo pass/Max Pass. If they do not offer it though next year, I would recommend paying the 10 extra dollars on someones pass to get all the photos. Since this party is at night, a flash is super helpful to have with the photos and all the photographers cameras have a flash!
Watch the 2nd parade. There are 2 parades that happen. It is the same parade each time but 2 different times. The first parade gets packed because a lot of families and kids leave after the parade and firework show. For the second parade you can find awesome seats anywhere around the parade route. Our favorite spot to sit is right at the Mikey Pumpkin. Then after the parade you are ready to take photos there to when the photographers come back!
Watch the fireworks from "It's a Small World Ride." You can watch this from the front of the ride and get there right before the fireworks start and get an awesome spot! You won't be able to see Zero fly from the castle but you will get to see him and Jack Skellington projected on "It's a Small World" ride exterior.
15 minutes before Mickeys Halloween Party is over, head up to the front of the park exit. You don't need to leave at all but there is an awesome show where all the Villains dance at the Train Station for a good 15 minutes! They are fun to see.
Shop after the party is over. If the party goes till midnight, go shopping for all the holiday merchandise after. The shops are less crowded and you get an entire hour to run around to all the stores.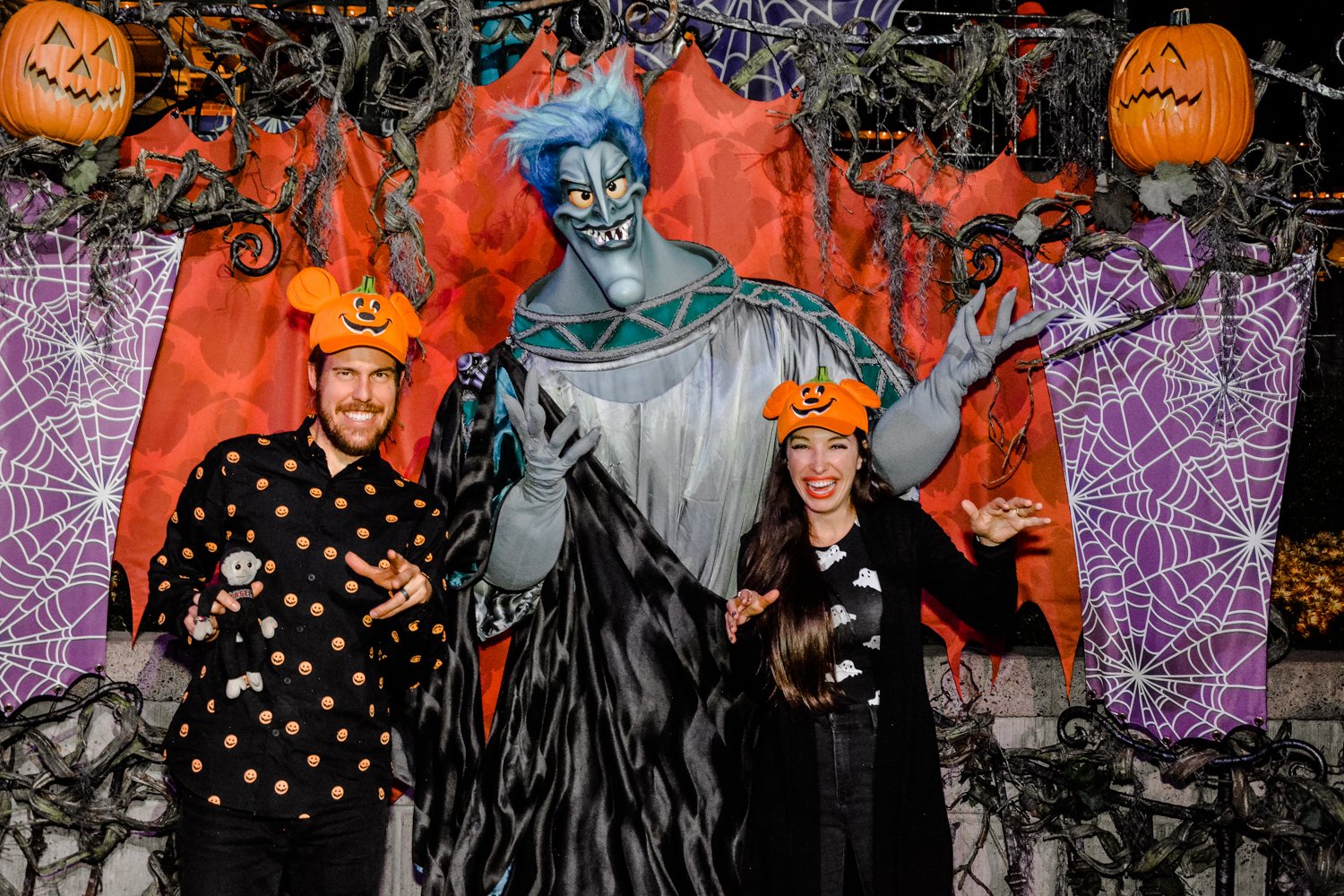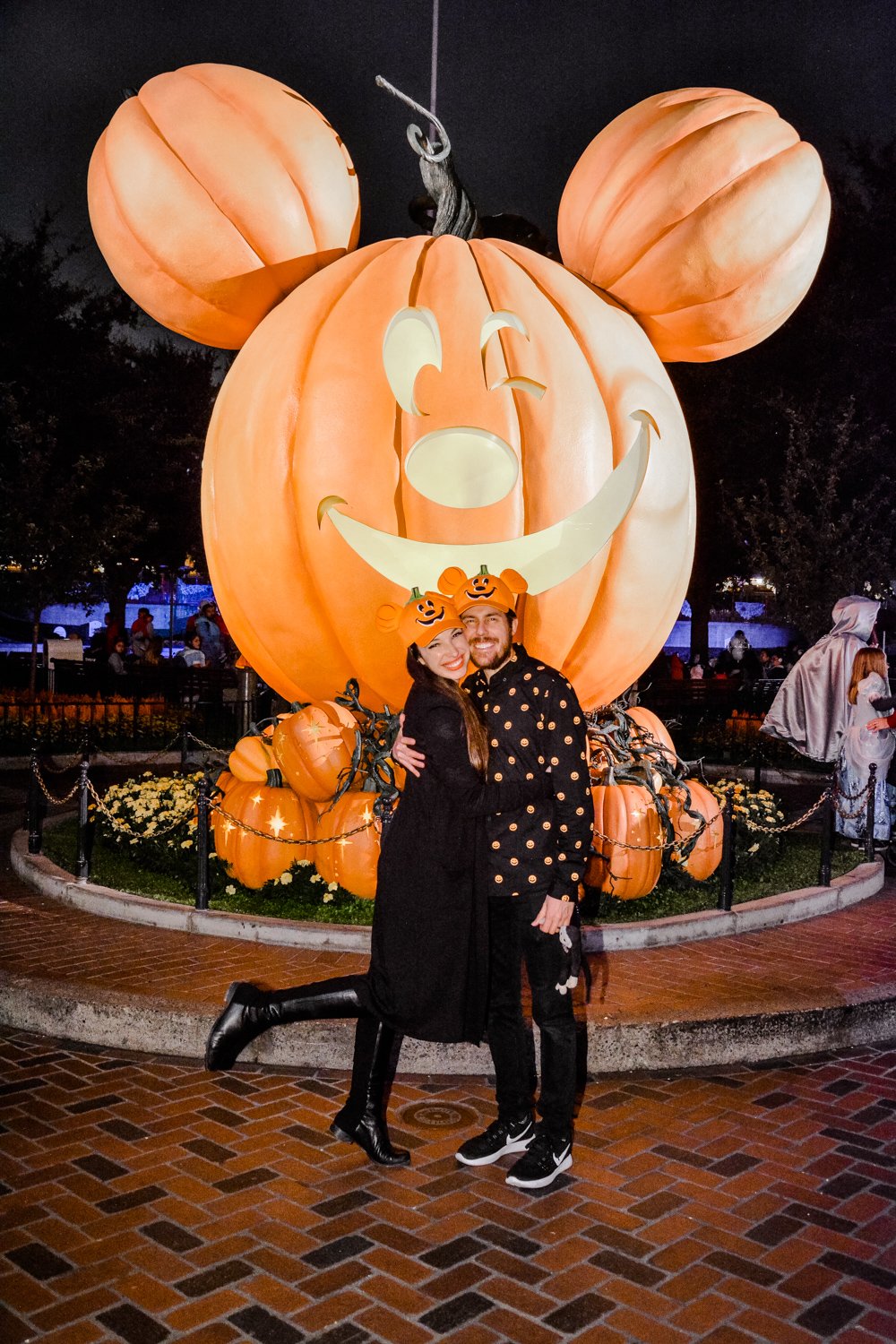 HER LOOK
Ghost Shirt: Asos | Long Sweater: Nordstrom | Jeans: Mott and Bow | Boots: Stuart Weitzman | Lipstick: Mac- Neon Orange | Pumpkin Hat: Disneyland
HIS LOOK
Pumpkin Shirt: Asos | Pants: DSTLD | Sneakers: Nike | Pumpkin Hat: Disneyland

Thanks for stopping by today! Are you attending Mickeys Halloween Party this year?! We hope you get to! It is so much fun! Have a great day 🙂
California
Disneyland
Fall
Halloween