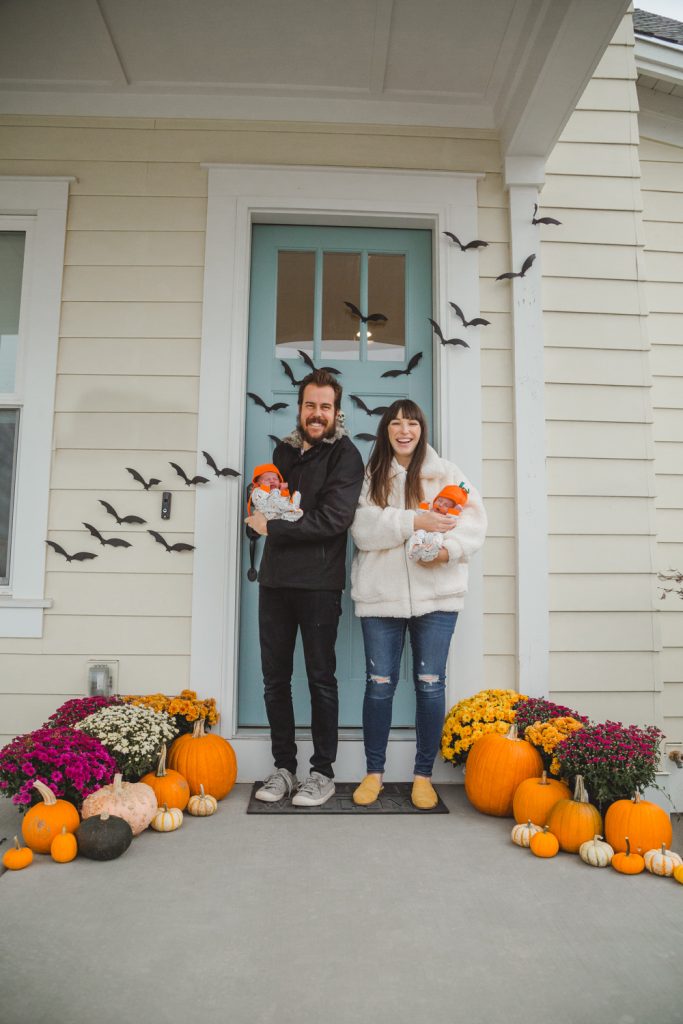 Tis the Season!
Halloween is my all time favorite holiday! Every year I look forward to buying pumpkins for the front porch and getting it ready for the holiday! This year being in a new home and having 2 new babies, I was really looking forward to getting the porch put together!
A few weeks before we moved, we got a Cricut machine. Jake has been dying to bust it open and use it! He had the fun idea to make bats! Have you ever used a Cricut machine?! This was my first time! I had no idea how easy and fun it was to use! It took a little bit to get it all set up, but once we got the bat pattern selected that we wanted, it went super quick from there! We got all these bats cut out in about 10 minutes! I can't wait to find more fun things to use our Cricut machine for.
I really love how the porch turned out! Now time to bust out the rest of the Halloween decor……..

Outfit Details:
HIS LOOK- Jacket: Andrew Marc| Pants: All Saints | Shoes: Palladium Boots
HER LOOK- Sherpa Jacket: Target | Shirt: Old Navy | Pants: Old Navy | Shoes: Seychelles, also here
TWINS OUTFITS- Pumpkin PJ's: Target | Pumpkin Hats: Hanna Anderson
Baby Style
Halloween
Scout and Davey