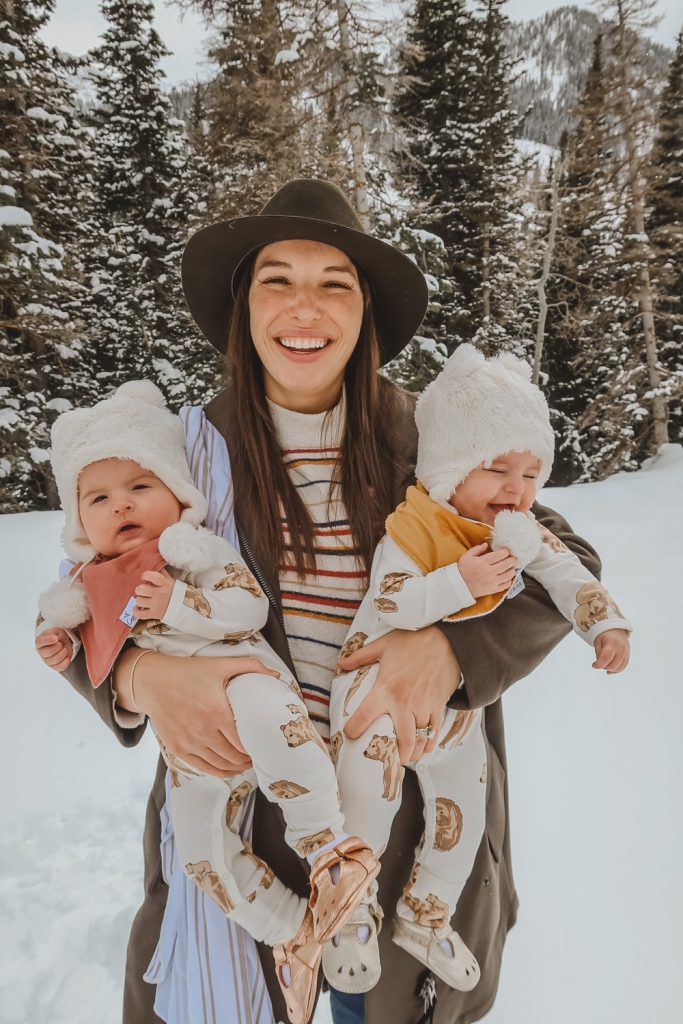 How is everyone holding up with all the changes going on?! The other day we were needing some fresh air so we went for a family drive to the mountains! It was so beautiful out, we pulled over to the side of the road to snap a few photos! Breathing in some fresh air was AMAZING! We were only outside for a few minutes, but it felt so great! Just seeing all the pine trees and beautiful scenery on our drive was just what we needed!
The quarantine lifestyle isn't to much different from our everyday with 2 babes at home, but we are missing some of our favorite people and activities! We live in an amazing community where we have so many sweet grandmas who come play with us every week! The girls and I miss our time with them and seeing their sweet faces in person! Each week the girls and I like to plan a lunch date out to catch up with friends too. We have missed going out and getting a change of scenery and giving hugs to friends! Oh… and did I forget to mention Target?!?!? I miss my late night Target runs for sure! haahaha
There is so much to be grateful for though! I am so grateful for my phone more than ever these days! FaceTime, texting, calling, all of it is amazing! It's amazing how many resources there are these days to still stay in touch with the ones we love! I am especially grateful for this little family of mine that keeps me entertained all day! And Animal Crossing….. it's so fun and addicting for sure!
Hope you are all doing great and staying safe! Hang in there! What are you grateful for today?!?! We would love to hear it in the comments below! Thanks for stopping by today! Hope you have an AWESOME DAY!
Twins Outfits
Bear Onesies: Monica and Andy | Bib/Bandana: Copper Pearl | Shoes: Freshly Picked | Hats: Gordmans |Green Blanket: Sanaroni | White/Tan Blanket: Sanaroni
Kelsey's Outfit (mom)
Hat: Stetson | Coat: All Saints | Sweater: Forever 21 | Jeans: Good American | Boots:
Jake's Outfit (dad)
Hat: Stetson | Coat: All Saints | Shirt: DSTLD | Jeans: All Saints | Shoes: Joules
Baby Style
Scout and Davey
The Great Outdoors
winter