Are you doing Bright Line Eating and looking for a fun way to spice up your breakfasts?!! Try this easy and delicious pumpkin pancakes recipe!
My sisters introduced me to this tasty pumpkin pancake recipe when I first started doing Bright Line Eating. I was looking for a way to spice up my breakfast and so I asked my sisters what some of their favorite breakfasts were. Both of them LOVED these pumpkin pancakes so much that they made them 5+ times a week! After trying the pancakes myself, I was hooked!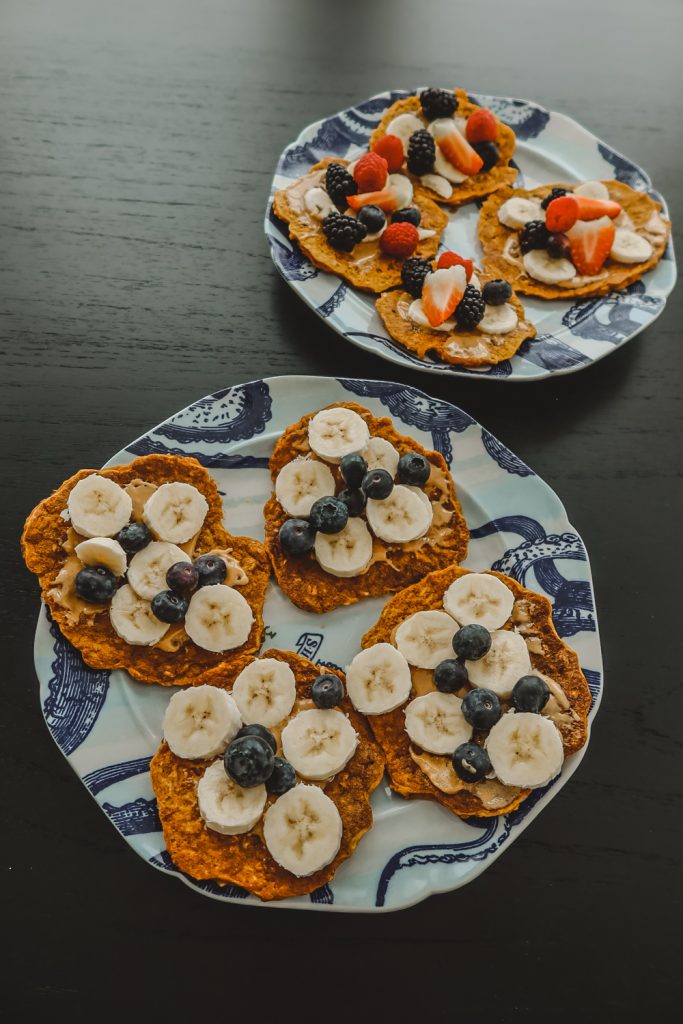 Pumpkin Pancakes Recipe
Serving Size:
4 large pancakes or one BLE breakfast serving
Ingredients:
1 oz dry oats
2 tablespoons water
1 egg
4 oz canned pumpkin
Pinch of salt
Pinch of baking powder
A few dashes of cinnamon
Oil spray
1 oz creamy peanut butter
2oz Fruit Toppings
Directions:
Preheat your griddle to 350 degrees. While it is heating, create your batter.
Add 1 oz oats and 2 tablespoons of water into a mixing bowl. Let the oats absorb the water for 2-3 minutes. Add remainder ingredients 4oz pumpkin, 1 egg, pinch of salt, pinch of baking power in the bowl with your oats and water. Mix all the ingredients together. If your batter constancy is thicker than desired, add a little more water.
Use your oil spray and spray your griddle. Divide your batter into 4 individual pancakes. Cook each side for about 5 minutes, or until browning. Each side will take longer than your normal pancake to cook. They are bake softer than your typical pancake.
After pancakes are cooked, dish up your pancakes on a plate. Add your 1oz of peanut butter on top of your pancakes. I like to put on the peanut butter while the pancakes are hot so it spreads nicely. Top with fruit and enjoy!
Thanks so much for stopping by today! If you get a chance to make these pancakes, let me know! I would love to hear all about it!
Bright Line Eating
Recipes