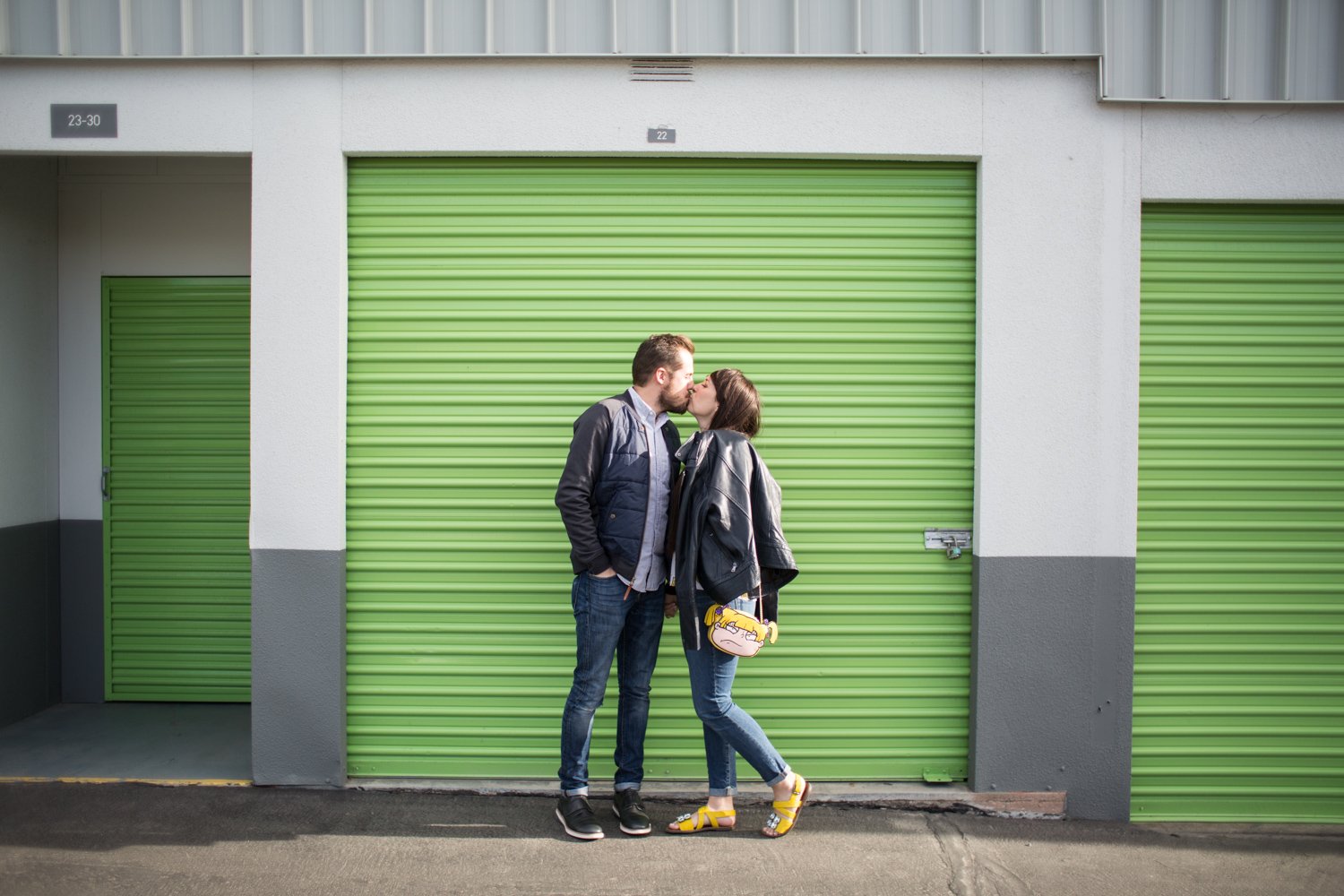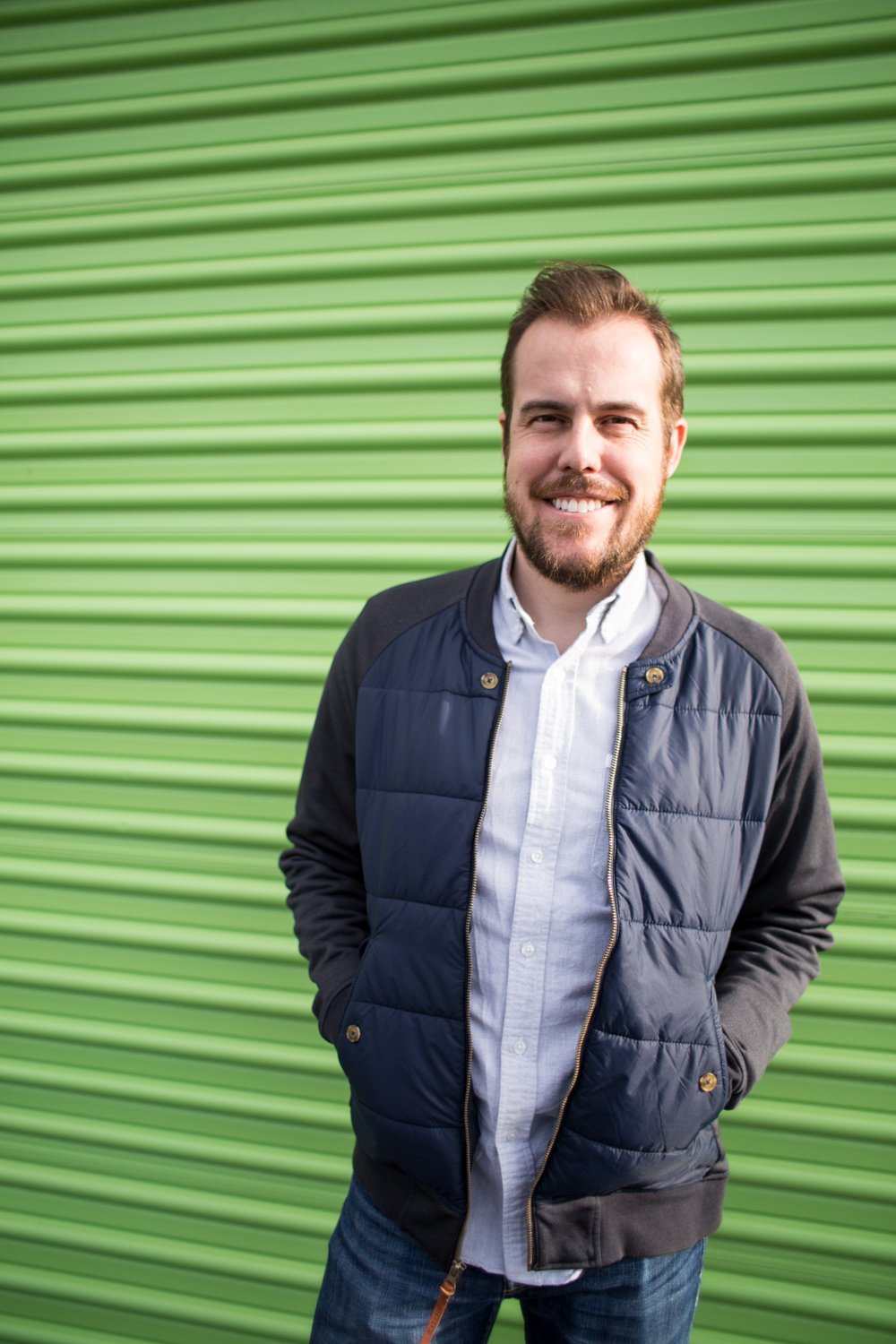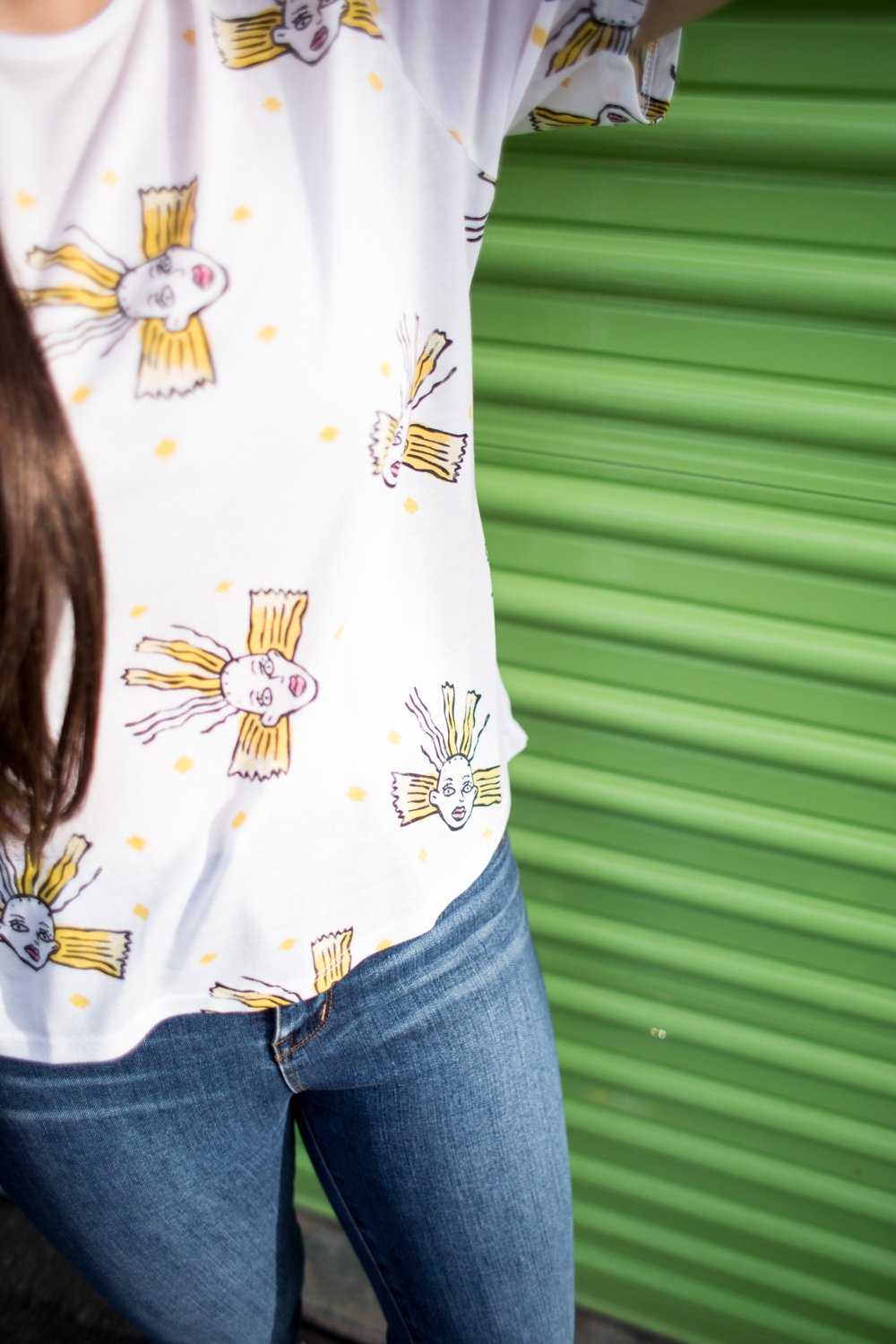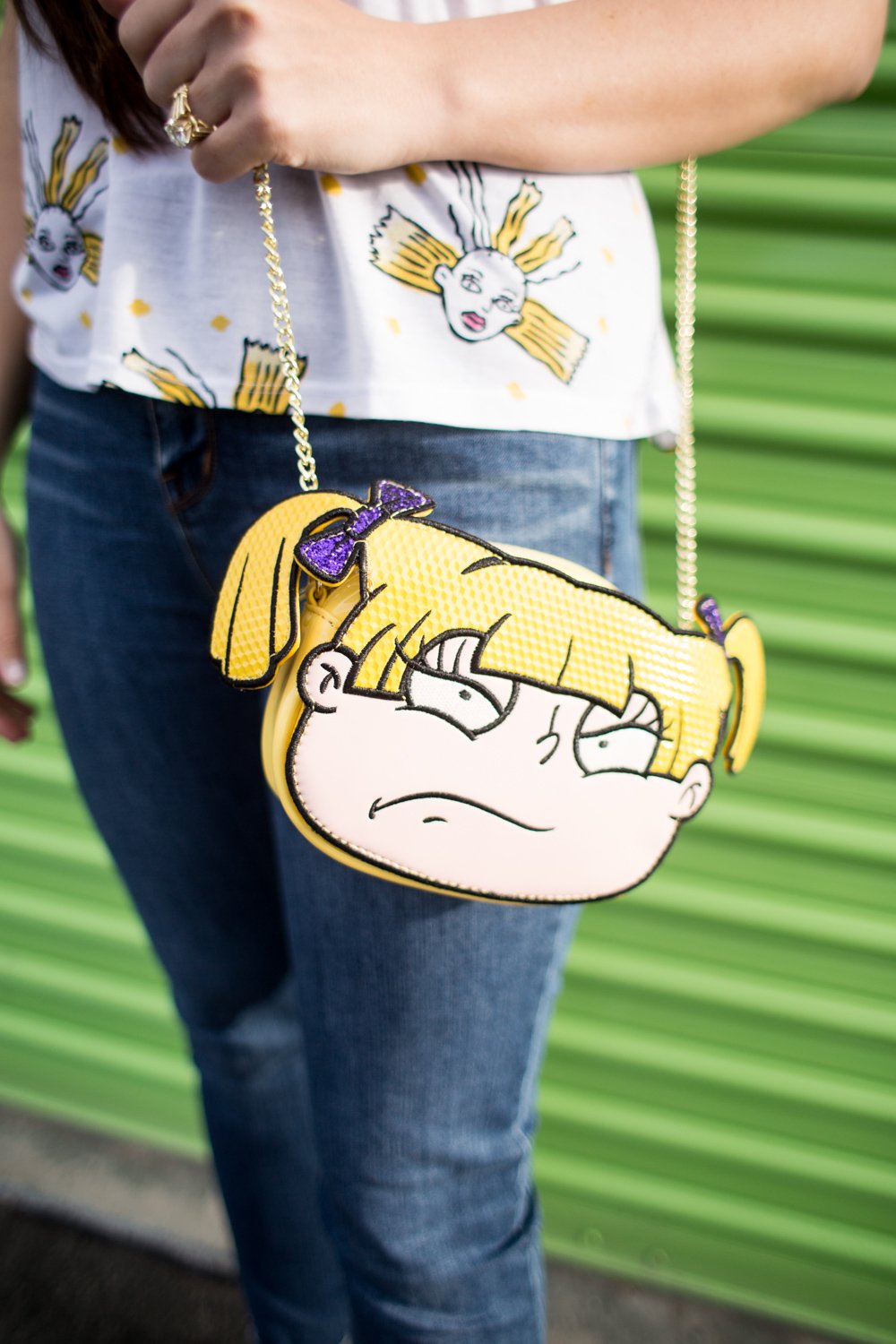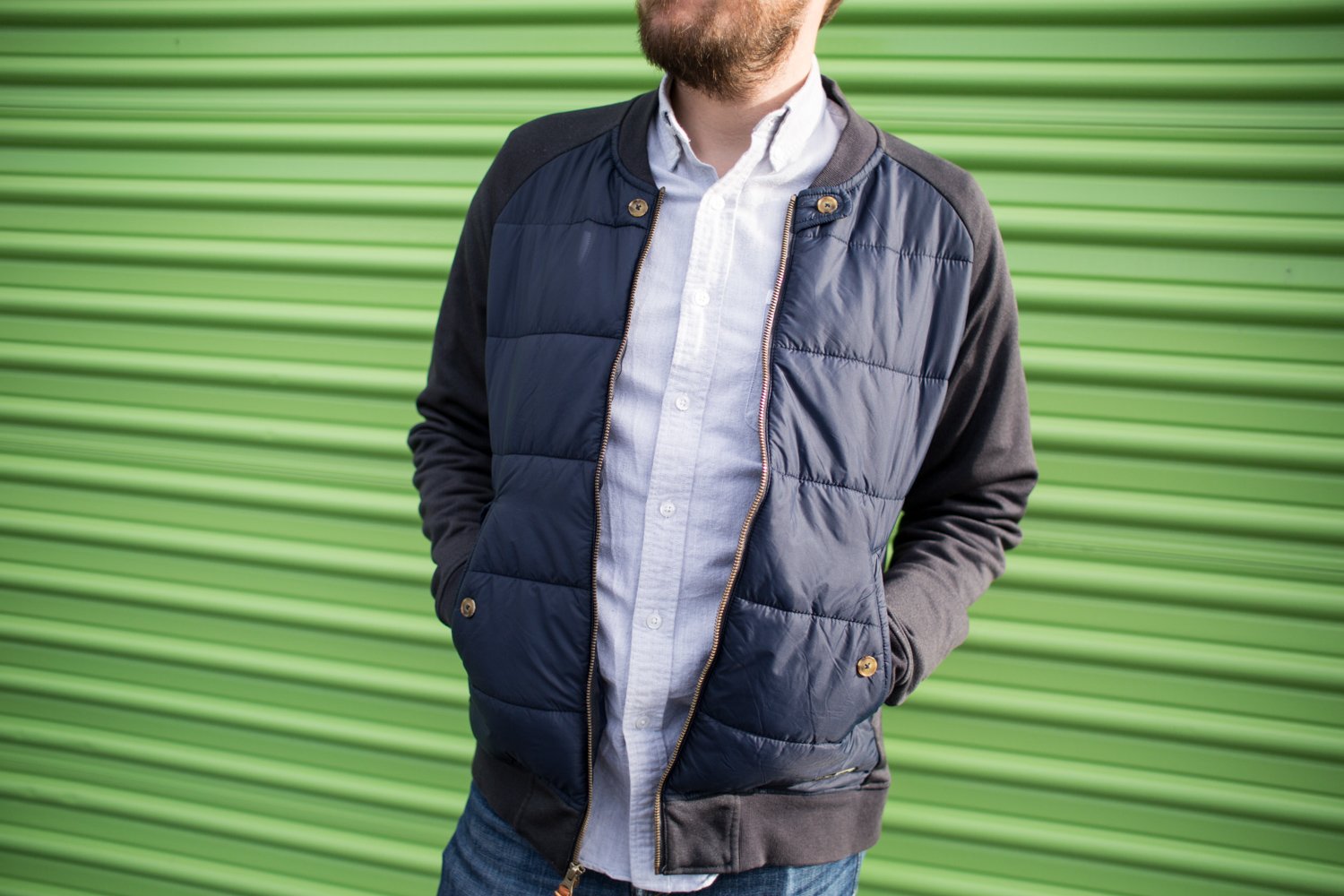 Outfit Details:
HIS LOOK
Jacket: Holden | Shirt: Jcrew | Jeans: All Saints | Shoes: Cole Haan
HER LOOK
Jacket: Bernardo Outerwear | Cynthia Shirt: BoxLunch | Jeans: DSTLD | Angelica Purse: Danielle Nicole | Shoes: Sam Edelman

Quote of the Day:
"It's going to take years, maybe even months, of hard work." – Angelica Pickles
Anyone else a big Rugrats fan growing up?!?!? I seriously would watch the show all the time and loved it!  When I saw this Cynthia shirt at BoxLunch I knew right away I had to have!  Not only was the material on it super soft, but I loved the box fit and longer short sleeves on it!  I was cracking up that the print on the shirt was just Cynthia's head and it reminded me of the episode when Cynthias head fell off of its doll body!  FYI: Cynthia is Angelica's doll that she takes around with her 🙂
Angelica is known as a diva, and a bit bossy.  Something you learn about her in the show is she is she is really great at focusing on what she wants.   If there is something she wants, she gets it! She said this quote above to Chuckie when he was concerned he didn't have enough time to do what he wanted to do because of his afternoon naps.  "It's going to take years, maybe even months, of hard work."
I just love this quote, and it really hit home to me!  This past year I started working on a goal of wanting to learn more and earn more.  Its been a hard goal and it has taken any extra spare moment of my days.  I have been doing a lot of things that make me uncomfortable and pushing me out of my comfort zone everyday to make those goals come about.  Often I want to take afternoon naps, but know to hit my goals, sometimes those have to get missed 🙂
A lot of times its hard to push through, but looking back at a year in review, I can totally see what Angelica is saying that things we want can take years of hard work. But when I look at it…won't it make things so much better when we get to that goal?
If there are any goals you are working on, keep working on them! A little bit each day!  Some goals make take years, or many months but it will be worth it!  "Success is no accident.  It is hard work, perseverance, learning, studying, sacrifice and most of all, love of what you are doing or learning to do."- Pele
Thanks for stopping by today! Hope you have a wonderful week!
BoxLunch
Danielle Nicole
Fun Handbags
Spring