Persephone Bakery
On our trip to Wyoming we got to spend some time exploring downtown Jackson. One morning we got to grab breakfast with some friends at Persephone Bakery. It is such a darling place to grab a bite to eat!  All kinds of drinks, baked goods, cute atmosphere, plus cute household items for sale too!  They have a hot breakfast menu and well as grab and go pastries/drinks.
Right next to Persephone Bakery is a really great juicery called H.B. Cafe and Juicery to if you like fresh squeezed veggies.  They also have yummy acai bowls and avocado toast too that are fantastic!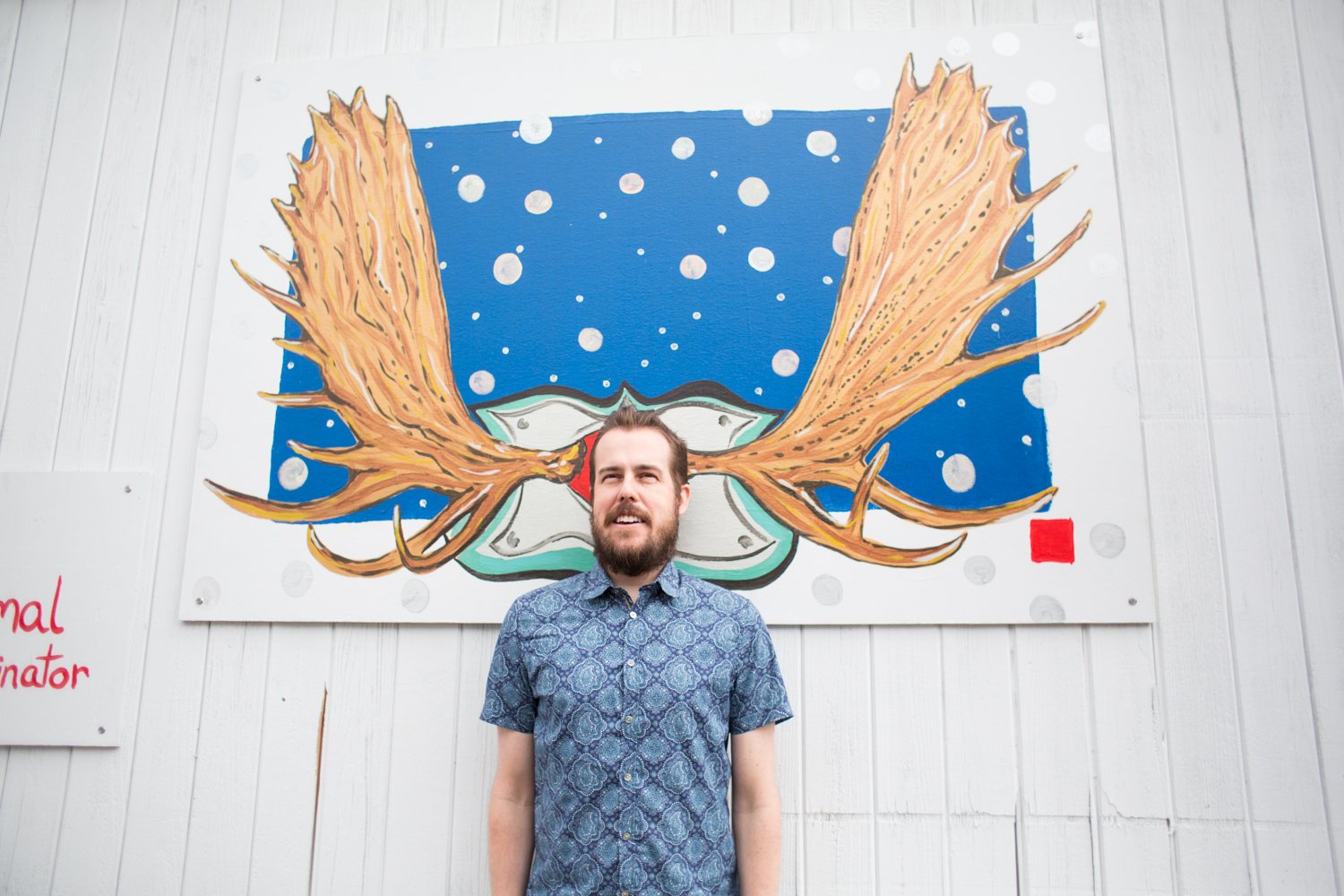 "Your an Animal!" Picture Wall
You can find this fun picture wall located in downtown Jackson Wyoming.  It has lots of cute animals to pick from for all heights! It fits in perfect with Jackson because there is a ton of taxidermy animals in all the stores and shops!  Jake was cracking us up at owl photo spot! It has these handles and it looked like the owl was grabbing Jake and taking him away as dinner!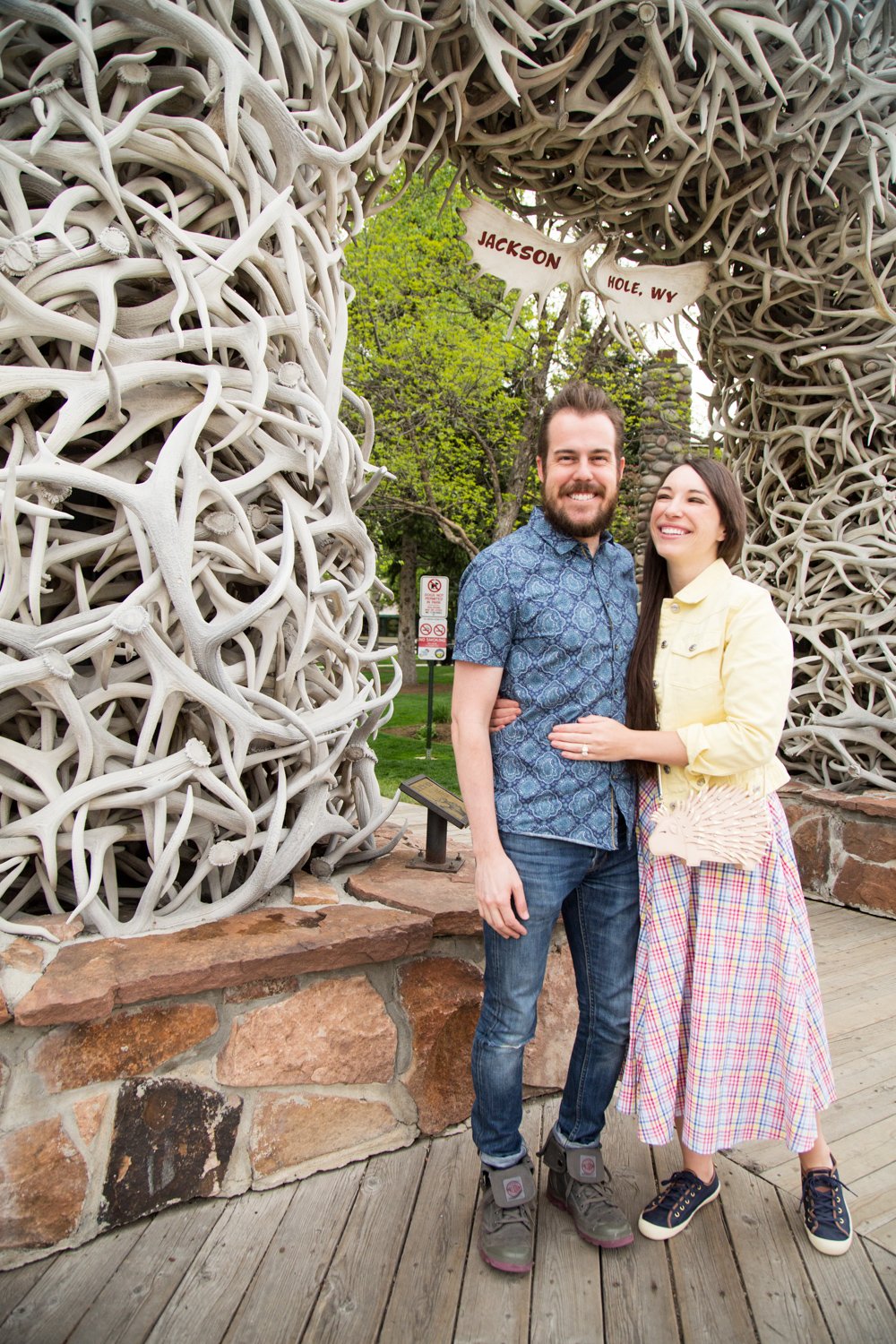 Famous Antler Arch
Grabbing a photo at the antler arches downtown Jackson Hole is a favorite picture spot of ours!  There are 4 arches (one on each corner) so you can't miss them!  If you get there in the early morning, it is usually pretty empty.  We took this photo at 8 am we only passed by a few people walking around on the street.  The shops downtown typically don't open up till 10am, so you pretty much have the entire place to yourself for all the pictures you want! It's awesome!
Downtown Shopping Recommendations
There are so many fun shops downtown sometimes its hard to know where to go or where to shop!  We didn't get to visit all the stores, but a few that we did and loved we wanted to share with you!
Teton Toys- One of the coolest toy shops we have ever been too!  It is full of lots of unique and awesome toys and I wanted to buy everything! You can also get rent a toy gun for $5 and shoot targets around the store!  Even if you don't have kids, it is a fun store to stop in and check out.
Pendleton-  Classic wool blankets hand crafted in Oregon.  They have so many styles and unique blankets to check out and see!  Maybe too many….. we came home with 3 new blankets! hehe
Made-  Do you ever walk into a store and it feels cool?  That is exactly how Made is.  You can get neat mugs, souvenirs, jewelry, post cards, unique gifts, its just a rad store! Check it out.
Mountain Dandy-  An all mans store, across from Made.  They have a beard lube here that is a must get for any man with a beard!
Jackson Mercantile-  I found out this trip I like cool taxidermy.  This is a traditional souvenir shop but has lots of cool taxidermy that you'll want to see!  Plus its open late so if you are out walking around downtown in the evening, pop on in!
Colter Bay Marina
Just a close drive from downtown Jackson, you can be at the entrance of Teton National Park.  There are so many gorgeous views and places to check out you won't want to miss!  This was our first time going on a boat ride at Colter Bay Marina.  Here you can find lots of cool actives like riding horses, hiking, kayaking, scenic cruises and more!
We did the Jackson Lake scenic cruise and really enjoyed it!  You can get really great views and learn more of the history of the area.  Tip: Grab a seat by a window!  You can get up during the boat ride and hang outside on the back of the boat too.  We heard the scenic meal cruises are super cool to check out and do as well!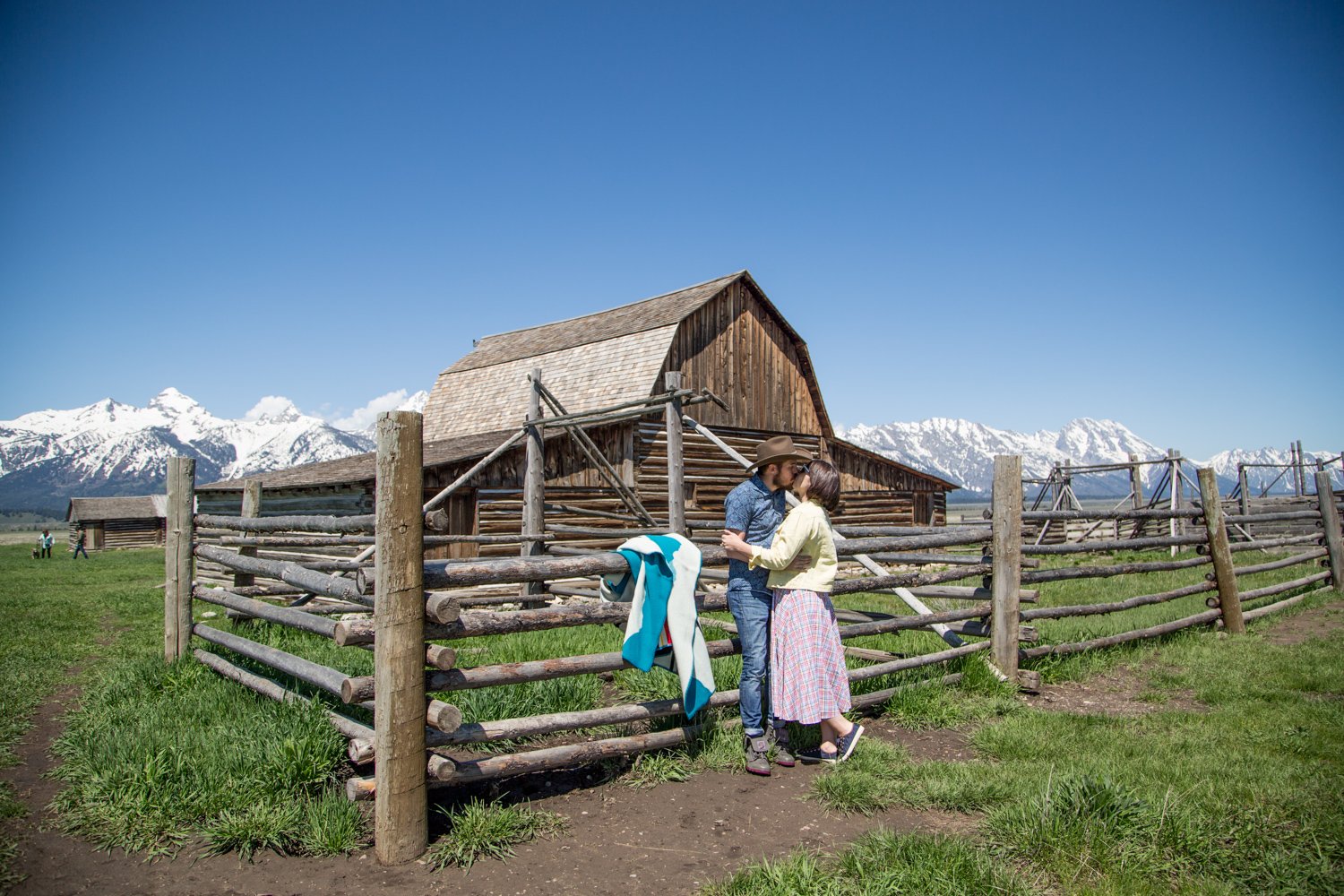 Mormon Row Grand Teton National Park
Mormon Row is a great place to stop and get some good pictures of the Teton Mountain Range!  You can find a few homes and historic barns that you can walk around and check out.
Outfit Details
HIS LOOK
Shirt: Ted Baker | Jeans: All Saints | Shoes: Palladium Boots
HER LOOK
Jacket: Asos | Dress: Eliza J | Shoes: Palladium Boots | Hedgehog Purse: Kate Spade | Lipstick: Mac- Hot Chocolately | Blanket: Pendleton

I got this cute dress from Eliza J and was so excited to wear it in Wyoming!  I thought it had a fun picnic like pattern to it and loved sitting on our new Pendleton blanket out on Mormon Row with it on!
Thanks for stopping by today! Hope you have a wonderful week 🙂  Want to see more of Wyoming?! You can check out your vlogs from our trip here!
Grand Teton National Park
Jackson Hole
National Parks
Spring
Wyoming