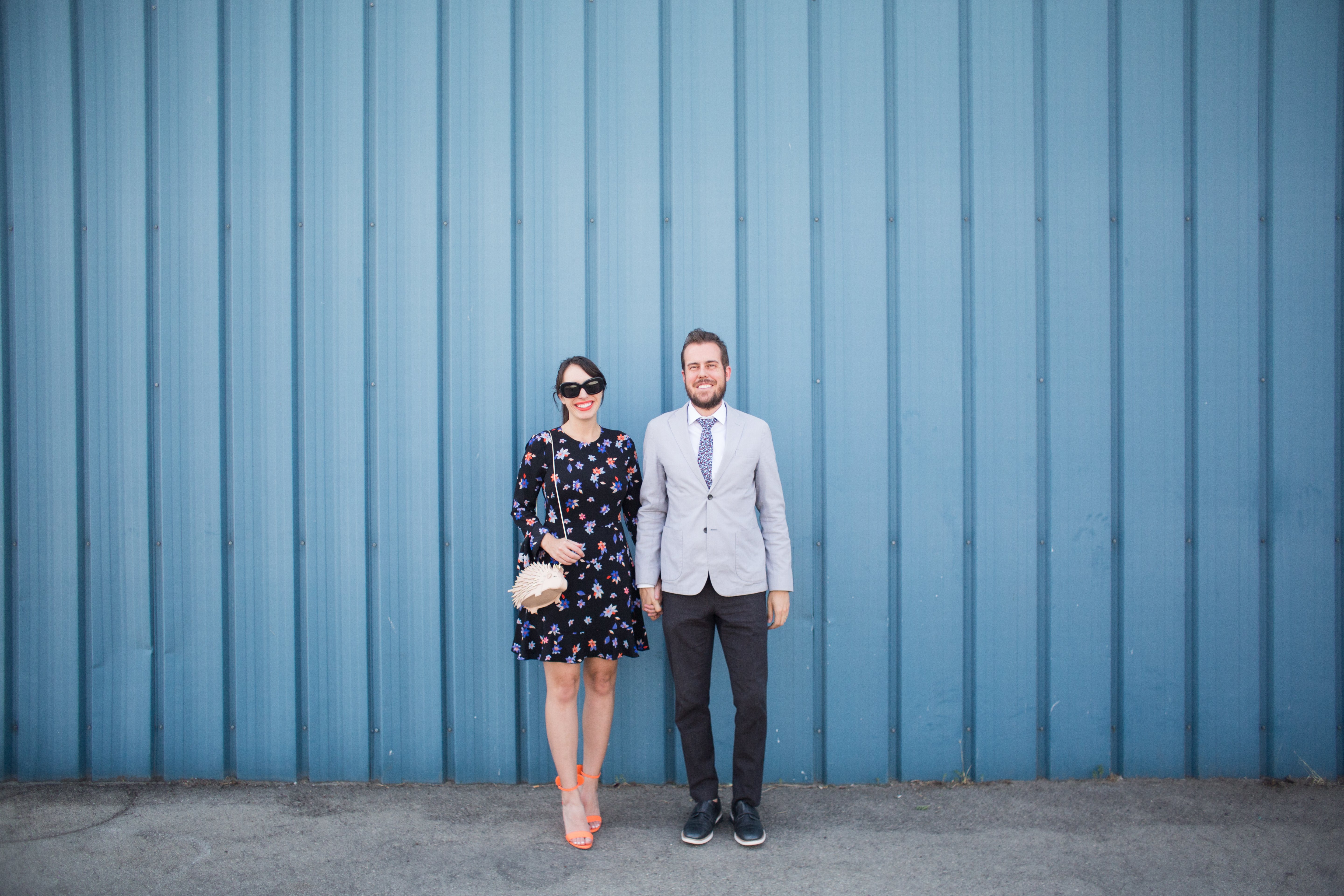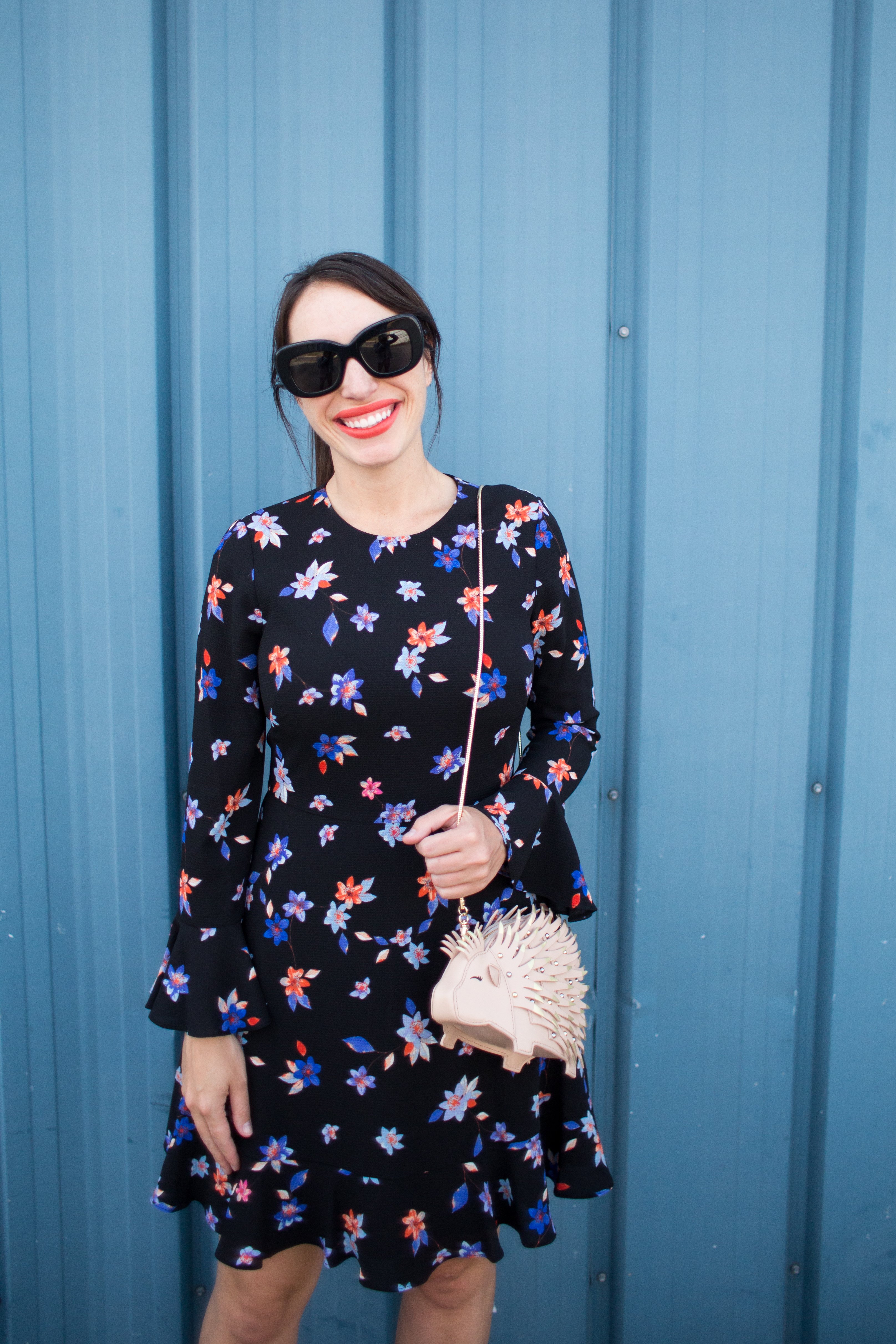 HER LOOK : Dress | Lipstick | Heels | Purse | Sunglasses
HIS LOOK: Blazer | Shirt | Tie (only $22) | Pants | Belt | Shoes

Happy Tuesday!  Hope you are having a great week so far!  I recently got this cute floral dress from Eliza J in the mail and I was so excited to wear it!  I LOVE the print and the pops of neon orange! Orange is my favorite color, so anytime it's in a cute print it makes me super happy!  Sometime I want to wear this dress in the winter with some black tights and boots!  It's starting to get a little bit cooler outside and it is making me so happy! Wahoo!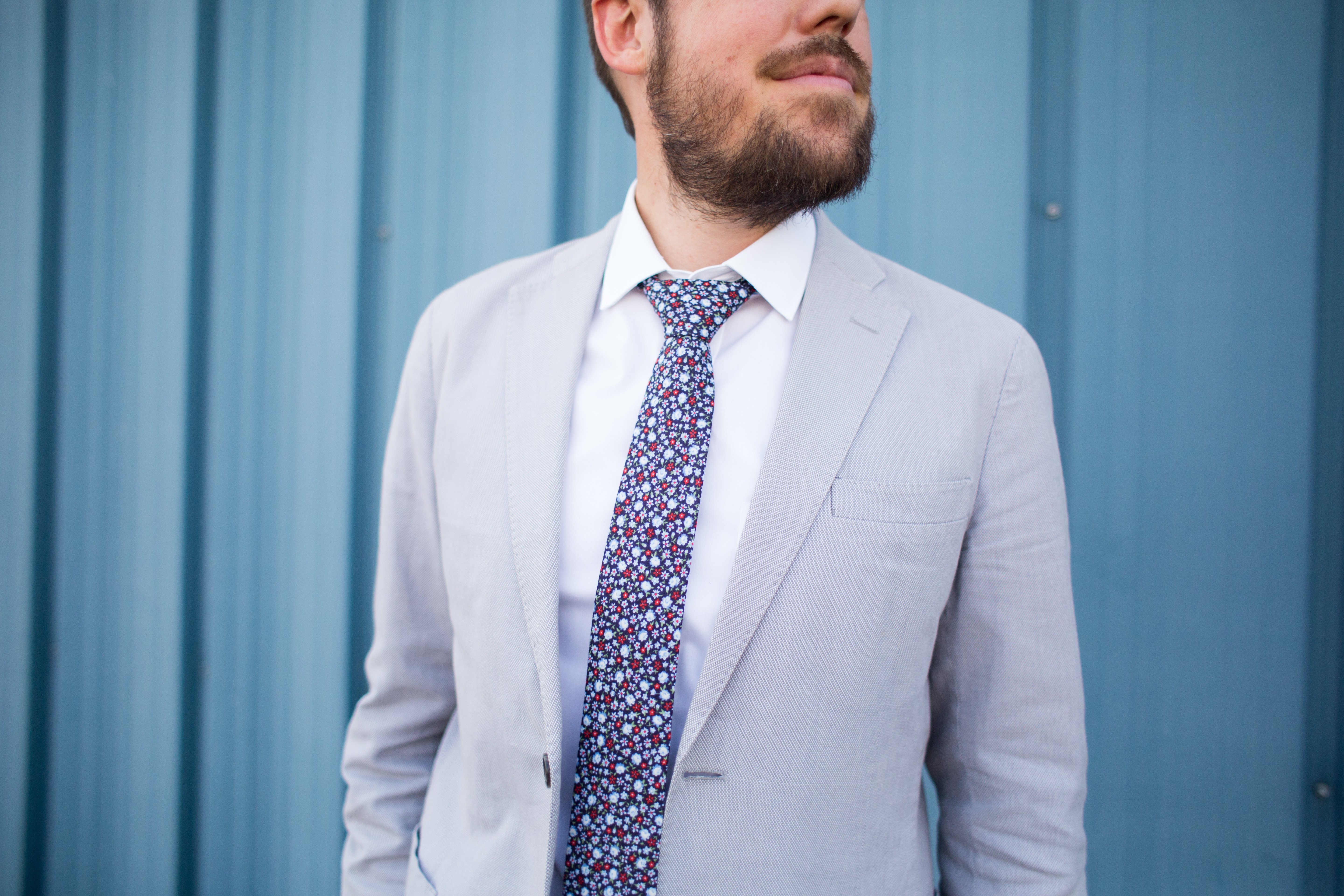 With Summer wrapping up, Jake and I thought it would be fun to share 15 ideas to end summer with a BANG! We always love doing at least one last summer hurrah before fall starts! I picked a variety things so there should be some fun ideas for everyone!
Top 15 Ideas to End Summer with a BANG!
Bonefire Smore's Party– Anyone used to do these in college all the time?!  Get some family and friends together and have a big fire and a smore's spread for everyone to enjoy!  Nothing better than smore's!
Back to School BBQ– Invite the neighbors over and have a bbq!  Soak in the last of that awesome sunshine and eat some good food!
Picnic– Prepare a fun dinner or pick up a pizza and go enjoy it outdoors!
Hike– Head for the hills and enjoy the outdoors one last time before the Summer scenery changes!
Food Tour– Pick out a few places you have always wanted to eat that are in the same city.  Get a group of friends together and all go out to eat.  At each place just order one or two things and everyone splits the items to eat. Grab forks and dig in!   We did this with some company in town and went to 6 diffrent places! One for scones, speciality hot dogs, sweet potato fries, smothered burritos, sugar cookies and to top off the meals, a pazooki!  By the end we were all so full and had so much fun trying lots of local foods in our area.
Movie Theater Double Feature– Go to the movies and see not one, but two movies! A double feature!  This is something I have always wanted to do and never have done.  I would get a large popcorn and when it's time for movie number two use the refill! And grab a pizza to…our movie theater has the best pizza's ever!
Backyard Camping– Set up a tent and have a sleepover outside!  If its rainy out you could always do an indoor fort too 🙂
Bowling– Anyone else love bowling?! When Jake and I were dating we were on a bowling league for 2 seasons together.  You would think we would be good at it, but we are not! But its still a fun time! I forgot how much fun bowling is and think that would be a fun activity to go do for a end of summer bang!
Hot Air Balloon Ride– Jake and I did this a few years ago in Park City, UT and I have been wanting to go again! We found a Groupon for it and thought, lets go for it!  If you google hot air balloon rides, I bet a few options in your area with come up!
Sidewalk Chalk Family Art Competition– Bust out the side walk chalk one last time and have an art competition! You could make sections of the driveway for each person for their masterpiece! Ask a neighbor or family member to come judge the competition and hand out prizes!
Bingo Night–  Invite friends over for a Bingo night! Have prizes and fun treats (or have your friends bring some) and share a fun night of playing Bingo together! My family and I do this once a year and its so fun because its great for all ages!
Staycation– End summer with a BANG by staying at a fun resort close by! Sometimes you just need to get out of the house and have one last hurrah!  I like resorts because they have restaurants, pools, fun activities and you usually don't even need to leave the grounds for the weekend!
Visit a Waterpark– Nothing says summer like water!  Go for one last summer splash!
Last minute Road Trip–  Drive a few hours away and explore a new town!  We recently did this for a day trip and ended up at the coolest town!  It's fun to see what is a few hours away from your own backyard!
Disneyland Trip to visit Pixar Pier– Pixar Pier is open now and all the new treats/ food for the occasion look so TASTY!  A little rumor has it to that the Halloween decorations are starting to make an appearance to!  While everyone is out school shopping, hop on a plane and head to the park for the ultimate summer time finale!
Do you have any fun plans to end summer with!?? We would love to hear what you will be doing in the comments below! Thanks for stopping by today! Hope you have a great day!
Dresses
Eliza J
Floral
Fun Handbags
Kate Spade
Summer