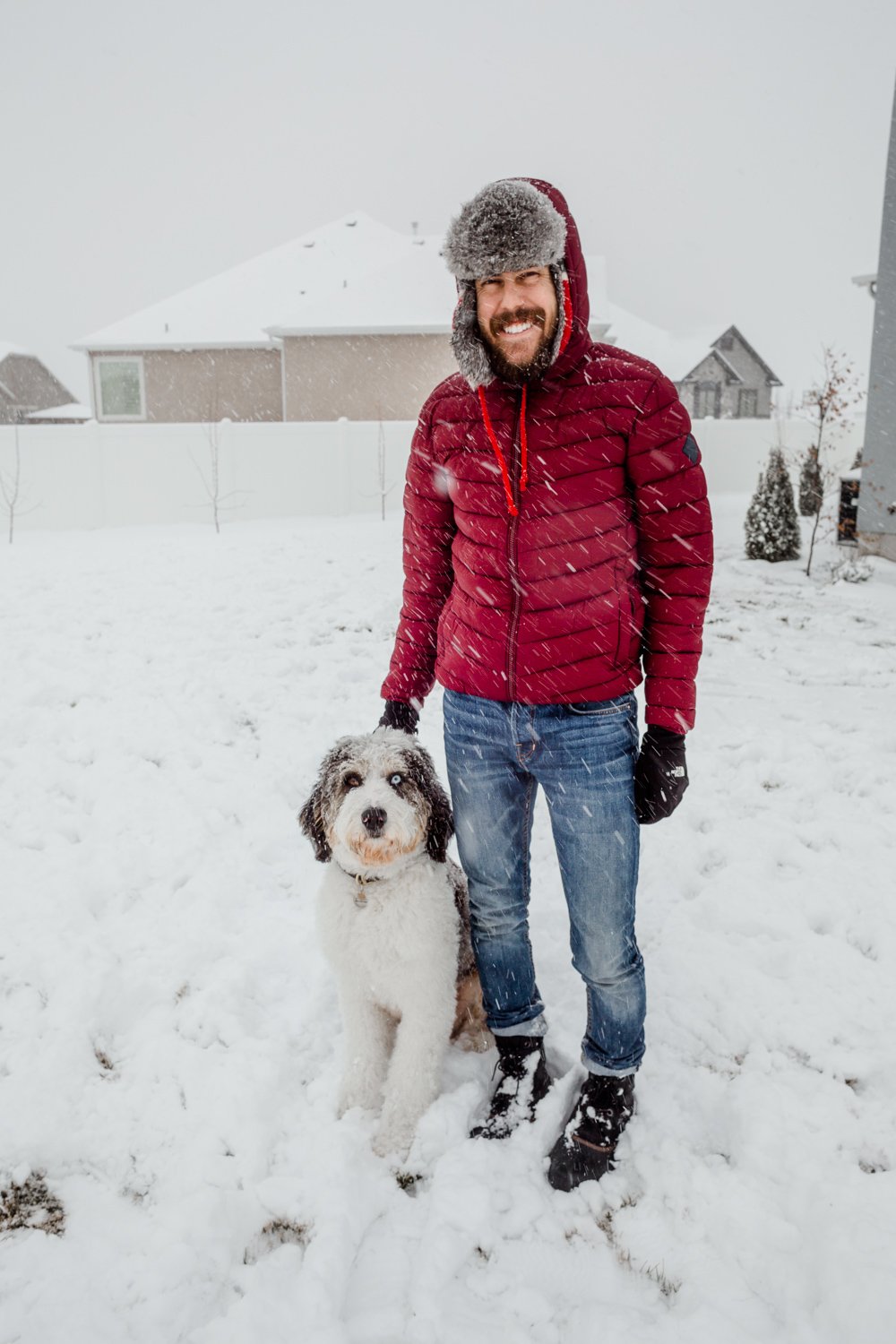 HER LOOK
Jacket: Lululemon | Top: Jcrew | Pants: Good American | Socks: Gap | Boots: Sorel | Hat: Russia
HIS LOOK
Jacket: Joules Clothing | Sweater: Jcrew | Pants: All Saints | Boots: Sorel | Bomber Hat: Similar
We LOVE snow days and have loved having a few fresh flurries happen this month! It has been so fun seeing Zeke play in the snow and mostly eating it! We are not sure if he has experienced snow before, but we think this might of been his first time when we took these photos! He was so cute zooming through the snow and running around! Jake and Zeke had a blast playing outside together! I enjoyed watching the two of them chase each other around the yard.
We tried to build a snowman but the snow was super soft, so it wasn't sticking. Hopefully all the snow won't melt so we can build a snowman later! Do you enjoy playing in the snow?! What is your favorite thing to do in the snow?! With winter being our favorite season around here, we decided to put together a Winter Bucket List of all the fun things we wanted to do together so we can mark them off one by one!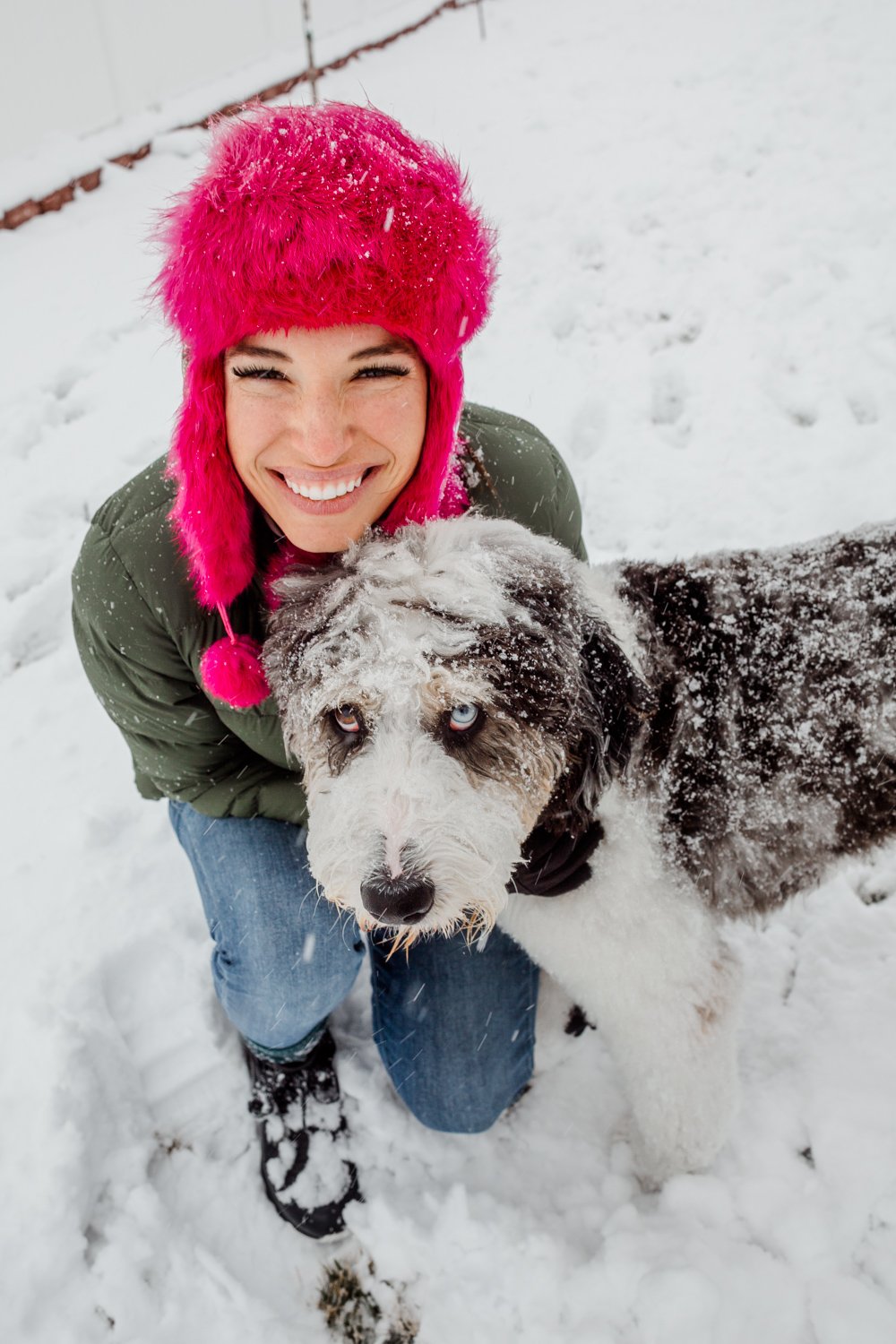 Winter Bucket List
Ice Skating
Outdoor Fire and Smore's
Snowshoeing
Make Hot Chocolate
Sledding
Make A Snowman
Bake Cookies and Decorate them
Make Kits for the Homeless
Have a snowball fight
Make Soup and invite friends over for dinner
Shovel a neighbors driveway
Play in the snow and make snow angels
Write in your journal
Go on a sleigh ride
Have a puppet show
Clean out your closet
Bake a pie or take a cooking class
Cut out snowflakes
Karaoke Night
Polar Bear Plunge
Make A Fort
Go to a Concert
Freshen up your home with some new pillows
Create a new Music Playlist
Host a Movie Marathon Night for Friends
Make a snow-globe
Go Bowling
Read A Book
Waffle Brunch Party
Soak in some natural Hot Springs
Snow Shoeing
Sled Dogs
Have a card game night
Take a bubble bath
Write a thank you note
Volunteer at a soup kitchen
Bundle up and go for a walk
Set some goals for the new year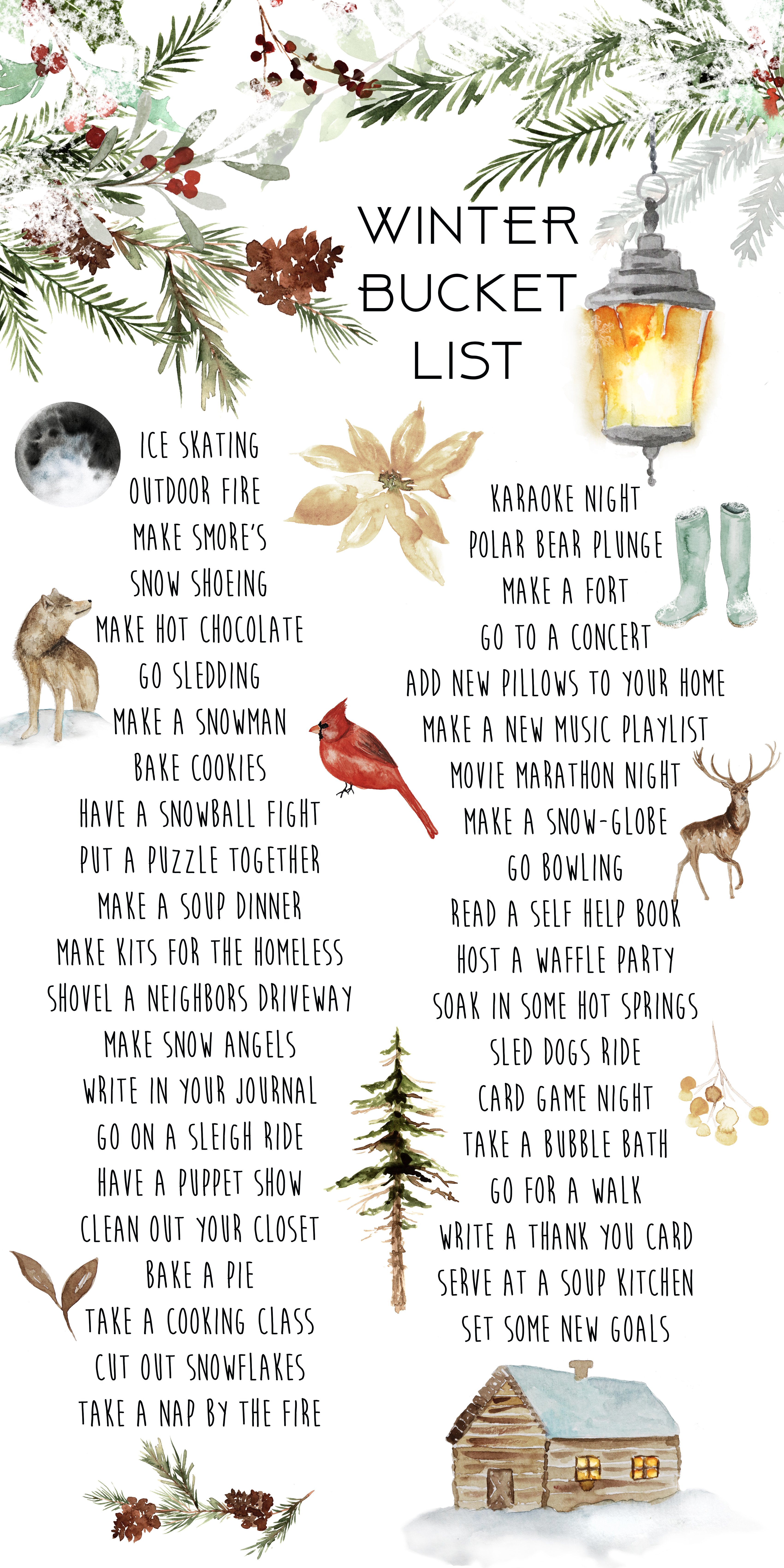 Thanks for stopping by today! What activities are on your Winter Bucket List?!
winter
Zeke the Dog