Hi Friends! Today we are back for another update on our infertility process! Not gonna lie… this is an exciting month in the IVF process and so we wanted to make sure we shared it with you all! If you caught our last update, I started documenting the process in Letters to Our Future Babies. I put "babies" because Jake and I are really dreaming of multiples during this whole IVF process. I am all about the power of positive thinking, so I know our triplets will be here soon! 🙂 Now time to share an update on month 2 of In Vitro Fertilization!
Letters to My Future Babies
Dear Little Babes! It is finally January! I have never been soooooo excited for a new year to come than this one! 2019 is going to be the best year yet! I have been so excited for this month because this is the month the doctors will hopefully be putting you inside me! Wahoo! This will be a very busy and exciting month so I decided I would document every important day we had on here as a little journal for you! Here is a little look at our "tentative" medications calendar.
There are a few meds that are not listed on this schedule and we are waiting on word from our coordinator on when to take those. Your dad and I just wanted to let you know how much we love you already and can't wait for you to get here! We are feeling so amazing about this process and are so excited about it all! Wahoo! Can't wait to have you in our arms soon and give you lots of hugs and kisses!
IVF Day 33- January 4, 2019
Jake and I finished our Z-packs today! So random you have to take Z-packs with IVF but it is to kill off any sort of "bad" bacterias.
My sweet friend Kendra also stopped by and dropped off a kind note and some goodies! She was so thoughtful and brought over some adventure bandaids and alcohol wipes! It was such a sweet and thoughtful gift that made my day.
IVF Day 35- January 6, 2019
Finished birth control pills today! Wahoo! Feeling great over here 🙂
IVF Day 36- January 7, 2019
Today was AWESOME, we celebrated our 8 year wedding anniversary! I really wanted to play laser tag for our anniversary, so that is what we did!
The day started off at the doTERRA Spa. Jake was so sweet and got me an hour massage. Seriously the best massage I have ever had. At the end of the massage the masseuse wrapped my feet and neck in warm towels and put Balance and Serenity essential oil on me! It was AMAZING!
For dinner we went out for sushi! It was super tasty! Jake got a rootbeer float at Ikes, then at Provo Beach Resort we played laser tag! It ended up being just the two of us playing and it was such a blast! Next we played some games, and cashed in our tickets for some toys! It was such a fun night!
Tonight was a great reminder to us to get out and have some fun during the process! We went ahead and planned a few more date adventures coming up to that we can look forward too.
Next year well be able to celebrate our anniversary with new babies! Booyah! This year our anniversary gifts to each other was IVF 🙂 Best gifts ever for now! Next year with you babies will be even better!
IVF Day 37- January 8, 2019
Tomorrow we have a big doctors appointment! Our consent forms, all the money are due for IVF. As well as at the appointment a blood draw and ultra sound. Tonight to prepare Jake and I watched the injections videos. We had some fun laughs together watching the videos. The injections look pretty straight forward and not to bad.
Watching the injection videos we did have a few questions come up so we wrote them down to ask a nurse tomorrow while we are at the clinic. In this process we have learned it is so important to be our own advocates and write down questions and make sure we get them answered during this process.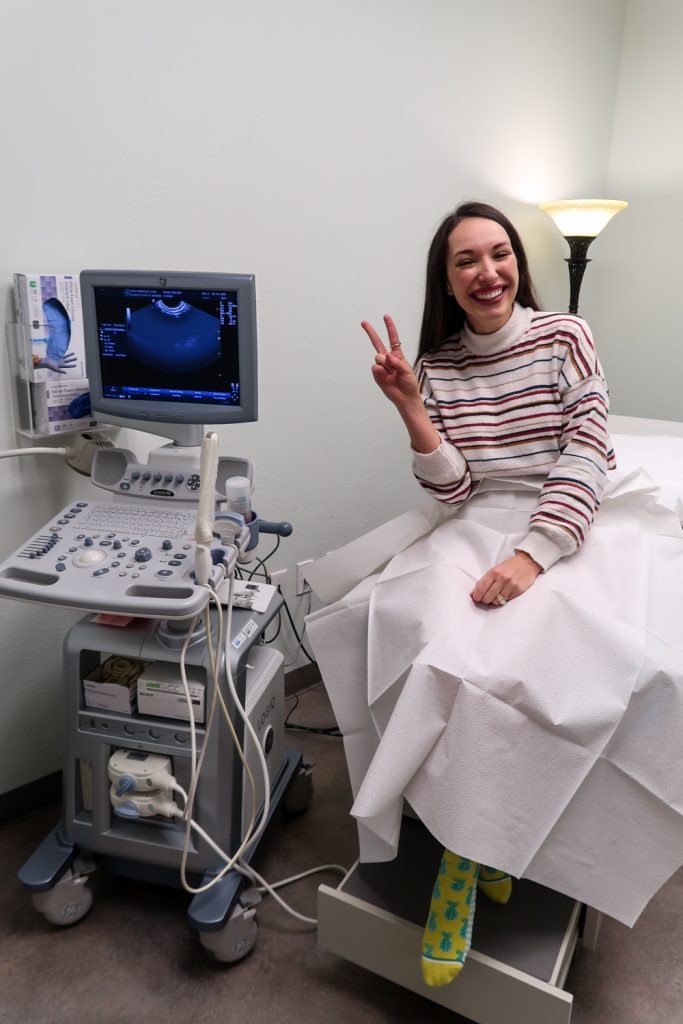 IVF Day 38- January 9, 2019
Today Jake and I went to the fertility clinic. It was so nice having him with me at my appointment, especially today because it was a big one! First on todays appointment list was an ultra sound. My mom thought ultra sounds are like the used to be back in the day… but they are not.. they are mostly all vaginal ultra sounds. Jake was teasing me because I left my socks on, but hey, why not look cute too?! 🙂 haha
We brought our list of questions to ask the nurse. Everyday we are learning and finding more questions we have during the process. It was nice to get our questions answered and feel good about moving forward in this process.
Secondly, we brought our waivers signed and turned them into the nurse. I thought it was funny that we needed to print them and bring the waivers but glad to be officially feeling like we are really starting this whole process. We have been doing IVF for over a month now and preparing for it for 2 years, but now it all feels official and I like that! BOOOYAH!
Next I got my blood drawn. The nurse took 3 samples, one to check my hormone levels, one to check for infectious diseases, and other I don't remember…. 🙂
What I didn't know is that if my hormone levels weren't where the doctor/nurses wanted, we would have to postpone starting injections for a few days or so. Luckily we got the call later in the day that everything looked good and got the ok to start injections tomorrow! I have seriously been so excited about injections, I can't wait to get started!
Lastly at our appointment, we checked out and paid for all of IVF! I told the lady is was a bargain and she looked at me like I was crazy! I totally ment it though! We would do anything for you little babies and want you to know you are worth it all, and even more! I know when we get you in our arms we will think we would of paid a 1000 times more than what we paid if we could have you in our home!
Today I also had an acupuncture appointment. That was fun and relaxing. I totally fell asleep during my appointment! Of course Jake did too while he hung out in the waiting chairs 🙂 This a picture of the acupuncture needles in my upper back! Doesn't that look pretty cool?!
When we got home from the appointments Zeke had gotten out of his crate and had a little accident with a lamp and some blinds. For some reason we thought it was pretty funny and glad he didn't get hurt!
Before I went to bed, I got out all our injections and picked out what we needed for tomorrow. We only have 2 shots tomorrow, so got everything prepared for that! Earlier today we had picked up some gause and a few others supplies we were missing for injections. I wanted to double check everything was good to go so that it would be a smooth morning.
With injections you are supposed to do them at the same time everyday. The 2 medications we are starting tomorrow (Menopur and Follistim) they can be taken within a half hour window of your "go" time. For us we picked 8:00am for our injections. So we need to stick within 30 minutes of that time frame. That is one of the questions we asked yesterday, and I am so glad we did because none of the videos mentioned anything about time frame.
There are other injections we have coming up you have to take exactly at the same time each day (Ganirelix), so it's nice that these ones are a little more flexible and allow a little wiggle room.
Ovarian Stimulation for IVF (Injections/ Stims)
IVF Day 39- January 10, 2019 (Stims Day 1)
First day of injections, aka Stims! I have been so excited for this day because it means we are getting to the big stuff! Wahoo! Today I woke up so excited to get started with everything! I could hardly sleep last night with anticipation, which is saying a lot because I am a big sleeper. When I got up, Jake was already up and preparing the injections. He was so cute and had the laptop out with the medication "how to" videos on because he wanted to make sure he did everything just right. Jake did a really great job with it all!
The shots were soo tiny too which was nice! The needles looked longer in the packaging than they really were. Each needle was only about an inch long! I am grateful we are doing a fresh embryo transfer because there really is not a long time period of injections. With these shots I am taking, this should all be cake 🙂
Once Jake got the injections ready, we went for it! He cleaned off a spot on my abdomen with an alcohol wipe next to the left of my bellybutton, pinched the skin and stuck the needle in. The shot went right in and honestly I didn't know the needle was even in. He injected the medication and it was done! I told Jake to go for it again and so he put in the next shot. It all went really well and so much easier than we both thought.
I did get a little dizzy from the rush of medications so I laid down for a few seconds and smelt some peppermint oil. Peppermint is really great for nausea so Jake was smart to grab that. I rubbed the peppermint on the back of my neck, wrists and held the bottle to my nose and took a big inhale. Luckily after a few minutes I felt fine enough to stand up and move on for the day.
With In Vitro Fertilization you are not able to take any medications or medicines unless prescribed be your nurse/doctor so essential oils I know will be my go to for everything! We talked to the nurse at my last appointment, she said our doTERRA essential oils are great to be using during this stage of IVF.
Today I started 2 shots. (Follistim 225, Menopur 1 Powder) I am also supposed to take Prenatal Vitamins and a baby aspirin everyday for the next few weeks too. In addition, I am taking some preventive steps using On Guard Softgels everyday so I don't get sick! I do not want to get sick during this process so I have been making sure to really stay on top of things with On Guard! Cleaning with it, washing my hands with it… the works! It is seriously my saving grace for this time of year with it being flu season!
I have heard with the IVF medications your system can get a little clogged as well. One of the side effects can also be bloating. For those two items I am using an oil called DigestZen and plan on continuing to put a drop of DigestZen oil on my belly every morning and evening to help keep me regular and not bloated!
Jake had a great idea of putting Frankiensce on my belly where he put in the injections. Frankiensce is an anti inflammatory as well as helps with bruising and scars, so it's a great IVF oil to have on hand! I really don't mind some battle wounds, but want my body to be as healthy as it can for the babies!
A special delivery came in the mail today as well! I had read on Jenica Parcell's blog something she did during her 3rd round of In Vitro Fertilization that she thought made a big difference in getting pregnant. What she did was a sort of wash that goes in your uterus that acts like a velcro for Embryo Transfer. So I called my nurse and had her order me a prescription for Neupogen.
When I opened the box I couldn't stop laughing! The medication was shipped in a pretty big box and inside was a little baby vile! Pretty nuts how one vile cost $428.69, but I know it will be worth paying a little extra for some good vibes juice!
IVF Day 40- January 11, 2019 (Stims Day 2)
Today was our second day of injections! We just had Menopur and Follistim shots again today. Jake and I panicked because air bubbles were appearing in the Menopur injection that we couldn't get out. During the process of trying to get the air bubbles out we were wasting medication. I was panicked about the medication getting waisted and Jake was panicked an air bubble would get injected and hurt me. We were a hot mess for a few minutes! hahaha
Well, Jake got the air bubbles out eventually and we were able to finish up our shots for the day. The shots once again weren't bad at all. I felt lightheaded and dizzy again immediately but we knew exactly what to do for that and I laid down for a few minutes, sniffed some peppermint, and was good to go.
We were worried this could happen again with air bubbles and didn't want to waste any of our medications so we did some research and called our nurse to confirm.
The nurse said that small champagne bubbles are ok and it's fine to lose small amounts of the medication. She said there was no way they would let us inject ourselves with a chance of getting hurt, so that is why we are instructed to inject into fatty tissue.
Hearing that made us feel better about this morning! We are excited to try again tomorrow and really nail down this whole injection process!
Today I did wake up 3 pounds heavier. I am guessing it is the medications because I haven't changed my eating. During this process I have been pretty on point with my eating because I want my body to be in the best condition for the egg retrieval! Surprisingly though the weight-gain didn't bother me, and just make me so excited my body is doing ok with the injections! I knew weight gain can be a side effect of the medications and it makes me happy there will be some squishy room for babies!
IVF Day 41- January 12, 2019 (Stims Day 3)
Injections were a breeze this morning! I think we got all of our panics out yesterday morning and today went great! It's pretty crazy how after 3 days you can start to feel like pros 🙂 Today I didn't feel dizzy from the medications, or feel the rush of meds entering my body either. That was nice! I did lay down for a minute after injections just to make sure, but felt great all day!
The Frankiensce has really been helping on my belly not bruise or hurt. I know the DigestZen is really helping with bloating too! Only felt a little bloating so far, so when I feel it coming on, I just roll that oil all over my belly. I am so grateful for awesome oils and that I am able to use them during this process. They have come in handy tons and find myself covered in oils everyday!
IVF Day 42- January 13, 2019 (Stims Day 4)
Jake did another great job with injections today! It's nice having him do them for me, but I think would feel ok doing them myself. I just might give myself the shots one day just for fun!
Today is the first time I have felt a little funny from the medications. My brain was a little foggy at church today, and felt a little bloated durning the evening. The medications have been making me super hungry all day long, so I am glad I have planned in advance an eating schedule or else I would be eating down the house. Luckily though the foggyiness and bloated tummy didn't last to long, but I did just take the day relaxing and watching movies with Jake and Zeke.
Our YouTube friend Annie recommend a heat pad that has been life changing! It's electric and it plugs in and stays heated! I am loving it so much Jake went back to Walmart and bought me a second one! It has come in hand for being bloated, cramps, cold flashes, so…it's pretty much the best invention ever made!
IVF Day 43- January 14th, 2019 (Stims Day 5)
We are pretty much halfway through most of our medications! One thing I didn't know about doing a fresh embryo transfer is that the injections are pretty minimal! Seriously though…10ish days of shots… I can do anything for 10 days!
Doing injections together with Jake has been a real bonding experience for us. We have had some fun laughs together and of course new things to tease each other about too! We think its funny to rein-act our first day of injections when I almost passed out from the from rush of meds. Our first week of our marriage I passed out on Jake in the shower, so for some reason this on going passing out occurrence has become a topic that makes us giggle.
This morning I got a text from my mom to me and my 4 sisters. It was a picture of a little Christmas tree she found on my dads grave when she went and visited his headstone. She asked if any of my sisters left it there. Guess what?!?! None of us did. I just thought that was the neatest thing ever that someone was so sweet and thought of my dad during Christmas time and wanted him to have his very own Christmas tree.
That is something my dad would truly love and appreciate it. My dad has always been a big fan of Christmas because it is a great time to celebrate Christ. Getting this text from my mom, and thinking about this kind person who took the time to remember my dad means so much to me. There are so many amazing people in this world and I am so grateful for their kindness today.
Opening up and sharing about our infertility journey has been one of the best decisions Jake and I have ever made. We have felt so much love and support from friends, neighbors and family. Jake and I do not live close to family, and so having the support and love from our neighborhood has been priceless. I don't know if it's all the hormones or overwhelmed with amount of love I feel right now from friends and even strangers, but today I am so grateful for kind and loving people in this world.
IVF Day 44- January 15, 2019 (Stims Day 6)
I woke up sooooooo excited to go to the doctors! We are getting closer to the egg retrieval everyday and just thinking about it makes me so giddy! It's so interesting to me that this IVF process was so foreign to me, but has become something I am so grateful for and am loving because I know it's going to lead us to getting our babies! We did our injections this morning and it all went smoothly! It's all kinda a breeze now with the shots! Today was day 6 of injections (STIMS) for us!
Last night Jake was spending time with Zeke training him with his crate. He is so good at spending time with the ones he loves and I know when you guys come he won't be able to resit spending all his time with you! Jake is going to be the best dad of all time! Doing injections, and this process together has made me fall more in love him everyday. I have always loved my Jakey, but am amazed how we keep finding new ways to grow in our love.
First today at the doctors we did an ultra sound. The nurse measured all the follicles (eggs) to see how they were progressing. My right follicles were around 8mm and my left follicles around 9-10mm. They were hoping that the follicles would be around 14mm today. The nurse was thinking they have not progressed enough to start our next medication that we were supposed to start today called Ganirelix. In addition we might need to increase our medication dosage, as well as order additional medications. The nurse said to hold off on our current schedule till the doctor was able to look over my test results.
Next we went and got blood work done. Blood work was awesome because they only took one vile today! Wahoo! The clinic said once the doctor looked at our ultra sound and blood work they would give us a call and for now wait for further instructions.
After our fertility clinic appointment we went home and picked up our dog Zeke and headed to acupuncture. Zeke could tell I was a little bummed and so he insisted he snuggle up on my lap during our car ride. I say insisted because he wiggled out of his car seat in the back and came and sat on my lap! heheh It was pretty cute! The snuggles from Zekey was just what I needed too! Jake and I were pretty bummed from our appointment that things were getting a little delayed. We have been so excited for this entire process it was hard to hear it was getting delayed, but we were trying to be good sports about it!
Acupuncture went great! I really love Bea (the acupuncturist) because she is like my IVF therapist! I usually see her right after my appointments and so I get to tell her all the updates. She is really great at asking questions, and has helped me several times find out things I should be asking the doctors office. Bea is super great and just that alone has been worth doing acupuncture! Today's acupuncture was on my belly and lower legs. She focused a little bit on my right ovaries since that side was not progressing as quickly as my left ovaries. I told her about my hot flashes/ cold flashes and she did some pressure points in my hands to help with that.
Around 5pm we got a call from our nurse. She said the doctor looked over our results from today and that we can start Ganarelix on Thursday with our regular injections. The great news??!!!? As of now we do not need to order any additional medications! We are not sure what this means for our egg retrieval coming up, but we have 3 more ultra sounds and blood work appointments this week so we will see as the days go on.
Today was a good reminder for Jake and I to trust in this process, say some extra prayers, have a smile on our face and be ok with little hiccups! That is all part of this journey and it is what makes our story unique to us. I am grateful to be on this IVF journey with Jake and Zekey! They are a great support crew! They were booth troopers as I was a little over emotional today 🙂
IVF Day 46- January 17, 2019 (Stims Day 8)
This morning we started Ganirelix with our current injections Menopur and Follistim. Ganirelix is a medication that stops you body from naturally ovulating so your eggs can still mature and grow.
At the ultrasound this morning more follicles were starting to pop up. I found out follicles are little protective sacks for the eggs and when the doctor goes in for the egg retrieval, they suck the eggs out from the follicles. Pretty cool. That now makes more sense to me on why they measure every single follicle.
The nurse found around 11 follicles from each side of my ovaries. It's cool to see the follicles growing, and on average around 11mm each now. That is good news! They said for the eggs to mature enough they want them at 18mm for the retrieval.
Then got my blood drawn, and went home to hang out. My friend Bonnie and I had a fun time going out to lunch today too so that was nice! At 6:30pm my coordinator called with an update on our test results. Since the follicles are a little delayed, they canceled the appointment for tomorrow since we have one scheduled for Saturday and go from there. They also had us order 2 more days of medications. Luckily the clicic was able to donate 2 days on Menopur which saved us $600 bucks so that was super generous and kind! It made our day! Then we called up the pharmacy and ordered 2 days of Follistim to be next day shipped and arrive on Saturday morning.
IVF Day 47- January 18, 2019 (Day 9 Stims)
A special guest Mckenzie Deakins drove with me and came along to acupuncture! My acupuncture appointments are about an hour away, so it was nice to have company. The ultra sound and blood work appointment I had got canceled since my follicles are growing a little slower, so well check in tomorrow on how they are doing.
IVF Day 48- January 19, 2019 (Day 10 Stims)
Since today is a Saturday our appointment was bright and early! On the weekends, the clinic will schedule you in the earliest time slot available so hopefully the staff won't need to stay in the office all day long on the weekend. When we talked to the staff today, we found out some pretty long hours they pull. They are a pretty incredible team!
Our appointment was the same time we normally do our injections, so we brought our shots along in the car to do in the parking lot. Jake and I were getting some pretty great laughs out of that! Ganerilix has to be taken at exactly the same time each day because if it lapse more than 24 hours between each injection your body will think its ok to ovulate, and that just messes things up, so it's important to take it at the same time each day or a little before your previous time you took it.
Today the ultra sound was pretty uncomfortable on my insides, but that is good news because it means my follicles are growing bigger! Wahoo! It was fun to see a few more follicles pop up on the monitor as well! There was about 15 on each side. I have 1 follicle measuring 18mm, but they want 3 follicles measuring 18mm before we do the trigger shot/retrieval. Mine all seem to be ranging from a wide spectrum of 6-8 for new ones that popped up, and 12-14 for ones that showed up on the first day. We did have one follicle at 17mm, so that should be 18mm by tomorrow. Each follicle seems to be growing 1-2mm per day.
Next was blood work! Got some blood drawn to check out the estrogen levels. Like all testing days, we will get a call by the end of the day with any updates. Before we left our appointment the nurses scheduled 2 more appointments with us for Sunday and Monday to check where everything is at. The staff/nurses were so sweet and gave us 2 Menopur's for our additional 2 days of shots we will need to be doing. That was such a sweet act of kindness!
When we got home, our additional Follistim was delivered. We were glad we made it home in time to sign for the package and get it in the fridge. The fertility center originally was thinking today would be our last day of injections before we started the process, but added on 2 additional days so our follicles would have time to grow healthy and strong! It is exciting seeing everything start to come together!
We got some exciting news tonight when our coordinator called! The doctor is thinking we will be ready for the egg retrieval in few days! My estrogene levels really jumped up (which is good) and so I don't need to do anymore of the Follistim and Menopur injections. Tomorrow we are instructed to do 1 Ganirelix injection and then go in for more testing to see where everything is at.
IVF Day 49- January 20, 2019 (Day 11 Stims)
This morning we just did 1 injection! It was an easy breezy this morning 😉 We went to church for a little bit and then headed out to our doctors appointment. At our appointment on the ultrasound, it was fun to see that just overnight the follicles seemed to grow so much! I am so grateful our clinic works around the clock to check and see where everything is at so Jake and I have the best chance of success to get pregnant.
Next got blood work, the doctor reviewed our results and we got a call from our coordinator. We were shocked and soooo excited about what we heard! We no longer have an appointment tomorrow morning because tonight it the night for our TRIGGER SHOT!!!!! WHAT??!?!?! SO AWESOME! Our results came back that everything is progressing great and we should be ready for an egg retrieval in 36 hours!!!!!
Our coordinator went over our instructions for the trigger shot, and the next few days. This next week should be pretty awesome and exciting! Lots to look forward to including egg retrieval/surgery, fertilization reports, and…….. embryo transfer!!!! Oh life is good!
Can't wait to share all the details and excitement with you all!! Stay tuned for all the In Vitro Fertilization fun coming soon 🙂 Thank you so much for your love and support!

Want to see where our infertility journey began? You can find out other blog posts below:
Thanks for stopping by today! If you are going through infertility and need a support buddy, please reach out to us. We would love to cheer you on your journey and help in any way we can! IVF has been such an amazing process for us and we are so grateful for it! We hope by sharing our story others know they are not alone and this process isn't as scary as it seems! Just remember with any adventure you have going on, you are strong and you got this!
In-Vitro Fertilisation
Infertility
IVF