Remembering a loved who has passed is not easy, so I wanted to put together some ideas where you can have fun and spend the day remembering the things you loved about that person. It is always ok to grieve and take moments to cry but it's important to find time to remember and celebrate too. I think our loved ones would want us to have some fun on their special day! So today I am sharing 7 Fun Ways To Celebrate The Birthday of A Passed Love One.
Happy Birthday Dad!
This past weekend Jake and got to I celebrate my dad's birthday! We had a really great time making his favorite cookies and sharing them with some neighbors.
The past 2 years, Jake and I were at Disneyland celebrating over my dad's birthday. This year being home, I wanted to plan something to celebrate my dad that would put a smile not only on my face, but others as well. Oatmeal chocolate chip cookies popped into my head! It seemed like a fun way to celebrate so, I decided to go with making cookies!
It has been almost 3 years since my dad has passed away, and to celebrate his birthday we wanted to do something fun! For me it's important to remember him and have him still part of my life even though he is now in heaven. When I was trying to come up with some ideas on what to do, I reached out on Insta Stories with a few ideas I had, as well as asked others who have experienced the loss of loved one how they celebrate important dates. There were so many great ideas, I thought I would put together a blog post with some of those ideas. Thank you so much to those who shared with me your stories and celebrations of loved ones!
Here are some pictures from the cookie making adventure, as well as 7 ideas to celebrate the life of a loved one on their birthday! I tried to pick things that would be on the easier side to do, and things that could be fun to do every year! Birthdays are supposed to be fun, and good days. I think our loved ones would want us to have a good time remembering them!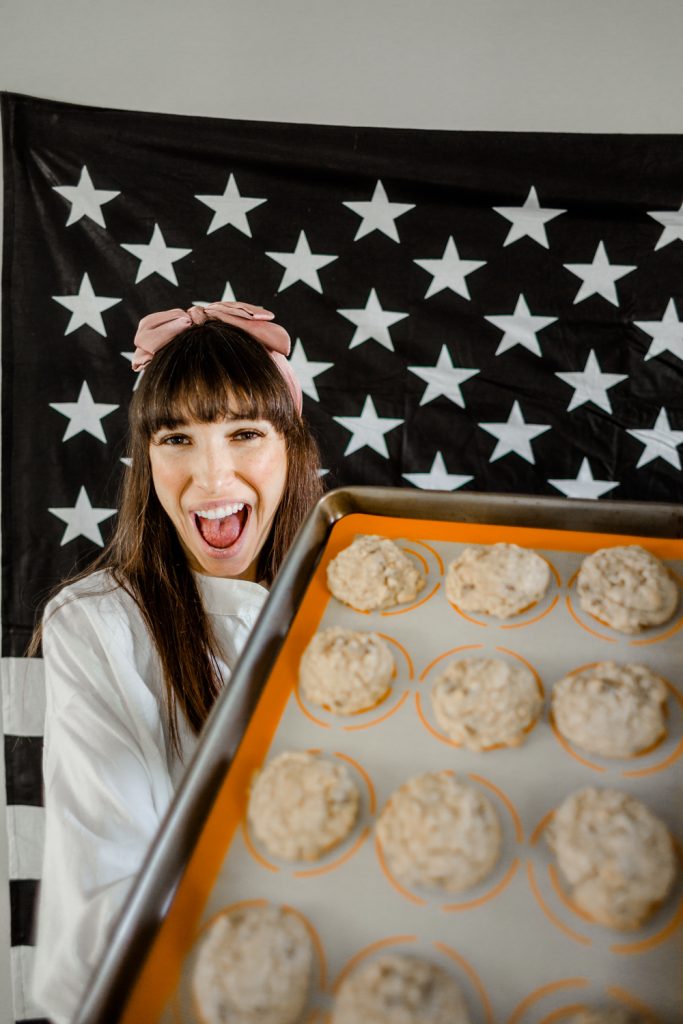 1. Make Your Loved Ones Favorite Meal Or Eat Out At Their Favorite Restaurant
A fun and easy way to celebrate a loved ones birthday is to eat at their favorite restaurant. If you enjoy cooking or your loved one liked to cook, try making their favorite meal! It's ok if the food doesn't turn out, just have some fun making it! My cookie making took 3 batches to get the batter right! hahahaha
2. Throw A Birthday Party!
Buy a cake or make a cake and have a birthday party! In our family, one of my favorite birthday traditions we would do was go around the table and each take turns telling why we loved the birthday person. I thought it would be fun to go around the table with whoever is there to celebrate the loved one, and share favorite moments or stories you remember. You could even recored it and write the stories down and give everyone a compilation of the stories for a gift in the future! Or add to the book each year with everyones stories!
3. Movie Night!
Have a movie night and watch home videos or the loved ones favorite movie. Get their favorite movie treat for everyone to enjoy while watching! If they were more into books than movies, you could read their favorite book too!
My dad was more the go out to the movies type. He got sick when I was 4, so going to the movies was something we would do often since it's a pretty low key activity. My dad would get Junior Mints or Rasinets and I could pick out whatever treat I wanted. He was always great company at the movies!

4. Spend The Day Doing Something Your Loved One Enjoyed Doing
If they had a special hobby, you could do that too! I have heard of families that have had younger family members that passed away they would do something that would be that age appropriate for the age they would be turning. For example if the family member was going to be 10 that year, they would go bowling and to the movies to celebrate that loved one. Or do something they thought their family member would enjoy doing at that age.
5. Recreate A Favorite Pastime
Did you and your loved one have something special you loved to do together? Spend the day doing what you two loved doing together! You could even invite friends to come with you to make it more fun! My dad and I loved shopping together, so for me it would be spending the day going shopping 🙂 I have a friend who her and her dad loved playing Scrabble together, so that is what she does on his birthday.
6. Plant Something In Their Honor
Add some new flowers, or a plant a new tree. Then every time you see that plant you can enjoy it and think of your loved one.
Outfit Details- Dress: Zara | Headband: Etsy | Sandals: Marc Fisher


7. Find A Way To Serve
Donate to a charity that your loved one cared about, share some bouquet of flowers, or make your loved ones favorite treat and share them with friends/neighbors! You can attach a favorite quote or message that meant something to your loved one. Doing something for others will always leave you smiling and your loved one smiling too 😉
Have you lost a loved one? I would enjoy hearing how you like to celebrate their life on important dates!
Thanks for stopping by today for 7 Fun Ways To Celebrate The Birthday of A Passed Love One. Hope you have a great week!