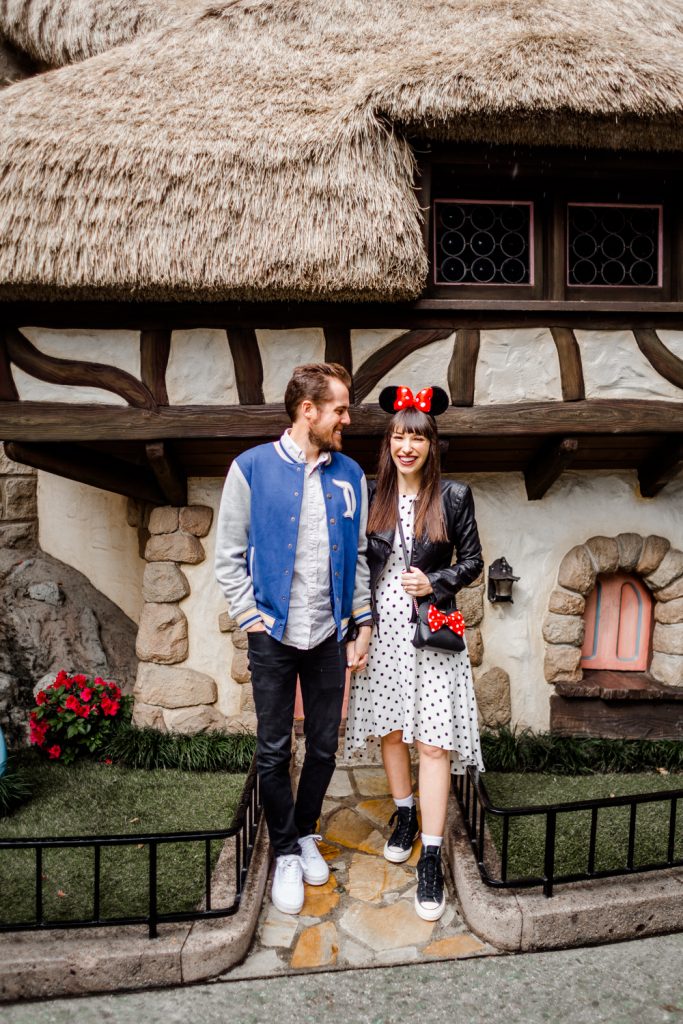 Spring Has Sprung
Going to Disneyland is always a treat, but there is something super magical about being there in the Spring time! The trees next to the castle are in full bloom and it's just so beautiful! (Even though the castle is a cardboard cut out right now! hahaha) I also loved being with Jake, my mom and the "twins!"
My mom was so cute and she said she had never seen me happier! You would think I would be so tired and out of energy, but I think coming further along in the first trimester I have had lots of energy! I am super grateful I have been feeling so good!
Being at Disneyland I just couldn't stop smiling, even though we were in a down pour of rain most of the day! It made for a fun adventure! We had fun getting ponchos and busting out the umbrellas.
Outfit Details:
HER LOOK- Dress: Eliza J | Jacket: Blank NYC | Minnie Ears: Shop Disney | Minnie Purse: Kate Spade | High Tops: Hello Kitty x Converse | Lipstick: Mac- Chocolatety
HIS LOOK- Jacket: Disneyland | Shirt: Jcrew | Pants: All Saints | Shoes: Vans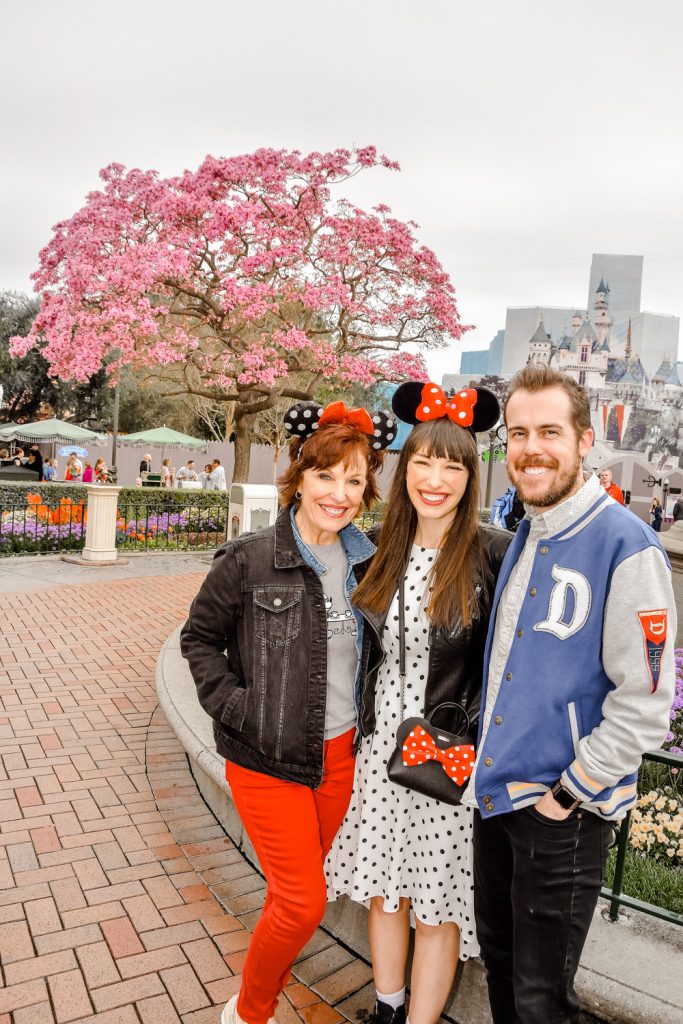 Ahhh I just love my mama! We had no idea we would both be in California at the same time till a few days before our trip. Doing a Disney day together is always our favorite! We figured this would be our last time to Disneyland, CA for awhile until the twins come! We have a few other Disney adventures up our sleeve but they don't take place in California 🙂 Jake and I can't tell you all how excited I am to come back to Disneyland someday with our little toddler twins and share some Disney magic together!
I love how my mom and I matched with outfit colors and we didn't even plan it! It made it super fun for photos! My mom said she said she wore her red pants so we could spot her out in a crowd! Too cute right?! Good thinking ahead mom!
I recently got this fun polka dress from Eliza J that I knew would be perfect to wear to sport some Minnie Style to Disneyland! I'll need to plan another time to wear it again when it's warmer out because the sleeves on it is so cute! They are like a bell flowy short sleeve that will be perfect for a warmer spring day! The dress is also a really comfy material so it worked great for a day of moving around at the park.
Thanks for joining us for Spring time at Disneyland! Want more adventure, and Disney fun?!? Check out our vlog and come "Hang with the Bang's!" Thanks for stopping by today, have a wonderful weekend!
disney style
Disneyland
Dresses
Eliza J
Polka Dots
Spring