Making a trip to Wyoming?! Grand Teton National Park is always a great spot to visit! There are many places to explore at this park, but today we are sharing our all time favorite spot that is often looked over and not known about!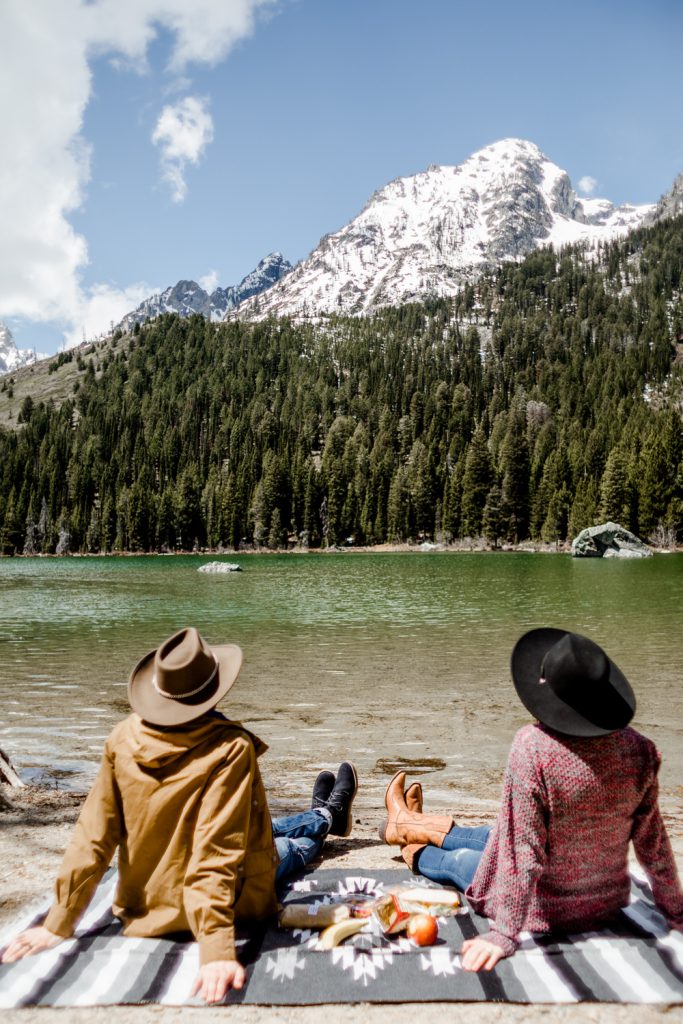 String Lake
Isn't this water gorgeous?!?!? At Grand Teton National Park there are many lakes to explore. Jenny Lake is a popular one, and right night to it is… STRING LAKE! String Lake is really a hidden gem of this National Park and one spot you will not want to miss. Not only is it gorgeous, on a crowded Park day you can avoid all them all here. There are lots of areas to sit on benches, hike around, or bring a picnic and enjoy!
You can also go in the water here! This is a fantastic spot to paddle board, kayak or even swim. The water is from glacier run off, so it is pretty chilly even in the summer. But still fun to jump in and cool off.
Right before Jake and I got engaged we came on a trip to Jackson Hole. We went kayaking here at String Lake. I had no idea at the time, Jake and purchased my wedding ring and was nervous to leave it at home and he had it in his backpack the entire time! How crazy is that?! Good thing I didn't open his bag and spoil the surprise 🙂 This is not where we got in engaged, but Jake popped the question a few weeks later. If you want to hear all about it, you can read this blog post back from 9 YEARS AGO when he proposed!
Outfit Details
HIS LOOK- Jacket: Joules | Shirt: Joules | Jeans: All Saints | Shoes: Joules | Hat: Stetson
HER LOOK- Long Cardigan: ASOS | Shirt: Old Navy | Pants: Old Navy | Boots: Corral | Hat: Brixton | Lipstick: Mac-Blanketty | Sunglasses: Celine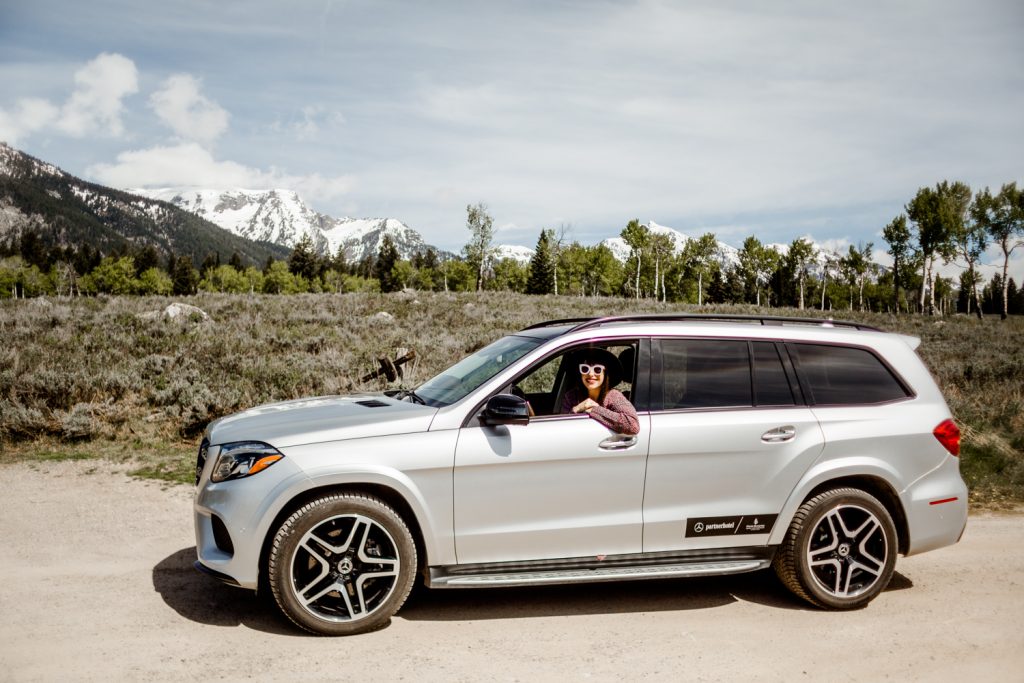 Four Seasons Hotel Guest Perks
Staying at the Four Seasons Jackson Hole is always such a treat! The hotel is literally less than a 5 minute drive to the entrance of the Grand Teton National Park. It's so close you can't not go!
Another serious perk about staying at the hotel is the complimentary Mercedes Benz you can check out. It is seriously the coolest hotel service ever! You can reserve a Mercedes for the day and the resort fills it up with gas, has a clean luxury car for you, and you get to enjoy the day in style! Checking out the car is so easy to. You just go to the help desk, or call ahead and reserve! To check it out you have to show a valid license and you are done!
We took one of the Mercedes Benz out for the day exploring the Park. It was so much fun driving around and exploring. At the Four Seasons you can also order a gourmet sac lunch as well if you are going out for a long adventure!


Mormon Row
Mormon Row is a super popular stop at Grand Teton National Park. It was on our way back to the hotel so we made a little pit stop there. Here are a few old homes and a barn that are fun to take pictures with. Every time we stop here it always seems like a wedding party is out taking photos at the barn. It really is a cute spot 🙂 Personally my favorite spot here is this cute pink house, and of course the gorgeous Tetons. This is a great spot to get grand pictures of the mountains!
Have you been to Grand Teton National Park?! What is one of your favorite places to visit here at the park?! If you want to see more of the Park you can check out our past adventures here, here and here.
Thanks so much for stopping by today! Hope you have a wonderful day! #21WeeksPregnantWithTwins
Grand Teton National Park
Maternity Style
Wyoming