Bringing a baby home for the first time? Do you have a dog at home that will be very curious about this new little human? Today we are sharing some tips that helped our dog and babies get to know each other in a safe and fun way!

Tips for introducing your baby to your dog
We LOVE our dog Zeke! He joined our family last November and has been such a blessing to our lives. Zeke is one of the family to us! We knew with twins coming home, it could potentially throw his world upside down. He is such a great dog, it was really important to us for it to be a good interaction when meeting the girls. For us, we want Zeke to feel comfortable around the girls, but cautious and gentle at the same time.
Jake and I did a ton of research and talked to lots of dog owners who had good experiences with their dog and baby interacting/growing up together. Today we wanted to share a few tips we got that we felt really helped our dog get to know his new sisters.
When you are at the hospital, give a family member something the baby has worn to bring home to your dog to smell.
The hospital had little beanies they put on the girls when they were first born before their first bath. Jakes parents were so kind and were watching Zeke while we were out. They brought home the girls beanies for Zeke to smell. Zeke could tell the scents were familiar but different. He was totally curious about them! They recorded the interaction, it was so cute to see while we were at the hospital!



Girls Outfit Details- Onesie Gowns:Cozys | Hair Bows: Etsy | Moms Dress: Dwell and Slumber | Letterboard: Letterfolk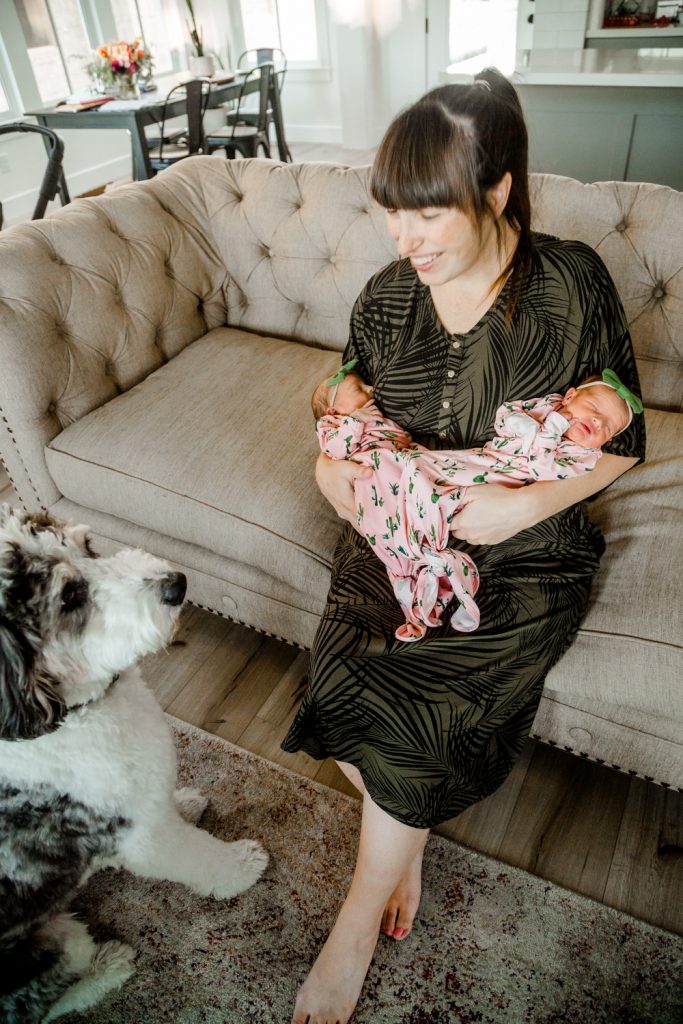 When you get home for the first time, take time to give your dog love and affection first before you bring baby in.
My mom was with us so it worked out perfect to have her in the car with the girls while Jake and I went in the house to see Zeke. We gave him lots of hugs and love. We got the girls beanies out again for him to smell. After a good snuggle session, we got the girls out from the car. We brought one twin in at a time for him to meet. Use caution and make sure you have someone helping out that your dog is comfortable with. We let Zeke smell the girls toes and around their carseat.
Invite your dog to help with baby things.
One of our friends who had 3 pitbull dogs said she invited her dogs to help her with daily baby tasks. She said it helped her dogs feel included and part of the change. Anytime I feed the girls if Zeke is around I invite him to come sit by me while the girls eat. Diaper changes, Zeke is right by my feet. He is a great helper 🙂 We feel inviting Zeke to be part of things, he has done really well with the shift of our focus being on the girls.
We have been joking around that Zeke and the girls are really triplets! Zeke LOVES his baby sisters and loves being around them. He is so gentle and we are so proud of him for doing so good with the change!
As always, use your best judgement! You know your dog and what they would be able to handle. Your baby is priority and needs to be safe and feel safe! Don't leave your baby and dog alone together! We hope these few tips help! If you have introduced a baby and dog together, we would love to hear what has worked for you in the comments below!

Thanks so much for stopping by today! Hope you have a great week! If you want to see Zeke meeting his sisters for the first time, here is a little video of them all together 🙂
Home
Scout and Davey
Twins
Zeke the Dog