Hello Home!
We are officially moved into our new home! Wahoo! There are so many projects we have been wanting to get done on the house. One of the first things we wanted to do was get a smart alarm system installed. With the twins coming soon and living an active lifestyle, we knew this was a was a must for us. Jake and I enjoy being out and about, so we knew we needed an alarm system to match our lifestyle.
We have had an ADT alarm system in our past home (for 4 years) and really enjoyed it. We were so excited when we got to partner with Safestreets USA, the preferred partner of ADT Security for our new home.
Safestreets USA made it super easy to figure out what features we wanted in our smart alarm system. After we figured out what we wanted they even came over and installed it all for us! They are really great and easy to work with.
Today we wanted to share a few of our favorite features we picked for our home alarm system that would incorporate with anyone who has an on-the-go lifestyle!
Doorbell Camera
Anyone else love a good doorbell camera?! Seriously best invention ever! At our last home we had tried 2 different brands that were self installed doorbell cameras. We wished we would have talked to ADT about having them come out and install one of theirs. This past week that we have been using the ADT doorbell camera we've been super impressed with the response on it and how easy it is to use. It's also really nice having the entire alarm system and cameras all linked together in one place.
With my hands full with the two girls soon, I know anytime the doorbell rings I will be using the 2 way audio feature to let people know I'll be right there! It's pretty cool because when the camera detects motion or someone rings the doorbell, you get a push notification on your phone. If you click on the notification it opens the app where you can see who is at your door and lets you talk to them if you want. The camera also has night vision up to 15 feet and a zoom feature as well!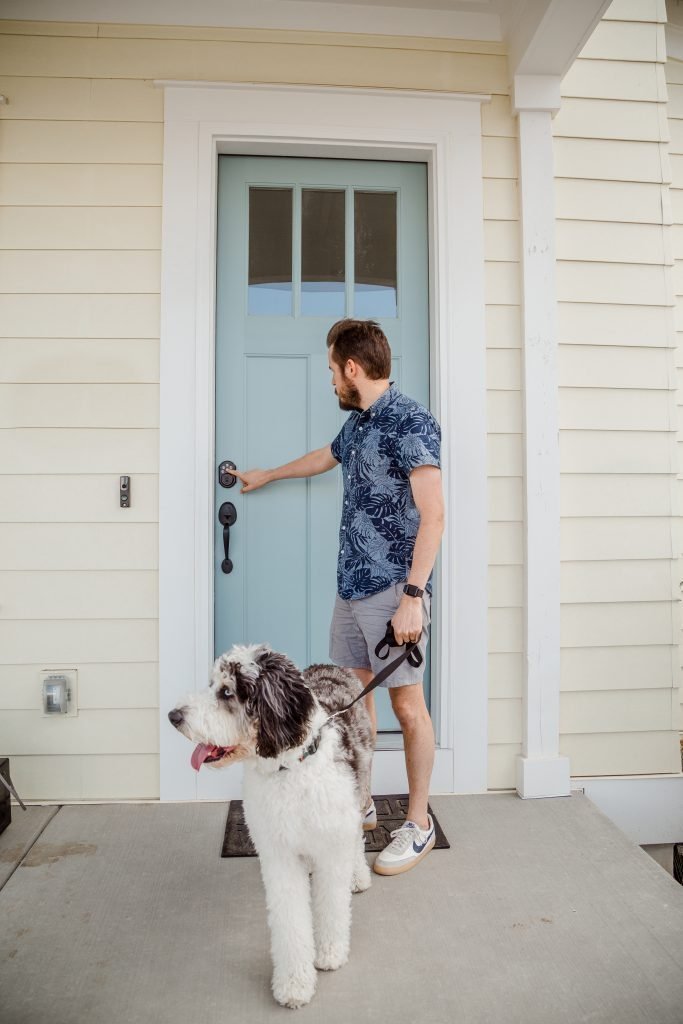 Automated Door Locks
One thing that really attracted us to our new home is living on a lake! Jake is such a water bug and wanted to be able to run out the door with his paddle board and go play in the water. With that being said, the logistics of bringing keys, a phone, and all that jazz did not sound fun to Jake. Also playing in the water, all those items are easy to loose as well! The cool thing with ADT is you can have them install automated door locks. You can still use your key with the physical door lock, unlock the door with a code, or if you take your phone along you can use the app to unlock/lock your door as well.
Now that the door locks are installed Jake can live his dream of running out the door barefoot with just his paddle board in hand!
Every day we take Zeke on walks. I know with the girls we will want to take them out on walks too. I love knowing if we forget our keys or want to run out the door, we can! You just push the button to lock it. With a dog, a lot of the time our walks are spur of the moment when he seems antsy and wants to get outside, so it's nice to just put on his leash and go. It's pretty freeing leaving the house and going out for a little care free adventure.
Oh and one more thing! If you have house cleaners, dog walker, or friends coming over, you can create a door code just for them! You can program up to 30 codes on your door lock!
Why ADT?
It's no secret Jake and I love to travel. We love going on adventures and being out and about! With that being said, we also love our home. As home owners we try to take the best care of our house. It's a place of safety and happiness for us. Somewhere we love to return to and recharge after our adventures. For Jake and I, being able to know our home is monitored every night, home or away by an awesome alarm company is a big comfort. There are so many alarm companies out there these days but we choose to go with ADT for several reasons.
-Cutting-edge technology! Home automation is a tricky thing to get right. But the new ADT Control app does it all! ADT installs and configures everything so you can set up automatic rules like: Turn on all the lights and record from all the cameras when an alarm is tripped. Or: Turn down/up the thermostat to save power when the system is armed and you leave the house.
-Known and Trusted Brand: We wanted to go with a company that we knew had a good reputation and we could count on! ADT is the go-to name when it comes to home security systems and there is a good reason for that.
-24 hour monitoring: This one is a biggie! Around the clock monitoring was really important to us, especially with all the traveling we plan on doing as a family! ADT is super fast to call you and emergency services when the system notifies them. This is also our first home with carbon monoxide sensors and we love having the peace of mind that we'll get alerted and emergency services will be called if something goes south.
Thanks so much for stopping by today! We are so excited to share with you how you can get your dream alarm system too! Today Safestreets USA is offering all kelseybang.com readers a $100 Visa rewards card for new customers. How awesome is that?! Click here to get a quote and get started today!
Thank you Safestreets USA for partnering with us on this post! All opinions are our own.
Home