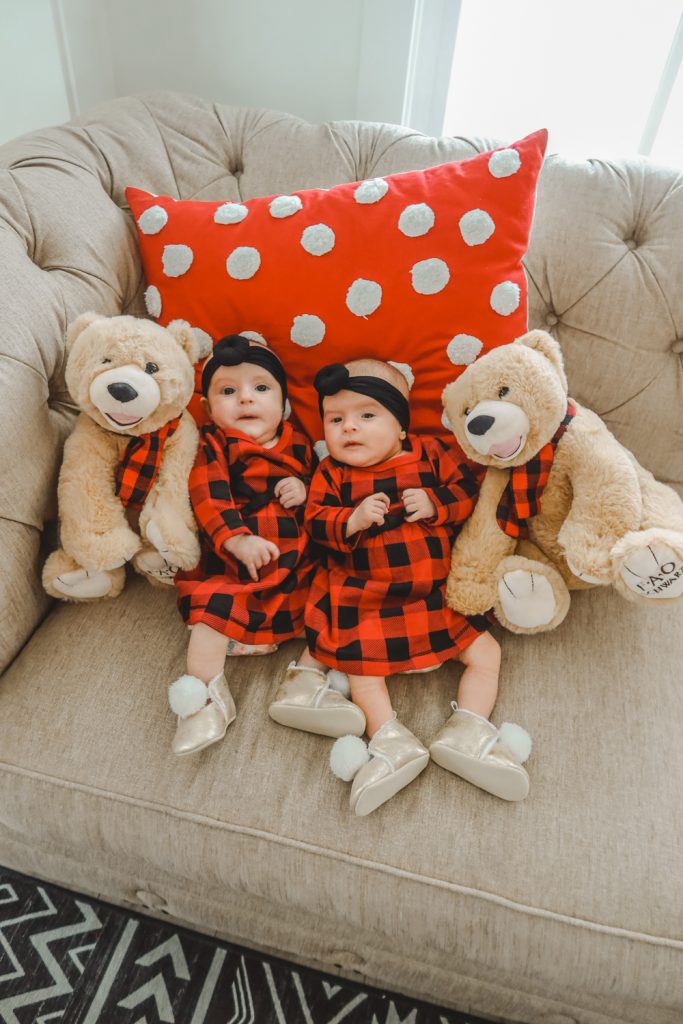 First Teddy Bear
The girls got their very first teddy bears! They wanted to match with their bears in buffalo plaid! Anyone else love a red and black plaid for Christmas?! I feel like I keep buying the same buffalo plaid pj bottoms every year! hahah
I saw these cute bears at Gordmans when I was shopping around. With every purchase of these bears (bears were $9.98) Gordmans will donate $2 to St. Judes to help with cancer patients and their families, so I couldn't pass these up! Especially when I knew I had matching dresses for the girls back at home! I sure love these girls so much and am so glad they let me dress them up 🙂 When I was young my mom would always dress me so cute, and I remember the day when I wanted to start picking out my own outfits. I know it won't last forever with these girls, so I'll pick out their outfits for now!
My friend Liana got the girls these little pom pom shoes! I have so many darling shoes for the girls but most of all of them are too big! Hopefully the girls will start to be able to wear them in the coming months 🙂 Especially since it's winter out!
Thanks for stoping by today! Hope you have a wonderful weekend!
Outfit Details: Teddy Bears | Dresses | Hair Buns | Pom Pom Shoes | Black and White Rug


Christmas
Kids Style
Scout and Davey