Ever wonder what twin 5 month old girls are like?! Today we are sharing an update on our little babes and what they have been up to these days!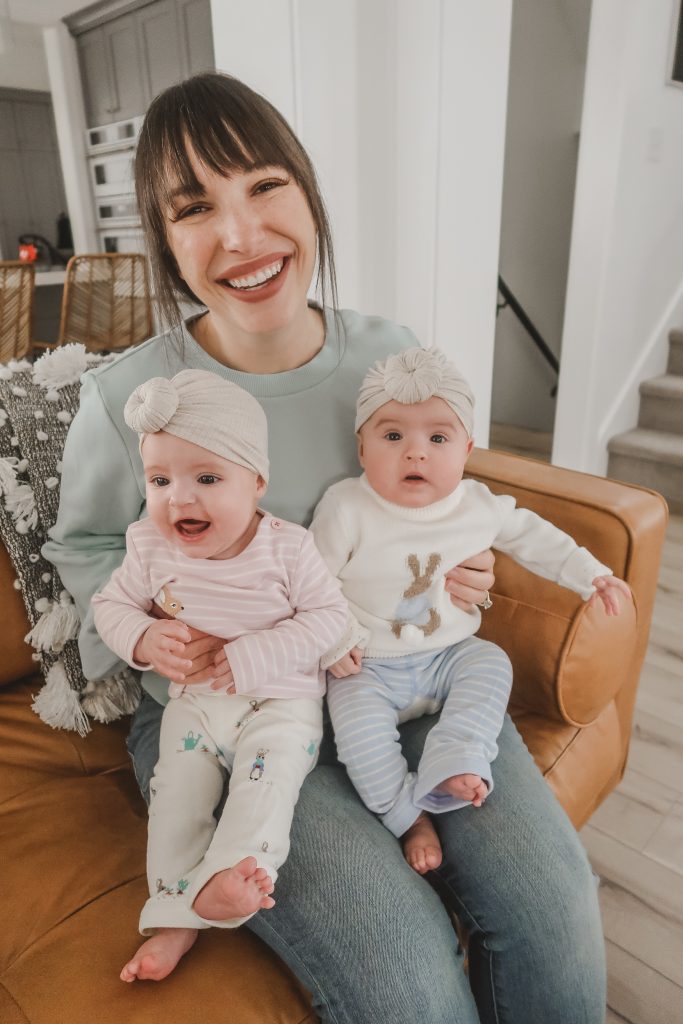 5 Months Old
Wow!!!! 5 Months Old?!! How did this happen already?!?! Scout and Davey have been growing up way to fast already! They are the sweetest girls and so much fun! I feel so honored to be their mama! They make life so exciting and fun! It's so crazy how 5 months hits and then there are a million things to start thinking about! Like….when to start transitioning the girls to their own room/cribs, what should be their first food, how to do solids and all that jazz!
These past few months have been so fun with these girls! It's been so amazing to see how responsive they are! They are so good at responding to voices and objects waving above their heads. These two make lots of noise and love talking! When the girls on hanging out on their play-mat together, I could just watch them all day! They are so entertaining! It's so exciting seeing how they notice each other and play together.
Davey and Scout are both 13 pounds and 25 inches long! I am so proud of them for getting so big and strong! Every time we go to the doctors I always think they are going to be different weights and lengths, but they always are the same size! They must be twins 🙂
Whats New?
Rolling over!!! Both girls are rolling over these days! It's so much fun! I thought once they rolled over they would be rolling all over the house, but luckily they just roll around their play-mat for now 😉
Sitting up in their Bumpo chairs! Scout is such a champ and sits in her chair for 30 minutes at a time! She loves looking around and watching what we are doing. These two are so ready to try out a high chair soon!

It's always so fun to get the girls dressed and ready for the day! I always thought dressing up a baby would be fun, but dressing up two babies is a blast! The girls Peter Rabbit outfits they are wearing today are from Joules USA. You can check out the entire Peter Rabbit Collection here.
Davey's Outfit: Pink Top | Pants | Headwear
Scout's Outfit: Bunny Sweater | Pants | Headwear
Favorite Toys?
The girls have been loving playing with toys these days! It's so fun to see them learning and growing each day! They each have a few favorite toys that they love playing with!
Davey's Favs- Crinkle Book (she will literally play with this book for an hour at a time!), Light Up Music Owl, Plush Unicorn Rattle, play gym
Scout's Favs- Berry Teether, Manhattan Toys Loopy Rattle Teether, Crinkle Flip Fish, Music Mozart Cube, Wrist Band Plush Teether
Whats Next?
SOLIDS!!! Learning how to feed our babies real food! OMG I am seriously so excited! The girls have not super interested in milk lately, so it will be great to be adding solids to their diets soon. I know Davey will be so excited for solids! She is getting so good at taking her binky out and putting it back in her mouth. I think when it's a yummy avocado she is going to love it! Right now we are listening to the book Baby Led Weaning to help us prepare for this next stage!

Thank you so much for stopping by today! Hope you have a wonderful week!
Baby Style
Scout and Davey
Twins