Looking for some fun holiday themed books to read to your little one this season?! Today I am sharing my twin toddlers favorite Christmas board books!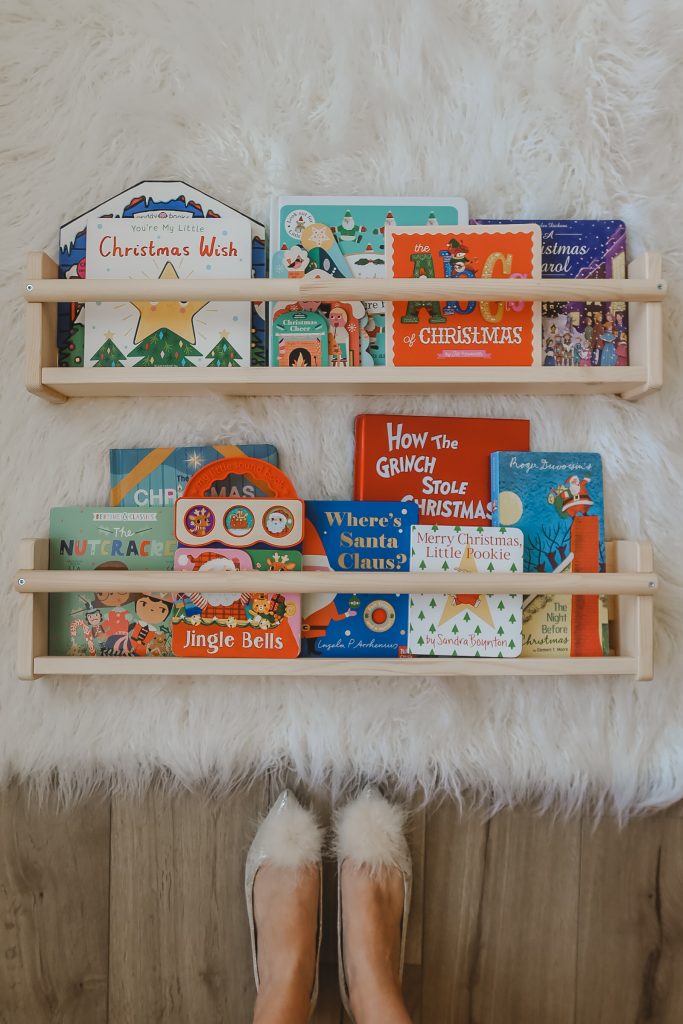 Favorite Christmas Board Books
Anyone else love story time with their kiddos?! I really enjoy reading with my girls. Sometimes they will sit in my lap, other times I'll read a book out loud while they are playing. I say I buy books for my girls, but its really probably for me! hahaha It's so fun buying festive books! Today I am excited to share our favorite Christmas board books for toddlers. I linked all these books on Target where I saw they have buy 2 get 1 book free till November 14! Whooop Whoop!
This book is on the list first for a reason! If you asked me what was my favorite book out of all of these… You're My Little Christmas Wish would be it! My mom bought this book for Scout and Davey last year and it's so cute! And a tear jerker too! It's seriously so sweet and special. Just trust me on this one, and get this book!
My sister Hayley got my girls Where's The Witch last year for Halloween and my girls are sooo obsessed with it I thought we would try Where's Santa Claus? Its such a cute book and my girls love it just as much! This book has a felt shaped flap on each page turn with something festive hiding behind it. The last page has a mirror hiding behind it. My daughter Davey thinks its the best thing ever! This is such a cute book!
This is a great ABC book! One thing I loved is that for letter J, it's baby Jesus! I love books that mix holiday magic but also the true meaning of why we celebrate Christmas. The author did a really great job of a fun story line, easy to read, and fun! Plus the illustrations are super cute!
When I saw this book, I knew right away my girls would love it! They love buttons and music so this book was a winner right off the bat. I saw there is also an Away In A Manger version as well that could be fun! Jingle Bells is one of my favorite songs I sing year around… hahaha so I wanted to get this one. The book has a cute story line about a baby reindeer helping Santa.
My sweet neighbor Joyce got this book for my girls. Every time we go in their playroom where we have all the Christmas books, this is the one they pick out every time! I don't know if its the colors, the repetitive picture patterns or what, but they love it!! They just gravitate to this book! It's a super cute book with fun things to find, rhymes and more!
A few friends got us hooked on Little Pookie books. When I saw this one, I wanted to give it a try! It's a cute story of Little Pookie on Christmas Eve and how his family celebrates.
I have been looking for a board book with the story of Christ's birth and was so glad I found this one. We have this same authors book on the story of Noahs Ark, so thought I would give this one a try. Cute illustrations, tells the story, and is a fun read. This book is a longer read than most of these books, but it's an important story to be heard 🙂
A very simple read, but beautiful illustrations and such a fun book design! We have a few of these Bookscape board books (Museums, Seasons) and they all have such fun book shapes. Something about a cute design really sells me!
Talk about a Christmas classic!! There are lots of versions of this book, but I wanted the classic illustrations, and loved how this board book was tall as well.
This is another book my mom got my girls. It's a interactive book where you pull the tabs to see what Santa gifted some animal friends.
There are so many more Christmas books we have been wanting to buy, but thought well save a few for next year 🙂 Do you have any favorite Christmas board books for toddlers?!?! Or any from the list that you love?! I would like to hear all about it in the comments below. Thanks so much for stopping by today! Hope you have a wonderful day.
If You Liked This Post, You Might Like These Posts:
The Ultimate Christmas Movie Marathon Guide
Tips & Tricks For Taking Family Photos With A Toddler
Must Have Baby Products- All Of My Favorites
Shop The Post:

Baby Products
Christmas
Gift Guide
Twins