Looking for a fun way to personalize your Christmas tree this year?!? Try this easy DIY and marbleize ornaments! Making ornaments is a great way to match your current holiday decor but add something new for a super affordable price!
How To Make Marbleized Ornaments
Ready for a super simple, easy and affordable DIY!???! Making these marbleized ornaments is so much fun! For 24 ornaments I made them for $14. To be honest I usually spend $14+ on one ornament so 24 for that price seemed like a great bargain to me!
I have seen these marbleized ornaments done before but couldn't find many tutorials on them, so thought I would share how I made these. Making these I tried a few methods and found my favorite way to make. Today I am sharing all the details on how I made these marbleized ornaments and how you can make them too! Ready??!!?… Let's get started!
Supplies
You can use plastic ones as well. I tried the iridescent ones and the marbled look does not show up on them. Just a heads up on that. Craft stores are a great place to find clear ornaments.
3-6 colors is great! I linked all the colors I used below. For this project you will want acrylic paint so the paint spreads in the ornaments.
You will a few sheets, but these will come in handy big time!
This isn't a must but its nice to have a damp rag close by to wash off an excess paint.

Step One
Take ornaments out of the packaging and take off the top. These next steps you will want to do one at a time for each ornament. Add about a tablespoon of water in the ornament and swirl the water around. Then dump out the water. It's ok if there are a few drops of water left inside, but try to not have more that in there.
Step Two
Time for the fun part! Pick 3-4 colors. For each color add 2-3 squirts of paint inside the ornament. I like to hold the ornament so it is tilted and put the paint bottle on the lip edge. That way as paint is added it will go down the inside sides. I like to make stripe patterns mixing the colors up as I go.
Step Three
Once you have added 3-4 paint colors in the ornament, place a piece of paper towel over top of the hole. Put a finger/thumb on top of the paper towel. Time to shake! I found shaking in a back and forth motion while turning the ornament works really great for spreading the paint around. Keep shaking till the entire inside of the ornament is covered in paint. If you have been shaking for a bit and an area is not getting painted, add a little more paint to the inside of the ornament and shake again. Once the ornament is covered with paint on the inside, use a wet wash cloth to wipe clean the outside of the ornament for any paint that might of gotten on it.
Step Four
Now it's time to dry. I layered a few paper towels and put the ornament on top. Some paint will come out of the ornaments as they are drying so I found putting them back in the container to dry ended up filling that with paint. Ornaments need about 12 hours to dry. Every few hours rotate the ornaments so they evenly dry and don't create large spots of the same color. Paint may drip out of the ornaments as drying, so make sure to have those paper towels down. Once the ornaments have dried, put the tops back on and hang on the tree! (If you want the tops a different color, spray paint works really well!)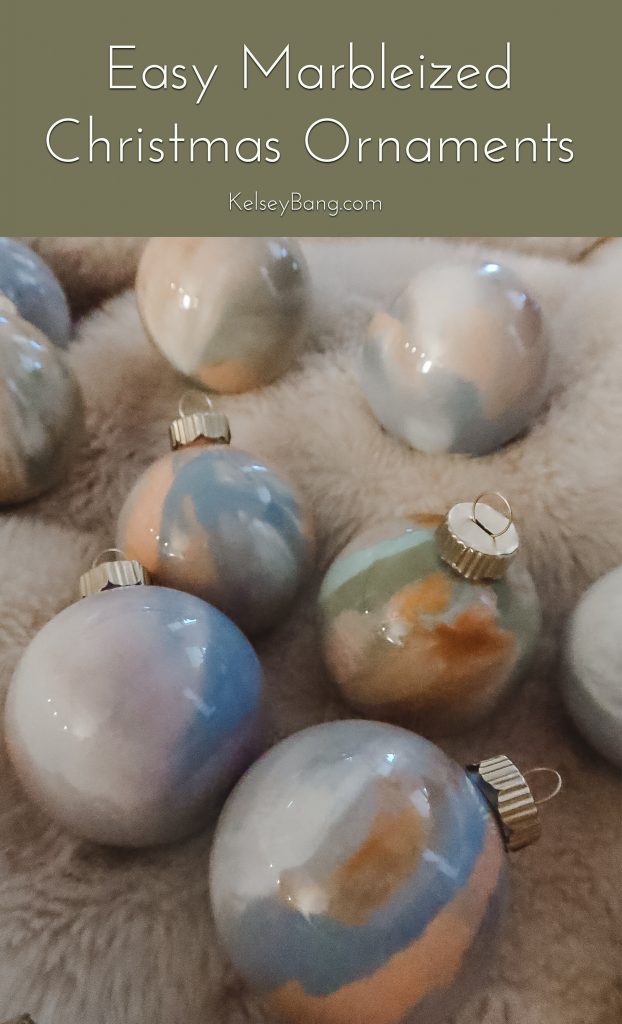 Thanks so much for stopping by today! If you get a chance to make these fun marbleized ornaments, I would love to hear how it goes and see what you create! Hope you have a wonderful day!
If You Liked This Post, You Might Like These Posts
Easy Salt Dough Ornament Recipe- Perfect For Handprints
Creative Ways To Get A Picture With Santa For 2020
Stocking Stuffer Ideas For Toddlers
How To Make A Pom Pom & Put It On A Present
Shop The Post