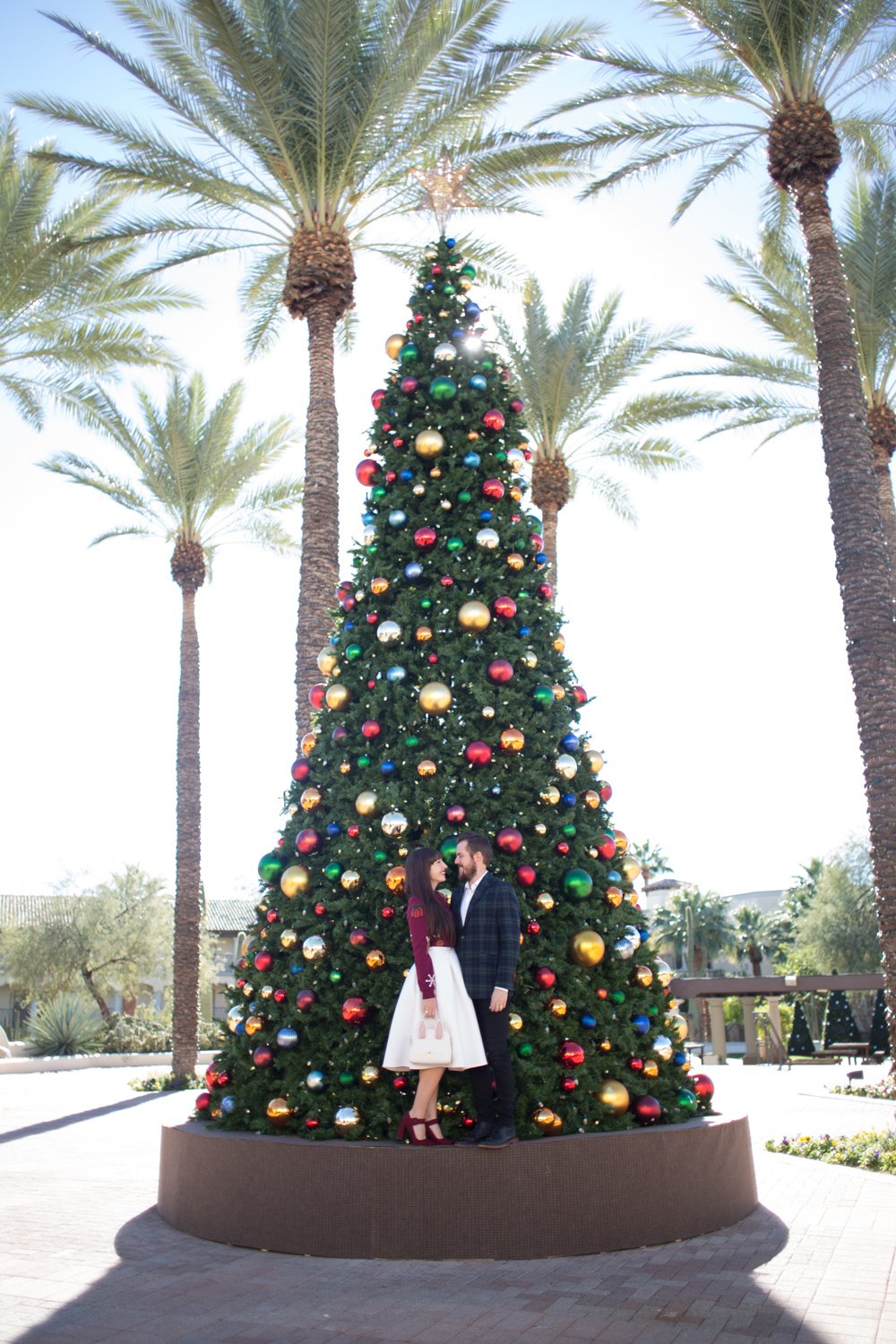 Today we are so excited to share with you some Christmas fun to start the season off!  We recently stayed at the gorgeous Fairmont Scottsdale Princess and it was the perfect way to kick off the start of the Christmas season!
The Fairmont Scottsdale Princess goes all out for the Christmas Holiday!  It is pretty much the Disneyland of Arizona!  To celebrate the holidays they have everything from Frosty's Ferris Wheel, the Princess Express Train, Lagoon Lights, Desert Ice Skating Rink,  Santa's Secret Workshop, Nativity Garden, Polar Glide Ice Slides, Enchanted Plaza Tree, Christmas Characters like Shivers the Yeti, Graham the S'more, Princesses and so much more! Not to mention the 3 million lights all around the property!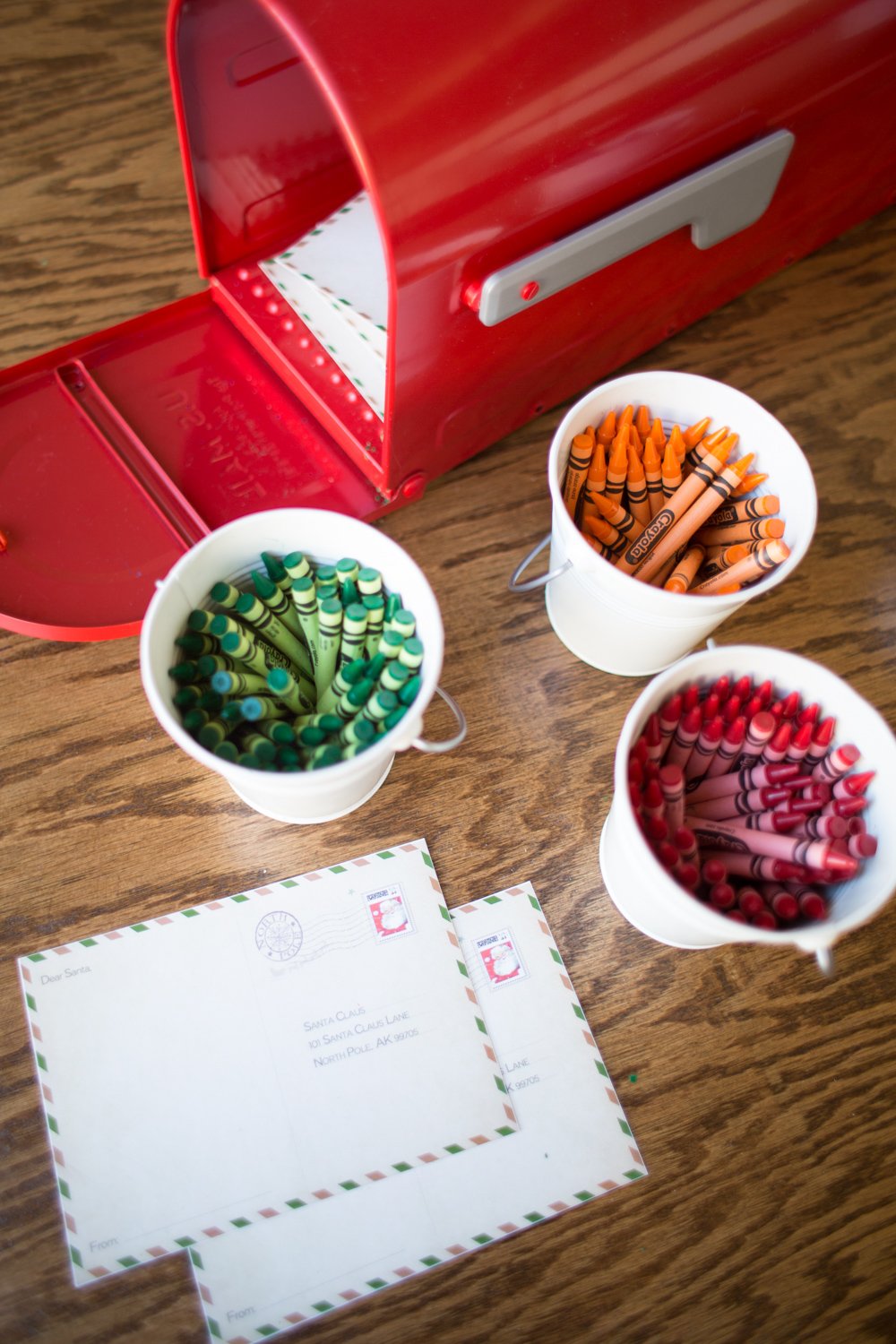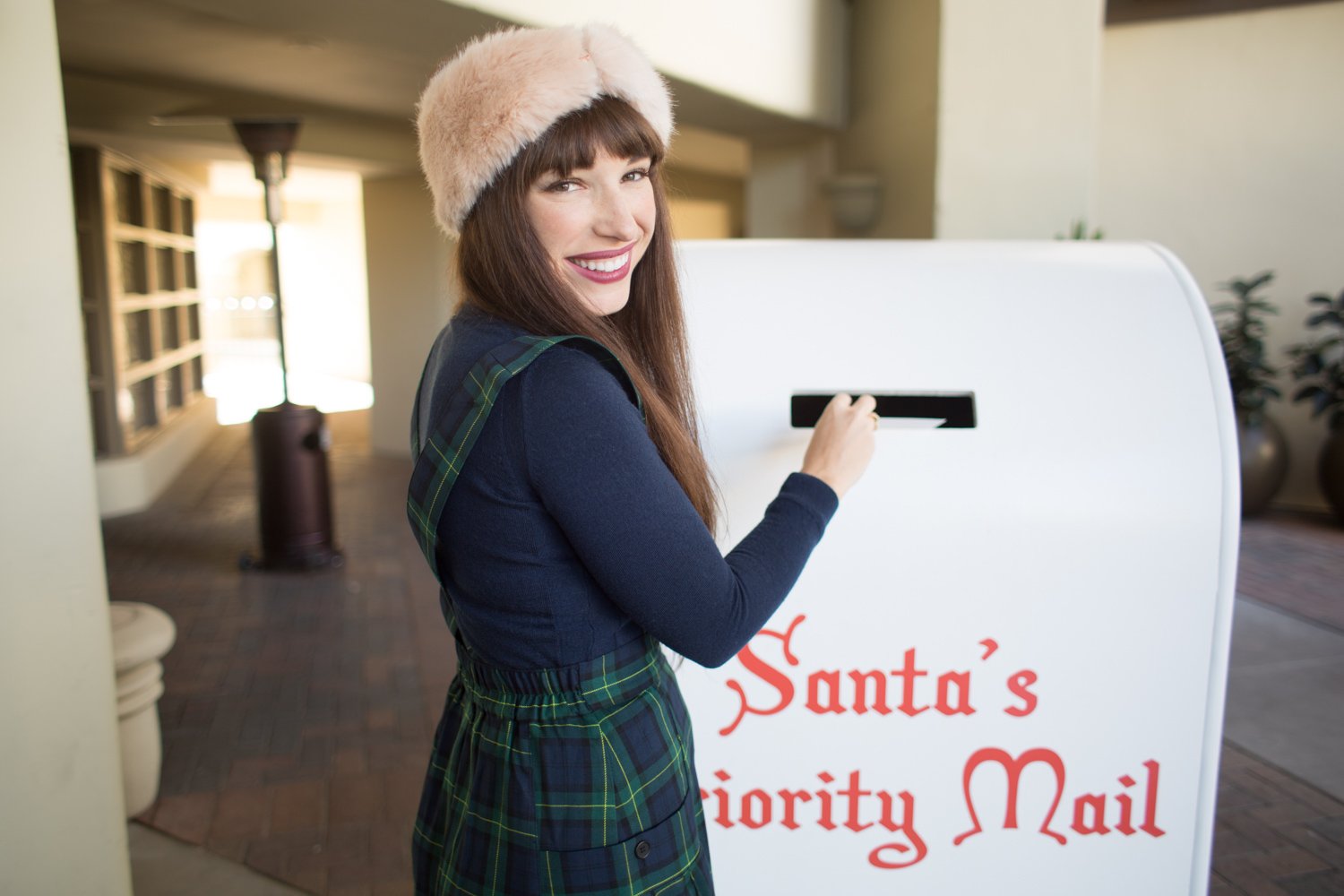 One of our favorite holiday actives around the Resort was the Santa station!  Here you could write letters to Santa, mail them off, and even hop in line to meet Santa himself during the evenings!  We got to meet Santa and he was super nice!  When he asked what we wanted for Christmas, Jake and I both said a dog at the same time!  I think the cute lobby dogs may have influenced that wish 🙂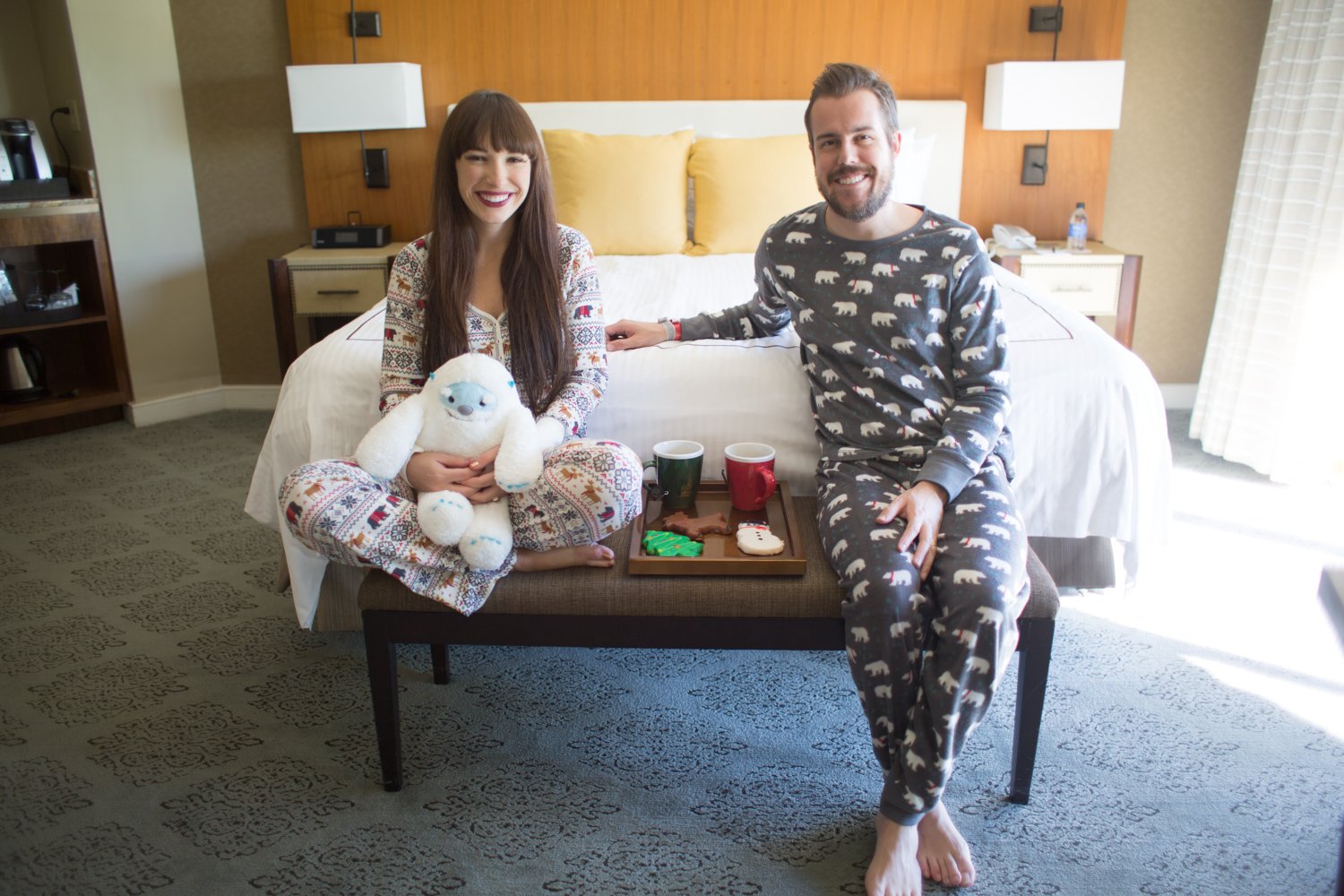 Isn't Shivers the Yeti so darling?! And how about these festive cookies?!?!  At the FSP there are plenty of lovely retail shops, but our favorite was the Christmas shop!  It was decked out in fun pajamas, Christmas suits, treats, s'mores kits, darling plush animals, ornaments and all kinds of holiday goodies!  We got our cute polar bear PJS and Shivers from there!
Every corner you turn, there is festive decor all around the resort!  From garlands, to lights, to characters walking around to say hello, they have it all! Aren't these lobby pups the cutest?!?!  They were so friendly and sweet and were so kind to take a photo with us!
There is nothing more festive then a sunset stroll ice skating!  We stopped by the Desert ice Skating Rink for some fun!  Ice skating was so much harder to get around than I expected, but it was so much fun! We were laughing so hard and having a blast!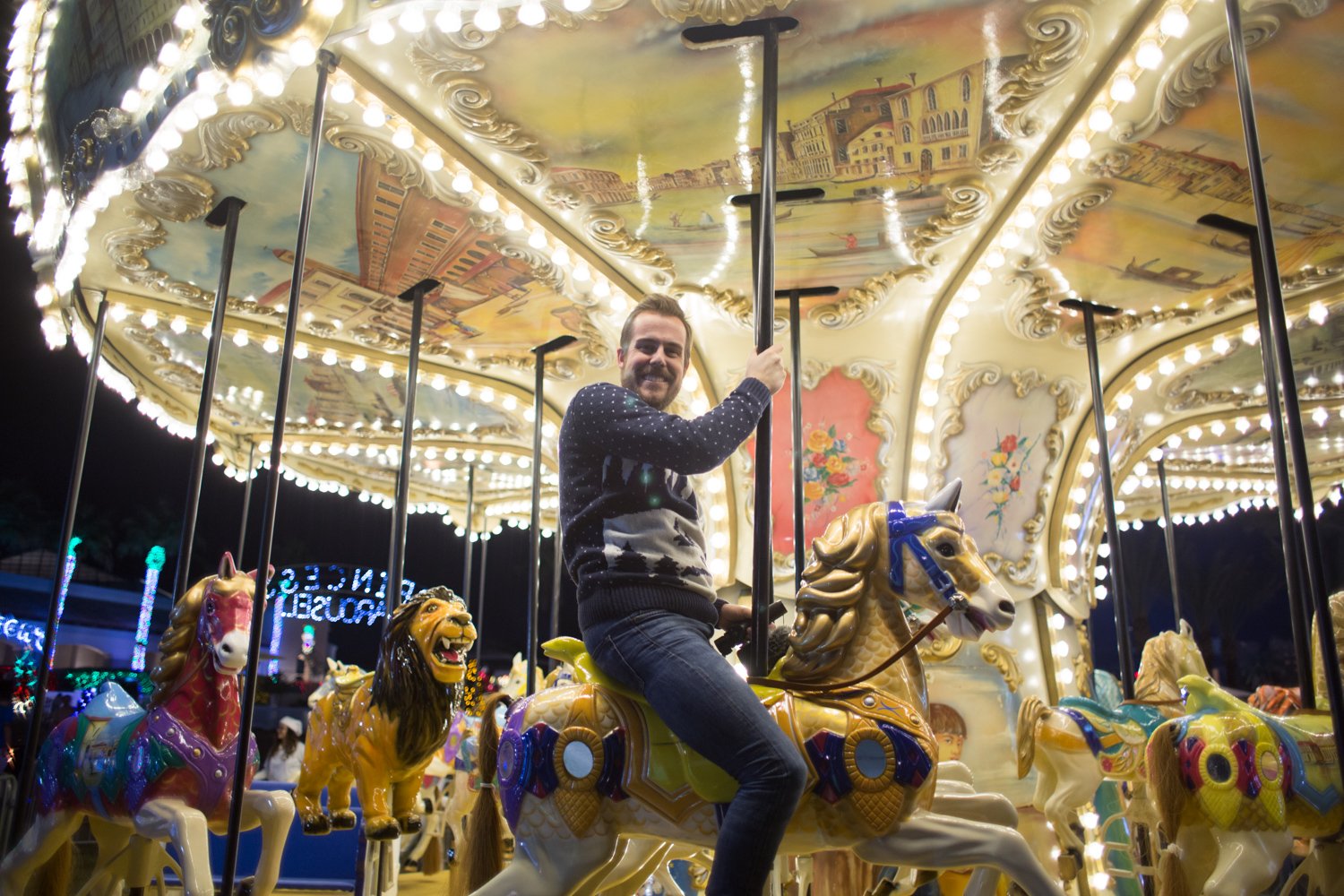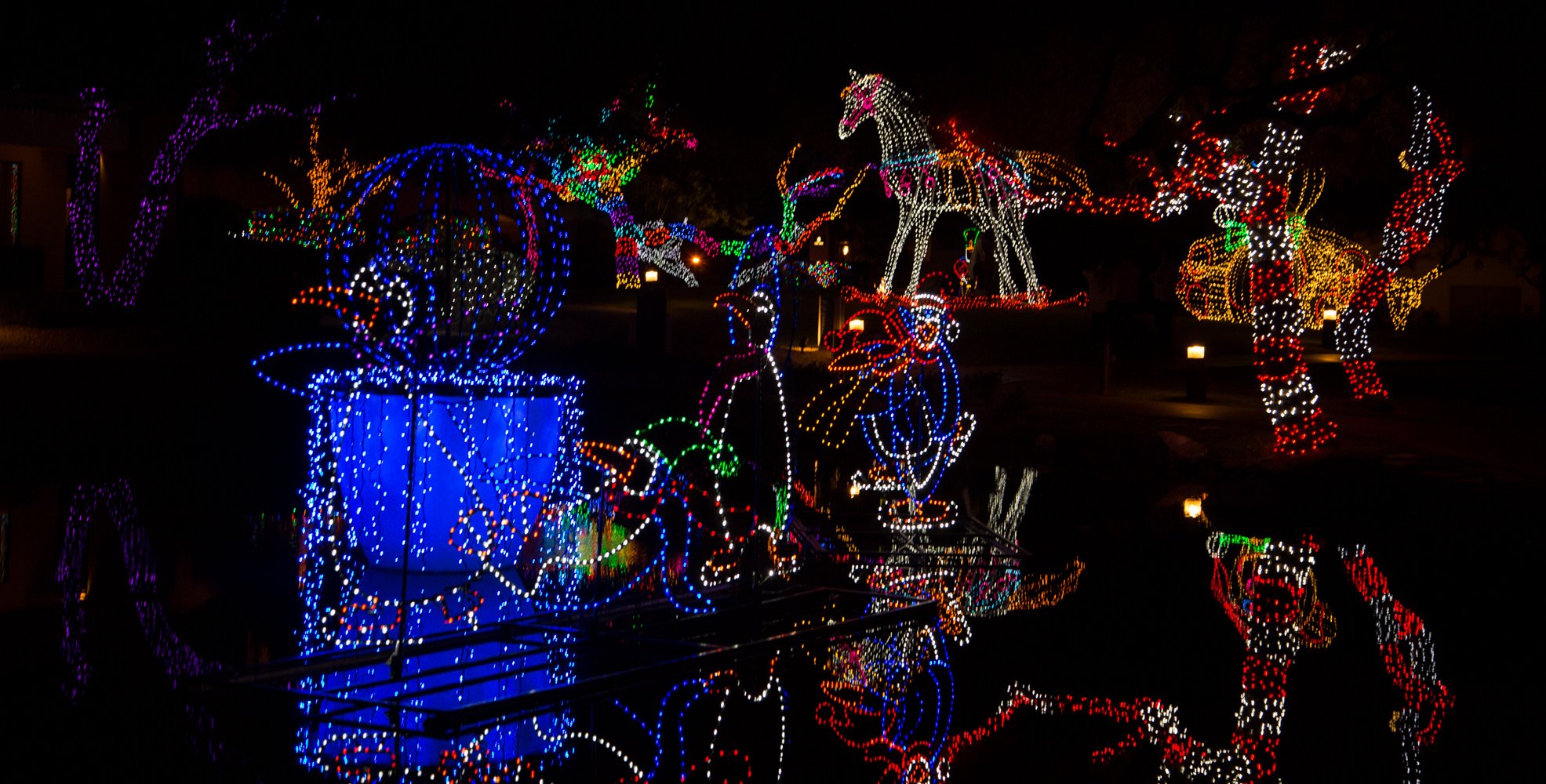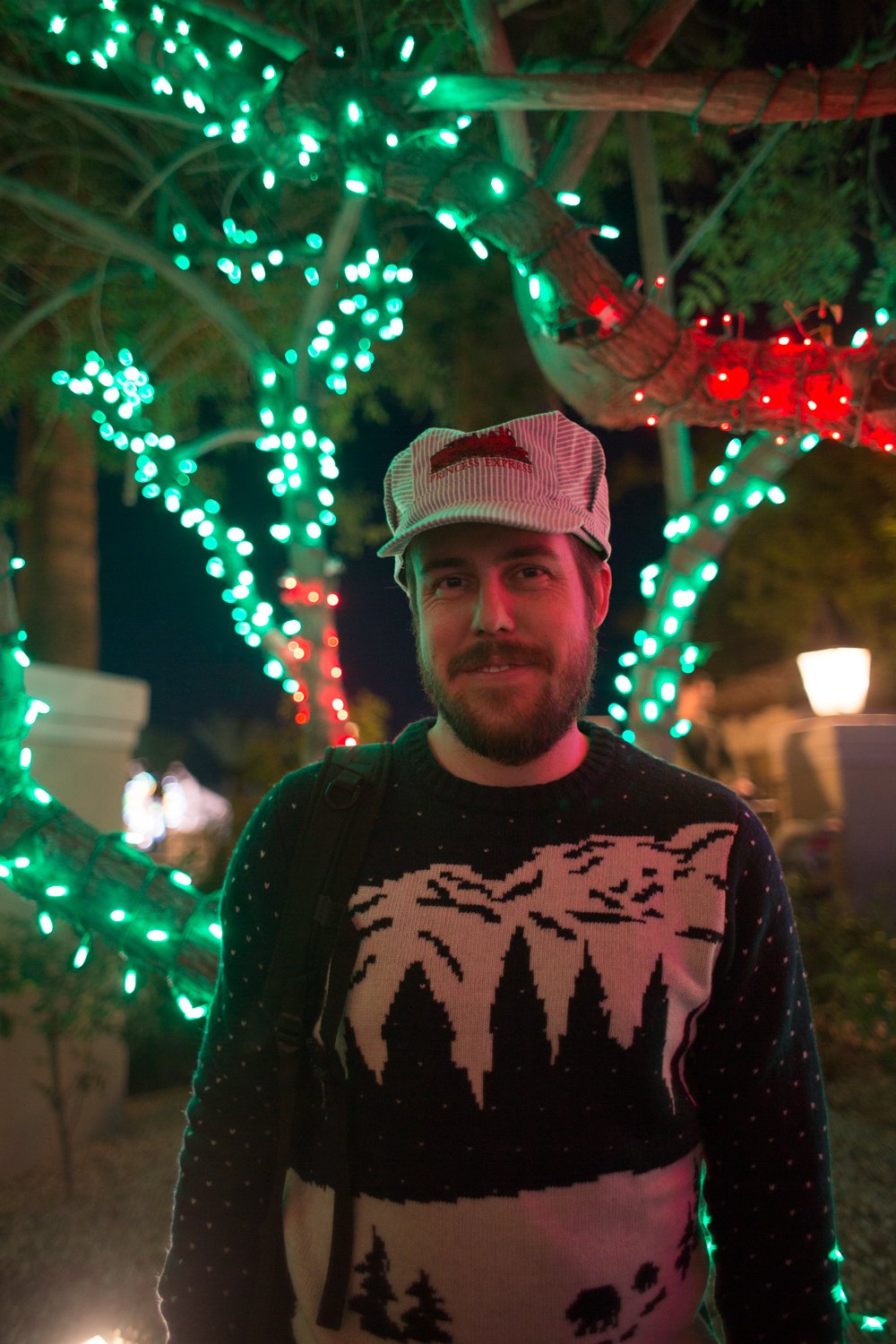 When night-fall came we went for a ride on the Princess Express Train and we made sure to wear our conductor's hats that are found in the Christmas Shop!  We really loved all the fun actives we were able to do at the Princess, but the train ride might have been our favorite!  The train was decorated in garland and took you around the property to see the Lagoon Lights!   Jake's favorite lights were the Loch Ness Monster!  If you can try and hop on the train at sunset time, do it!  It's so beautiful to see the silhouettes of the cacti around and see the beautiful lights as the day turns to night.  You might also catch a beautiful sunset too!
After our time on the train we walked over to the Nativity Garden.  That was my favorite!  I kept thinking about how much dad would have loved it!  There was a cute 10 minute light show with music and word about Christ's birth.  It was a beautiful reminder of why we celebrate Christmas and the importance of remembering our Savior.
Next on our list was S'mores Land!  There you could meet characters, ride the ferris wheel, carousel, roast s'mores and go down the ice slide! Wahoo!  If you want to see any of that, make sure to check out our video below!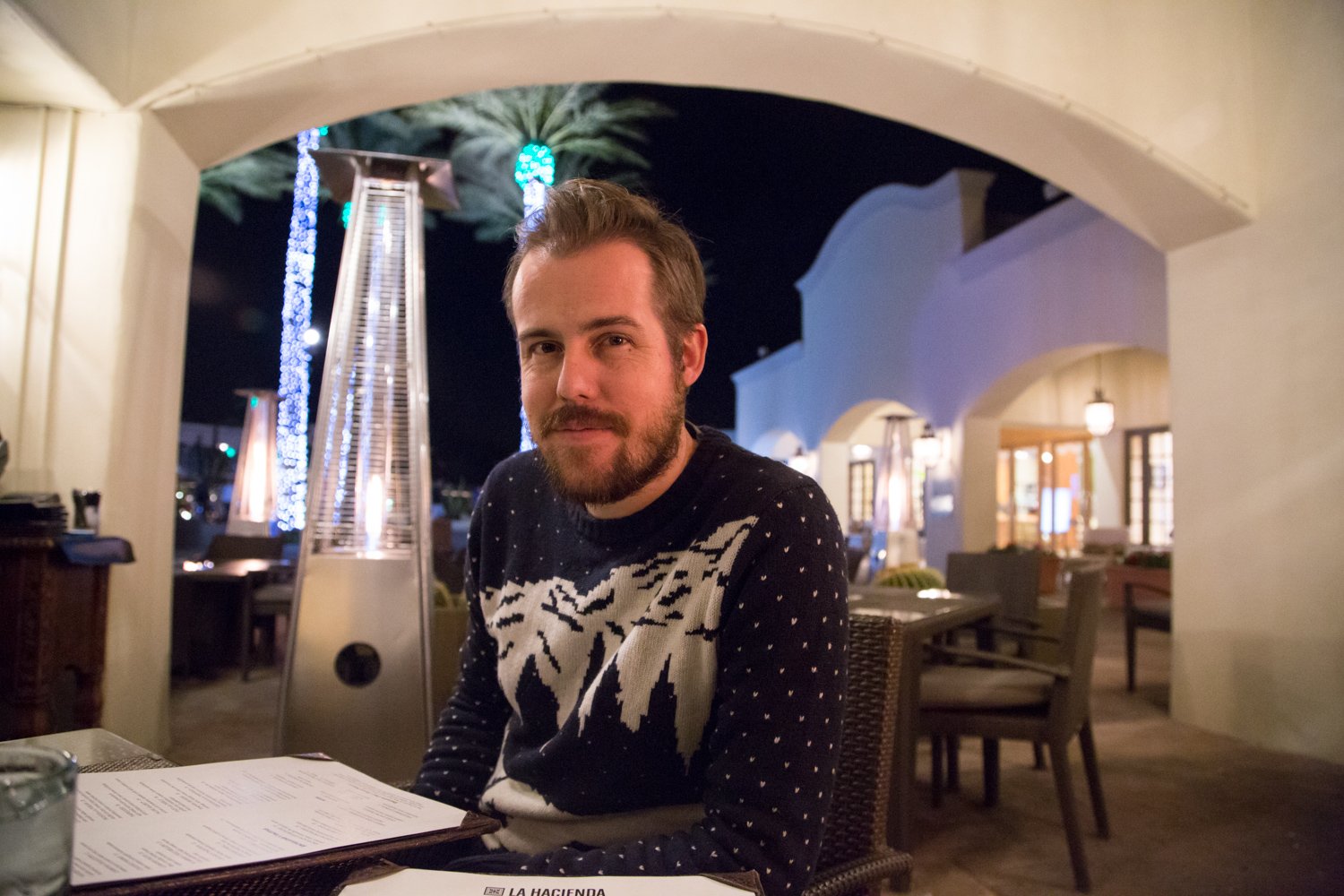 The Princess if full of amazing restaurants all with diffrent specialties, but one of our favorite meals was at La Hacienda.  We ate outside on the fire pit patio by some cozy heaters!  Here you can get classic Mexican food with timeless European cooking techniques.  The flavors and creations by Chef de Cuisine Forest Hamrick were super fun to try and very delicious!  My favorite was the Guacamole Sample Platter!  It had pomegranate, bacon and lobster toppings! YUM!
Is there any better way to end a trip than at the Spa?!  The Princess has a gorgeous spa with a roof top pool and neat waterfall Jacuzzi where we spent the morning swimming around 'till we had our spa appointments!  The area has a luxurious feel with neat designs featuring river-rock tile with Sedona sandstone interiors.
After our spa appointments we tried out an aerial yoga class!  There are all kinds of fitness classes to try, but the aerial yoga really caught our eye!  We had so much fun hanging upside down and getting a real core work out!  At the end of class we got to learn a vampire pose where your feet are up in the air and your arms are out and you look like a vampire!  It was pretty awesome 🙂
Here is a little video from our adventures at the Fairmont Scottsdale Princess!  This cover picture for the video was from an evening at the fire pit with our S'mores Kit!  When we arrived at our fire pit, we were greeted with a cute sign that had our name on it!  We looked around and saw everyone that had reserved a fire pit had their names on it too!  Such a cute and fun idea that really made the experience personable!
If you want to learn more about the Fairmont Scottsdale Princess or what kind of deals they have going on for the holidays, details here.
Arizona
Christmas
Fairmont
Fairmont Scottsdale Princess
Resort
Scottsdale