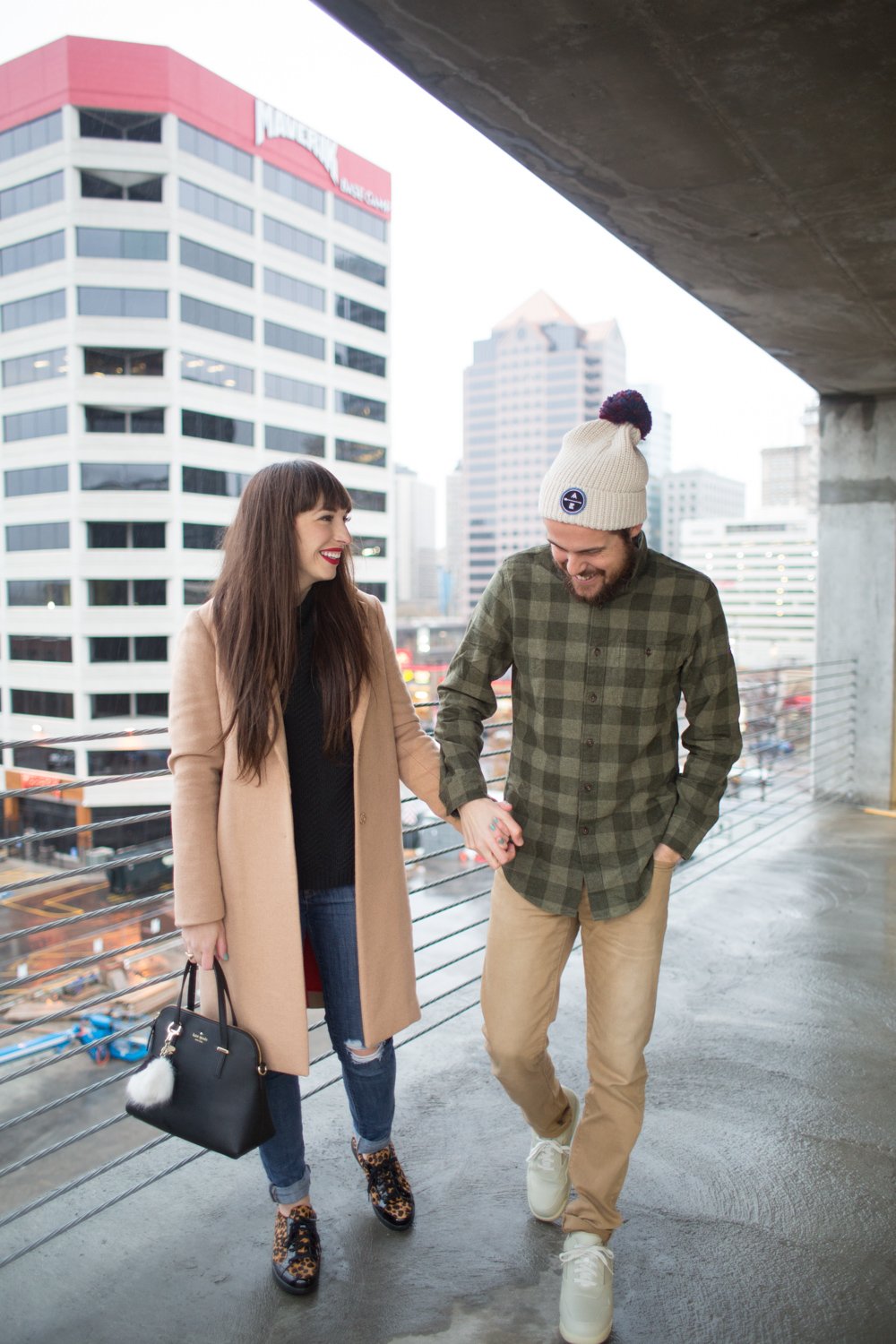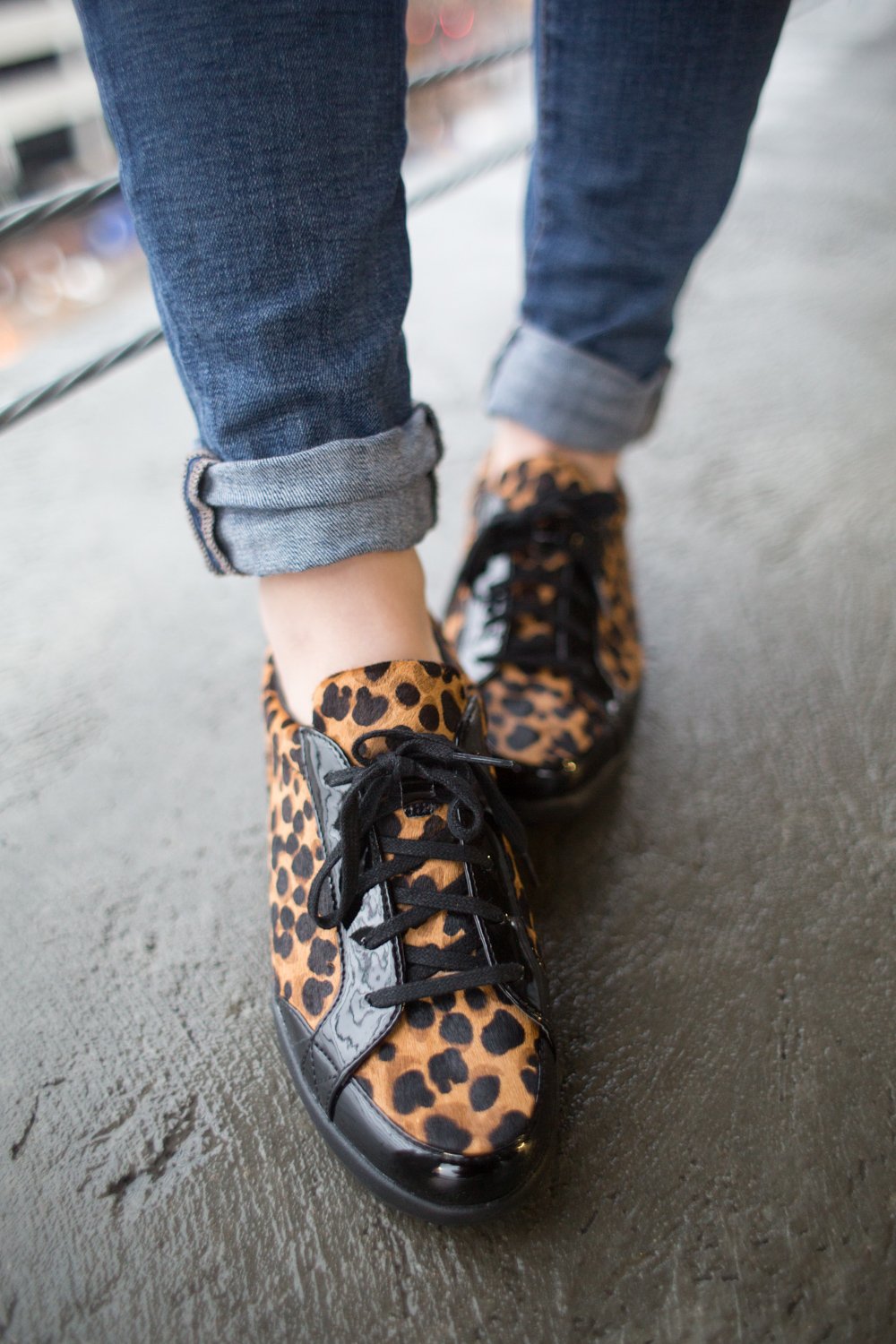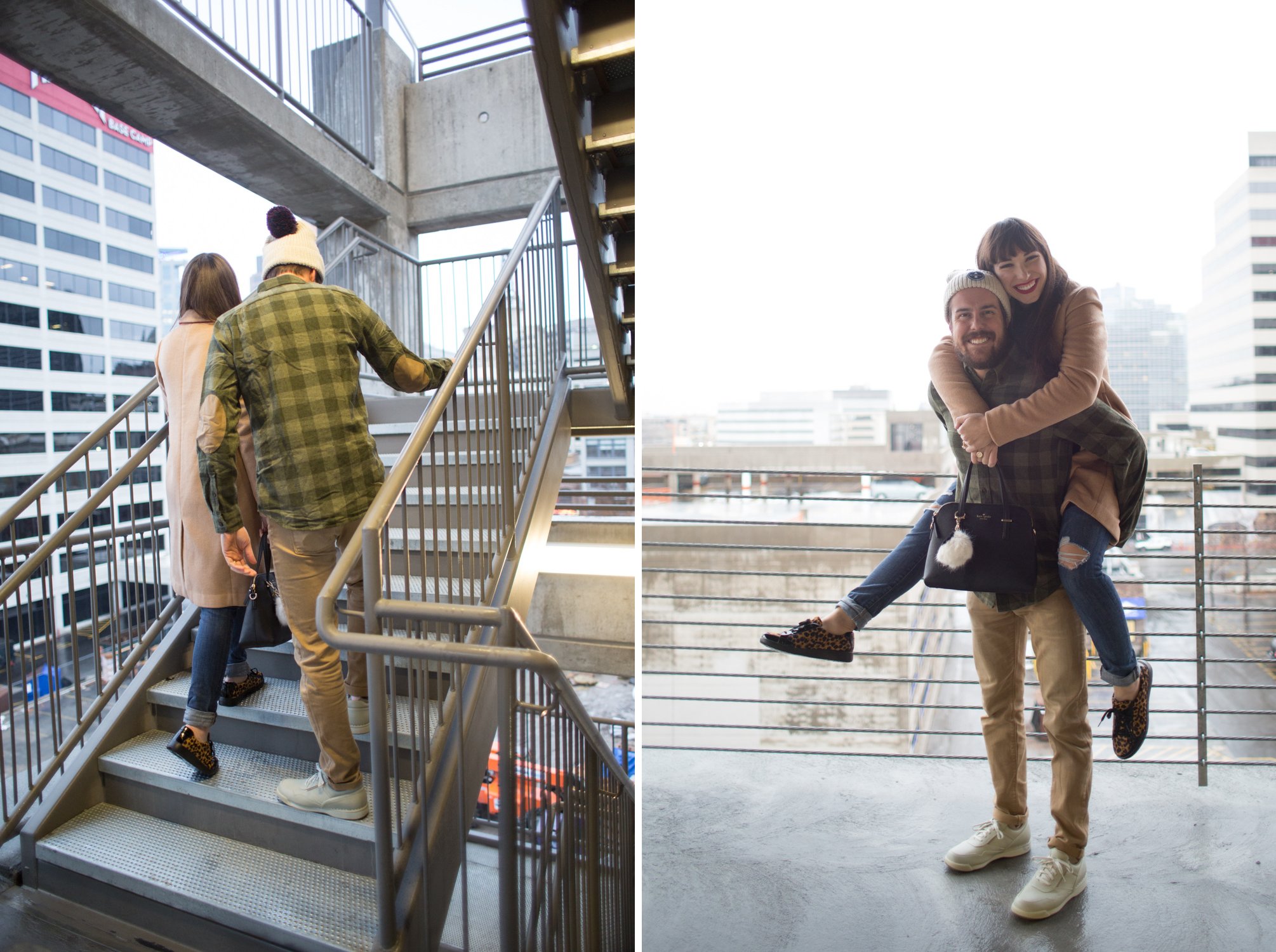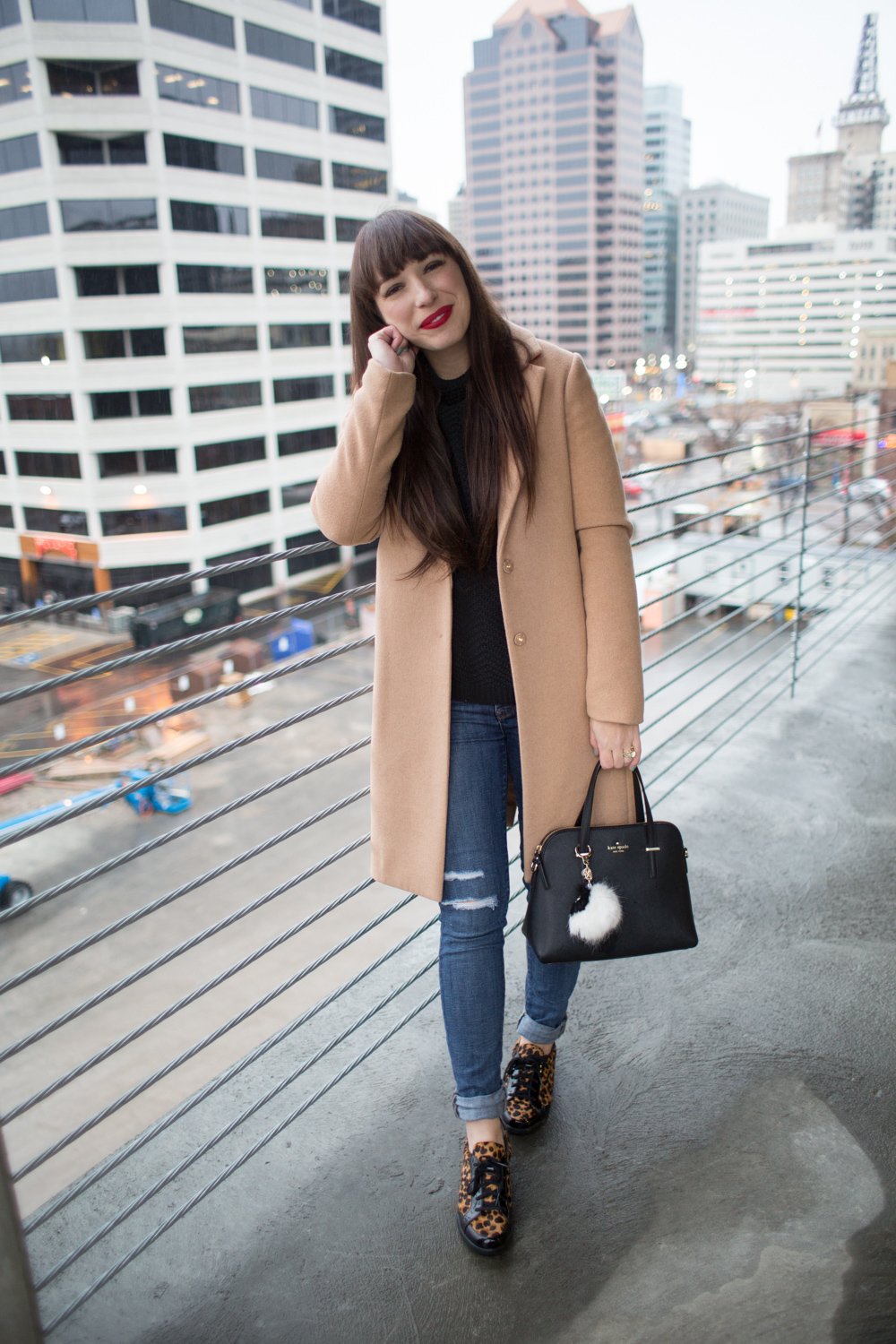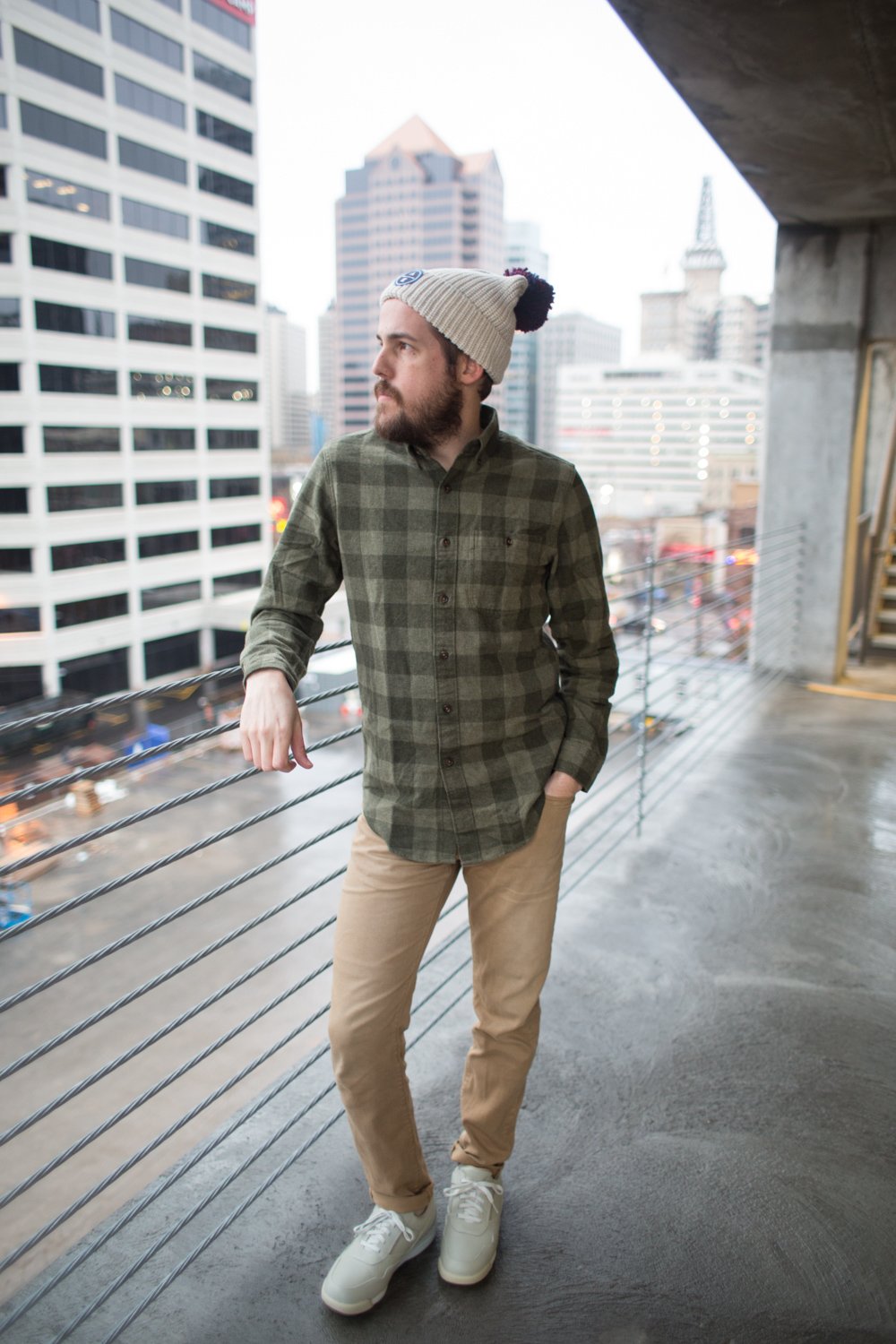 HER LOOK
Shoes: Rockport Delaire Sneaker| Coat: Ann Taylor Camel Coat | Sweater: Gap | Pants: DSTLD High Waisted Skinny Jeans | Lipstick: Mac-RubyWoo | Purse: Kate Spade Cedar Street Maise | Pom Pom: Kate Spade Owl Pom Pom
HIS LOOK
Sneakers: Rockport M7100 Prowalker | Beanie: American Eagle Classic Pom Turn-Up Beanie| Shirt: Jcrew Factory Rugged Elbow Patch Shirt| Pants: Mott and Bow Skinny Mercer Kakhi
On Saturday we had a very long, but great day!  We were so glad we wore our Rockport shoes for the occasion because the extra comfort was needed with all the running around!  We both loved the soft squishy padding inside them.  Our day started with wrapping Christmas gifts and getting them all shipped off to where they needed to be for Christmas morning!  After we headed to the mall to do some returns, eat lunch and of course…do some more shopping!  We walked around for a few hours, found some final things and called it good.
Jake really loved the vintage look of his Prowalkers.  Sort of like a skate shoe but more sturdy.  I really enjoyed the subtle faux fur texture of my leopard print Delaire sneakers.  I have always been a sucker for animal print since it goes with everything.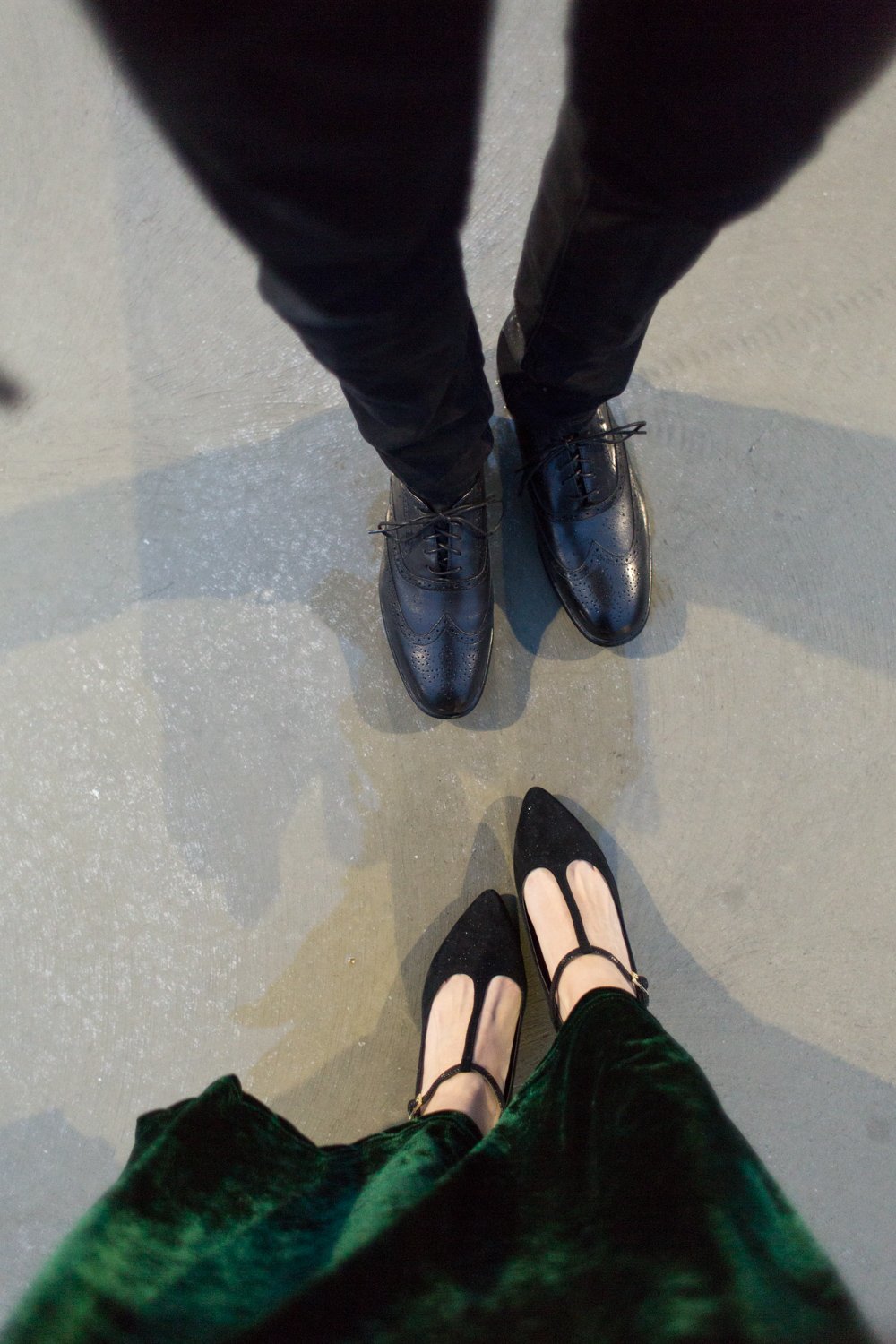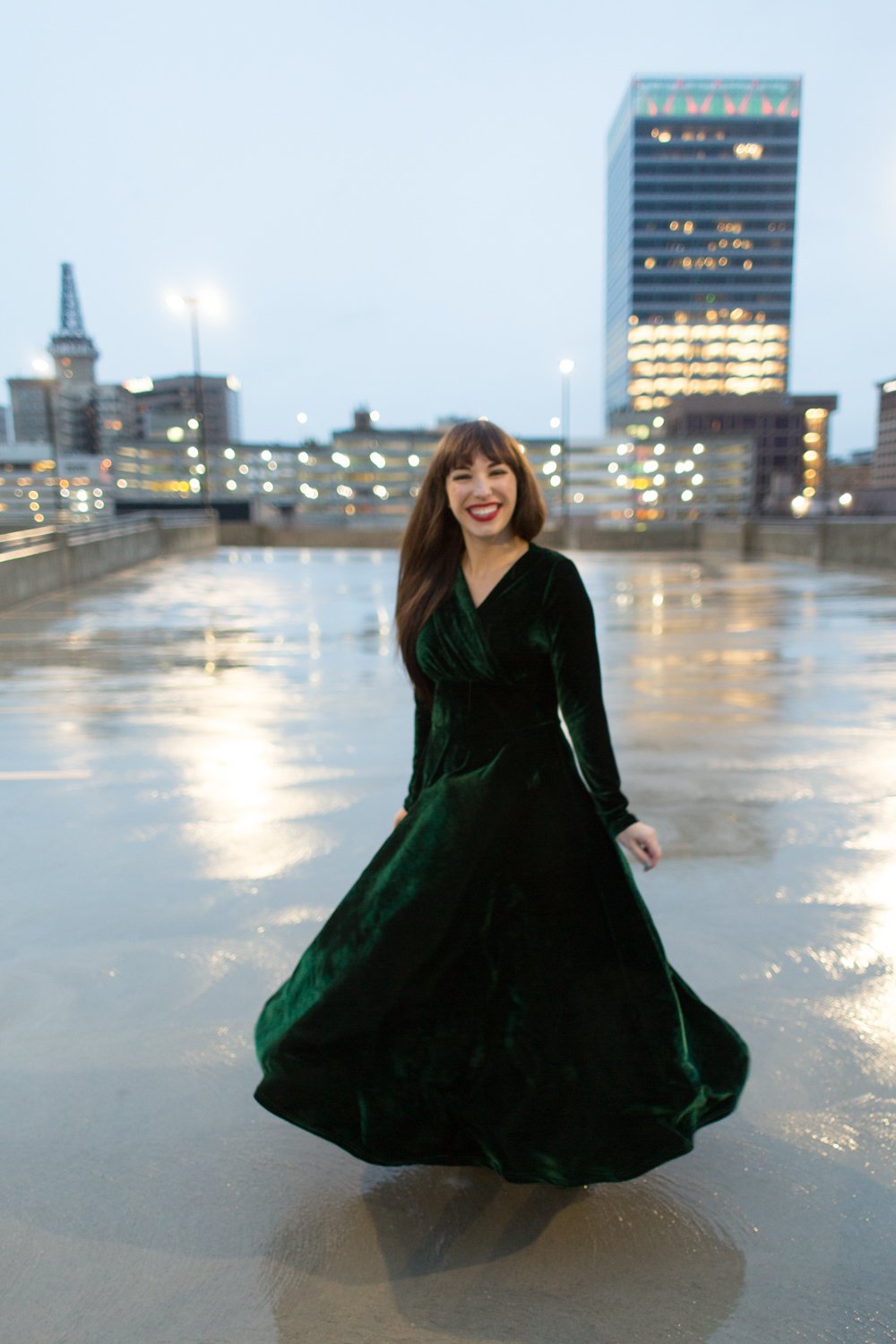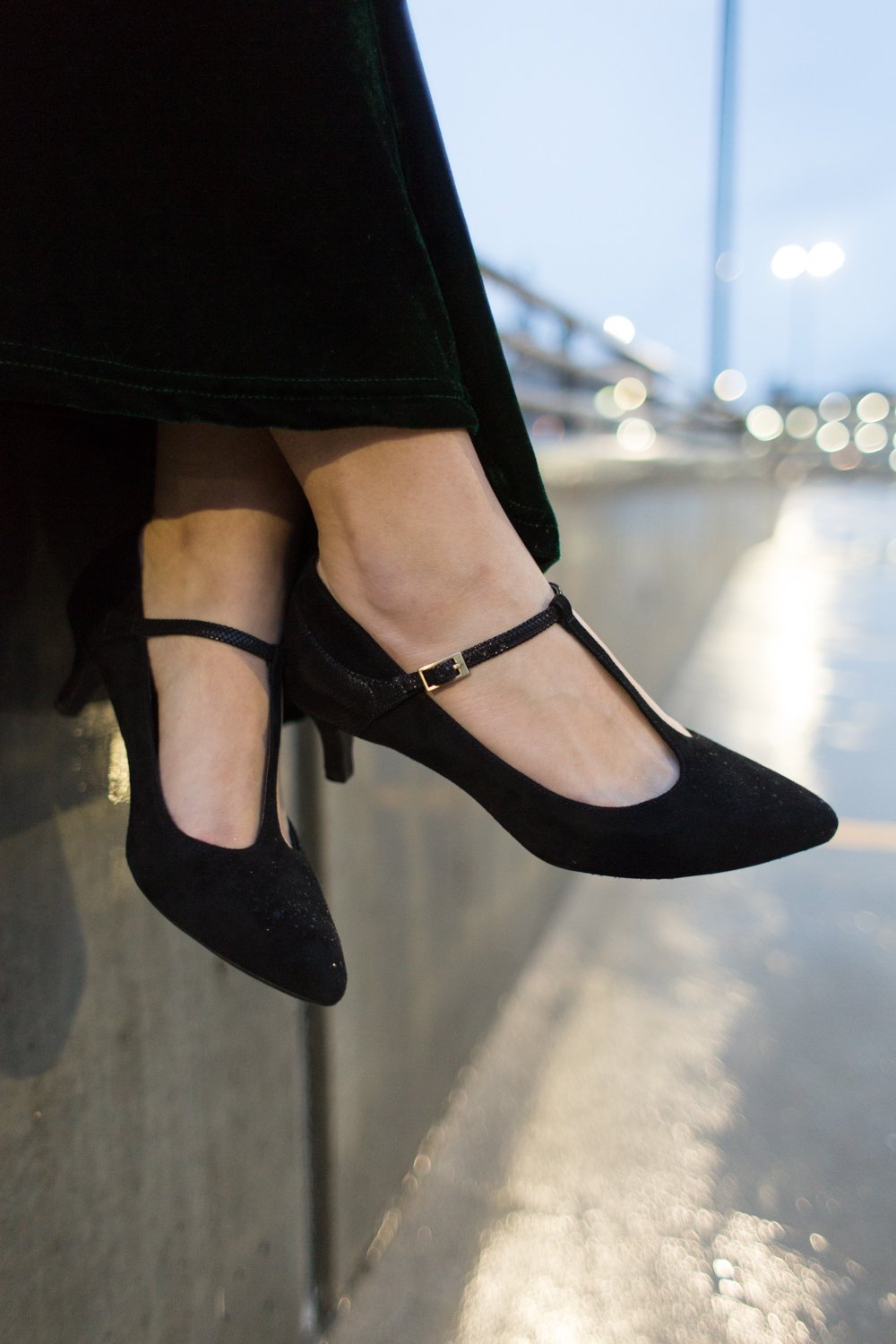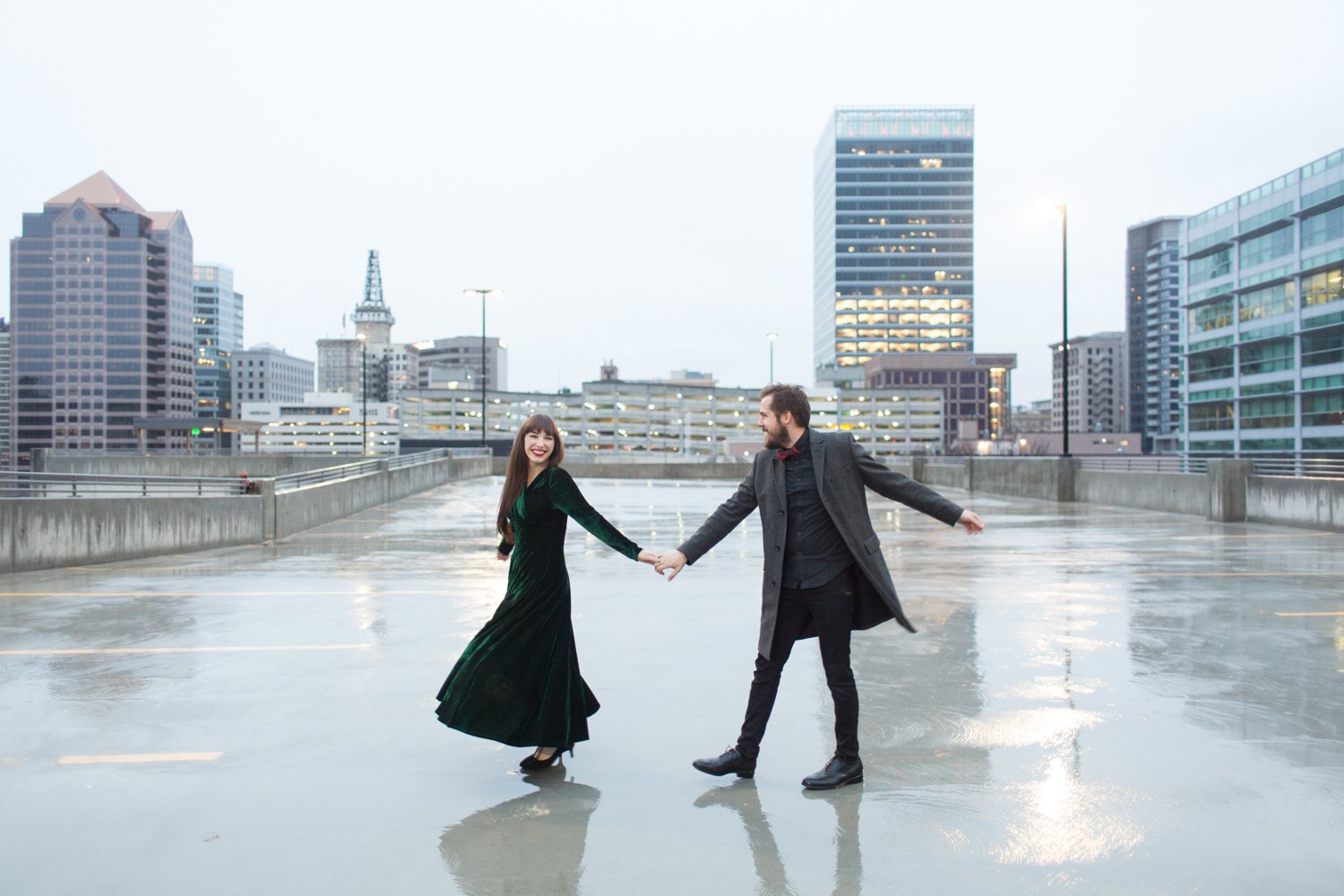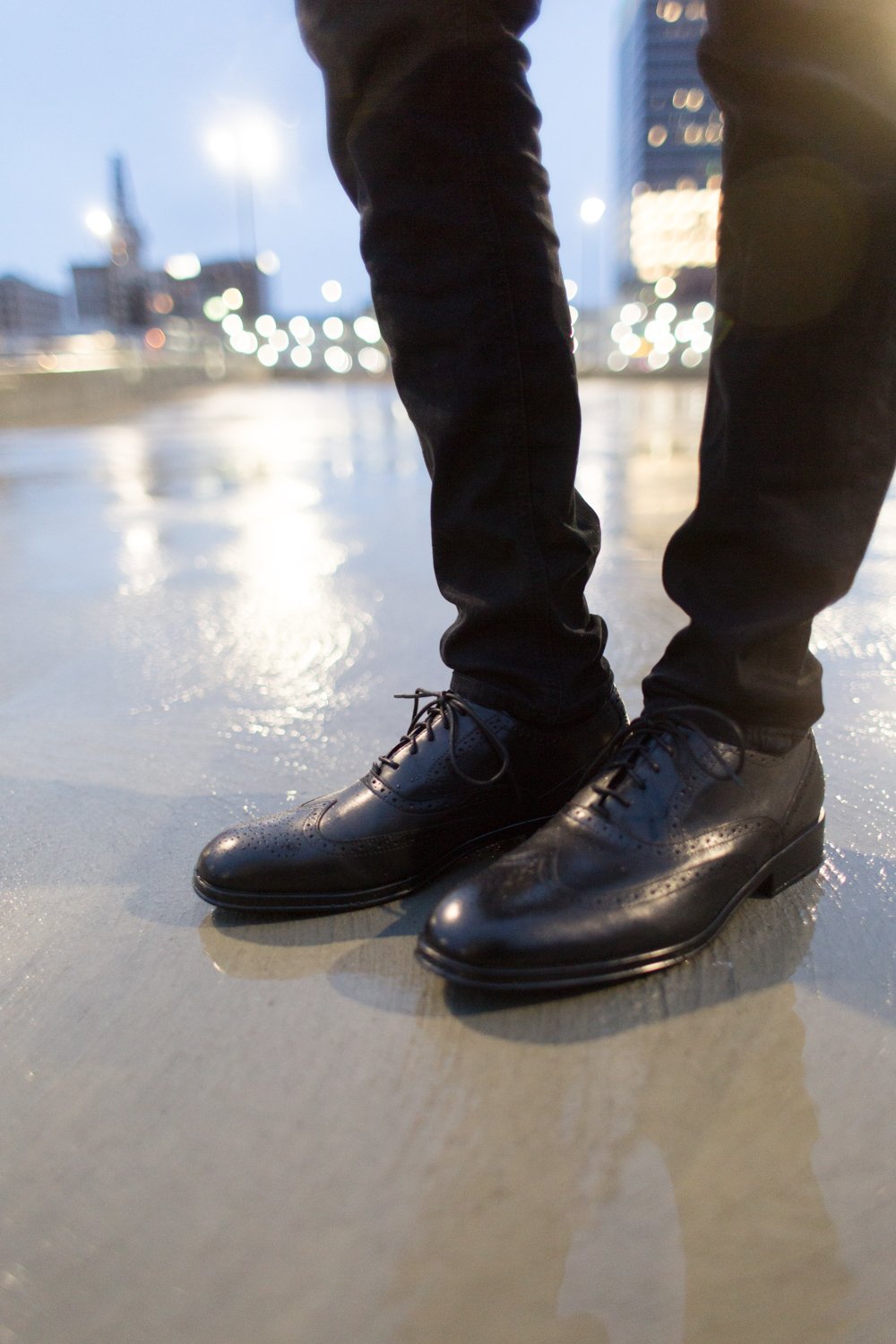 HER LOOK
Heels: Rockport Total Motion Kalila T-Strap Pump| Dress: Urban CoCo Long Sleeve Velvet Dress | Lipstick: Mac-RubyWoo
HIS LOOK
Shoes: Rockport Wingtip Almartin | Coat: Jcrew Ludlow Topcoat in Italian Wool-Cashmere | BowTie: Jcrew Cotton Bowtie| Shirt: Jcrew Factory Slim Tonal Oxford Shirt  | Pants: DSTLD Skinny Jeans in Jet Black
After we finished up shopping, we changed into our Christmas Party outfits to head to a holiday event!  We had a little time before the party so we parked our car, turned on some tunes and danced in the rain!  I felt so good in my new Rockport kitten heels and loved that I was not slipping around. The leather and suede mixture created a perfect texture that I could dress up or down.  I'm always looking for the perfect black heel that I can wear all year long, and these fit the bill! Jake's Rockport wingtips had a nice sole on them too!  When it's wet out it can get super slippery and these shoes all had a great grip to them.  We were pretty soaked by the time we got to the party, but it was worth it to play in the rain!
We ended up playing at the Christmas party for 5 hours and we both agreed, we had the best shoes on for the occasion!  Several people around us ended up taking their shoes off by the end of the night, and we loved that our feet were still feeling great 🙂
*Thank you Rockport for partnering on this post. All opinions are our own! We're grateful for partnerships like these that make kelseybang.com possible.
Christmas
Rain
winter