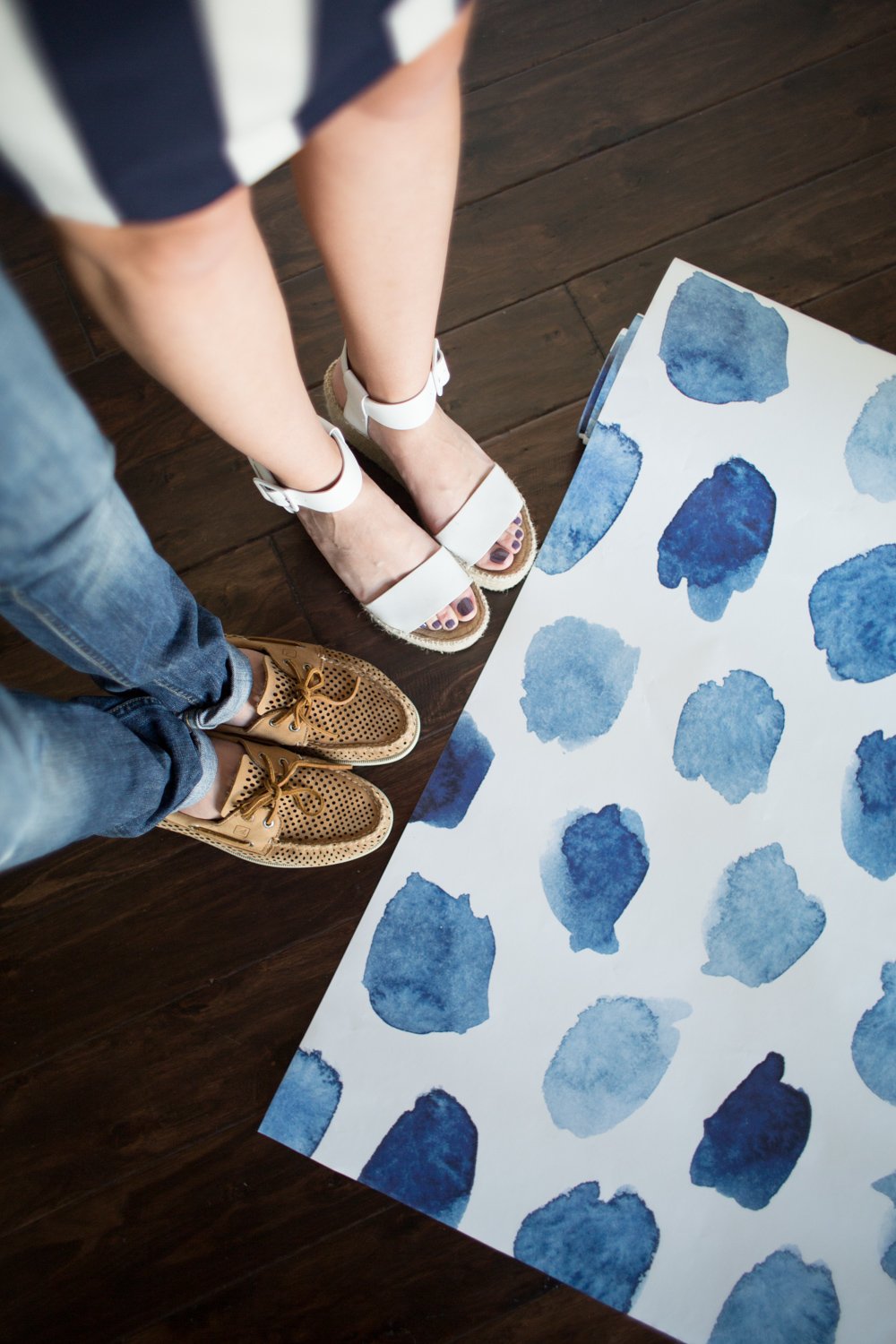 Nautical Bathroom Makeover
Jake and I are so excited to share with you our Nautical Bathroom Makeover with Walls Need Love!  We've been wanting to spice up our guest bathroom and adding a cute wallpaper ended up being the perfect touch!  We already had a Nautical vibe going on in the bathroom and wanted to keep that, so we wanted to find a wallpaper that complimented what we already had.  The print we went with is called Outside the Lines.
Before
While our bathroom before looked super cute, we knew that the right pattern and amount of color could really take it up a notch.
The Process
Jake was cute and put the wall paper up all by himself while I played Animal Crossing on my 3DS and cheered him on 🙂  Just kidding!  We worked on it together (but I did try to sneak away and play as much as I could).
 After
Didn't it all turn out so cute?!  It feels like a whole new room to us, but at the same time is similar enough that it doesn't feel overwhelming at all!
Supplies Every Guest Bathroom Needs
One of our favorite things to do when we have guests in town is to make sure that the bathroom is fully stocked with supplies so they'll have an enjoyable stay at our home.
In the Shower
Fun Shampoo and Conditioner
Shower cap
Fresh razor
New bar of soap
Shaving Cream
Top Drawer
Toothpaste
New Toothbrush
Floss
Hair ties
Bobby Pins
Deodorant
Face wipes or Face Wash
Lotion
Nail clippers
Other Drawer
Blow dryer
Curling Iron
Flat Iron
Paddle brush
Hairspray
Other Items
Fresh Towels
Feminine Hygiene Supplies
Poo-pourri
Fully stocked toilet paper
Nightlight plugged in the wall
Depending on the size of your drawers, you'll probably have to mix things up.  This is how it worked out in our drawers and our dividers organizing things.
We always try to let our guests know before they arrive that we'll have toiletries, blow dryer, hair supplies, or whatever they may need in case they want to use their suitcase for other items. My mom always says she loves coming over since she can just bring a carry on with her clothes and she knows she doesn't have to pack anything else.
Thank you so much for visiting and joining us on our bathroom wallpaper adventure!  We hope you have a wonderful day!
kelseybang.com readers can receive 25% off on orders over $30 and up by entering in promo code KelseyBang25 on check out.  This code is good through August 12th, 2017.
***Big thank you to Walls Need Love for sponsoring this post!
Home