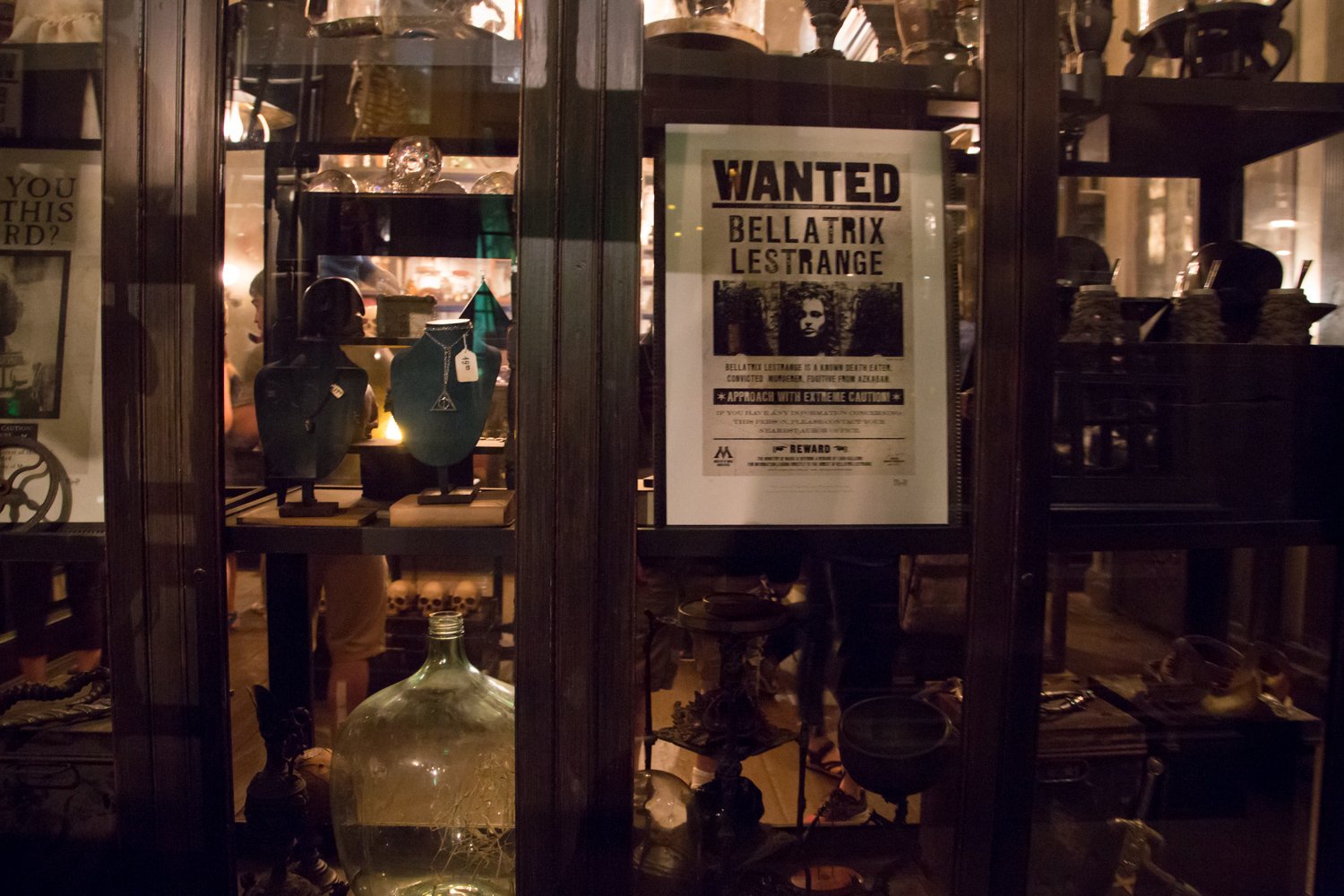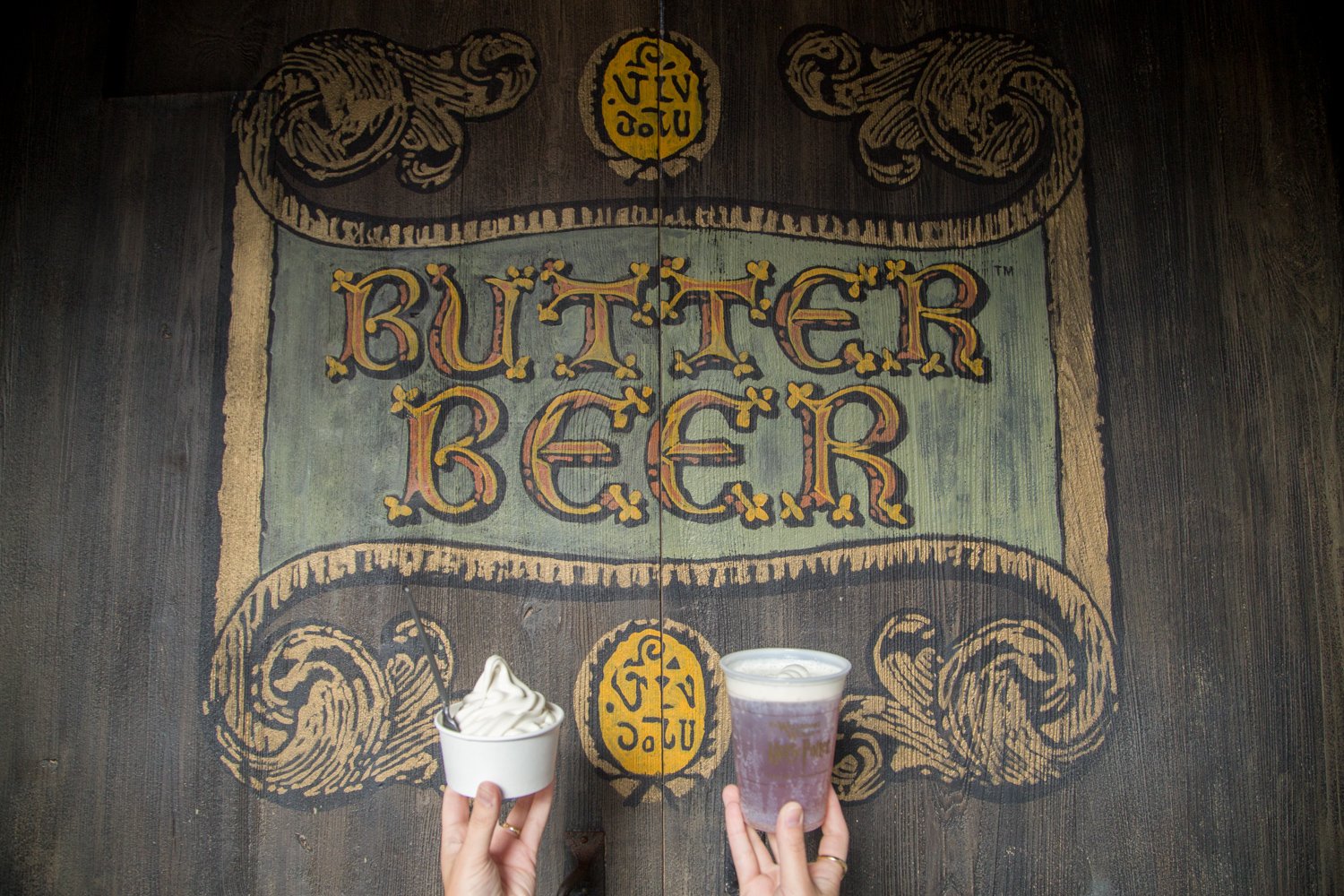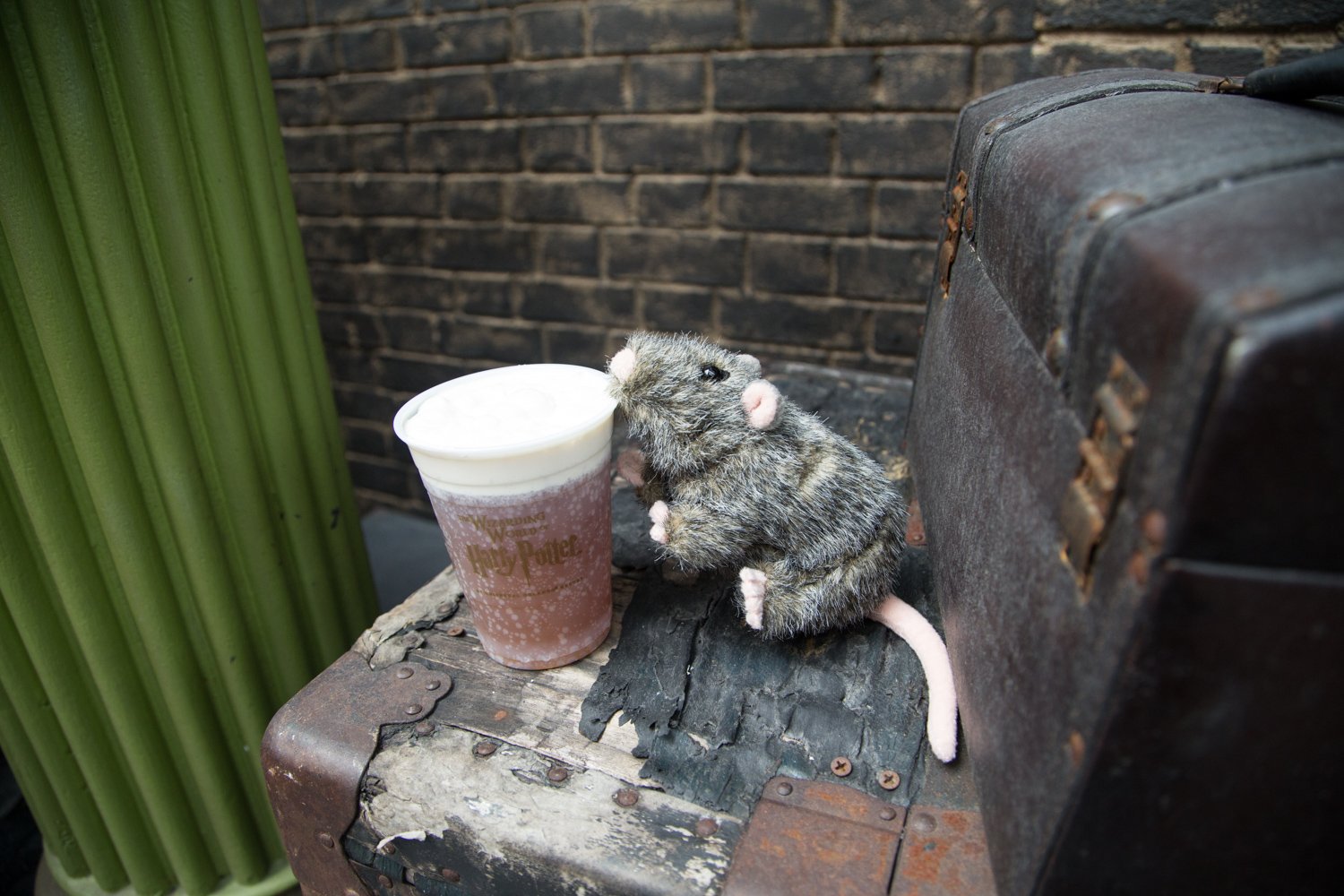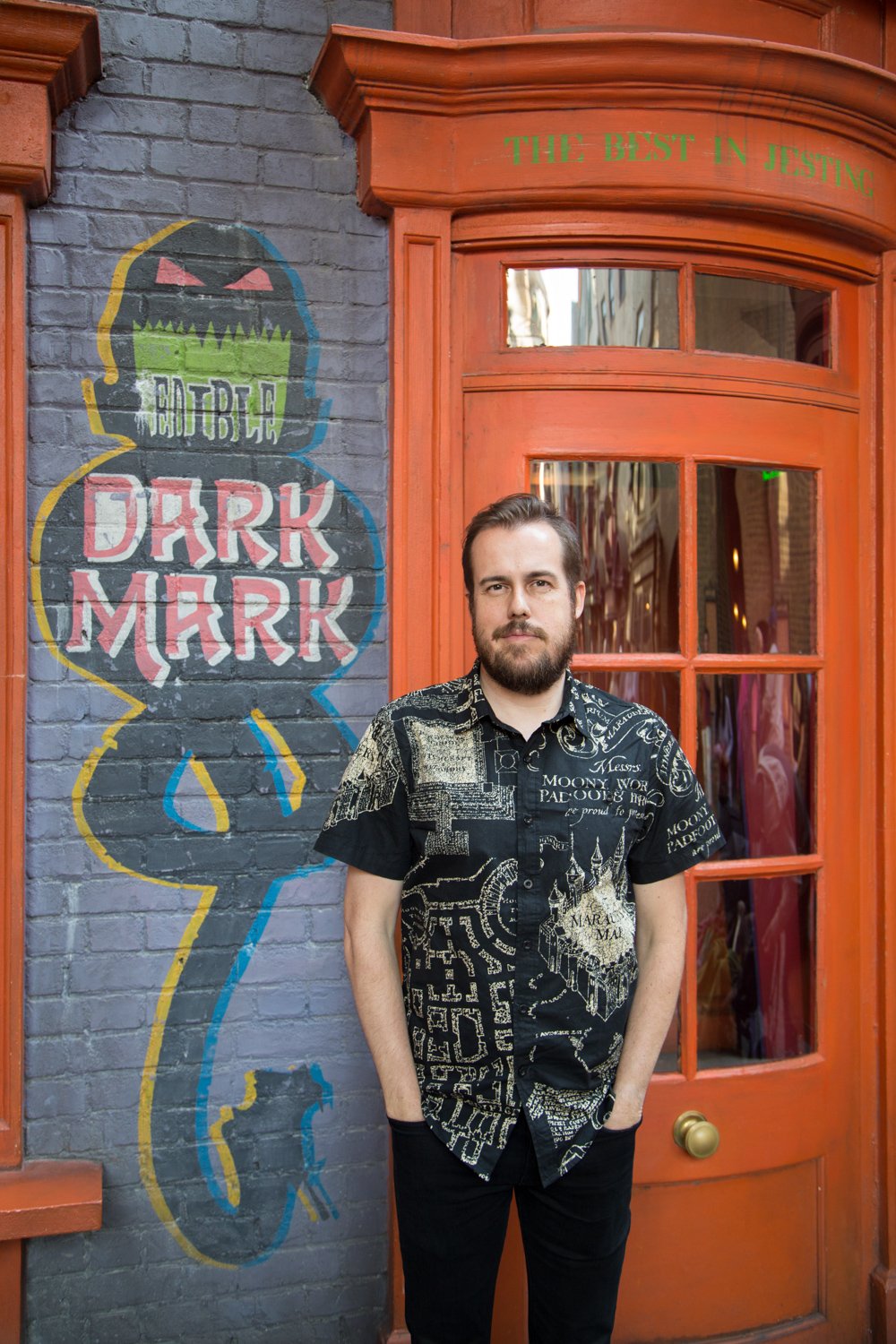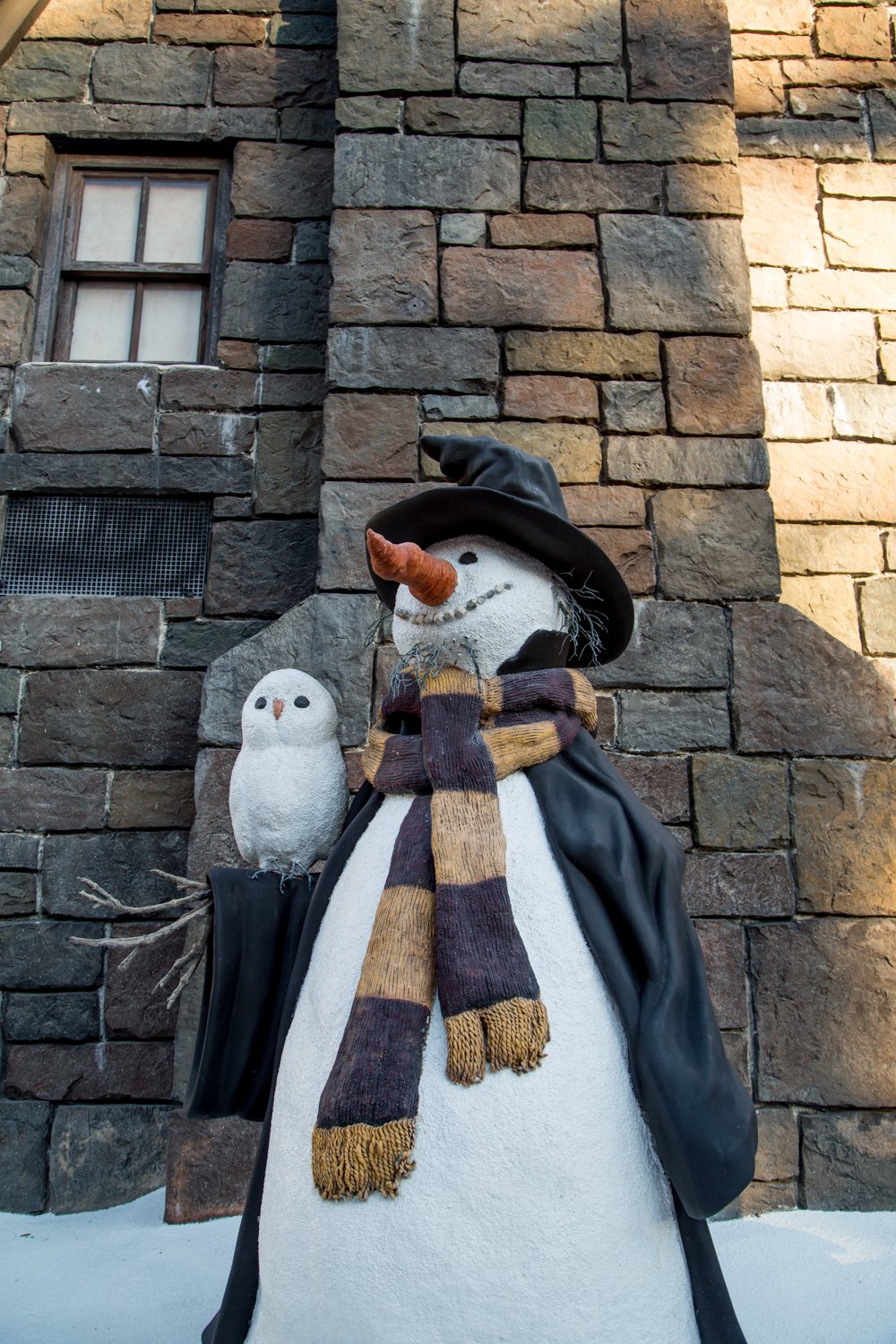 HIS LOOK
Shirt: BoxLunch | Pants: All Saints | Shoes: Palladium Boots
HER LOOK
Jacket: Blank NYC | Jumpsuit: Kate Spade | Dino Purse: Kate Spade | Sneakers: Jack Purcell | Lipstick: Mac- Girl About Town

Anyone else super obsessed with Harry Potter?!? If you are have not had a chance to visit The Wizarding World of Harry Potter in Orlando, its a MUST DO!
Tips for The Wizarding World of Harry Potter
If its a crowed time of year, its worth it to upgrade your tickets with the Express Passes.  They are like short cuts to all the lines so when its crowded you aren't spending your entire day waiting in lines!  It is amazing!  We went it was crowded over Halloween and it was so fun being able to go on the rides over and over because we used our Express Passes!
Get the 1-day/ 2-park tickets. Universal Studios Florida has Diagon Alley, and Universal's Island of Adventure has Hogsemeade.  If you want to see all of The Wizarding World of Harry Potter you will need a 2-park ticket.
Make sure to ride the Howgwarts Express before it closes!  This ride typically closes earlier so make sure to get this in when traveling to and from Universal Studios Florida and Universal's Islands of Adventure.  Take the train both ways since each ride has diffrent scenery.
BUTTERBEER
There are 6 forms of Butterbeer that you will want to try while you are at the parks!  3 drinks and 3 desserts!
Butterbeer- Classic, cold and yummy. Perfect for a hot day out.  Its like a butterscotch creme soda.  The best part is the foam on top!
Frozen Butterbeer- Classic butterbeer but in slushy form!
Hot Butterbeer- This is only around in the Winter months, but was our number favorite of all the butterbeers!  Seriously the combo of the hot butterbeer with the cool froth on top.. pure heaven!  This is acutely the way that J.K Rowling intended for butterbeer to be served 🙂
Butterbeer Ice cream- Even if its cold out its worth getting.  It's a vanilla based with butterscotch swirled in it!  It tastes just like butterbeer and very delicious!
Butterbeer Fudge- The only way you can take butterbeer home with you! It's also a great treat to bring for home for friends!  It's nice texture good fudge consistency.
Butterbeer Pudding- Fun and tasty!  You can find this at the restaurants Three Broomsticks and the Leaky Cauldron.   It comes in a cute glass jar that is fun to eat out of!
The Vlog
Want to see more or hear all our reviews of each butterbeer?! Come join us for more fun at the Wizarding World of Harry Potter in Orlando Florida!
Fun Handbags
Harry Potter
Kate Spade
Orlando
Universal Studios
Universal Studios Orlando