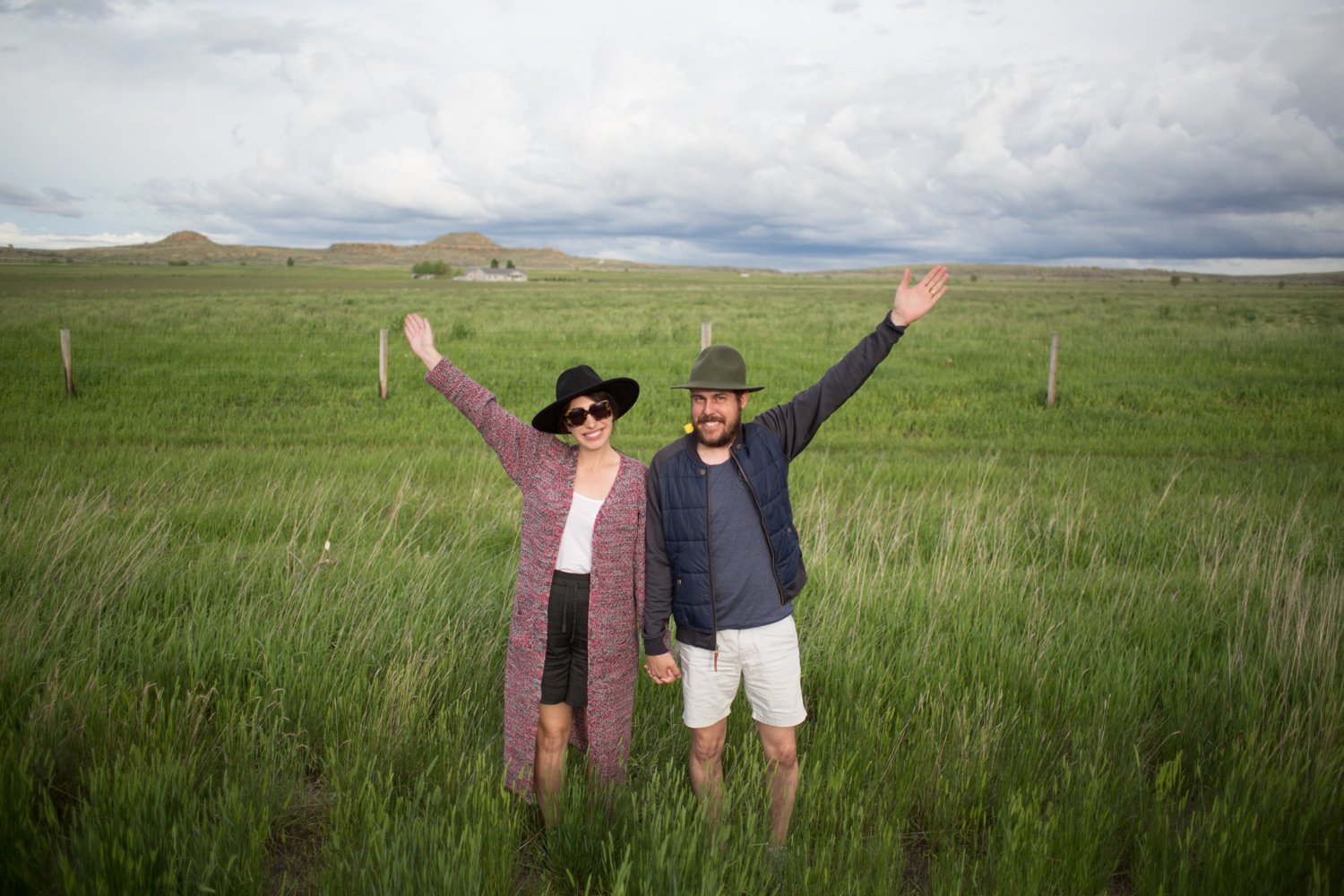 Outfits
HER LOOK
Hat- Brixton | Sunglasses: Celine | Sweater/Long Cardigan: Asos | Tank Top: Asos | Shorts: Lululemon | Sneakers: Nike | Lipstick: Mac-Blanketty
HIS LOOK
Hat: Asos | Jacket: Holden | Tank Top: Brixton | Shorts: Jcrew | Shoes: Palladium Boots

Rock Hounding in Boysen, Wyoming
Did you know Jake and I got engaged while out rockhounding?!  We haven't had a chance to go again since then, so we were so excited when we heard there were great places to go near where we were staying in Wind River Country, Wyoming.
One spot we went to was just north of Boysen on Birdseye road.  This road goes up a canyon and then branches off towards Copper Mountain Road.  As you drive up on the West side of the road you can see some active quarries with tons of rock blasted from the mountain side. The amazing thing about this spot is you literally get out of your car and look down and there are tons of cool stones and minerals!  We spend a lovely afternoon climbing around and finding cool looking quartz pieces.  Supposedly you can find Jasper around this area as well!  We found some cool red minerals but aren't good enough with our geology to know if it is Jasper or not.
Tips
Bring a bag to put in your rocks- Literally everywhere you step you can find amazing rock gems of all sizes!  You will want to take some cool souvenirs home!
Wear closed toed shoes- You can get out and walk and collect rocks, but if you want to climb up mounds, or the side of the mountain; it's nice to have sneakers/boots on.
Mini shovel or rock pick-  Bring something you can help get out some rocks that are stuck in the mud.  The soil here is pretty soft and easy to get the rocks out, but its nice to bring something along that can help!
Sunscreen- Always great to bring around when spending time out doors!  It was super overcast when we were out, but we got burned! Good thing we had some trusty lavender on hand!
Camera-  On the drive to Copper Mountain Road it is super pretty! You might want to stop and take some pictures along the way!
Extra water!- Its important to stay hydrated when out on an adventure!
Have fun!
Cowboy Cafe
On our way back to Lander, Wyoming we stopped at the famous Cowboy Cafe in Riverton.   When we drove through Dubios, Wyoming everyone kept telling us the Cowboy Cafe was the place to go.  With not enough time in one day in Dubios we didn't get a chance to eat there, so stopping at the Riverton location was a must!
What is the Cowboy Cafe famous for?!?? The homemade pies!  When you walk in you can see a giant board with all the pies written down that are freshly baked that day.  When you sit down to eat and you want to order pie, the waiter/waitress will bring the board over for you to pick out what you want!  I got a pecan pie with ice cream served warm, and Jake got the same but with a peach pie!  They also have lots of other fun American foods you can order there too.
Thanks for stopping by today, for more fun in Wind River Country you can check out our other Wyoming blog posts here, or video diaries here. Have a great day!
Spring
The Great Outdoors
Wind River Country
Wyoming