Hi Friends! Today we are so excited to share with you a pregnancy update! I am still in my first trimester, but we took some fun photos with at the flower fields and the twins were making an appearance so we thought it would be a good time for an update 🙂 Being pregnant with twins has been so exciting for us and we can't wait for these babies to grow healthy and strong!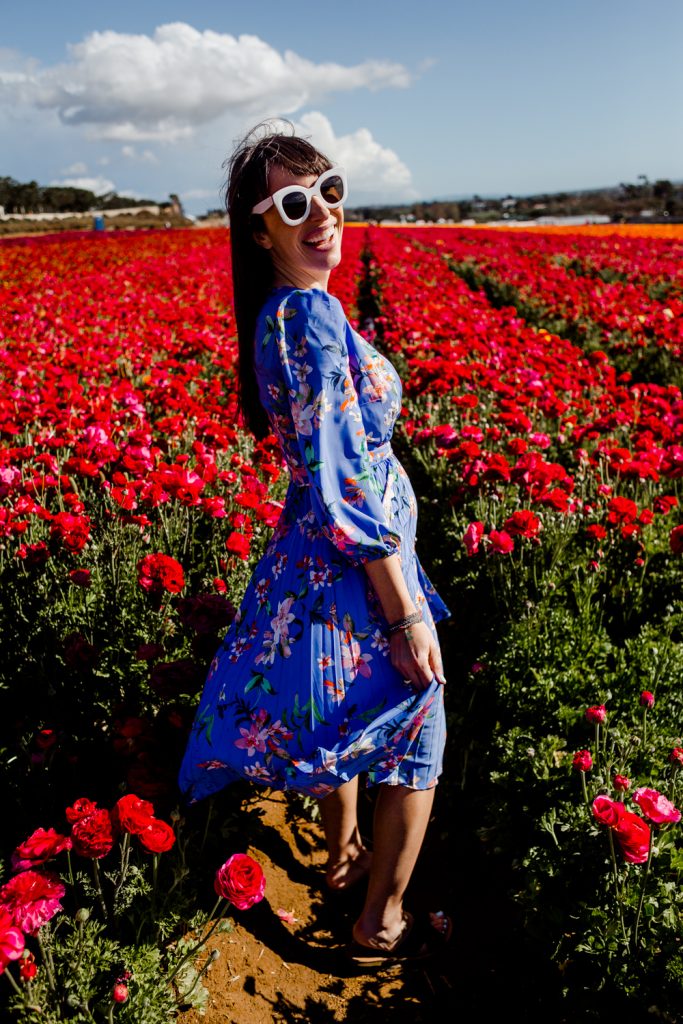 How Far Along?
We will be 11 weeks on Tuesday! So crazy I am already showing so much, but I can't even tell you how happy it makes me!!
Current Symptoms?
I am so grateful I have felt so good this entire pregnancy so far. It might be because we have wanted these babies so bad that I don't notice if I am not feeling good, but I genuinely think my body is the happiest it has ever been.
In the afternoons I get pretty tired and usually take a nap! I am not much of a nap person but if I get tired I try to rest! It's hard for me to relax and take a nap, but I want these babies to grow healthy and strong so if they need a nap, I go for it!
If there has been any symptom I have had, it's some serious bloating. A lot of that though could be from the progesterone medications I have been taking 3 times a day! Progesterone causes bloating, and by the end of each night my tummy looked liked it was 9 months pregnant! It hasn't been uncomfortable at all but just giving me a heads up for what I'll look like down the road 🙂 The exciting news, I just finished up my last round of progesterone this week! Wahoo! I am so excited to no longer be on any more IVF medications.
Funny Pregnancy Moment?
Does peeing your pants count?! Jake and I were at a meeting and after I realized I needed to go to the bathroom. By the time I got to the bathroom I had already gone! hahaha So I went to the bathroom and cleaned up and had a good laugh! We were out of town, and hadn't had dinner out, so we went out to dinner and I just wore my jacket around my waist! After dinner I realized I had peeded my pants again! When I was on progesterone I seemed to be peeing my pants all the time and for some reason I thought it was pretty funny every time! I hear after you have a baby it doesn't get any better?! haha


Weight Gain?
Yes! I told myself when I started this entire IVF process to eat healthy and good foods but to not worry about weight. I knew with meds that could do some odd things so to be honest I have just tried to embrace it all. With the IVF meds literally over night I gained 3 pounds, and by the end of the week with IVF injection meds I had gained 5 pounds. Currently from when I started IVF I am up 7 pounds. So up 2 from when I found out I was pregnant.
My overaries are swollen from our Egg Retrieval so that could contribute to some of it, but to be honest we are having twins! My stomach is going to stretch out and I think my body is just preparing itself. Anything for these precious babies!
Surprisingly my entire pregnancy so far I haven't been hungry so eating every few hours has been tough, but I want the babies to be healthy and strong so every few hours I try to eat something good!
Maternity Clothes?
Not yet, but I ordered some dresses for spring time! My jeans are super tight and uncomfortable so I am excited to start wearing dresses and maternity clothes! It's still so cold where we live and I am ready for it to warm up! I felt like I started showing right away from being bloated from progesterone and it has just stuck around! It makes me excited though! Bring on the pregnancy clothes!
Food Cravings?
The first month and a half I was craving hot foods! I was literally dumping hot sauce on everything! Lately though I have had some serious food aversions to what I normally eat! Anything red, or vegetables make me want to barf just the thought of them so we have been trying to get creative! Jake got me some green drinks and I have enjoyed those! I really like string cheese, gogurts, apples, and dried apricots. Eating healthy is so important to me with these babies, so I am trying super hard for them!



Sleep?
I have been sleeping sooo good! The first few weeks I wasn't sleeping super well so I ordered a pregnancy pillow! The reviews about them were so good but I ended up not loving it. I found I like just a regular pillow between my legs when I sleep to help balance out. In the middle of the night I need to go to the bathroom a ton, but it's nice because now I fall right asleep after going to the restroom. In the beginning I wasn't used to waking up in the middle of the night and it would keep me up but so grateful to be sleeping like a baby now!
Genders?
We can't wait to find this out! As of now we do not know the babies genders! It won't be for around 7 more weeks till we find out! I have no clue what we are having! This is going to be TMI but my leg hair has been growing so fast and I need to shave them every other day vs weekly. My grandma said she was more hairy when she had boys than girls, so I am wondering if we are having boys?
Something We Are Looking Forward To?
Finding out the babies genders and having a party to celebrate! Jake and I have been planning a gender reveal party and are so excited to celebrate with our loved ones!
Best Pregnancy Moment So Far?
The bump! Literally it makes me so happy! Every time I get dressed and see the bump I just can't help but dance around the room! Something about it just makes me want to dance! It makes me happy to know the babies are growing and making themselves at home!


Outfit Details:
HIS LOOK- Shirt: Jcrew | Pants: All Saints | Shoes: Converse
HER LOOK- Dress: Eliza J | Shoes: Forever 21
Thanks so much for stopping by today for our pregnancy update! Hope you have a wonderful week!
Dresses
Eliza J
Pregnancy
Spring
Twins