Are you a Hello Kitty Fan too?!!? Today we are sharing everything you need to know before visiting the Hello Kitty Cafe for Tea Time at the Bow Room to make sure you have the best experience ever!
OMG!!! I LOVE HELLO KITTY!! Anyone else?!?! In high-school one of my best friends Tamran loved Hello Kitty! I can thank her for introducing me to the fabulous world of Hello Kitty! And Betsey Johnson for that matter too! Tamran has always been down with the latest trends and cool things to know about! Thanks Tamran!
When I found out about a brick and morter Hello Kitty Cafe was coming to Anaheim, California I knew Jake and I had to make a trip out there right away! Even better, it's at the Irvine Spectrum! My family and I have been going there ever since it was just a movie theater and food court! Oh my how it has grown!! Perfect location for a Hello Kitty Cafe.
The cafe opened up just last year in late September! It is the only Hello Kitty Cafe in America! How cool is that?!? When we looked online and found out you can make reservations for tea time, we knew right away that is what we wanted to do! Tea time is one of Jake and I's favorite things to do together! Looking back at our adventures we have done tea time together in Hong Kong, Canada, and one of our local favorites at The Grand America Hotel. Anytime there is a fun opportunity to do tea time, we are down!
Jake was so sweet and had the grand idea of taking me to the Hello Kitty Cafe for our Valentines date this year! Best husband ever! We booked our trip and had been looking forward to this moment for every since!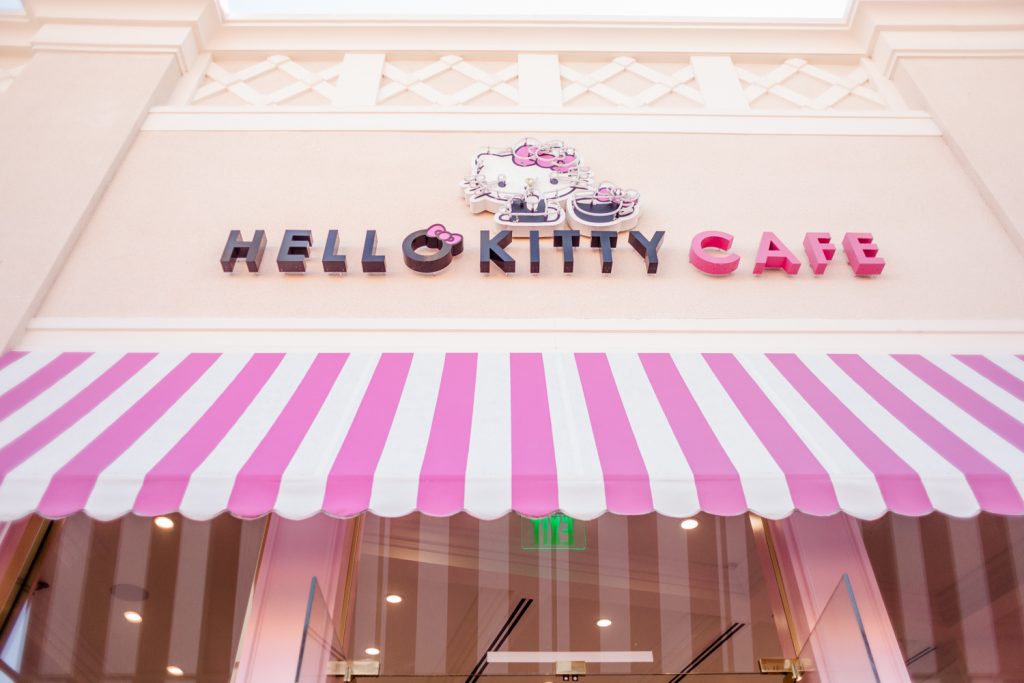 Hello Kitty Cafe, Anaheim California
Isn't this entrance sooo cute?!!??! It just screamed Hello Kitty! Literally! hhehe Jake and I knew with tea time we wanted to dress for the occasion, but also with a pink theme! Jake was so cute and knew right away he wanted to wear his pink suit! Since it was a Valentines date I knew I wanted to wear pink or red!
When you first walk in the store front you are inside the Cafe area! I didn't grab a picture of where you can purchase coffee, mini donuts, treats, sweets and more, but got some footage in our vlog below. This area is super cute and a great area to stop by! It also has tons of beautiful outdoor seating right outside to so if it's a nice day out you can eat out there as well.
In the cafe there are some cute photo spots that you can snap a photo of you and your treats by! Lots of great picture opps for the space.
We didn't get to try any treats, mini donuts, or hot chocolate since we were going to have tea time, but sometime soon we want to come back and get some speciality items here that are oh so cute!

The Bow Room
When we walked in to the Bow Room, I was in straight up Hello Kitty Heaven! The room is so classy, cute and Hello Kitty all at the same time! My favorite was the mix of textures of pink, gold and white. The next home we build I want an all pink room now! This room was a dream! Perfect environment for some afternoon tea!
The Bow Room does do tea time reservations and would recommend making one in advance. They do accept walk ins if they are available. We made a reservation online and it was super easy and quick. We were glad we did because we were able to reserve the time we wanted with our flights leaving later that afternoon.
A few things to know about booking a reservation, there is a 2 person minimum. As well as you need an even number of people in your party. The tea time is served in sets of 2, so make sure to have an even number of party guests to enjoy the fun with you!
Tea Time Hours
Wednesday-Friday 11am-4pm
Saturday and Sunday 10am-4pm
Her Outfit:
Jacket: Nordstrom | Heart Dress: Asos | Tights: | Sneakers: Hello Kitty x Converse

His Outfit:
Suit: Jcrew | Shirt: Nordstrom | Shoes: Vans
Time For Tea!
Aren't these dishes so cute?!? Every single detail here was spot on! Even down to the water glasses being rose gold and the sugar cubes in the shape of Hello Kitty! No detail was left unthought of! It was all PURRRRFECTION!
Round 1
For the first round we got to pick out what tea we wanted. There was a really great selection of teas to pick from. I went with a raspberry nectar and Jake went with chamomile. The tea pots with the bow tops that came out were soo cute! Jake and I each liked that we got our own!
While we let the tea steep, the cutest chocolate whipped cream with strawberries arrived. On the top of the cream was sprinkled with a cocoa Hello Kitty face! It was the cutest presentation, and a delicious treat as well! Fresh, light and yum!


Round 2: Food and Treats
Round 2 came out on the cutest Hello Kitty 3 tier stand.
The bottom row had croissants filled with salmon, pesto tomato tarts, and cucumber sandwiches in the shape of Hello Kitty's Face.
Row 2 was filled with sweets! There were berry tarts, raspberry filled macarons and chocolate cake.
The top row had scones and the cutest cake bites!
To be honest we were having so much fun playing with our food we didn't eat much! The food is so darling and we wanted to take a billion photos! There was also a lot of food too and we really filled up on our tea! Everything we tried was full of flavor and super tasty!!



Bow Room Bathroom
I just have to highlight the bathroom in the Bow Room real quick because it is soooo darling! The wall paper is so happy and fun! The mirror is Hello Kitty's head, and there is lots of fun gold details around! Even if you don't need to go to the bathroom during your time at the Bow Room, go check it out because it's cute! There is 1 bathroom and it is unisex so you can't miss it!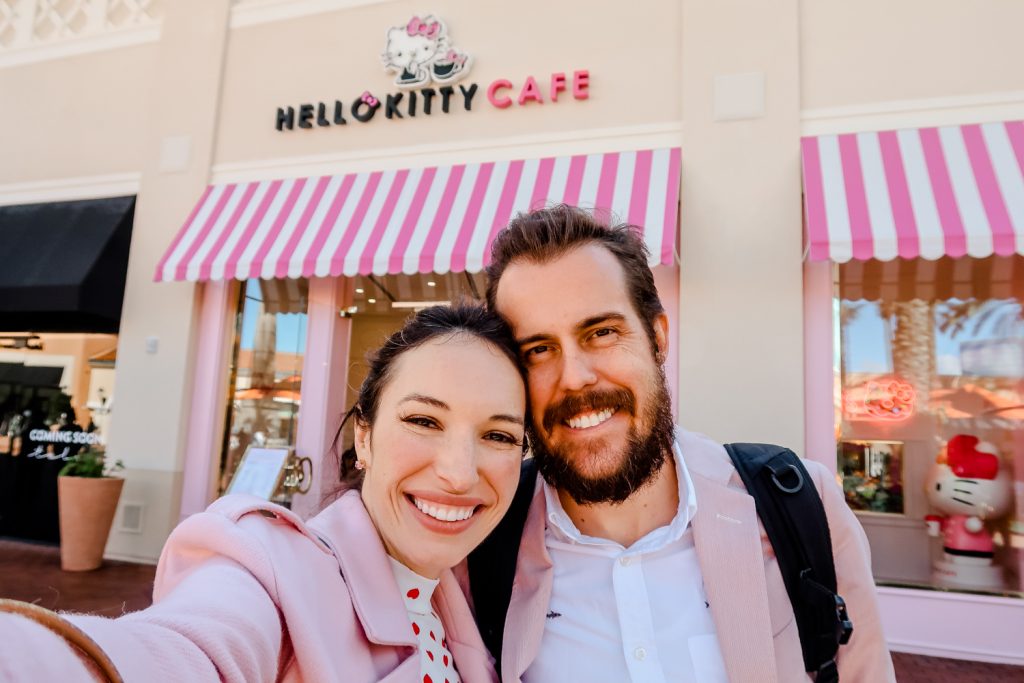 Goodbye Hello Kitty Cafe
Saying our last goodbyes to the cafe! Wow we had such a great time and so much fun! We really enjoyed the food, great company, darling ambience, it was all so perfect! Plus we even had left overs to take home that we got to share with some friends! Jake and I loved our experience so much we decided we need to make visiting the Hello Kitty Cafe for Valentines a yearly tradition! We will see how we can pull that off next year with the twins being a few months old by then 🙂
Want More Hello Kitty Cafe?!
Dying to see more of the Hello Kitty Cafe?! Come join us for Tea Time at the exclusive Bow Room in our vlog below! If you have had a chance to visit the Hello Kitty Cafe, let us know in the comments below! We would love to hear about your experience! Thanks for stopping by today, have a wonderful week!
California
Hello Kitty
Tea Time
Valentine's