Have you ever wanted to visit Shanghai Disneyland?! Today we're sharing all our tips and tricks for having a successful time at the resort!
Jake and I just got back from a super fun trip to the Shanghai Disney Resort to visit Disneyland! We loved it so much! But there were a few things we wished we would have known about before we went. So we wanted to share our tips and tricks so you can have a super successful time! After visiting three international Disney parks, we have learned a few things we thought we should share about Shanghai!
On our trip we did 4 days at Shanghai Disneyland. We felt like 4 was perfect for us, but know 2 would have been sufficient!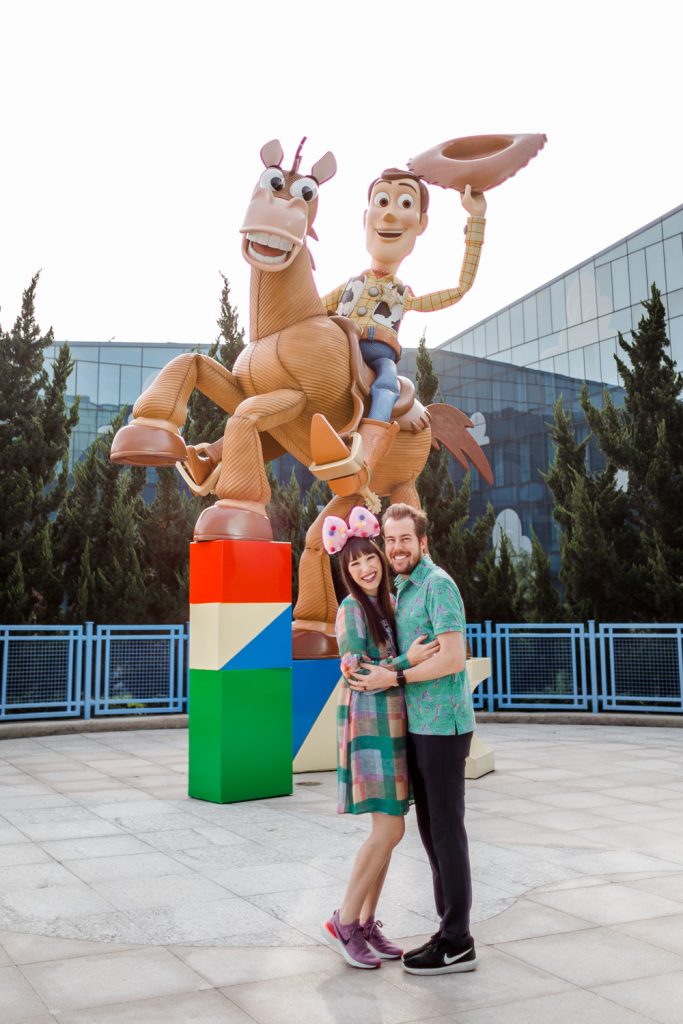 Before Arriving in Shanghai
Download the Shanghai Disneyland App and WeChat before your trip-
LTE is limited in Shanghai as well as some sites are blocked unless on roaming LTE. So it's nice to download these, create accounts and have them ready to use before entering China. The Shanghai Disneyland App is where you will see ride line wait times, character times, and get your fastpasses. WeChat is what everyone uses in China to pay for things. If you do not have a Chinese bank account you can't use it to pay unless someone pays you first. But if you get a season pass, you need Wechat to use your discounts at the park and restaurants. You have to connect WeChat to a phone number and can connect it to a U.S. bank account. It won't let you pay in China, but it will let you use the app which is very handy! When at Disneyland you can hop on the wifi to check wait times, use WeChat coupons from an annual pass, etc.
Book a room at a Shanghai Disney Hotel-
Trust us, you will want to do this! There are currently 2 Disney hotels there; the Toy Story Hotel (more affordable) and the Shanghai Disneyland Hotel. With planning a trip to Shanghai Disneyland you can only purchase tickets online for the park 30 days in advance. If you stay at one of the Disney hotels there you can purchase tickets there and they said no matter what there is always tickets for sale for the park for hotel guests. You also get an extra early hour entrance into the park every day you stay at the hotel, as well as early morning access to an exclusive Disney Hotel park entrance. We'll explain more below!
Make sure you have your tourist Visa figured out-
Jake and I got 10 year visas to China a while back so this trip was simple. The hard part about getting a China visa is 1) the cost and 2) you have to have flights and hotels already booked as evidence on where you will stay. Shanghai does have an option to get a 72 hour tourist visa on arrival but you need to be passing through and not returning to your country of origin. The laws may change over time so make sure to research the best option for you before you go.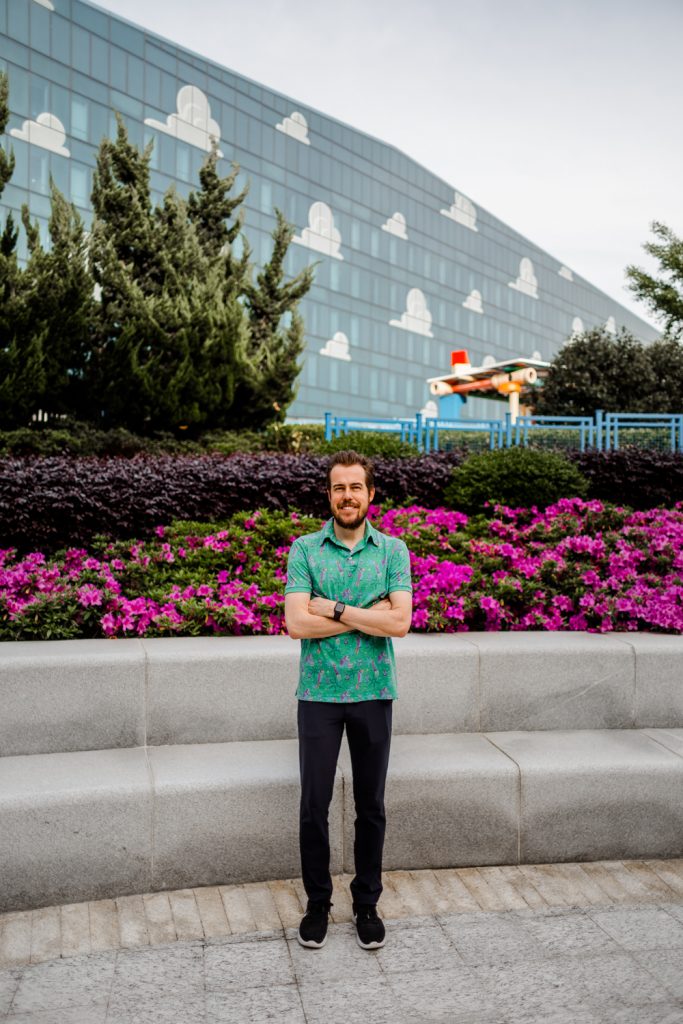 At the Disney Hotel
Purchase Park Tickets at Hotel-
When you check into the hotel, there is a help desk there that is just for purchasing park tickets. They can help you get your tickets as well as get set up with some fastpasses. Prices here are also discounted and you will not want to buy tickets at the front gate madness.
Grab a Park map and plan your day out and what fast passes you want–
When visiting a park that you are not familiar with it's always great to grab a map and get familiar with the layout of the lands! When you check into the hotel as well as purchasing your park tickets, they will have park maps for you. They do have English versions so it makes it easy to navigate!
Take advantage of the hotel early hour entrance into the park-
For every night you stay at a Disney Hotel in Shanghai, you will get an hour early entrance to the Park. When you check in they give you a special card that will give you access to the special entry gate, as well as get you into the park for the early hour. When getting on rides in the park in the morning you will need to keep this card handy to show the cast members at ride entrances.
If you are not staying at a Disney Hotel, plan on getting to the park 1-1.5 hours before it opens. The wait lines are crazy! Trust me….we wanted to walk one day instead of taking the hotel guest entrance bus and it was a bad idea! The lines are a walking barricade maze you walk through that add an extra 1.5 miles of walking before you even get to the park! eek! They set up metal barriers in front of the park entrance that you have to wind through for a long time to even get to the front of the park. Just take our word for it, have a smooth Shanghai Disneyland morning, take the early shuttle bus to the special entrance and enjoy your extra early hour into the park!
We would recommend getting to the shuttle bus stop out front of the hotel a good 30 minutes before the buses start running. The buses are the quickest way to get to the secret entrance in the morning. (The other option is to walk to Disneyland and go through all the wait lines to get to Disney Town and walk through all the crowds to get to the secret entrance…. eek) The walk is great at night or during the day, but mornings are rough!
At the Shanghai Disneyland Park
Get your Fast Passes as soon as you enter the park
To get Fastpasses you have to be in the park. You can connect to the Disneyland free wifi that works pretty well, or set up LTE on your phone. Fastpasses literally can fill up by 10:00 am on some days so you want to make sure you get them ASAP!
If you are familiar with California Disneyland, the fastpass system is very similar to maxpass where you can get unlimited fastpasses on your phone (as long as they last). The only thing is at Shanghai Disneyland is they book out super quickly. Instead of picking what ride has the next available fastpass time to hopefully get a few more passes, get fastpasses for what you really want to ride.
There were some days we were only able to get one fast pass, and that is with arriving to the park at 7:10am. So we would recommend getting passes for what you want versus going off the times.
When going through the fastpass lines you will have to have wifi/connection on your phone to get the passes and scan them at the front entrance as well as an additional spot later in line. Keep your phone out with the passes till you go through both spots. In China they like to check, double check and even triple check things.
If you stay at the Disney Hotels here, when you purchase tickets they can help get you an additional fastpass as well before anyone else in the park that day.
Three Attractions to not miss!
At Shanghai Disneyland there are plenty of attractions and areas that make it unique and awesome! Three things to NOT MISS:
Pirates of the Caribbean
Tron
Wilderness Explorer Challenge Trails
Other notable ride mentions: Poohs Honey Pots, Once Upon A Time Castle Tour, and Alice's Maze.
These were all of our favorites from the park and each of these you can't find at any other Disney park. (Well…Tron is coming soon to America soon…but…) I'll dive into why these rides rock on another blog post but just trust me that these rides are worth the wait, even if the lines are long!
Meet & Greets
Talk about POPULAR!!! Just like the other Disney Resorts out of the United States, the meet and greets are super popular in Shanghai. In the 4 days we were at Shanghai Disneyland, we didn't ever see any characters out walking around, but just at the designated wait lines. If there is a character you are really wanting to see, ask a cast member and they can help you to the right spot. There are character meet and greets in each Land as well as tons at the front entrance of the park on their "Main Street". They have quite a few unique characters that are fun to see here if you are into meet and greets!
Shelly May and Duffy
Gelatoni and Stella Lou
One thing I loved about this park is they have a lot of characters together at the meet and greets. Mickey & Minnie together, Pluto & Goofy, Gelatoni & Stella Lou, etc.
Shanghai Disneyland Park Passports
These are super fun and unique to the park! No I am not talking about your passport that you use to get into China, or back home! This is a cute little passport you can pick up at any gift shop in the Park.
On the guide maps you can find where all the stops are by following the Mickey Mouse face. With the passport you go around to fun little machines and get stamps from each Land in them. It's a great way to explore each part of the park and get a fun souvenir to take home too. Once you get all your stamps from every booth, if you head to the Post Office store at the front entrance of the park you get a final completion stamp. In addition they give you a little prize too 😉
If one of the stamp machines is broken or not working, take your passport to the nearest store and they will help point to in the right direction or stamp it manually.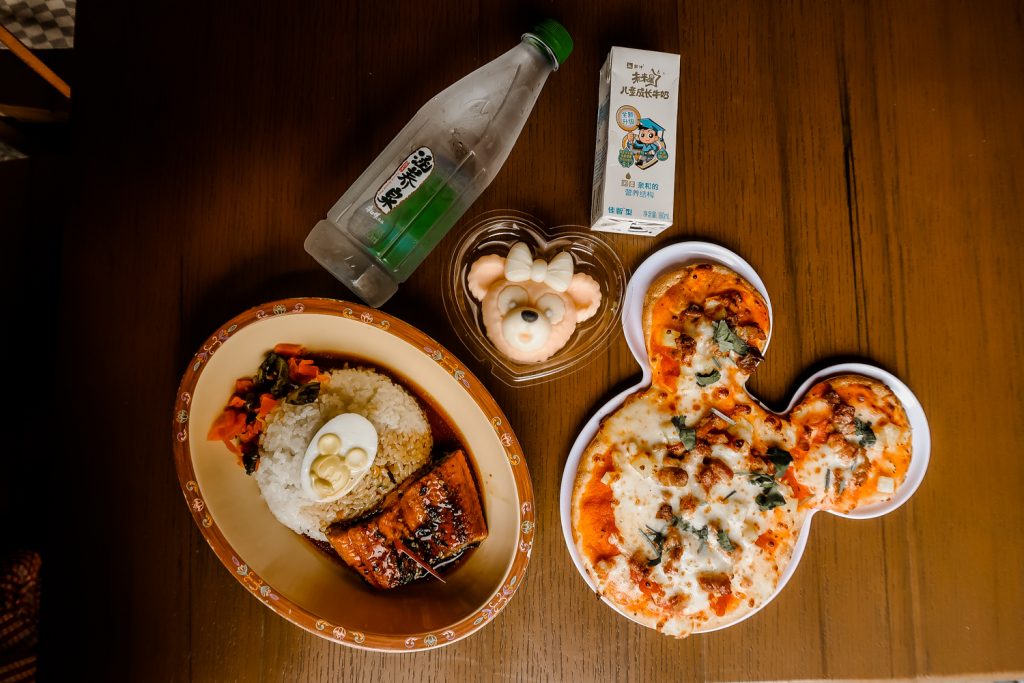 Where to Eat at Shanghai Disneyland
There are lots of fun places to dine and eat at the park! Tons of food in character shapes, Chinese favorites, Disney Classics and more! We made our way around the park with 4 days of eating, and these were our favorites.
How fun is it to have Donald Waffles instead of Mickey waffles?!?!!? Here you can get an assortment of waffles and soft serve ice cream. They do not serve maple syrup with a traditional waffle but instead with ice cream! They also had a fun ham and cheese combo waffle! The ham and cheese was personally my favorite! You can find this joint right when you walk in the park to the left. It is a waffle stand quick service and super cute too!
Want to find cute Mickey and friends shaped in baked goods? Or amazingly huge and tasty crepes?! This is the place! You can find this joint after you walk in the park to your right. We really enjoyed stopping here for a quick pastry, or a big crepe! Most of the pastries are not sweet compared to American pastries, so it was fun to try a bunch of different ones. The bunny hot dog was my personal favorite baked good. And the nutella crepe was my favorite. They do have savory crepes as well and Jake enjoyed the Shanghai crepe.
This is a quick counter service located outdoors in Adventure Cove. If you can smell the kimchi, you are close 😉 The beef kimchi wrap here is so so so so tasty! I don't even like kimchi but the way they made it with the beef and the wrap was super yum. We went back here several times to get a wrap to share!
One of a kind character dining inside Snow White's castle! The food was AMAZING, and the decor was out of this world! Here you can see Minnie, Mickey, Donald and Daisy in their Royal attire. This restaurant does require reservations, so if you want to do this make sure to grab reservations for it when you enter the park for the day. The Royal Banquet Hall is the most expensive dinning at the park (unless you are a Club 33 member and dining there) but it is worth every penny! It's a 3 course meal, fantastic service and seeing the characters is the best! If you have an annual pass you can get 20% off your total food bill 🙂 When you eat here you can also pay extra for priority seating to the evening fireworks and light show at the castle.
Things To Be Aware Of
If you are from the U.S.A. like us, going to Shanghai you might notice some cultural differences. These are unique differences that make Shanghai Disneyland it's own, but things you might want to be aware about before you go to Shanghai Disney Resort.
Don't Step On the Ride Seats-
You will see 99% of people here that make sure to not step on the ride seats. Just something to know about to be courteous and not step on the seats. Like when getting in/out of the Pirates boat for example.
Smoking is not Regulated at the Park-
Smoking is just a thing in this part of China. There are tons of smoking designated areas at the park, and signs everywhere that say no smoking except in permitted areas. I think because smoking in allowed most everywhere in China in general, most people here assume that smoking is ok all over the park. That was a little hard for me being pregnant with all the smoke, but it wasn't enough to make it not an enjoyable time!
HIS LOOK- Shirt: Shop Disney | Pants: Outlier | Shoes: Nike
HER LOOK- Dress: Asos | Bow Headband: Shanghai Disney | Shoes: Nike | Lipstick: Mac-Blanektty

Beware of litter around the Park-
There are cast members working hard to keep the grounds clean, but on all the kids rides we saw lots of litter down the wait line isles by the end of the day. Just something to be aware of to make a cast members day more bright by throwing away your own trash.
Leave food at the table-
When you are done eating at a quick restaurant like Pinocchio's, leave your trays and food on the table. We would always try to find trash cans to throw away our trash and could never find them at the eateries. We would go outside the restaurant to throw the trash away in the outside bins. Later we realized it's kinda like a table/bussing service there where you leave your left overs/trash on the table and a cast member will take care of it for you when you are done.
Packed Crowds-
Most of the days we went to Shanghai Disneyland the crowds were pretty reasonable, but there were 2 days the park was sold out and packed! If you care about where you are standing for a parade or in a wait line stay a little alert 😉 Everyone we met here was super kind, but I think most people here are used to tight spaces and filling in all the gaps. Also another perk of staying at a Disney hotel is if the park is sold out of tickets for the day, you can still purchase tickets for the park at the hotel since you are staying there.
Bathrooms are different!–
They have porcelain holes in the ground (Private stalls)! You can find wheel chair accessible, family bathrooms as well as traditional American toilets. The traditional Chinese stalls are at the front of the restrooms and the back of the restroom has the Americanized toilets. For the toilet wait lines instead of waiting in one long line, people wait at each stall. Typically there was no wait lines at any of the regular toilets so you could walk right in to those in the back even if there were lines for the other toilet option.
No tripods or microphones in the park-
Shanghai Disneyland has different regulations on what you can bring into the park than the other Disney parks. No tripods (even if they are small and compact) are allowed in the park. We did see people with selfie sticks and a few little mini gorilla tripods that would fit in a purse.
Microphones are not allowed either. We had a little mini one that mounts on top of our camera and they wouldn't allow that in. If you have any questions on what is allowed at the parks, ask before you go so you don't have to hide your items in a near-by bush….. 🙂 Because sometimes people pee on the bushes there…….. really though… we saw quite a few taxi drivers pull over and take a quick leak!
You are allowed to bring food into the park-
I love when amusement parks do this! If you want to pack your lunches or snacks to enjoy in wait lines or grassy areas at the park. They have several large awesome grass areas with tents and picnic tables inside the park
Most Cast Members Speak English-
This was so handy when checking out of shopping lines or when we needed to ask questions. If a cast member didn't know what we were saying they would show us someone who could help.
Well that is a wrap on our tips and tricks for visiting the Shanghai Disney Resort! If you ever get a chance to visit, we would highly recommend it! Thanks so much for stopping by today!
Have you had a chance to visit Shanghai Disneyland before?! If you have any tips you would like to share we would love to hear them in the comments below! For more Disney international fun you can check out our other Disneyland trips from Hong Kong and Paris here. Thanks so much for stopping by today!
disney style
Maternity Style
Shanghai
Shanghai Disneyland