Looking for a fun winter activity to do with your kids!!?!?! Try visiting the Ice Castles in Midway Utah. Today we are sharing all our tips and tricks to have a fun and successful time with toddlers.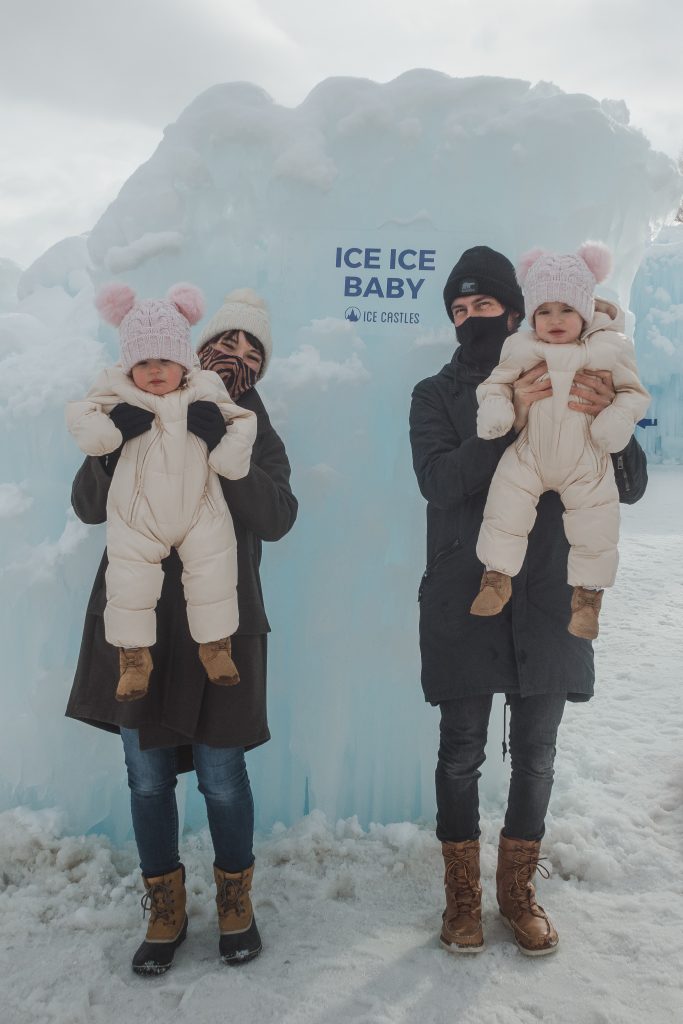 How To Do The Ice Castles With Toddlers
Every year we loving visiting the ice castles in Midway Utah. We love it so much, we have gone every single year since they started the event.  (2020, 2019, 2018, 2017, 2016, 2015) Each year they mix it up with different layouts and tunnels so it makes it fun come back year after year. Last year was our first time going with kids. After going we learned quite a few things we wished we would have done, so this year we made sure to do it different! Doing these steps below really helped to have a seamless and fun time with our girls! We hope these tips help! Let's dive into how to do the ice castles with toddlers……
Buy Tickets In Advance
The Ice Castles are so much fun to visit, but they can get packed.  Especially with Covid going on right now, limited tickets are sold so make sure to buy in advance.  When you buy tickets, you will pick the day and a 30 minute time slot to check in.  During the 30 minute time slot you select, you will want to arrive at the ice castles during that time period.  Once you are in the ice castles you are allowed to stay as long/short as you want.  Plan on about 1 hours to walk around and go down the slides.  If it's a nice sunny day out, you may be there for hours having fun! haha 😉 
Parking
Currently parking is free.  There is a large parking lot and a shuttle if needed. When you pull into the parking lot, keep driving as far as you can. I found if you drive the farthest you can go in the parking lot, you are the closet possible to the entrance.
Leave The Bags/Purses At Home
After visiting the ice castles many times I have learned to leave the bags at home.  If you have a diaper bag like us, leave it in the car so there are less things to carry.  Wearing lots of layers of clothes and keeping track of kids/sleds, etc. is plenty to do. Plus there is no where to change diapers, sit down, feed, except out in the cold… so just leave the bag in the car. The ground can be tricky to walk around on so it's nice to be able to carry less if you can. If you need to bring a bag, wear a backpack so you can have your hands free.
Bring A Sled
Don't forget to bring a sled! This is a great alternative to a stroller here.  The ground is big chunks of snow and can be hard to walk in.  A sled does great being pulled around!  Our girls really loved the sled and had fun looking around from ground level. If you have a baby, wearing them in a carrier is a great option.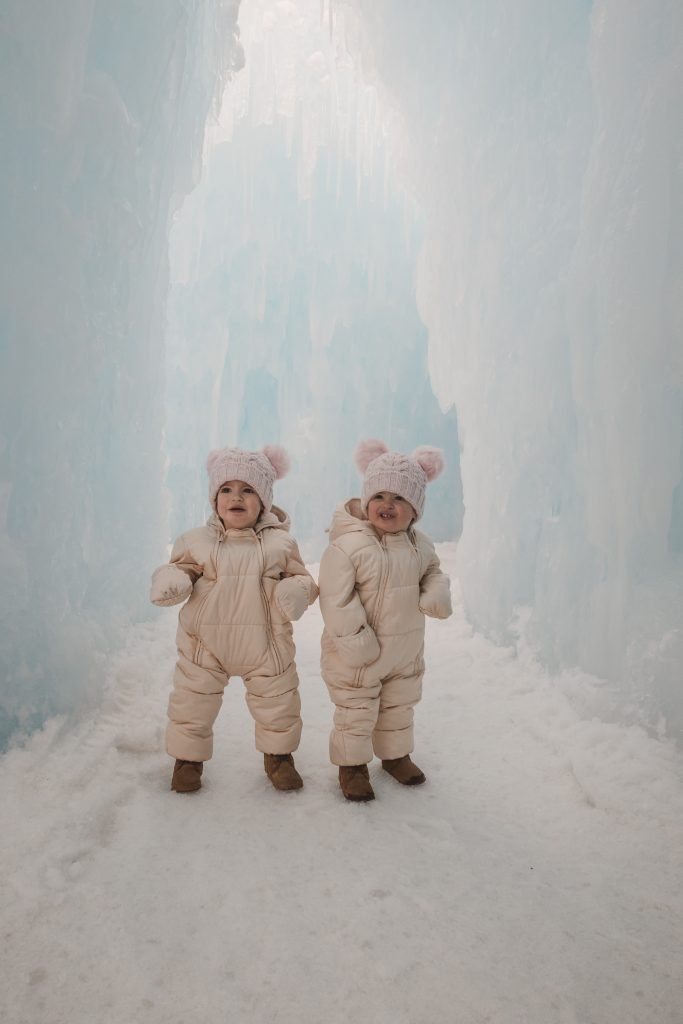 Wear Boots
Make sure to wear some good warm boots.  If you have boots with ankle support that is even better. The ground is chunky ice and can be hard to walk on.  If you don't have boots, it's still fun to go just makes it a little hard to walk around (plus feet might get cold.)
Bundle Up! 
Bundle up for a cold time.  Don't forget the gloves and beanies!  Lots of people really bundle up and wear snow clothes.  I usually wear jeans, turtleneck, coat, boots, beanie and mittens. If you are going during the day, sunglasses are nice to have to if it's sunny out.
When Should I Visit?!!?
Weekdays are typically less crowded but these past few years we have gone on Saturdays and it has been just fine. It can get crowded but you can still find magical pockets that picture perfect! With our girls we planned around their nap time/eating schedule. Personally my favorite time to go is around 5:30. You arrive when it's daylight and leave when its dark out! Day time and night time at the castles are totally different experiences. It's like a winter wonderland castle during the day time, and at night all the castles are lite up in colored lights. If you can plan it just right, you can catch both experiences!
Food For Available?!
YES! Hot chocolate, cookies, churros, pizza, etc. There is a food stand with some fun options.  There is not many places to sit though, so its standing and eating type of thing. If you are looking for a sit down atmosphere, there is a restaurant at the Homestead resort where the ice castles are at. There are also lots of great spots to eat in Midway as well.
Thanks so much for stopping by today! If you get a chance to visit the ice castles, we would love to hear all about it! Hope you have a wonderful time! Hope you have a great day!
If You Liked This Post, You Might Like These Posts:
Tips and Tricks For Taking Family Photos With A Toddler
Top 5 Strollers For Twins Pros And Cons
Shop This Post:
Girls Outfits- Beanies | Snowsuits | Boots | Sled

Ice Castles
motherhood
parenthood
Park City
Travel Tips