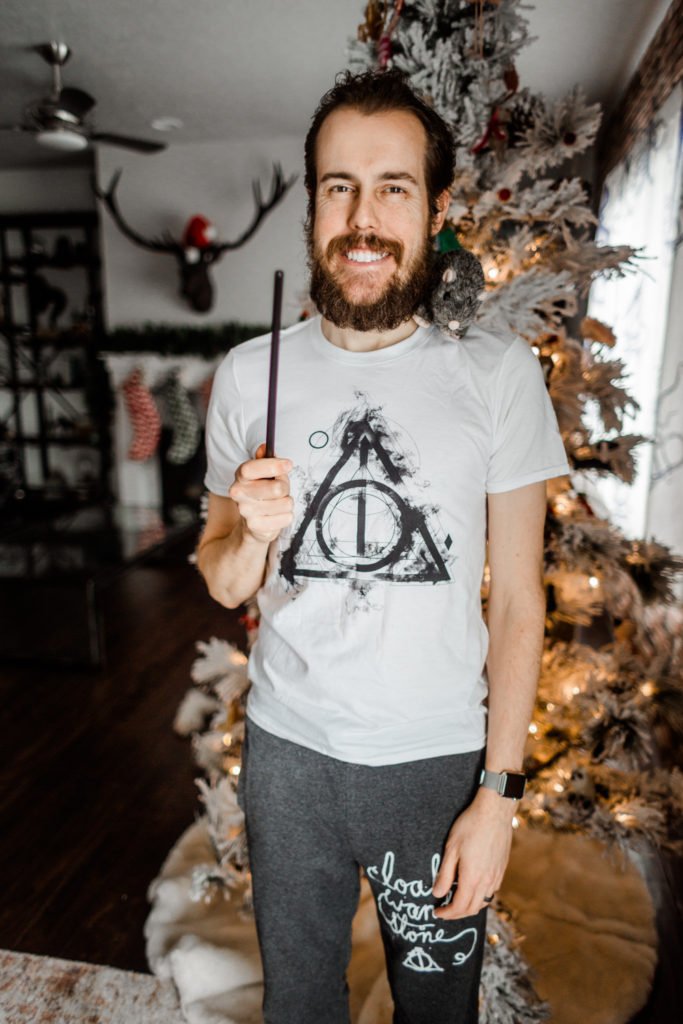 HER LOOK
Shirt: BoxLunch | PJ Bottoms: BoxLunch | Slippers: Similar | Lipstick: ColourPop: Snow White
HIS LOOK
Shirt: BoxLunch | Joggers: BoxLunch | Slippers: Similar
This is one of our favorite times of the year because it means it's time to snuggle up and get new jammies! A few years ago we decided to a new tradition would be to open our Christmas PJ's early so we could enjoy them for all of December. This year we got our fun Harry Potter PJ's from BoxLunch. We decided to have a pizza and game night to break in our new jammies! After our fun evening, watched a Harry Potter movie and got ready for bed. I started reflecting back how nights used to be harder, and sleeping was off and on. We looked into what we have been doing differently that has helped us and decided to share our nightly routine with you all.
Did you know 33 percent of Americans are not getting the recommend amount of sleep each night?!? Guys… thats a lot of people and I was one of them for sooo long! Not having a good night sleep effected my day, my motivation, ability to get things done, social time and so much more.
These past months Jake and I have been sleeping so amazing and we owe it all to our nightly routine! I am not a routine person, so getting into some of these habits have taken time and effort, but it has been worth it! We are loving our routine so much we wanted to share with you what we do! It's taken us awhile to figure out what works for us and a lot of trial and error; so we hope to save you from some of that!
10 Tips to Help Have a Good Night Sleep… EVERY NIGHT!
1. Eat Well
If you are like me and a fellow foodie, it's not the easiest to make healthy food choices. Eating foods that help your body function also helps aid in a good nights rest. Try making some small changes like carrying nuts, veggies, or fruit in your bag instead of going to the Taco Bell drive through and getting a burrito 🙂
2. Don't Eat After Dinner
Ok yes… this one is no fun, but it works! Not only does this give your body time to digest your food, it helps your body be able to take a break and focus on sleeping. We found when we are eating bigger dinners full of veggies and proteins it help us stay full all evening. If you are starving before bed, try and distract yourself or go to bed and sleep it off.
3. Have a "Bed Time" for Electronics
Set a time that electronics will be turned off every night. Yes we know this is hard, but trust us… it's better not only for bed time but a lot of other things too. For us we do 8pm for cell phones and 9pm for TV. We really like to watch a show before we read and get ready for bed.
4. Create a Charging Station for Phones Outside the Bedroom.
When it's time for electronics to "go to bed", grab your phone, lap top, etc. and take them all physically to another room. Try and find a place that can be a permanent option to charge your phones every day. If they are in site, it's human nature to grab the phone or whatever is there. Don't even have them around as a temptation. Just eliminate it. Trust me, I know!
Jake and I have timers on our phones that go off at 8pm to remind us to put our phones away. I heard the Disney Circle is a good option to help with this too. We don't have one but I know you can put settings on it to turn off the internet for you.
We have our cut out time a 8pm for phones, 10pm laptops. Because our charging station is in another room, we use our google home for an alarm. You could put your phone in your bathroom and set the alarm on it there. That could be a good option for when your alarm goes off because you have to get up and turn it off.
I just finished reading Mel Robbins book "The Five Second Rule" and she talks about this concept in her book. I was so happy to hear her talk about this because it reiterated the fact to get the cell phones out of the bedroom.
If you have not had a chance to read Mel's book, do it! She gives a lot of tips and of course the 5 Second Rule tip to help with making changes to your habits, routines and procrastination. The audible version is fantastic too. Mel reads it and she is incredible!
5. Create a Haven for Sleep
Now for the fun part! Time to set the mood for bed time! After we put our phones and laptops in the other room to charge, we get our diffusers set up. We have loved using essential oils and found they really help us with sleeping.
In our diffuser I like to do 3-5 drops of an oil to help us relax and sleep. Some of our go to favorites are Serenity, Balance, Cedarwood, Lavender, Sandalwood or Roman Chamomile. I will do pick just one of the oils, or sometimes I'll pick a few and add a drop of each.
Then I take 2 Serenity softgels to help relax my body and help me wind down about 30 minutes before bed. Serenity is a blend of a couple diffrent essential oils that aid in relaxing. The cool thing is they are all natural (made from only plants) but really helpful. I keep the gel capsule bottle next to the toothpaste to remind me to grab them each night.
For making changes in routines I found putting things I want to change by things that are already do each day helps to remind me about my new habit too.
Next I wash my face, and put on some Melaleuca and Lavender. I have the oils in a spray bottle with some Fractioned Coconut Oil that I spray on my skin every night. I get really itchy skin and these 2 oils help calm my skin so I can sleep. In the spray bottle is 20 drops Melaleuca, 20 drops Lavender and the rest of the bottle filled with Fractioned Coconut Oil. You can also do water to instead of Fractioned Coconut Oil if you want more of a light mist.
6. Gratitude/ 5 Year Journal
Have you guys seen these?!?! They are seriously the coolest thing ever! There are electronic versions you can find but I am a paper person, so went the book route. The thing I love about them in there is only a few lines for each day to write down about the day. I use mine more of a gratitude journal and write down two things each day I am grateful for. The neat thing about them is after you fill up a year, you get to start another year in the same book. Its fun to look back at the past years on the same day and see what you did! This is the 5 Year Journal I got, and the one Jake got.
7. Nightly Checklist
This idea at first sounded like a lot of work to me and something I didn't want to do. A friend recommend it though, so I thought it would be worth a try! Who knew a nightly checklist would become my favorite part of my evenings!
So what is a nightly checklist? For me it's a check list that I check off every single night. You can do it on a printed out paper with your check list, but I do one on an Avery label and stick that label in a notebook.
I keep my nightly checklist to under 10 items. The items I list are so basic, but for some reason every day when I accomplish them I feel like I can do anything. On my check list I have 1. Meditation, 2. Read my Scriptures, 3. Read 10 Pages from a motivational book, 4. Take my vitamins, 5. Give someone a compliment, etc.
Over time your items on your nightly checklist can change and evolve if you have a certain goal you are working on. For instance I had on my check list "turn off my computer at 10pm" to help remind me of that goal. When I felt like I didn't need a checklist for that item anymore, I changed that spot for something else. I usually change my list up about every few months.
It is your nightly check list so it is up to you to have what you want on it. Keep it simple, keep to the basics and what is going to help you feel accomplished at the end of every night.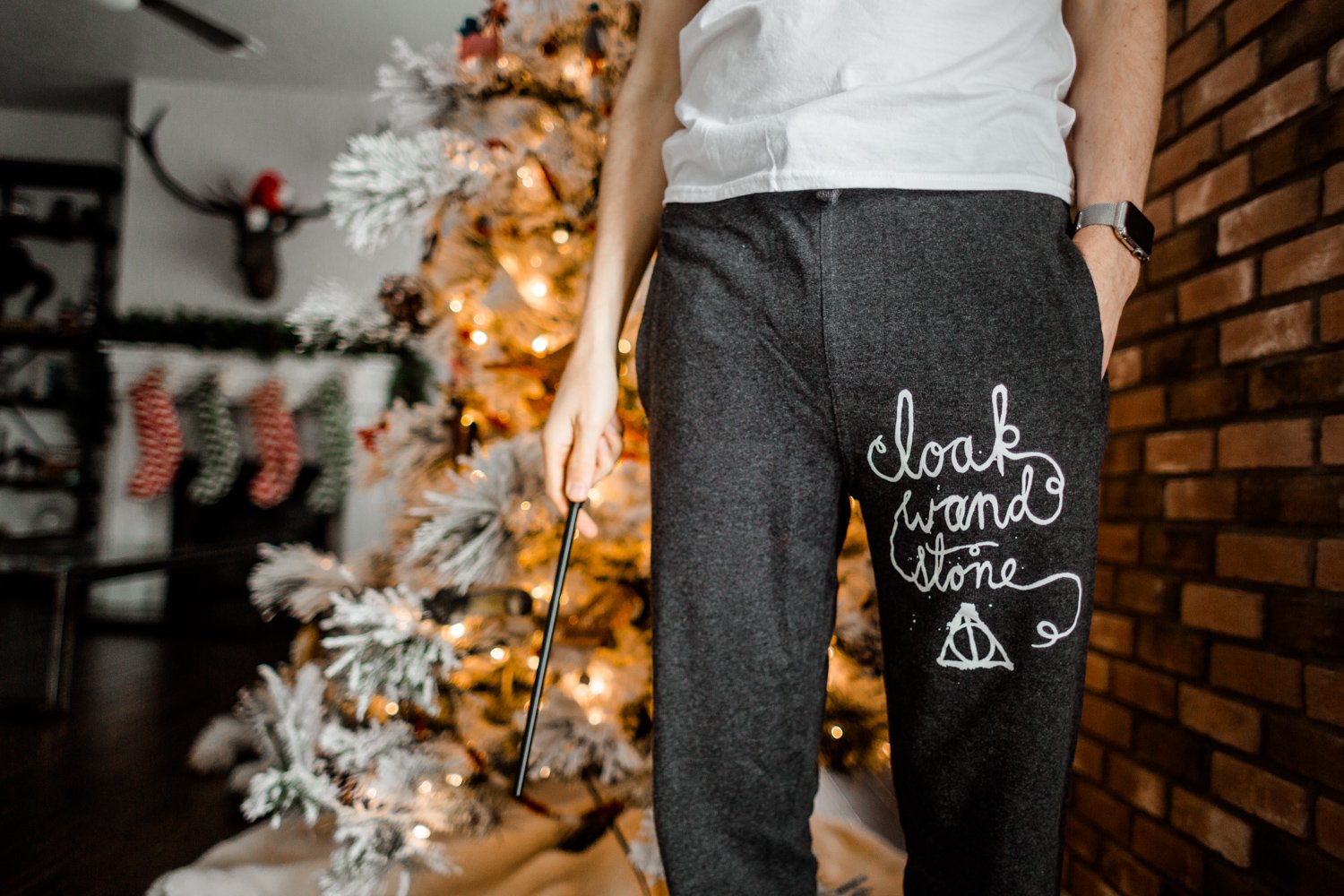 8. Brain Dump
Have you ever done a Brain Dump before? They are super fun! I first came aware of this concept at a doTERRA Leadership Retreat. I loved it so much I implemented it into our every night routine!
Ready to try it? Grab a notepad or paper and write down everything you think ok. It can be anything from a name that popped into your head, goals, what you want to do the next day, checklist, etc. The goal is to clear you head, get it all out on paper so your brain can sleep and rest.
I usually end up writing things down I am thinking about that I need to do the next day. It's been great because I wake up each morning and know what I want to accomplish the next day from my brain dump.
You can always use a sheet of paper for this but I like to use a notebook. The benefit about doing the brain dump in a notebook is it keeps all your notes it all in one place. Then I can look back on each day and know how I did and see how far I have come. There is power in writing things down!
9. Cute Pajamas
Really though! Wear something to bed that you feel comfortable, cozy and cute in! When you go to bed you need to be comfortable and wear something you can really relax in. We found these fun Harry Potter PJ's at BoxLunch! If you are into fun print pjs, they have some really great ones there to check out.
10. Get into to Bed!
Give your loved ones a kiss, close your eyes and go to bed. Set a general time you want to be in bed each night and go for it! If you have a Google Home or Alexa, set a alarm on them to remind you when to start winding down for the night. With a good nights rest, it sets you up for success for the next day.
I know this all may seem like a lot of things to do each night, but for us, having a good nights rest really saves us time in the long run! If you have any tips or tricks that help you get a good nights sleep at night, let us know! We are always up for learning more and trying to improve. Hope you have a wonderful day!
-Kelsey and Jake!
Christmas
Christmas PJ's
Harry Potter
winter