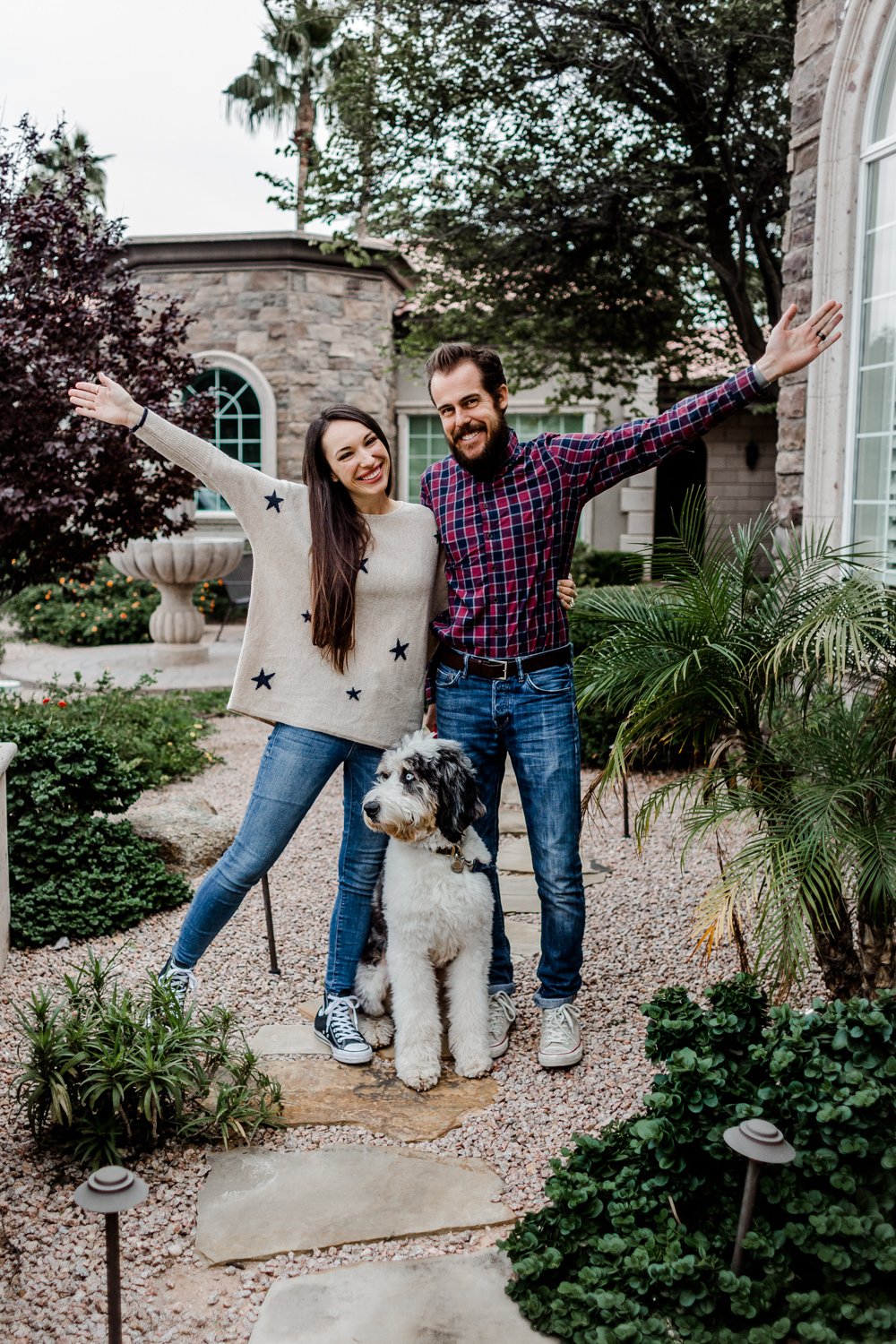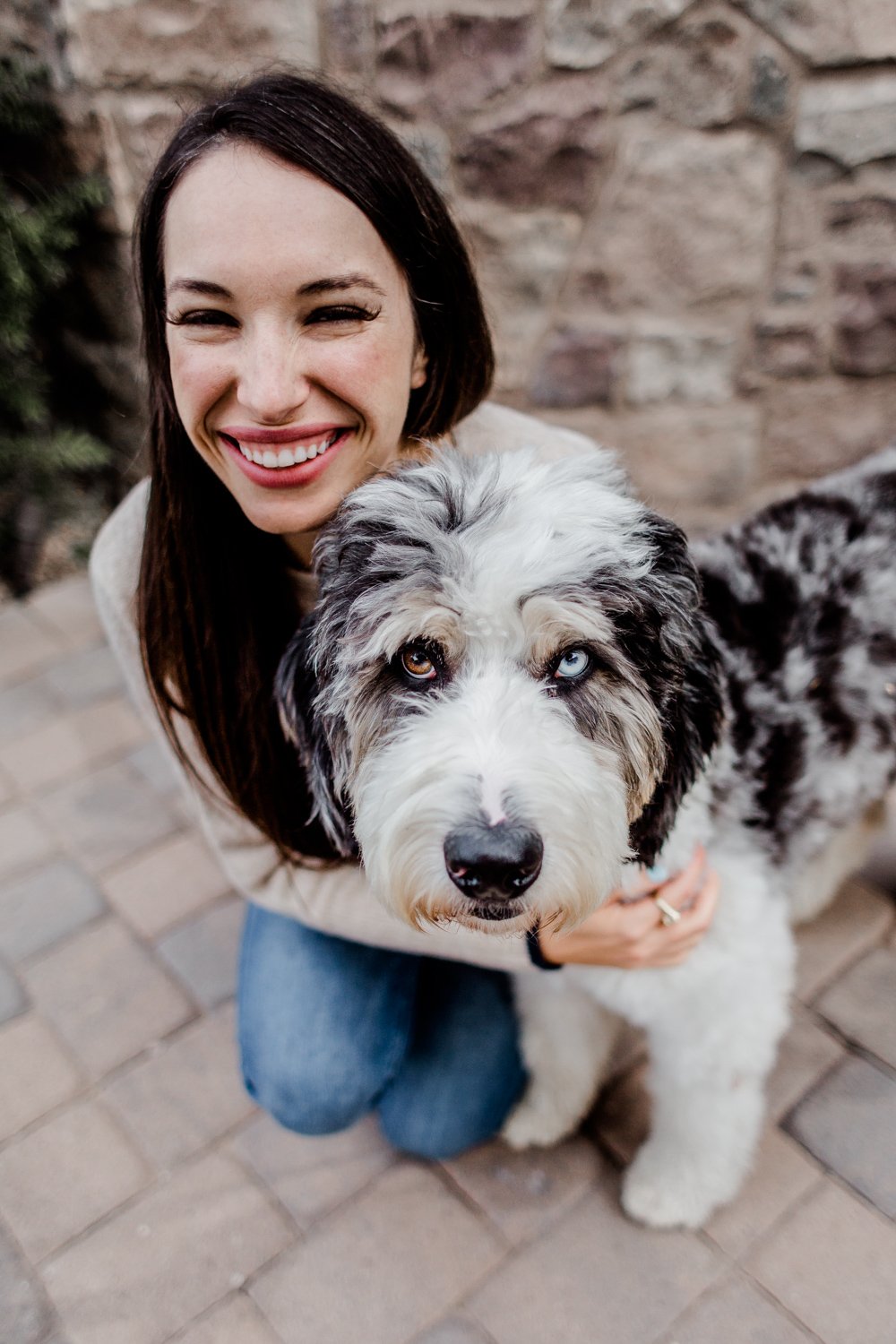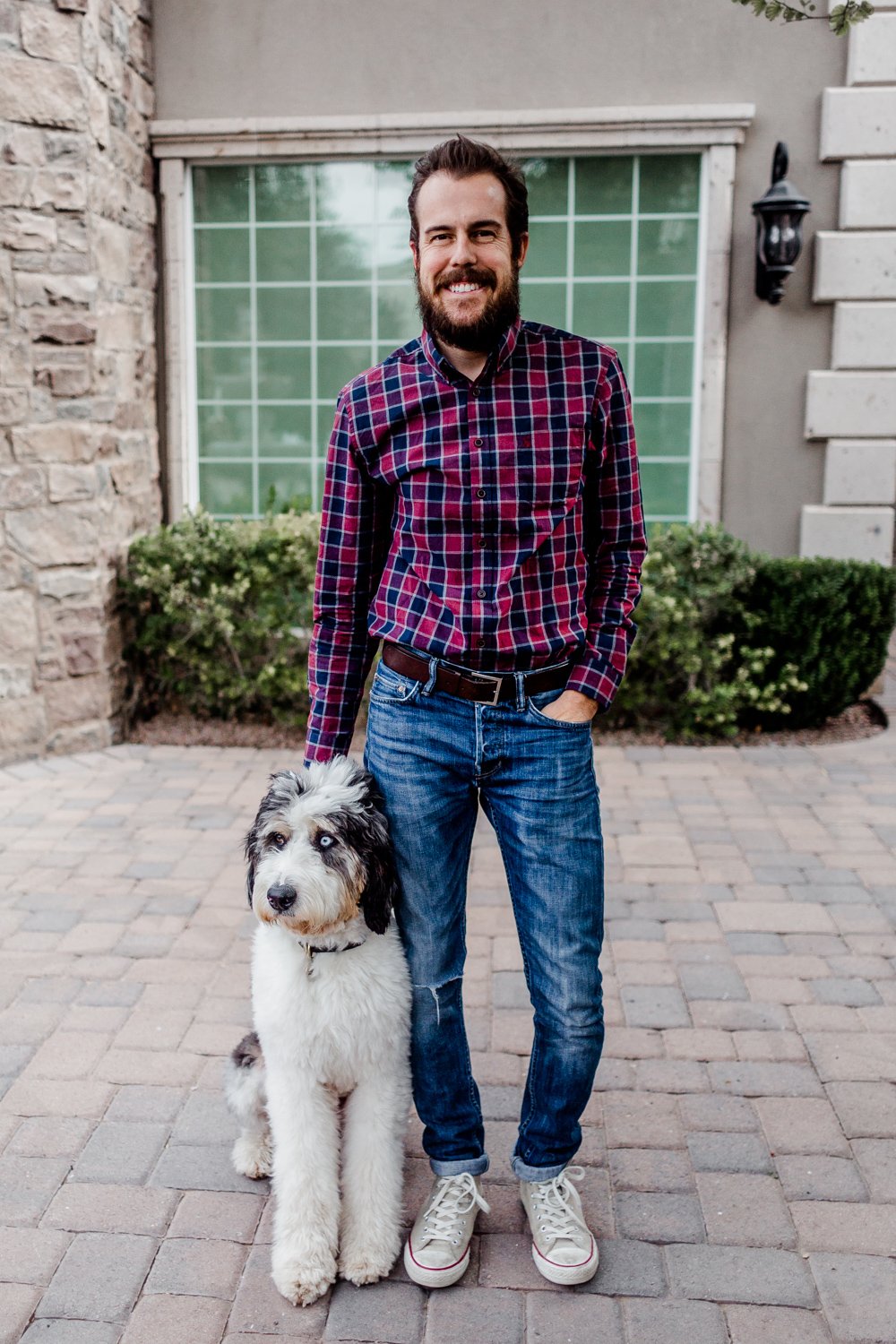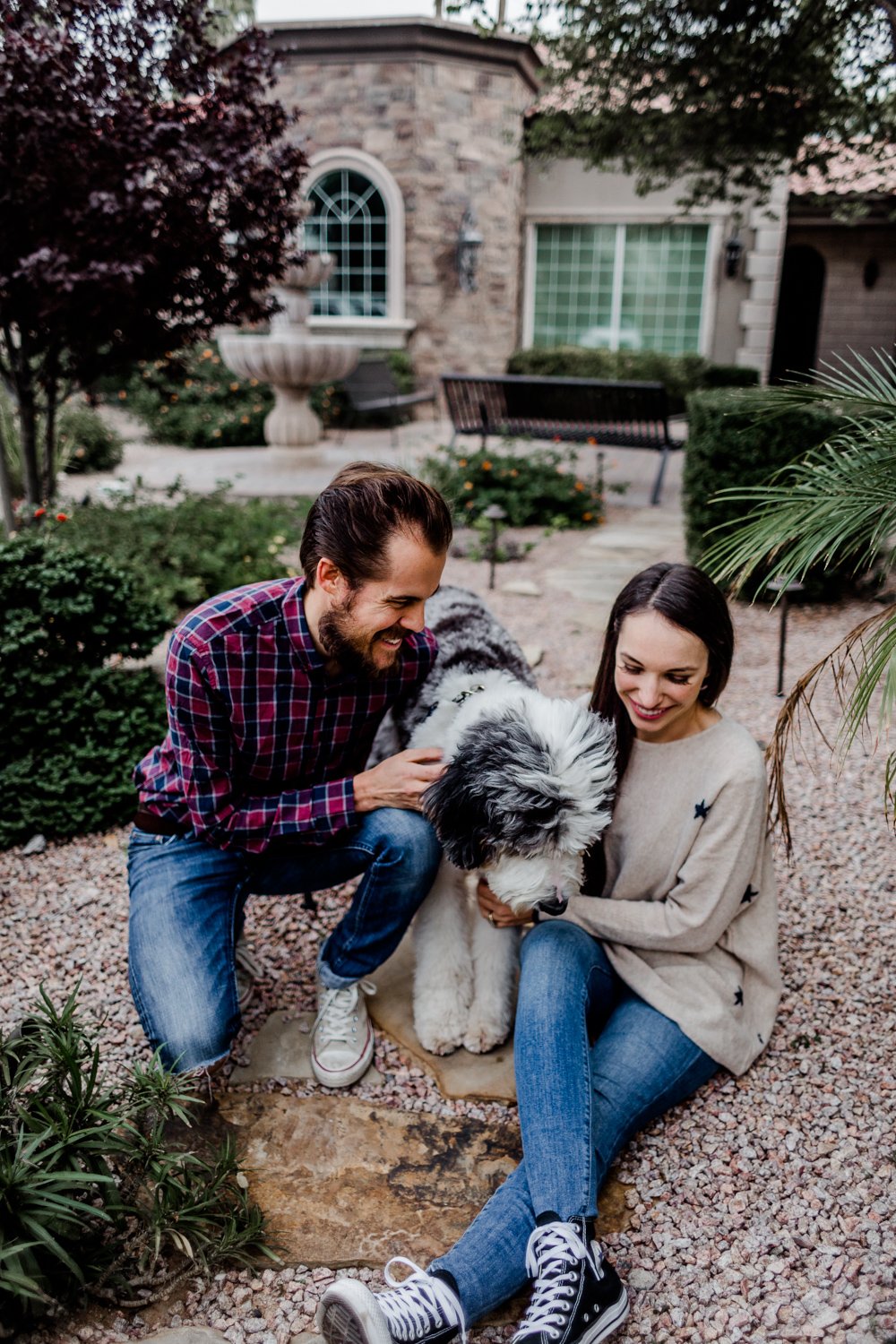 HIS LOOK
Shirt: Joules Clothing | Pants: All Saints | Belt: Banana Republic | Shoes: Converse
HER LOOK
Sweater: Joules Clothing | Pants: Good American | Shoes: Converse | Lipstick: Mac-Blanketty

Happy Monday!! Now for real talk…… I was in a funk… and I needed to get out of it!  It had been a few days and it was time to snap out of it!  Jake and I are currently going through IVF and it has been super exciting, as well as a lot!  (More on that subject to come 🙂 Jake and I have been looking forward to this moment for over 2 years now, and it's finally happening! Wahoo!!  I let the stress of everything get to me and I didn't like the way that felt, so I said "NO MORE!"
The holidays can be tuff on people emotionally, financially, etc. so today I wanted to share with you all 12 Ways to get out of a Funk!  It can be hard when we are in a funk to do some of these things, because likely you won't feel like doing them.  For me whenever I do a few of these items on my list, it really helps me change my mood and help me push through.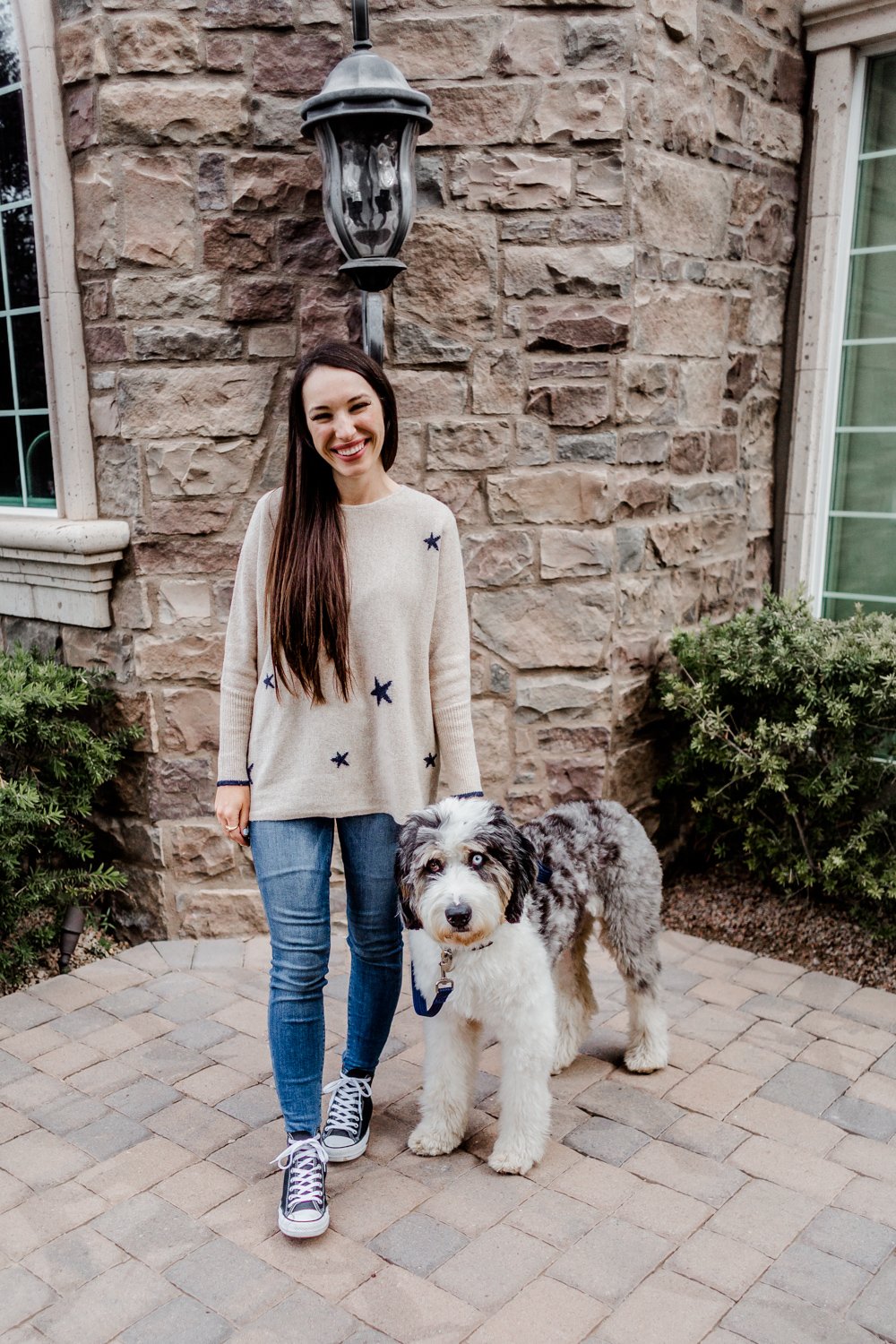 12 Ways to Get Yourself Out of a Funk
Gratitude Journal– I cannot emphasize being grateful enough!  We can never be too grateful!  If I ever get down or feeling stuck I like to write down what I am grateful for.  I keep all my gratitude thoughts in a moleskin notebook but you can write them down on a piece of paper,  napkin, phone notes, whatever you have around!  Do it in the moment and when you think of it!
Open The Windows Around Your Home.  It's easy to want to sit in the dark and just vegg, but let the light in.  Go around your house and open the windows.  Even if you are in your pjs or haven't washed your hair in days, go open your windows!  The light will help lift your mood!
Diffuse Citrus Oils–  I am a huge fan of finding natural solutions to uplift your mood.  Diffusing Lime or Tangerine can really help me get out of a funk.  I'll actually put a drop of oil in my hands, rub them together and inhale. Then just take a moment to relax and then I'll fill up my diffuser and get that running too.  Sometimes it's nice to just stop from running around and take a second for yourself.  This not only benefits you, but those who are around you too 🙂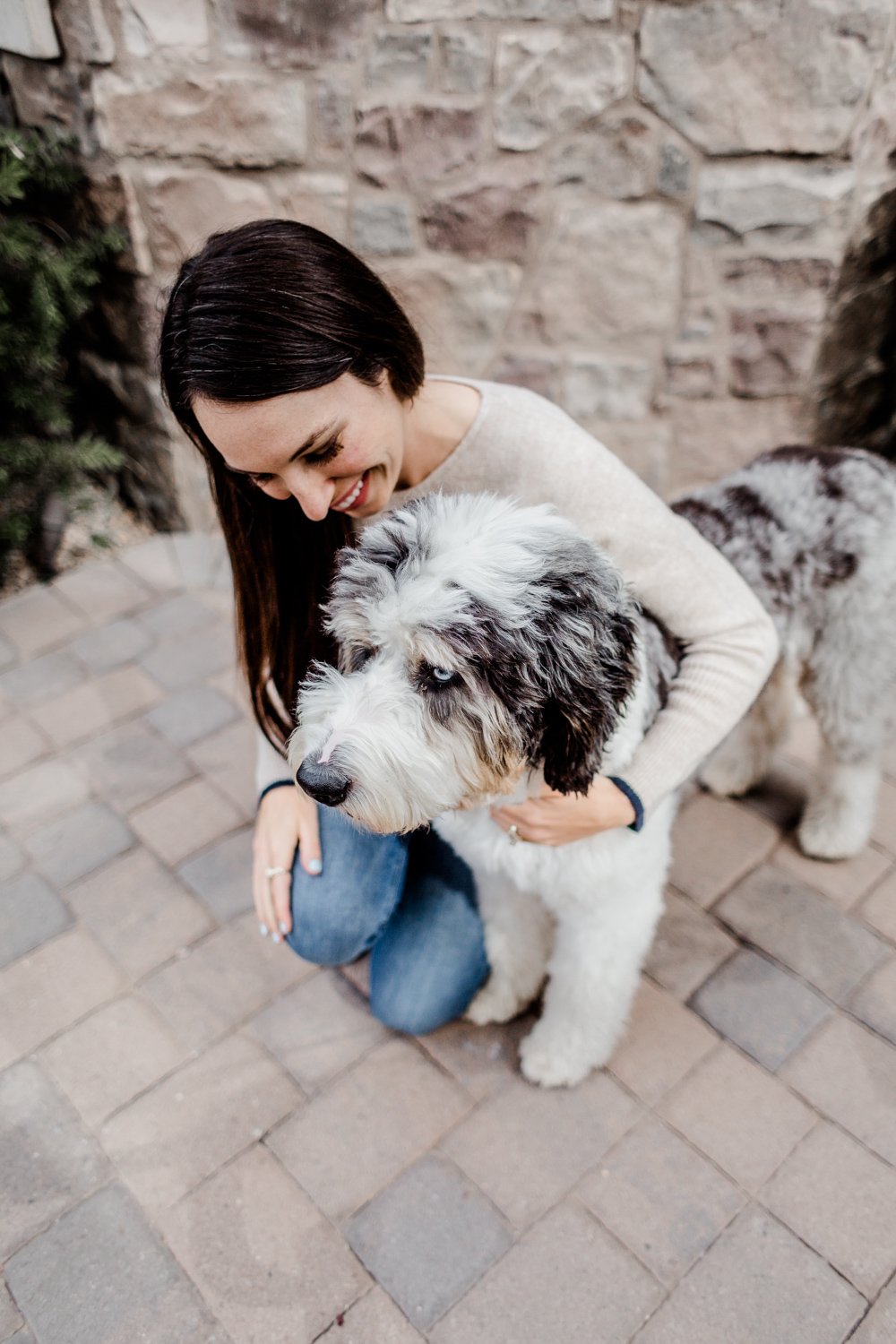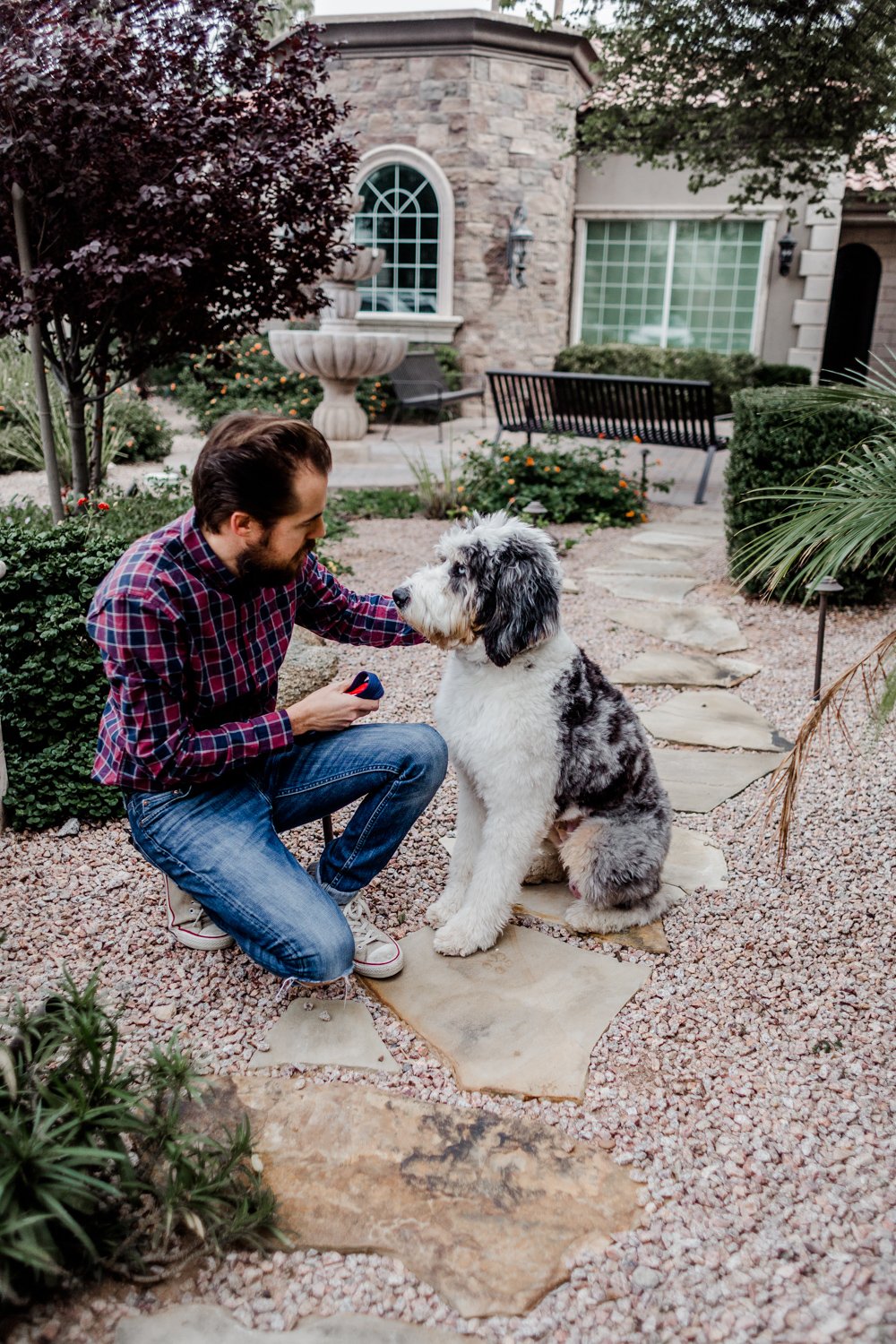 Listen or Read a Self Help Book-  This is something that always helps my mind get back to a good "reset."  A few recommendations of books I have read and love Slight Edge, 5 Second Rule, Dressing Your Truth, Strengths Finder 2.0, and You are a BadA** to name a few!  If I don't feel like listening to a book, I will tell myself, just listen for a minute.  I'll set a timer on my Google Hub and then of course after a minute I am hooked and want to listen to more.
Take time to reflect- For me writing really helps…. hence why this post came about 😉  Reflect how you feel and write your game plan for moving forward… and MOVE ON!  You could also write down some new mantras or quotes that inspire you and tape them up on your mirror.  Put them where you can see them often!
The Power of Distraction- When my mind is racing, sometimes I can't focus and get anything done.  I have found if I go take a walk, read a fun book, say hi to a friend, make a yummy meal, listen to good music, play Animal Crossing on my 3DS or do something to distract my mind, then I can go back to what I was working on and get stuff done.
Do Something Special for Someone Else-  Everyone is going through something hard and they don't always share it.  Since I have started sharing about your fertility struggles, I have had a few messages from others going through the same situation that have felt like that had no one to talk to.   Always be on the look out on how we can help others and make  the day brighter for someone else!  We never know what others are going through, and sometimes someone just needs a smile or high five from you.  Even if life is going great, finding ways to serve others makes our lives even better!
Remember Your Vision-  Have a why, have goals, have a reason to push through the funk.  Know where you want to be.  I like to create a vision board to help me with this!  Jake and I did this for a date night and made dream boards. We each made our own and hung them in our closets where we see them daily and remind us where we are going!  It makes me happy to see them!
Simply Resume Your Routine-  If it's a hard morning, even if its 2 in the afternoon when you get out of bed, resume your routine.  Get out of bed, brush your teeth, pray, make your bed, choose to start your day when you are up and move forward.  When you resume, forget about the hard morning and go have some fun!  Jake read in a book by Grant Cardone called Sell or Be Sold recommends when you are in a funk set a bed time.   This is a great tip to get things back to normal!
Surround Yourself With Awesome People- It's important to surround yourself with those who inspire you, motivate you to be the best you, and are going places in life.  This may be hard with family, or people that are in your home, or even yourself, but choose to be a star and push through it! I have found listening to good books can be your friends if you need. Or a cute dog could help?! 🙂
Pray, pray pray!  If you are ever having a hard moment, or need help; look to God!  He can inspire us with what to do, give us comfort, or help us move forward.  With God, all things are possible! No matter what you are going through, or why you are in a funk, He can help!
Take things day by day- Just remember it's ok if you are in a funk.  Tomorrow is a new day, and fresh new start!
What do you do to get yourself out of a funk!?  I would love to hear some ideas on things you do to add to the list!  Thanks so much for stopping by today! Hope you have a great week!