Testing Twin Strollers
Jake and I found out at 7 weeks pregnant that we are having twins! With doing IVF you find out super quick if you are pregnant, which is nice because it gives you tons of time to research baby products. I did a lot of asking around other twin parents for recommendations for everything twin related. One of my biggest concerns was what kind of stroller to get. There were a few strollers that were recommended over and over from twins parents. These stroller brands came up a lot to from parents recommending single strollers as well, but for twins they said a good stroller was a must!
Today we are sharing the top 5 strollers that were recommended to us. Jake and I went and tested each of these strollers before we made the commitment of choosing "the one"! To be honest, you can't go wrong with any of these strollers. They are all high end strollers that should last for years and years! Each stroller has different capabilities, dimensions, and specs that ultimately make them each unique! Come join us as we dive into each stroller and see which one is right for you and your family!
All of these high end strollers have accessories sold separately and so they are highly configurable (second infant seat, cup holders, carseat adaptors, bassinets, toddler standing platform, etc). With these strollers you'll typically get a great warranty, longevity and possible high resale value in the future.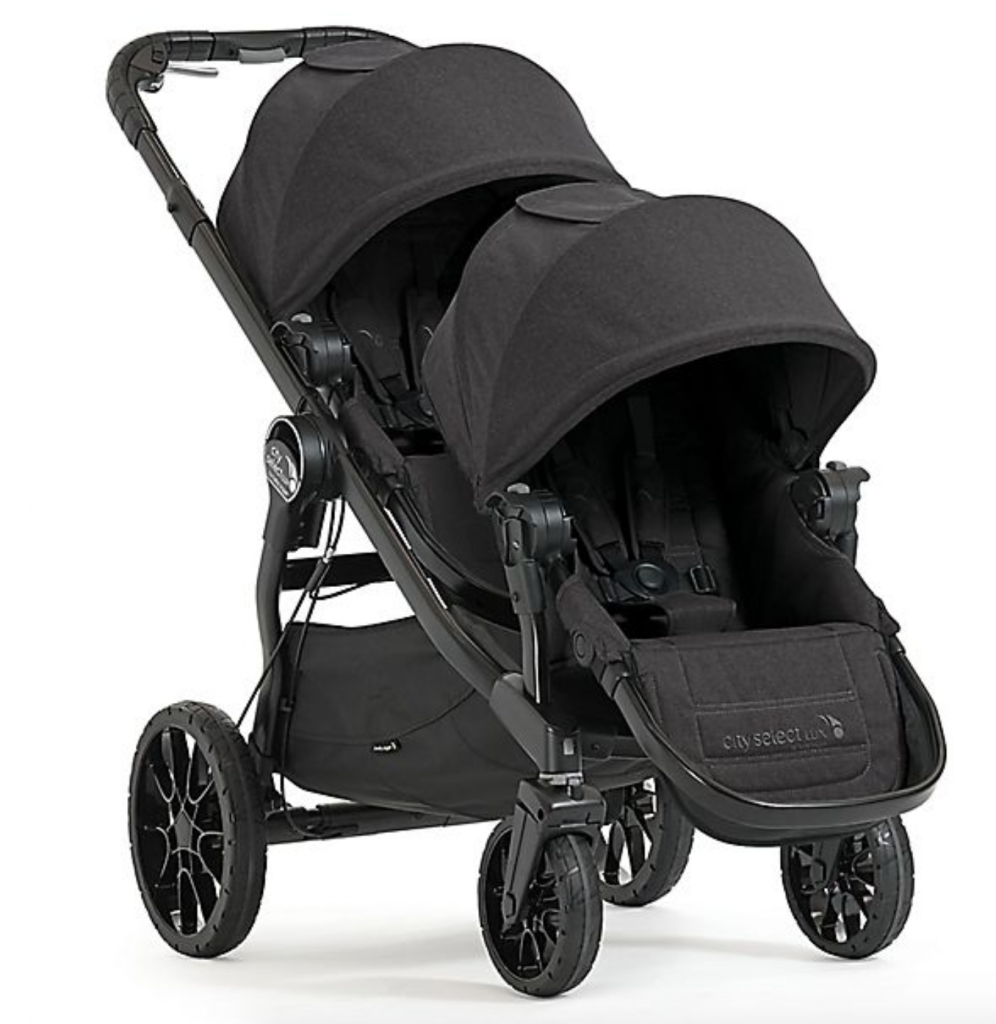 The City Select can be converted into a double stroller for twins. This is also one of the more affordable high end stroller options. I have a few friends with this stroller and they have loved it!

We especially liked all the different ways to configure the seats so you can mix things up with the ways your kiddos are facing etc.
This stroller has a nice hand brake to help you slow down when you need to. Great for jogging or roller blading around! I love how you can buy this stroller ready to go with 2 toddler seats, ready for twins. (They also have a side by side option as well if you are interested in that route.)
We didn't love the open/exposed basket on the bottom. While nice to be able to throw things in and pull things out easily, we'd rather keep our belongings more secure.
Shop The City Select Stroller:

Isn't this a pretty stroller?!? It comes in lots of fun color options and beautiful faux leather detail. Personally, I LOVE the green melange color option. SO PRETTY!
It has great storage space for diaper bag, plus more! This is an open stroage compartment which can make it easy to throw your belongings below. Roomy for two growing kids and can adapt and grow as your family grows.
This stroller is not sold without a bassinet. If you are not planning on using the bassinet, that is money down the drain. But if you are going to use it that can be more bang for your buck.
Shop The UppaBaby Vista Stroller:

We really like the side by side design of the Bugaboo Donkey 3. As the kiddos grow, they won't kick each other's chair!
With a side by side, you should be able to recline one child who is asleep. With stacked strollers, if both kids are facing the same direction this can be difficult to lay one seat all the way down. Another nice thing about this stroller is it folds up pretty compact!
The negatives is this stroller can be harder to navigate through large crowds. Also Disneyland made a new stroller size guide, so make sure to look into that if you are a big Disney fan.
We also heard from a fellow twin mom that if you use infant car seats on it, that the stroller won't be able to fit in-between most standard doorways. Without the car seats on it though, she said the stroller fit through most standard size doorways. I thought I should also mention, this is the most expensive option of the bunch.
Shop The Buggaboo Donkey Stroller:

This is the stroller we decided to go with it! (We have a blog post all about it and why we decided it was the best stroller for us.)
The Thule Sleek is as it's name describes…. SLEEK. It pushes super smooth, turns on a dime, and has plenty of room for 2 babes! Especially with all the configurations you can do! You can also buy this stroller with exactly what you need and not purchasing extra products like a bassinet you may never use.
Storage compartment is roomy and can completely zipped up/Velcroed and closed. (Perfect for Disneyland if you want to leave your diaper bag in your stroller and not have anyone know.) If you want you can leave the storage compartment, but it's nice that it completely closes shut.
Thule also has a pretty sweet and compact side by side stroller if you are looking for that route.
Shop The Thule Sleek Stroller:

I wanted to mention the Nuna stroller to since it can be a great option for younger twins. After talking to a few moms who had this stroller for twins though, I decided it wasn't what I was looking for in a stroller. If we were having one baby I think this stroller would be amazing, but with two babes the stroller felt a little tight. Like the babies would be stacked on top of each other as they got older.
If you are planning on getting a second stroller in the future, this would be an awesome first stroller option if you are getting the Nuna Pipa Lite car seats! (Which I totally recommend!) Nuna Car seats are amazing, so well made, and the safety ratings are incredible! We got the Nuna Pipa Lite LX car seats and they have been life savers with twins! (Car seats are only 6 pounds each!)
Jake and I went and tested this stroller out and it so smooth! It pushes super easy and has a fantastic turning radius.
Shop The Nuna Demi Grow Stroller:

Things To Consider Before Purchasing A Stroller
Before getting a stroller testing them is so important! For us, these were 5 strollers we were considering, but rolling them around the store let us know exactly which one to get for our family. At a store it's nice to see if a worker can help because they usually have lots of tips on how to use the strollers for first timers! Just call ahead to make sure they have the strollers on display that you want to try out.
Budget
Before we started stroller shopping, I had no idea how much strollers cost. I asked around to a bunch of twin moms to find out what everyone what strollers everyone was recommending and create a stroller budget off of that. Consider how much you want to spend, but also be realistic. For use we want to have more kids after the twins so investing in a great stroller is totally worth it to us! If there is a stroller you are wanting but it's out of budget, check out your local Craigs List or ebay for a gently used one! There can be lots of great deals out there, but may take some time looking around.
What Do You Want Out Of A Stroller?
Think about what is important to you in a stroller. Consider weight of the stroller, durability, functionality, compartments. For us we knew we would be traveling a lot with our stroller so we wanted a light, easy to use, compact and not a ton of attachments. Think about where you want to go with your stroller and how you think you will use it.
Interchangeability
For us this was huge! We needed something we could use with carseats, bassinets, as well as toddler seats. Having multiple configurations was a big must for us!
Think About The Future
Are you wanting to add to your family in the future?! Investing in a stroller that can grow with your family is a great way to save money in the long run!
Test Out Strollers In Person
Online you can get an idea for the strollers but before you press the purchase button, go test it out in person. Especially for twins! It's so helpful to see how everything fits together and moves. For me it was also hard to figure out just what we needed because some of these strollers are built to order.
What Twin Stroller Did We Go With?
After tons of research, testing out strollers, Jake and I decided to go with……. the Thule Sleek. You can see how it works and why we decided to go with it in our video below.
Thanks so much for stopping by today as we shared the top 5 strollers for twins! Do you have twins??!? What stroller did you decided to go with?!
IF YOU LIKED THIS POST, YOU MIGHT ALSO LIKE THESE POSTS
Shop This Post

Baby Products
motherhood
parenthood
Twins