Wondering if visiting Downtown Disney during the covid pandemic restrictions is still fun?!? Thinking about what you need to know before you visit?!!? Today we are sharing everything you need to know before you go. Plus all our tips and tricks for visiting Downtown Disney during the current Covid pandemic restrictions.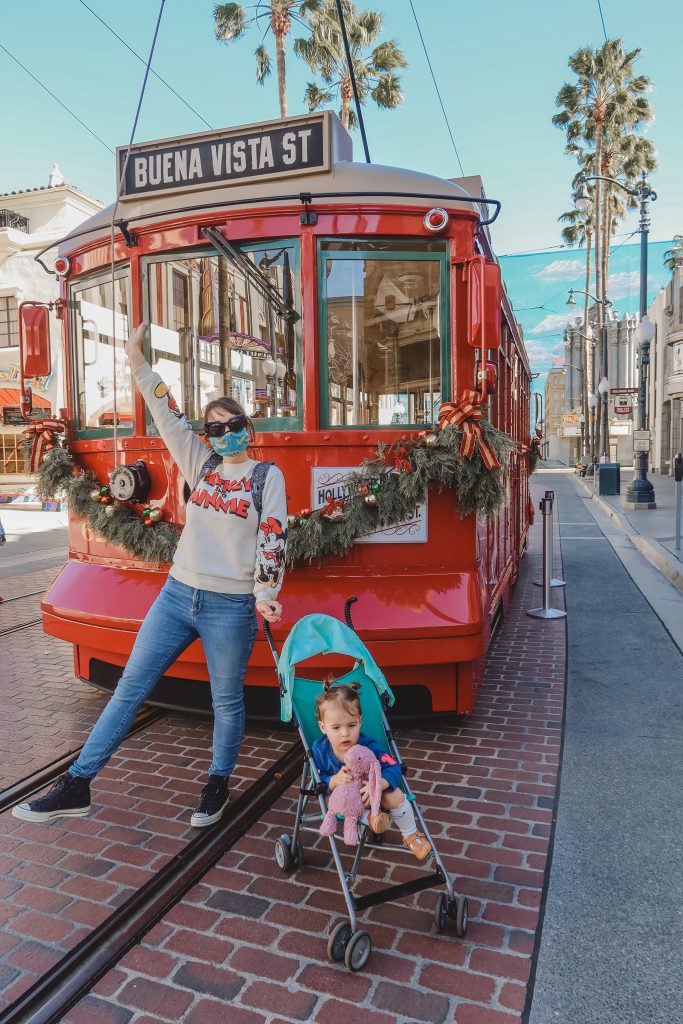 Tips & Tricks For Visiting Downtown Disney During The Covid Pandemic Restrictions
Who else needs a little Disney magic right about now!?!?! With Disneyland being closed the next best thing is visiting Downtown Disney! After visiting twice this week, (and more times before that 🙂 I am sharing all our tips and tricks we learned from visiting Downtown Disney during California's Covid-19 restrictions.
Is Downtown Disney Worth It To Visit Right Now?
YES! It sure is! Right now Downtown Disney extends into Buena Vista Street at California Adventure Park! How awesome is that?!?!? Just for that it's worth it! Plus the shops also have fun new 2021 merchandise and great food to grab something to go! Oh and did I mention CHURRO TOFFEE?!?!! Yum! Yes, it is worth it!
I thought it might be depressing going into California Adventure and no sit down restaurants to eat at/rides open but it was magical. The background music and just being able to walk around and go in a few shops was just the Disney fix I was needing. When we went in the evening, it was so dreamy with all the lights on too!
Eat & Drink Before You Go
With the current Covid-19 restrictions there is a no food or drink allowed on Disney property. That means eat before you visit! On the property you are allowed to purchase take out food from a few restaurant's but it can not be consumed on Disney property.
When Is The Best Time To Visit?
After the big holiday rush is always a great time to visit any Disney location! We went to Downtown Disney on a Tuesday evening in January and only saw about 30 people total on our adventures. We also went on a Saturday morning/early afternoon. That ended up being great too. As we left around 2pm traffic started to pick up. I asked around to a few cast members and they mentioned weekdays, mornings, and evenings are typically a good time to come.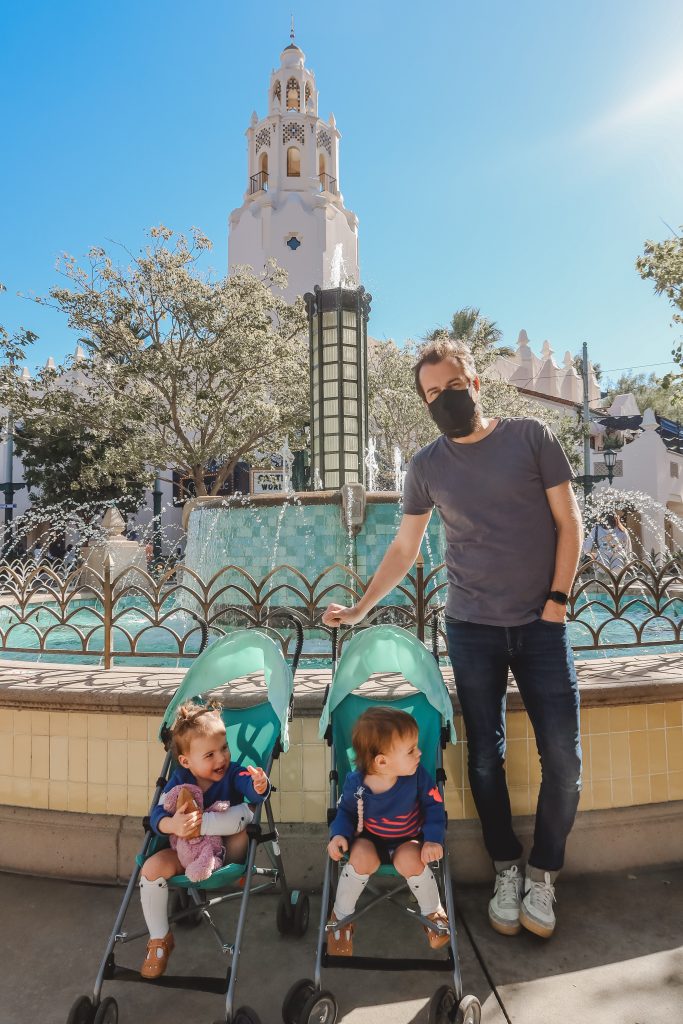 Do You Have To Make Reservations?
No reservations needed to visit Downtown Disney. They do have a capacity limit and once that number hits, the parking lot will close off. With the restaurants being closed for sit-down right now (some do offer take out though) I don't see Downtown Disney hitting capacity like they did before.
How Much Time Can I Spend There?!
Once you are in Downtown Disney you can spend as much time as you like! On a slow day 2-3 hours is plenty of time to walk around and see everything.
Do You Have To Pay To Enter DCA?
No you do not. With it being part of Downtown Disney right now, you can walk right into to California Adventure. Once you walk pass Downtown Disney, the far right entrance of California Adventure is wide open for walking in and exploring.
Only Buena Vista street is open to walk in at California Adventure. Areas extending into the rest of the theme part are blocked off and monitored by a Cast Member.
Where Do I Park? Does It Cost Money?
Right now only the Simba parking lot is open and costs $10 per car. There is no parking validation from shops right now, but the great thing is there is no time limit either! So you can spend as long as you want at Downtown Disney!
What Covid Safety Precautions Did You Notice?
Temperature checks at security. There were lot's of hand sanitizing spots at each shop entry as well as around high traffic foot paths. There were lots of reminder signs on social distancing/no food, as well as no sitting areas. Most of all the benches and regular seating areas are no longer available to sit at. They did have designated sitting areas that Cast Member's would regularly clean.
Masks?!?!
Everyone over 2 and older is required to wear a mask the entire time at Downtown Disney. The mask must cover mouth and nose the entire time. No neck gators are allowed. Cloth or reusable masks work great there! You must bring a mask to wear, they do not have any for sale before security check. Once in the park and through security, they do have cute masks for sale in the shops.
What is Security Check Like?
Before entering Downtown Disney there is a security check. There are a few stops before you go in. One where each guest gets their temperature check. Next stop is walking past a cute dog on duty. Lastly, a bag check. At bag check the security does not touch your belongings, but you do have to show them whats in your bag and pass through a metal detector.
Are There Lines To Shop? How Does That Work?
Depending on when you visit you may run into some lines to get inside the shops. Disney does a really great job of not having too many people in the shops at once so everyone can still social distance. This past week the two times we went there were no waits to get into the stores. If there is a small wait line, they do a queue outside the store to get in (all with 6ft apart spacing between groups.)
If Downtown Disney is more crowded, there is a virtual que. Meet up with a Cast Member at the front of a shop to put your phone number in a virtual que. You will get 2 texts. One saying Disney received your number in the que, and one when it's your turn to go back to the shop. When you recieve the 2nd text it is a 30 minute window to return back to the store to claim your spot.
Annual Passholder Discount?
If you have a Disneyland annual pass, at the shops and food locations you can still get your pass holder discount! Even if your pass has expired this past year, they will still honor it. So make sure to bring your physical pass if expired, or take a screen shot of your active digital pass (in the Disneyland app) to save for when your pass expires.
Once I Get To Downtown Disney, Where Do I Start?
If there is a queue for the lines, start by putting your name in to visit the stores you want to visit. We were so excited about California Adventure Buena Vista Street being opened we headed straight for there. At DCA at the very end of where you can visit there is a shop and if you go through the shop it will take you to exit right back through Downtown Disney. It does a nice loop 🙂 That way you can still experience the regular part of Downtown Disney as well but make sure you get enough time in at DCA.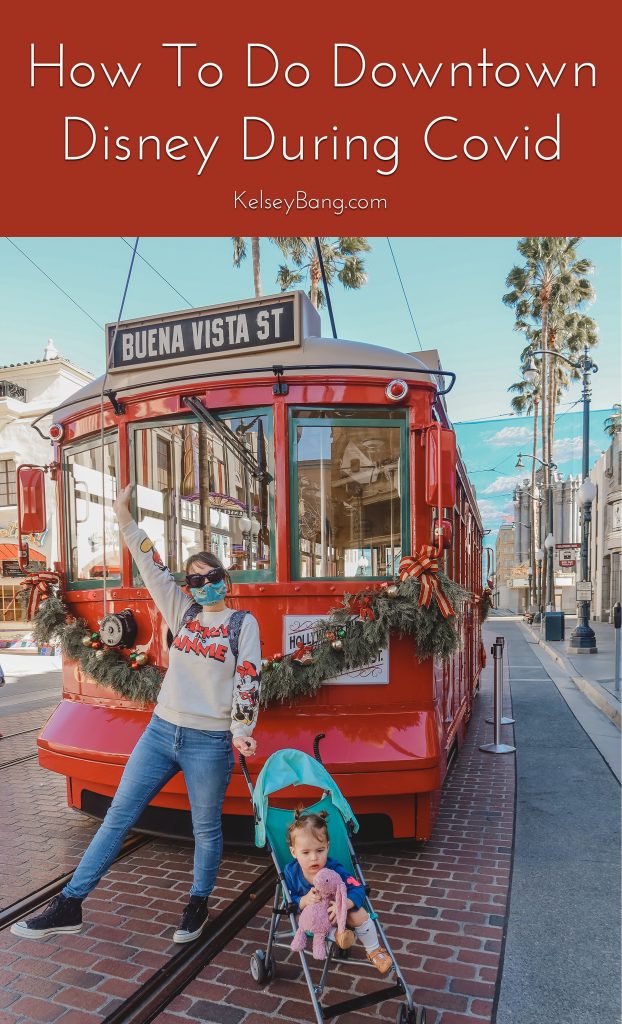 Thanks so much for stopping by today! We hope this post is helpful! If you get a chance to visit Downtown Disney, let us know! We would love to hear how it goes. Hope you have a wonderful day!
If You Liked This Post, You Might Like These Posts:
Disney's Spiced Gingerbread Cookie Recipe
Behind The Scenes Look At Disneyland's Club 33
Tips & Tricks For Shanghai Disneyland Resort- Everything You Need To Know
5 Reasons Why Disney + Is Worth The Money
Shop This Post
Umbrella Stroller | Diaper Bag Backpack (my favorite style!)
Kelseys Outfit: Mickey Sweater (Walmart)| Jeans | Shoes | Sunglasses
Scout & Davey: Dresses| Socks | Shoes

disney style
Disneyland
Downtown Disney