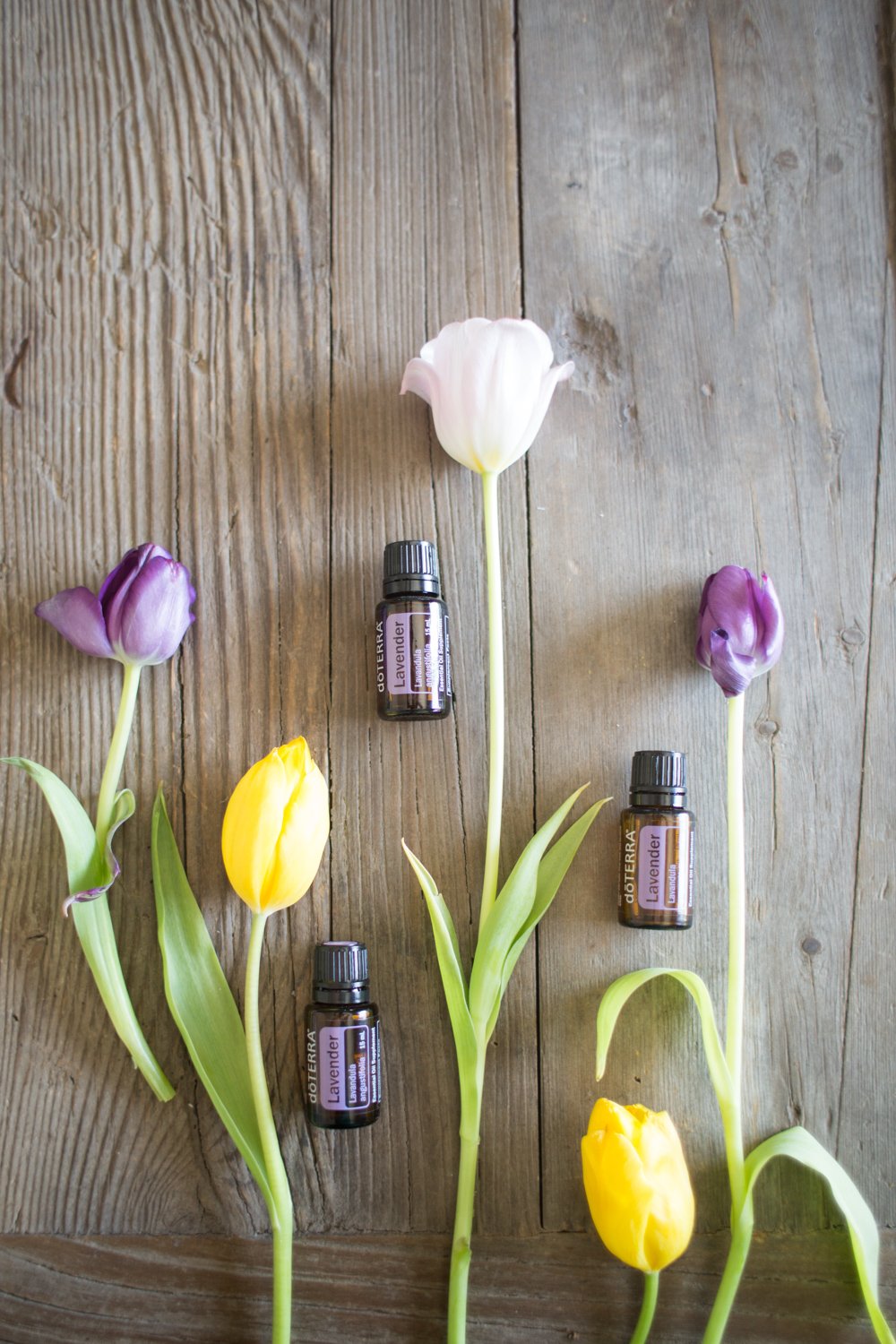 Back in January Jake and I got to go to Hong Kong to celebrate the New Year!  It was such an amazing trip but when we returned home we both got a super bad case of jet lag.  It was so bad!  Neither of us had experienced jet lag before and it was rough being off of our regular sleeping schedule. I was literally sleeping in till 2pm everyday and went to bed at 5am.
Jake and I were with some of our good friends, and I was telling them about my jet lag. Our friend Amy said when she had a hard time sleeping she would take a doTERRA Serenity essential oil gel capsule, rub Lavender oil on the back of her neck and put Velvetier oil on the bottoms of her feet before bed time.  We really liked that essential oils came from plants and that they were natural.  We thought, lets try it!
Amy recommend that we get started with a doTERRA Enrollment Kit.   We bought a kit, had it delivered the next day and started on our essential oil journey.  For the first time in two weeks Jake and I slept  a wonderful nights sleep! I thought it was a fluke because we had been sleep deprived but night after night, we both kept sleeping great. I was finally getting back on a regular schedule. Wahoo! With all the traveling we do, essential oils have saved us so many times they have now become a regular part of our daily routine.
I wanted to learn more about doTERRA essential oils, what they could do, and how I could use them in my everyday life.  As I started to learn more I found that essential oils were not only great for aiding in a good nights rest, but there were ones that helped with relaxation, strengthen immunity systems, respiratory function, digestive track, help you from not catching a cold, workout recovery, weight loss, anxiety, reduce appearance of skin imperfections, energy and so much more.
Jake and I had been looking for natural ways to take care of some health needs and essential oils have filled those needs.  Incase any of you are curious too, we thought we would share a little introduction to essential oils and our top 10 favorite oils we use every day.
Getting started with essential oils can be intimating. Where do I start? What brand do I buy? Which oils would benefit my family most? How do I use them?  We hope in this post by sharing what we have learned can answer these questions and help you and your family.

About Essential Oils
What are Essential Oils? Essential Oils are natural & powerful aromatic compounds found in seeds, bark, stems, roots, flowers & other parts of plants; extracted & distilled for a variety of health benefits.  As such they are extremely safe to use since the human body knows what to do with the naturally occurring compounds.
Why doTERRA Essential Oils? This was something I did quite a lot of research on.  I'm very cautious about what I put on my skin, take in my body and the products we have around the house.  There are so many essential oil companies out there, I wanted to make sure I found the best one.  doTERRA has strict third party testing to ensure that their oils are 100% free from contaminants or impurities giving us the most potent and effective products.  They also source the plants where they grow the best and set up cooperative agreements with local farmers all over the world who have been growing these plants for generations.  As such, they help provide stable and reliable jobs and security in third-world countries as well as get the best natural oils possible.  It's a win-win!
How do I use Essential Oils? There are three different ways you can use essential oils. Aromatically, Internally and Topically.
Aromatically
Diffuse or inhale to:
Positively affect mood

Cleanse the air

Support the respiratory system
Internally
Enjoy a few drops:
In water

In veggie caps

Under your tongue
Topically
Apply to affected area for:
Localized benefits

Dilute with fractionated coconut oil for best dispersal and absorption

Apply to bottom of feet for quick entry into blood stream
doTERRA Essential Oils and Kids? doTERRA Essential oils are safe to use for the whole family!  With smaller kiddos you will want to dilute the essential oil with Fractionated Coconut oil, or a non-scented lotion.  Not only does that easily spread the oils but makes it safe for kids.

Top 10 Oils
FRANKINCENSE-  They do not call this oil the "King of all Oils" for no reason!  When in doubt, use Frankincense!  If I had to pick a favorite oil, this is it.  It's soothing and beautifying properties are used to rejuvenate skin and help reduce the appearance of imperfections when applied topically. As the king of oils, Frankincense is known to support healthy cellular function when used internally.* When inhaled or diffused, Frankincense promotes feelings of peace, relaxation, satisfaction, and overall wellness.  If you look at a lot of high end skin care products there is typically Frankiensce in the ingredients.  I like to put a drop of this oil into my non scented face lotion every morning.  Frankiensce is also a great anti-inflammatory, so swollen eyes, or nights spent crying, add a drop of Frankiensce on the puffiness to help reduce swelling.
LAVENDER- Not only does Lavender smell amazing, it is the perfect oil for summer time!  You can put lavender on sun burns to sooth the burn and the pesky itch.  You can also use this oil to cook with to make tasty lavender cookies! My favorite way to use this oil is add 3 drops in a warm bath before I got to bed to help soak away the stress, and get relaxed.  I will also use it in our diffuser for a peaceful nights rest.
LEMON-  The cleansing, purifying, and invigorating properties of Lemon make it one of the most versatile oils, not to mention the top-selling essential oil that doTERRA offers. Lemon is frequently added to food to enhance the flavor of desserts and main dishes. Taken internally, Lemon provides cleansing and digestive benefits and supports healthy respiratory function.* When diffused, Lemon is very uplifting and energizing and has been shown to help improve mood. You can add a drop of lemon to a glass of water to help detoxify your body, add lemon with water to a spray bottle and use it as a cleaner.  My favorite way to use this oil is to get rid of unwanted residue!  Anytime I take a sticker off of something like a mug or pot and it leaves a sticky residue, apply a drop or two of lemon and it will take the residue right off.
MELALEUCA- Melaleuca is more commonly known as "Tea Tree" and has limitless applications. It is best know for its purifying properties. It can be used to cleanse and purify the skin and nails, taken internally for a healthy immune function, and even be used on surfaces to help protect against environmental threats. My favorite way to use this oil is to add a drop on fingernails and toenails to keep them healthy and strong (plus also get rid of any yellowing damage from polishes!)
OREGANO- Oregano is one of the most potent and powerful essential oils and has been used for centuries in traditional practices. It should be diluted with a carrier oil when applied to the skin. One drop taken internally each day can help maintain healthy immune function. The aroma acts as an enhancer and equalizer in essential oil blends. My favorite way to use Oregano is to cook with it on some yummy Italian dishes!
PEPPERMINT-

Is a great oil to start your day off! Many people use this oil for headaches, nausea by applying a drop to the back of neck.  Peppermint is great diffused for a boost of energy and to help feel alert. You can also use this oil to repel bugs, freshen breath, cook with, soothe skin after a day in the sun and more!

BREATHE- Breathe is just what the name suggests! Well known for its ability to maintain feelings of clear airways, doTERRA Breathe is enriched with a series of oils that help cool and invigorate, promoting feelings of easy breathing. doTERRA Breathe essential oil blend can be used both aromatically and topically to help minimize the effects of seasonal threats. This powerful blend can also be used to promote peaceful sleep.
DIGESTZEN- Tummy troubles? Upset stomach? Need to go…? DigestZen will become your new best friend!  My sisters use this on their kiddos bellies when they need a little help going to the bathroom.  The amazing thing is, it works quickly is all natural.  DigestZen is also great for nausea! DigestZen is infused with Ginger, Fennel, Coriander, Tarragon, Anise, Caraway, and Peppermint essential oils, which combine together to help ease occasional stomach discomfort, maintain a healthy gastrointestinal tract, and aid in digestion.* This powerful blend can be used aromatically, topically, and internally, and is great for at-home or on-the-go use.
ONGUARD-

Is an oil you will always want to keep on hand with you, even when you travel!  This is one oil Jake and I always carry with us anywhere we go.  We use it in our diffuser, take it internally and even rub the oil on the bottoms of our feet.  On Guard essential oil has incredible uses and benefits for both body and home. This protective blend can be taken internally to support respiratory function and the body's natural antioxidant defenses.* With powerful immune-supporting properties, doTERRA On Guard is well-known for its ability to protect against environmental and seasonal threats.* doTERRA On Guard is an effective non-toxic cleaning agent that can be used to clean skin and household surfaces. doTERRA On Guard can also be diffused to help cleanse and purify the air. This essential oil blend has an energizing aroma that is warm and spicy and smells AMAZING!  

DEEP BLUE-

This is every person with aches or pains dream oil!  My favorite to use it is on my knees before a work out to get blood flow going.  I will also use it after work outs on areas that feel sore.  My favorite way to use the oil is add 3 drops to a warm bath.  The smell is minty fresh and the oil helps my muscles relax and recover. The Deep Blue essential oil blend can be applied topically to provide a soothing and cooling sensation that is perfect for a comforting massage. It is well used by athletes and exercise enthusiasts and can be applied topically to soothe muscles and relax the body after strenuous activity.
Getting Started
If you are thinking about getting started, I would recommend a starter enrollment kit.  There are many great kits to pick from within any budget, but my favorite kit I would recommend going with the Family Essentials Kit (pictured above).  You can get it here.  It has every oil is this post that we talked about, plus a fantastic diffuser! This kit is awesome because all of the oils are ones you can use daily in your home.  The oils are also in 15mL bottles which means they have 250 drops of essential oil in each bottle.  That means 250 different times you can use each oil!  This kit will last you a LONG TIME!
The petal diffuser is a fantastic one to get you going and it lasts for four hours at a time! Diffusing oils is personally my favorite way to use most of the oils.  Not only does it make your house smell AMAZING, you also get the benefits of the individual oils you are diffusing into the air.
The Family Essentials kit also includes a 1 year doTERRA wholesale membership! I love that the kits include this because having a doTERRA wholesale membership rocks!  The membership is like a Costco or Sam's Club card where you can shop when you want or not shop. There are no requirements or obligations but it gives you wholesale pricing for a year if you want it. No fees, no minimums, no monthly orders, etc.  There is an option for a Loyalty Rewards Program that allows you to earn FREE product back from your purchases.  You don't have to do the Loyalty Rewards Program now, or ever but its a great option to get rewarded for buying oils regularly.  This is how I order my oils and get more bang for my buck!
To get the Family Essentials Kit, go here and select Wholesale Member. This gives you 25% off retail prices which is definitely the best deal.  When you click "next," it will enter in your info and have you confirm that I'm your mentor (Sponsor & Enroller ID: 4097808).   Then you will pick your kit, view total, enter payment info and be done! doTERRA is awesome at shipping and getting orders out super quick so you can enjoy your oils ASAP.
The essential oil life is so exciting and fun! If you have any questions or want to learn more, email me! I would love to help and get your questions answered and be there for you on your essential oil journey like my friend Amy was there for me. I am still learning too, but have loved having doTERRA essential oils in our home I had to share!
Do you use essential oils?! What are your favorite ones?!  Thanks for stopping by today! Have a great day!