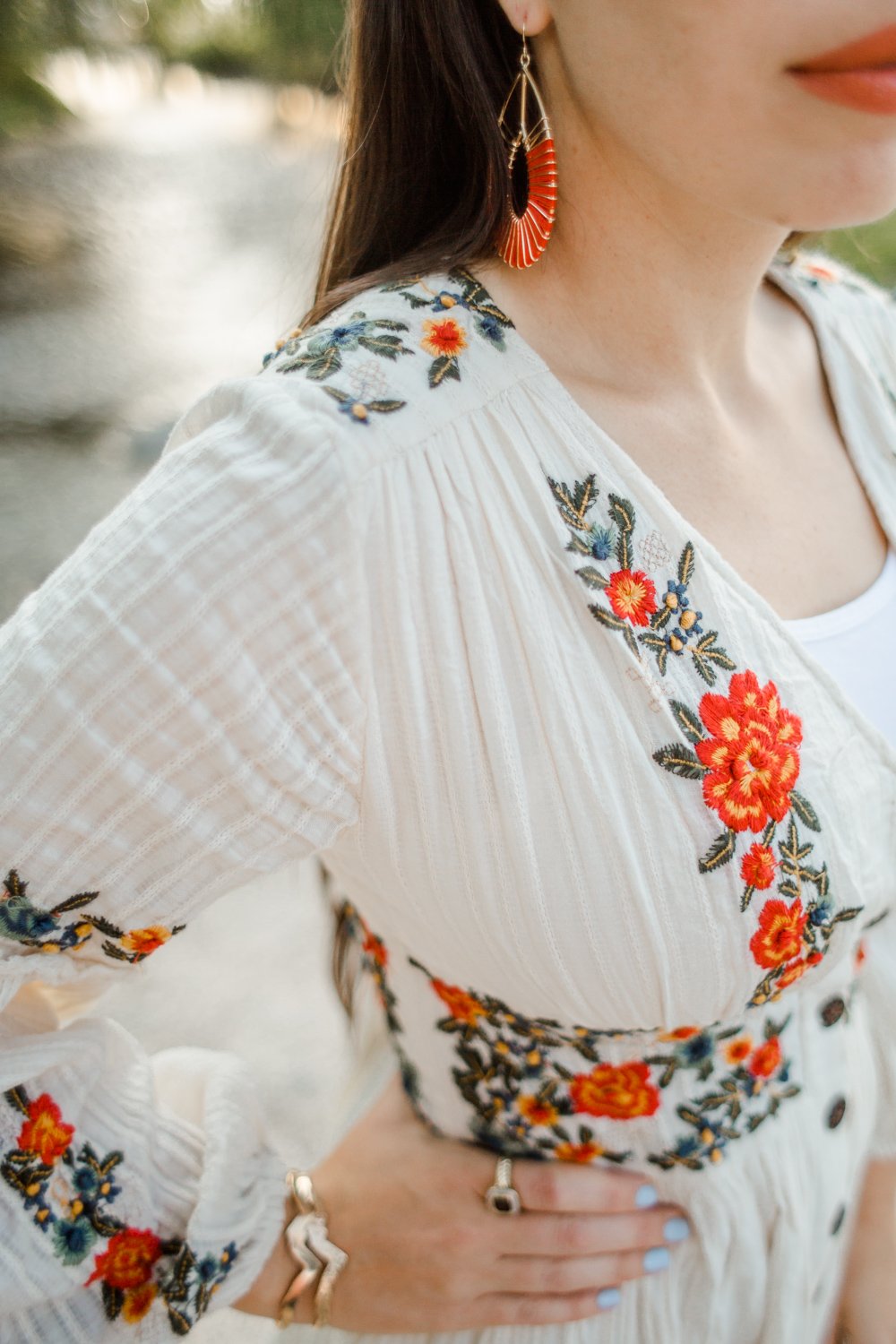 HER LOOK
Dress: Anthropologie | Shoes: Jeffery Campbell | Purse: Kate Spade | Earrings: Forever 21 (only $5.90) | Lipstick: Mac- Tangerine Dream
HIS LOOK
Shirt: Ted Baker | Jeans: All Saints | Shoes: Sperry Topsider

Happy Friday friends! Thanks for coming around today.  Today we are excited to share with you the Slight Edge Principle and how to apply it!  This is something that has helped us in running our own business, starting new blogs, eating, exercise, spirituality and more!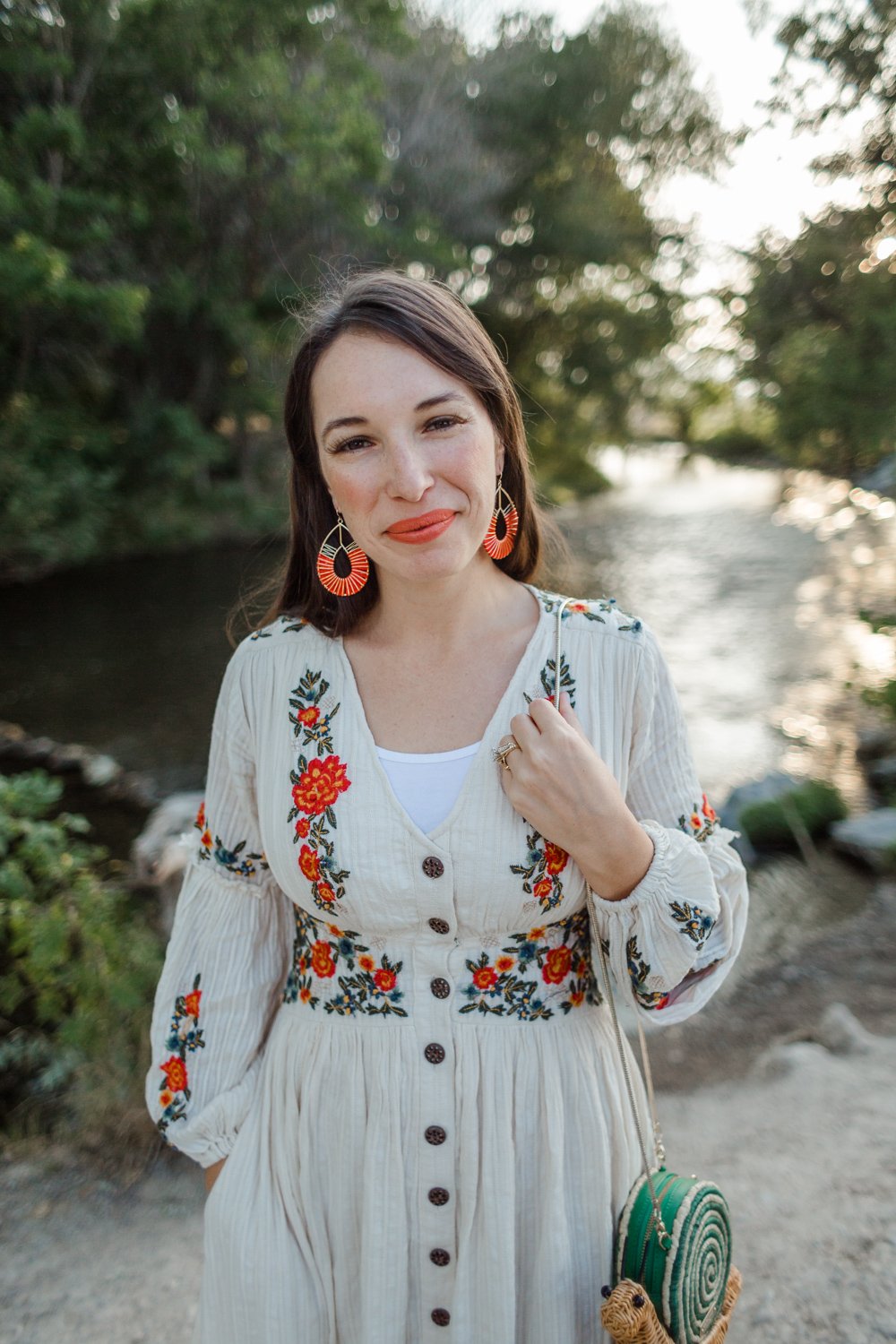 This is Taco.  He was a nice service dog that came to say hello!  He just had some fun in the river!
Shelly The Snail
Shelly the Snail is always great company to have around!  She is one of my favorite handbags I own. (Thanks Jake for getting her for me!)  If you know me, I am a big fan of quirky hand bags!   When I was going through these photos, I kept thinking about snails. They are creatures that have always fascinated me.
Growing up with California summers, our walkway would always be full of large garden snails crawling around.  I would always pick them up and stare at them fascinated.  After I would put them in the mulch beds so they would be safe from being smooshed!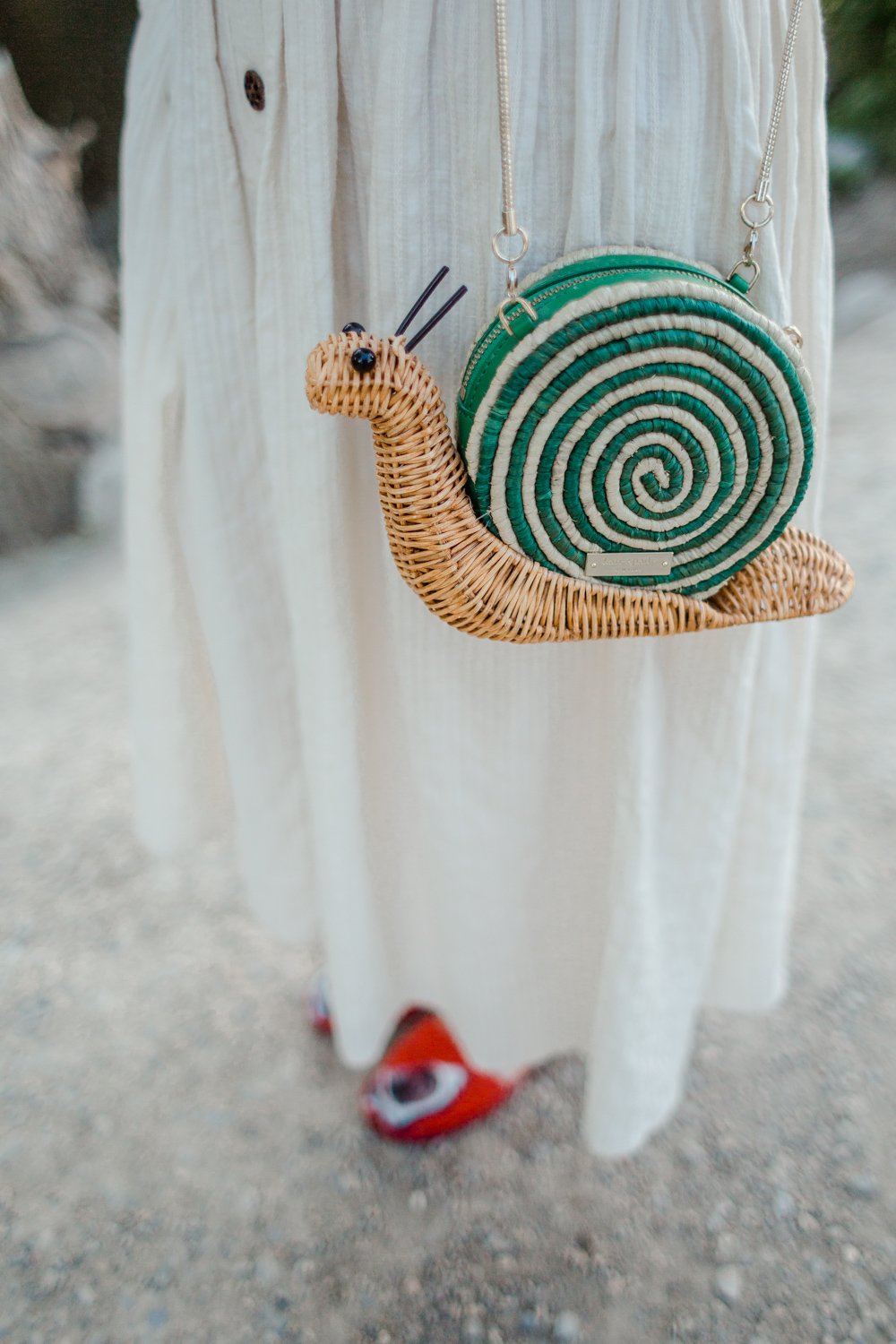 If you have ever watched a snail go across from one driveway to the other, let me tell you; it takes forever!  How long you ask? I couldn't tell ya!  After watching for a few minutes I would get board and move on!  I was a kid after all!   Thinking about this experience reminded me that snails are pretty slow, but they keep on chugging along.  I remember one time seeing a snail on the end of the driveway in the morning, and at lunch time would find him just making his way across.
Thinking of this particular snail brought a lot of analogies to my mind, but the one that really stuck out to me that its ok to be slow and steady but just keep on going.
The Slight Edge Principle
Earlier this year I read a book called The Slight Edge by Jeff Olson.  If you are looking for a good read, I would totally recommend it!  This is a book I try to read at least once a year.  The principle in his book has really stuck with me.  Remembering the snail that made his was across from the driveway reminded me of the Slight Edge principle, so that is how todays topic came about!  It is so awesome I wanted to share it with you all.  And when you think about it, it really makes sense!
The Slight Edge principle is essentially you are either slowing moving steps forward or moving steps slowing backward every single day.  A lot of times we do something and think it doesn't work, but as Jeff says, "It isn't that the actions are wrong. It's that people don't keep doing them."  His philosophy is that doing the little things everyday compound over time into HUGE results.
In his book he talks about how actions are easy to do, they are also just as easy not to do.  We don't realize in the moment that something wont have an effect on us down the road. For me I thought of food instantly.  Eating pizza everyday is my favorite, but over time that really took a toll on my body. But it didn't happen overnight, it happened one large pizza at a time!  I try to remember this often as I make food choices.  They add up everyday.
"The truth is, what you do matters. What you do today matters. What you do every day matters. Successful people just do the things that seem to make no difference in the act of doing them and they do them over and over and over until the compound effect kicks in." ― 
"Things like taking a few dollars out of a paycheck, putting it into savings, and leaving it there. Or doing a few minutes of exercise every day—and not skipping it. Or reading ten pages of an inspiring, educational, life-changing book every day. Or taking a moment to tell someone how much you appreciate them, and doing that consistently, every day, for months and years. Little things that seem insignificant in the doing, yet when compounded over time yield very big results. You could call these "little virtues" or "success habits." I call them simple daily disciplines. Simple productive actions, repeated consistently over time. That, in a nutshell, is the slight edge." ― 
"Any time you see what looks like a breakthrough, it is always the end result of a long series of little things, done consistently over time." ― 
"Everything is always in motion. Every day, every moment, your life path is either curving upward, or curving downward. Growing up we heard five times as many nos as yeses. Life has a downward pull. People on the success curve live in responsibility. People on the failure curve live in blame. People on the success curve are pulled by the future. People on the failure curve are pulled by the past. No matter where you are, at any moment you can choose to step onto the success curve." ―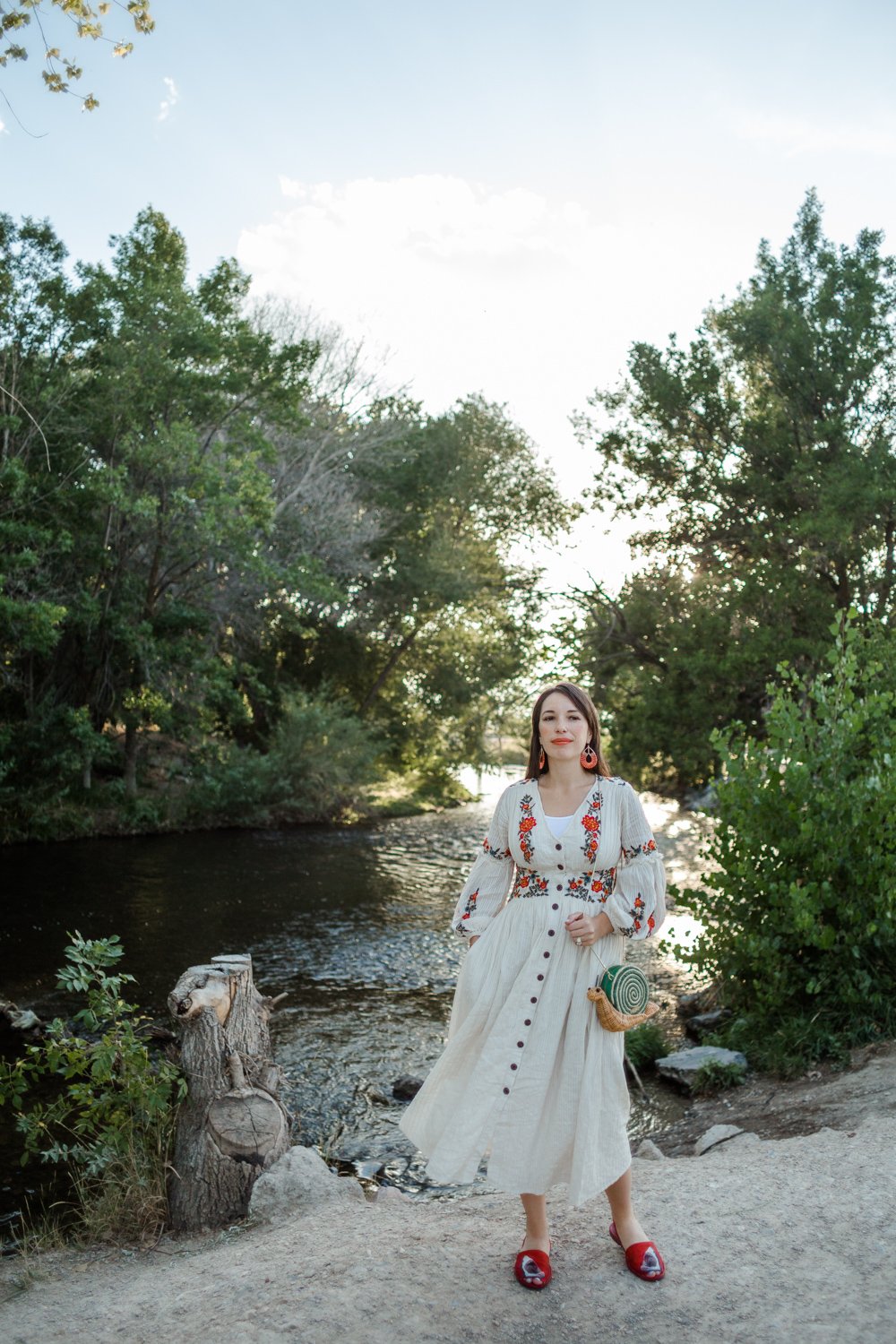 How to Apply the Slight Edge
A little each day– The little things are easy to do, are also easy not to do. To get to where you want don't let those daily things that matter slip through your fingers.
Know what matters to you– Think of your goals, what you want in life, where you want to be.  Write them all down. Put them on your mirror or where you can see them everyday.  Do the little things everyday to help you move toward your goals.
Show up–  Show up to events, show up to your commitments, do what you said you would do, and do it by when you said you would.  This one can be super hard when you don't feel like doing something, but build your personal integrity with yourself.  The more you do what you said you would, the more your faith in yourself will grow.  When you believe in yourself, you can accomplish anything.
Have a positive attitude– Your outlook is EVERYTHING!  It effects everything you do, everyone you see, etc.  Find the positive in everything, even if its hard.
Forget your time line–  It's good to have deadlines, but know your overall goals may take longer than you want.
Put in the work– Wake up early, stay up late, take the extra time to make your goals a reality. Don't let time pass you by.
"No matter what you have done in your life up until today, no matter where you are and how far down you may have slid on the failure curve, you can start fresh, building a positive pattern of success, at any time. Including right now. But you need to have faith in the process, because you won't see it happening at first." ― 
HER LOOK
Dress: Anthropologie | Shoes: Jeffery Campbell | Purse: Kate Spade | Earrings: Forever 21 (only $5.90) | Lipstick: Mac- Tangerine Dream
HIS LOOK
Shirt: Ted Baker | Jeans: All Saints | Shoes: Sperry Topsider

Thanks Shelly for being todays blog post inspiration!  To see more of Shelly the snail in other outfits, check out here.  Hope you all have a wonderful day!  To end I wanted to share one last quote from the awesome and inspir Jeff Olson.
"Show up. Show up consistently. Show up consistently with a positive outlook. Be prepared for and committed to the long haul. Cultivate a burning desire backed by faith. Be willing to pay the price. And do the things you've committed to doing—even when no one else is watching." ― 
Anthropologie
book club
Dresses
Fun Handbags
Kate Spade
Summer