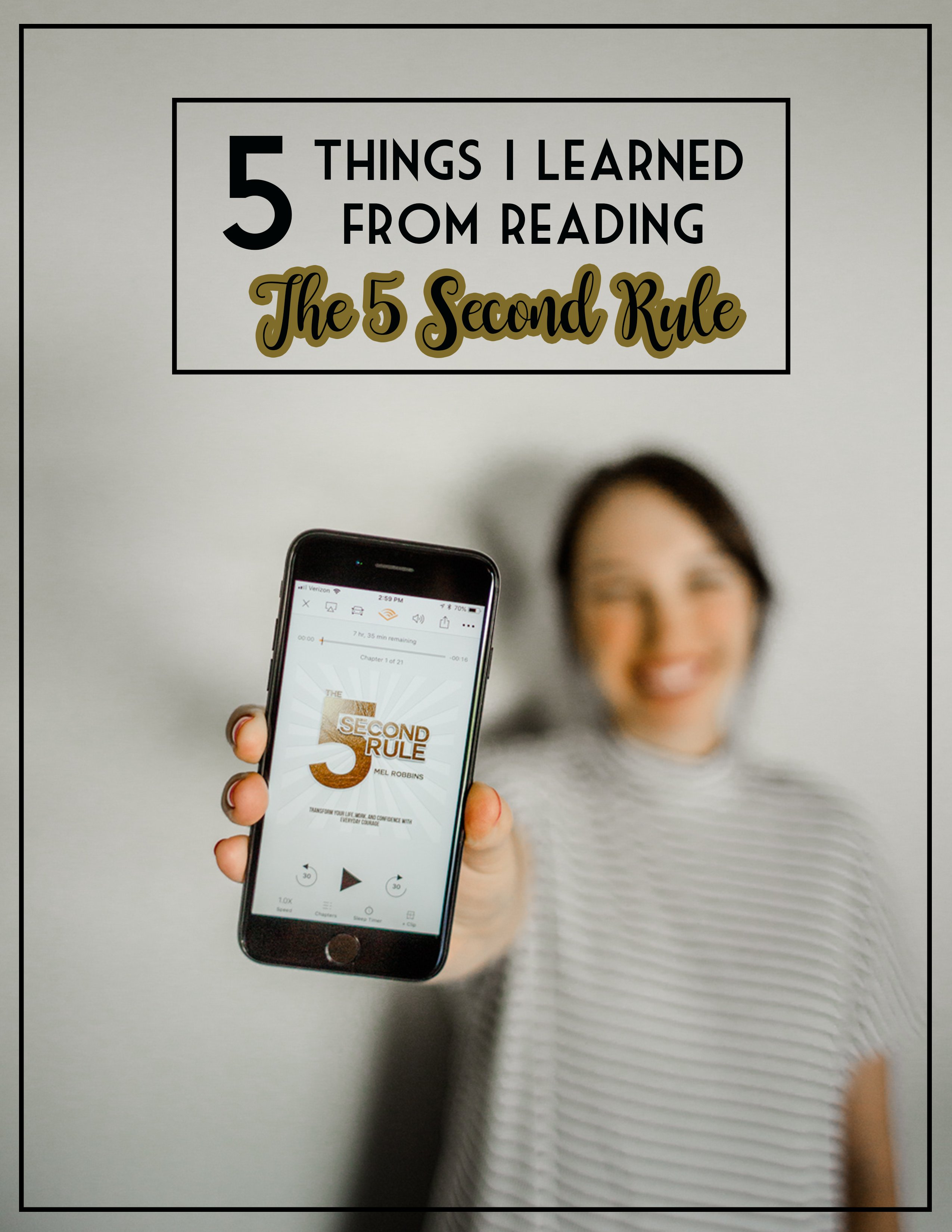 The 5 Second Rule by Mel Robbins
Ok guys, I just finished The 5 Second Rule by Mel Robbins and it was incredible! I am seriously overwhelmed with emotion as I am writing this because I loved the book so much I had to share!
I love Mel Robbins so much too.  She is quite a lady and I feel like we are the best friends now!  I listed to the audio version of the book on Audible and it is read by her.  You really feel like you are in a one on one mentoring session with her.  She can really relate and is fun to listen too.
The entire recording is 7 hours and 35 mins.  It took me about a week and a half to listen to it. While I made breakfast or ate my lunch I would listen to it.  Mel has a lot of great stories and advice to share so I really wanted to take it all in.  Amber Fillerup had recommend this book awhile ago on her Instastories and I am so glad she did!  Mel has changed my life and I can't wait to read more of her books!
What is the 5 Second Rule?
So you might be asking yourself…what is the five second rule? To me it was related to food.  If you drop your food and pick it up within five seconds, it was still good to eat.   Although that is a "5 second rule", that is not the rule she is referring to in this book. 🙂
The Five Second Rule by Mel Robbins is something that can help you when you need to get things done, make changes or go after the goals you want.  I'll just tell you right now, go read the book because I will not be doing the rule justice and describing it as well as she does!  Mel also shares lots of research to back up the rule that really makes sense too!
Essentially, the 5 Second Rule is a count down and then you physically move. 5,4,3,2,1, MOVE.  She explains that when you count backwards after 1 there is no place to go, so that is your cue to move.  When you move you are breaking your pattern of thought and moving toward the direction you want.  Moving is essential.  Pick yourself out of bed, out or your seat or wherever you are and move.  Think of it like you are a spaceship getting ready for take off.  5,4,3,2,1, BLAST OFF!  I am a visual person so when I use the rule I like to really think I am like a rocket and blast off from where I am.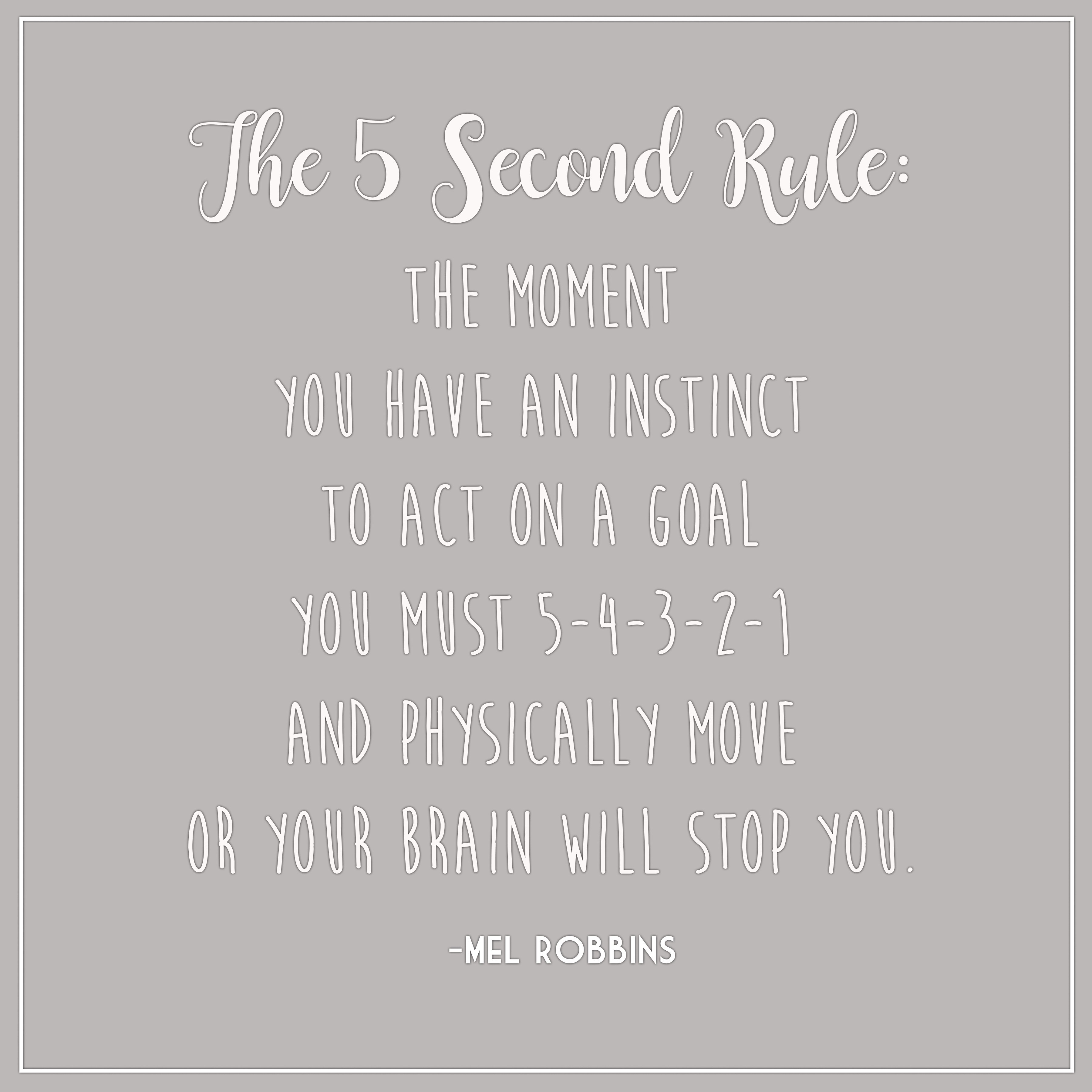 She recommends using the rule starting off small.  For instance if you have trouble getting out of bed in the mornings. Make a commitment that when your alarm goes off, 5,4,3,2,1… GET OUT OF BED.  Don't think about it, just count down and move.  By doing this you are creating trust with yourself and building your personal integrity.  It's holding yourself accountable and learning to trust yourself.
Next you can move on by doing small acts of courage everyday.  5,4,3,2,1, MOVE.  Whatever your inclining is, what ever you feel is right, 5,4,3,2,1 do it.  She talks about how yes this is something so small and so silly, but it works. (Trust me, it really does)  It can be really hard to do the small things everyday, but in reality, those are the things that can really add up.
An interesting point that Mel brought up in the book is to take feelings out of it.  For example we "don't feel" like doing something, or we don't want to do it because we are "not in the mood."  Eliminate the feelings and 5,4,3,2,1 GET IT DONE!  This has really helped me because I am such a feelings person.  I do a lot of things because of how I "feel" and a lot of things because I "don't feel like it."  This doesn't mean to not listen to how you feel, its just saying there are hard things we all need to do an we can talk ourselves out of doing anything within 5 seconds.  For the things we really need to do, take the emotion/feelings out of it and get it done.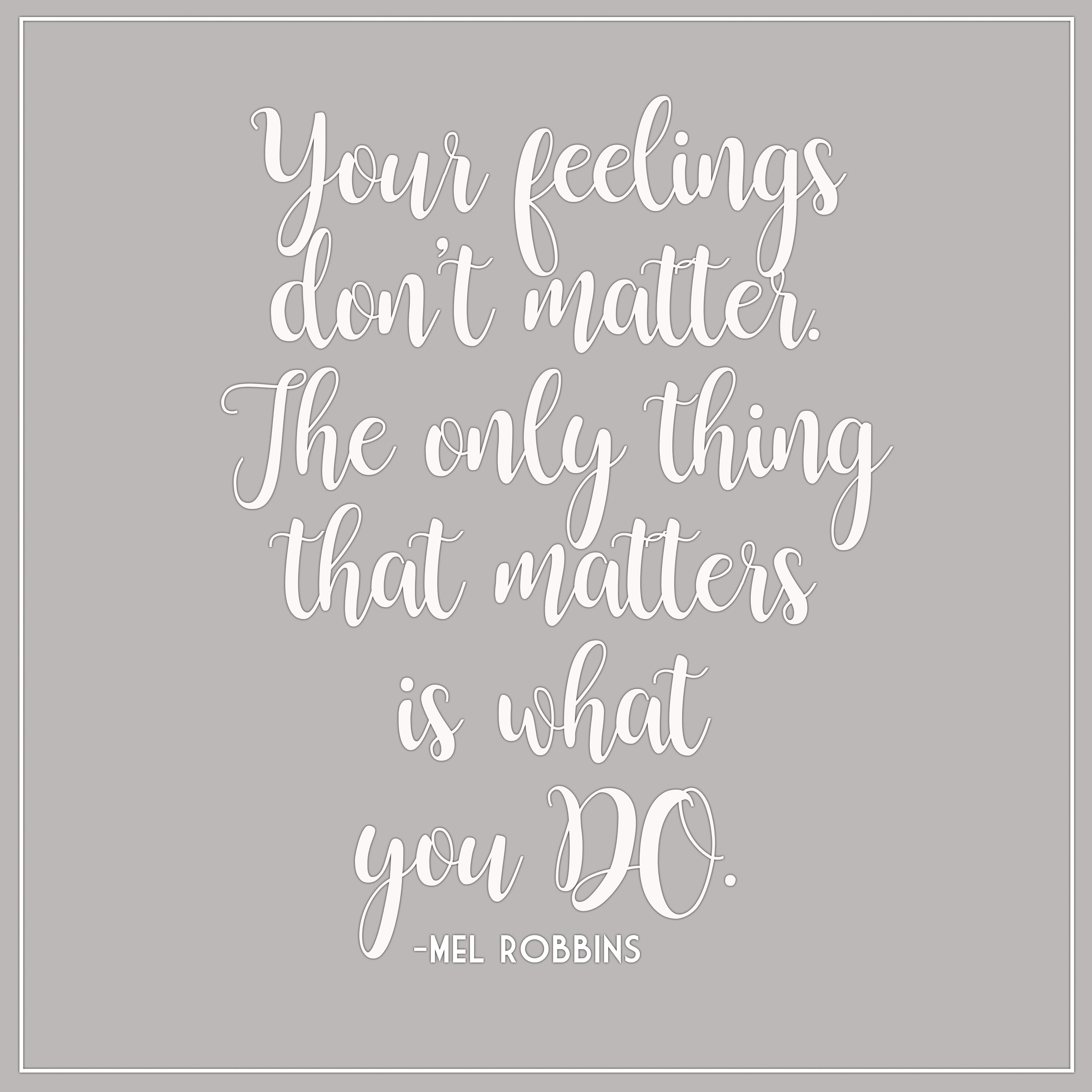 Mel talks about how in 5 seconds we can send ourselves in a spiral of doubt, fear, worry, anxiety, or whatever it might be so quickly.  So to help eliminate that, that is where you can use the 5 Second Rule.  We can also do the opposite.  In 5 seconds we can change our outlook, how we perceive things and even be excited about something!  If you struggle with anxiety, stress, depression, etc. Mel even shares how her and others use the rule to combat those.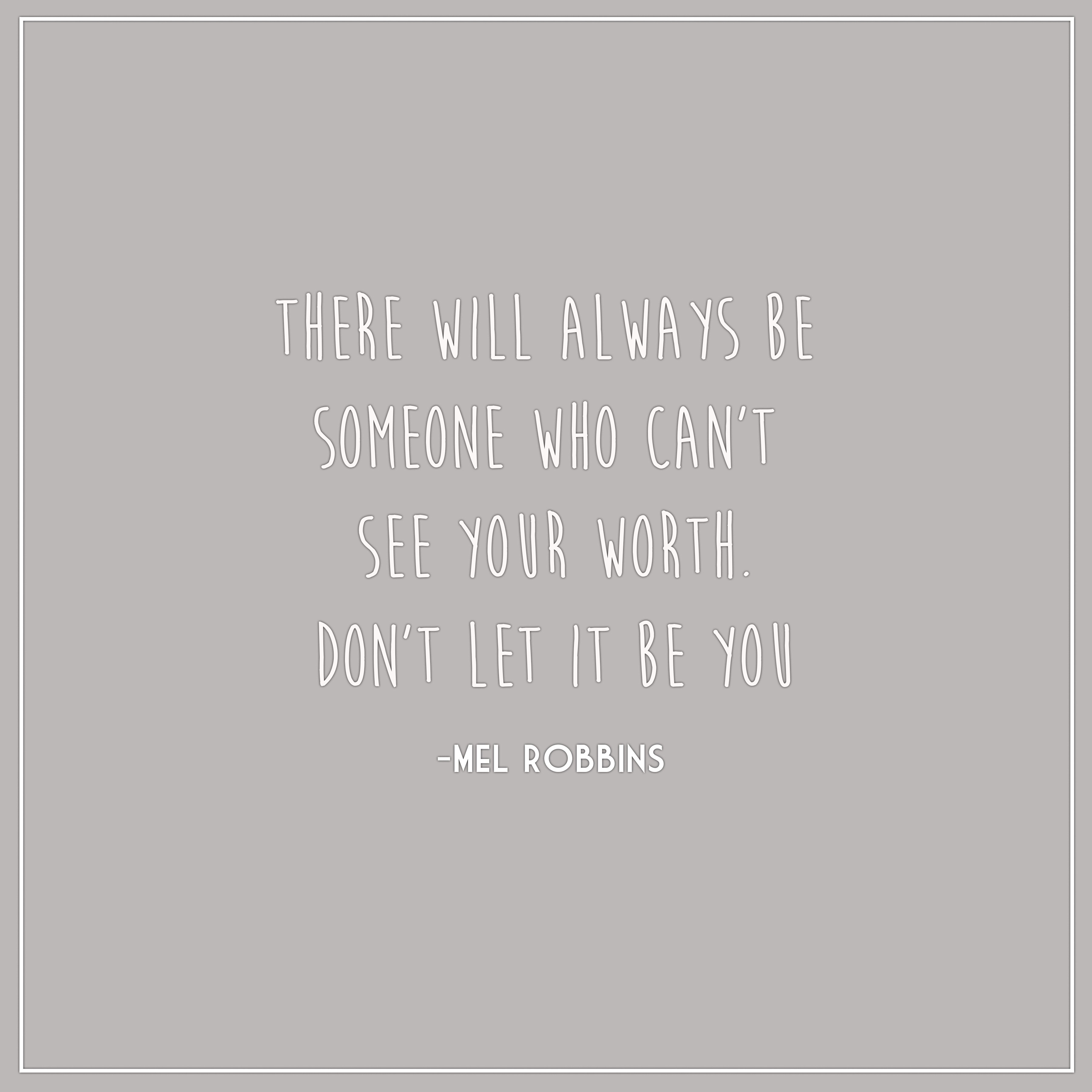 Something that can help with all of this is eliminating distraction.  Mel shared a point of taking phone notifications off your phone, and having your phone not in your bedroom.  Jake and I actually did this earlier this year and it has been amazing!  It's nice to not have a phone around first thing in the morning.  I am able to get all the things done to me that are really important to me in the morning now without having my phone around.  Mel gives some awesome tips for how to make these changes.  Yes they are hard, and yes, sometimes I pretend the no phones in the room rule doesn't exist… but it is worth taking the time to eliminate notifications and other apps that are time-sucks because that can really save you a ton of time in the long run.
Towards the end of the book, Mel shares how you can use this rule for your business, relationships, everyday life and more!  She shared tons of peoples experiences and how they applied the 5 second rule.  SO many of the stories were super relatable to my life and motivated me to 5,4,3,2,1, MOVE!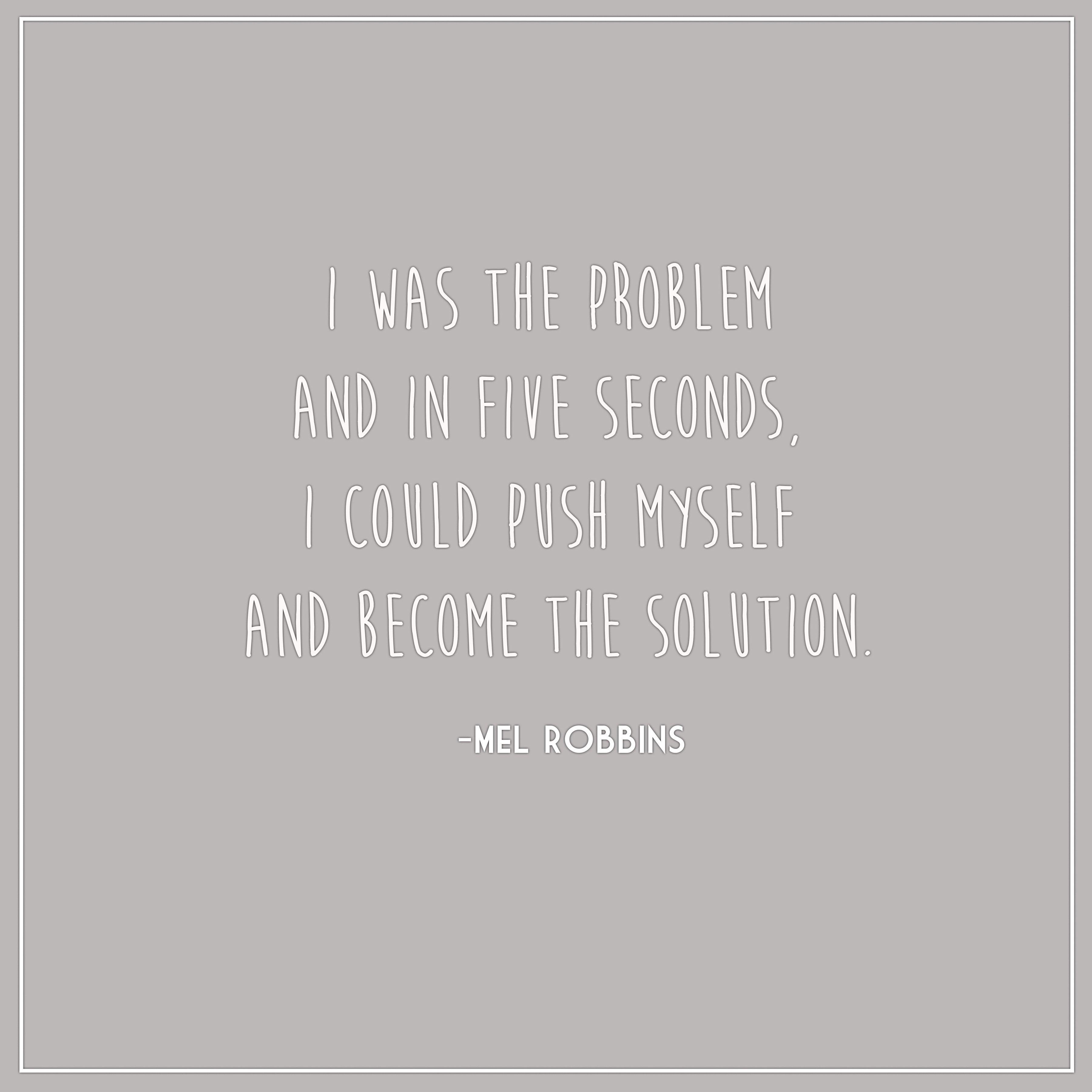 Mel talks about how we all know deep down what we need to do, but we don't do it.   I took her advice, used the 5 second rule and have gone for it in several areas of my life!  There are some goals I had that I wanted to push for and with the help of Mels rule, I did it.  Guess what?!?! I don't know the outcome yet of the things I am doing, but I have never felt more passionate and excited about what I am doing!  I feel like I have a new fire lit under me and I know exactly what i need to do.  Trust my gut impressions, and 5,4,3,2,1 MOVE!
5 Things I Learned from Reading The 5 Second Rule by Mel Robbins
Courage is awesome!  Courage is never really a word I had thought about much until now.  Mel said to do little acts of courage everyday.  The way she talks about courage really made me want to find courage in my everyday life!  Courage to wake up everyday and be the best you, share it with the world!
It doesn't matter if you don't feel like it, if it needs to be done, do it.  There are things that have to be done everyday, do them and get them done even if you don't want to.  You will always feel better to after you do them!
Get rid of distractions. Removing distraction and working for your goals are worth it!  Whether you succeed or not, at least you are doing something!
Don't wait to say something or find the perfect time to say something.  Sometimes we all, including myself wait for the "right" time to have a conversation or bring something up.  In reality is there ever a right time?! Don't wait, have those talks now.
Live Big- Why not shoot for the stars?!!?  Don't settle for less, you can make anything happen!  We all have the power to make things happen we just have to choose to do it.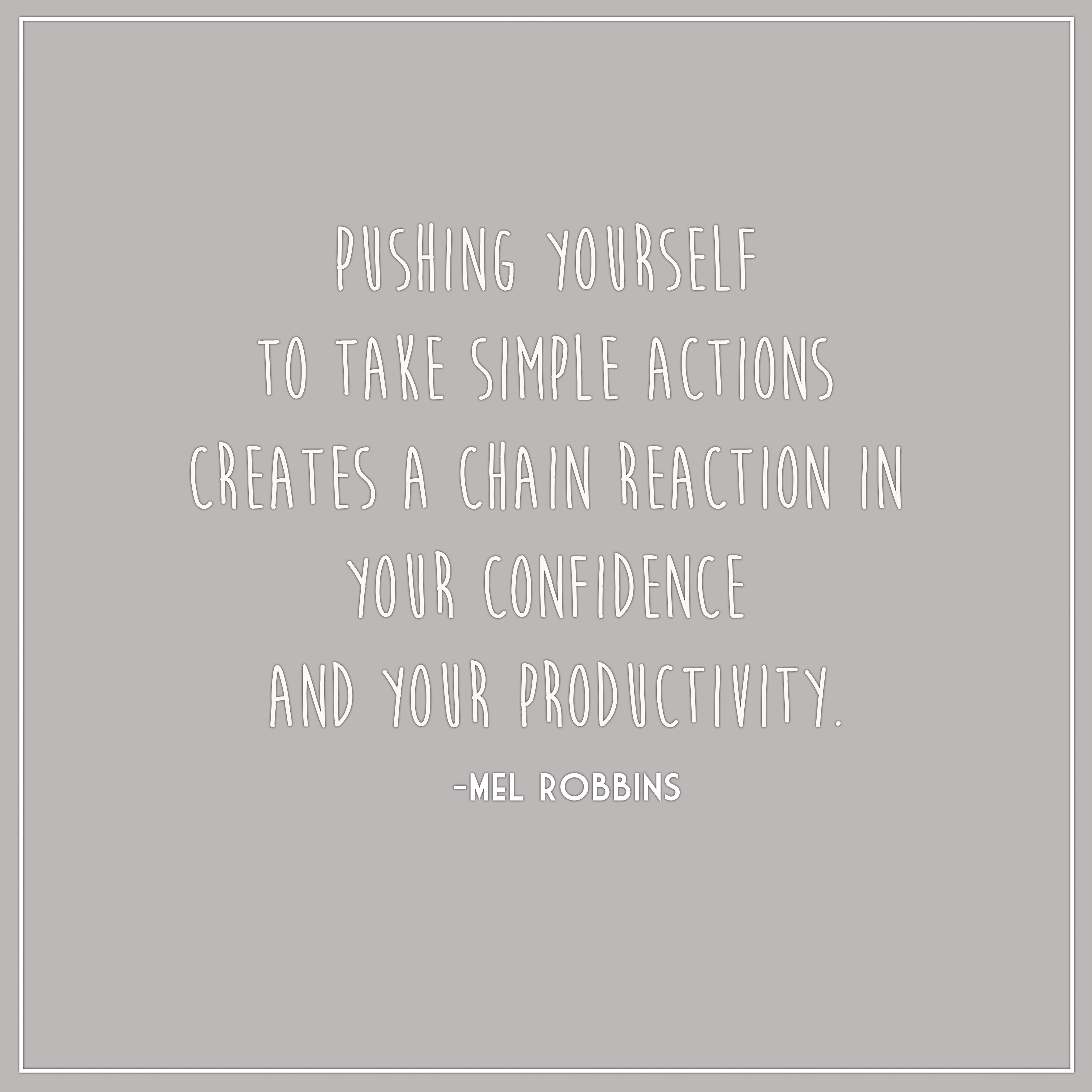 How I have applied the 5 second rule in my everyday life
Waking up early every morning.  If I stay up to late, doesn't matter, when the alarm goes off I am up.  If you know anything about me, I am not a morning person! But there is something so magical about the morning hours it is worth it!
Doing things when I think of them, not when I feel like doing them.  This is something I am constantly working on.  It can be a hard one, but really makes a difference for me throughout the day.
Having hard conversations.  A lot of times I won't say something out of fear of how the other person will feel.  I think it is always important to be kind and loving, but its ok to lovingly say how you feel.  Don't wait to say things.  Have those conversations now.  Don't wait to talk to your boss, spouse, friends, family, say it now.  Even if it's a "I love you". It can be great news too! Say it now.
Be in the moment.  I really enjoy working and can work from when I wake up to when I go to bed.  I have used the rule often to set a cut off time for work.  This is really hard for me, but it reminds me to stay present, spend time with loved ones and be in the now.
Emails.  Oh emails… my inbox will get pilled up and I don't like to look at it.  In fact I avoid it and beg Jake to answer the emails.  I have been using the rule to get them done.  I check it once in the morning and once in the evening and use the rule.
Experiences Using the 5 Second Rule
To close I wanted to share a few experiences I had from using The 5 Second Rule. I  know some of these may seem small, or cheesy, but they really helped me build integrity and countability with myself.  I really believe in what Mel says that by doing small acts of courage each day.
Jake wanted to go to the movies together, I had a lot of things I didn't need to do but wanted to do.  I didn't feel like going to the movies but wanted to spend time with Jake.  As soon as I realized my mind was going down this path, 5,4,3,2,1, move.  I answered Jake yes, lets go to the moves now and it ended up being a really fun date night.
I stayed up to late the night before and the next day I really wanted to sleep in. When my alarm went off at 7am… 5,4,3,2,1.. I hopped out of bed.  A name popped into my head, I called them even though it was super early, and had no idea my friend would be up and has been having a hard time in life and needed someone to talk to.
In our church we got new assignments to help out.  We already have a few assignments with our church and I didn't know how I felt about getting another one.  I have some big goals I am working on and I was feeling a little overwhelmed.  I kept telling myself I was excited for our new assignment and it was going to be awesome.  When it came to the first day of our assignment…5,4,3,2,1 and I told myself I was so excited.   I know this may sound crazy, but now I feel like it is the best assignment in the world and I really look forward to it every week!  I knew I would come around, but I used the 5 Second Rule over and over and it really helped!  Now I really look forward to being able to help and be present instead of worrying.
Have you had a chance to read this book yet?! If so, what were your feelings on it??! If you haven't read it yet, I challenge you to download it on Audible or buy a hard copy, borrow it from the library, whatever it takes and get reading!  As Mel Robbins says, "You are one decision away from a completely different life." Go for it!
Are you interested in other motivational books I love?! Check out here for more reviews.  Thanks so much for stopping by today!
Books
Good Quotes
Motivation
Self Help