Are you currently a parent, or wanting to be one someday?! Today we are sharing our list of parenting books for newbies! This is a list complied from recommendations from friends/family that are parents that we admire. These books are ones they said they enjoyed and felt were worth while in reading before the baby comes!
Parenting Books
Jake and I love to read! We love self help books, adventure books and anything with a positive outlook. Lately we have been on a kick with parenting books. We are working on reading as many as we can before the twins arrive.
There are tons of ways to parent children and the thing I love about it is there is no right or wrong way. As we have been reading these books we have tried to have an open mind and take what we like and try and go for those things. Jake and I have found we both like to read a parenting book individually and then talk about it together after. It honestly has been super great for us because it's helped us talk about how we want to be as parents. I know not everything goes according to plan as a parent, or how you want to parent, but what I love is its helped us be open talking about parenting and be on a similar page. We figured if we talk about these things now, as we become parents we can continue the conversation and adjust as we go.
We took these pictures on our way to a babymoon adventure in Jackson Hole, Wyoming. On our drive up we were listening to a parenting book, which got us thinking about all the books we still want to read. I am 21 weeks pregnant in these pictures with our twin girls 🙂
When we found out we were pregnant we asked a bunch of our friends who are parents what books they have loved that have helped them and their kids. Today we wanted to share that list with you all on Parenting Books for Newbies!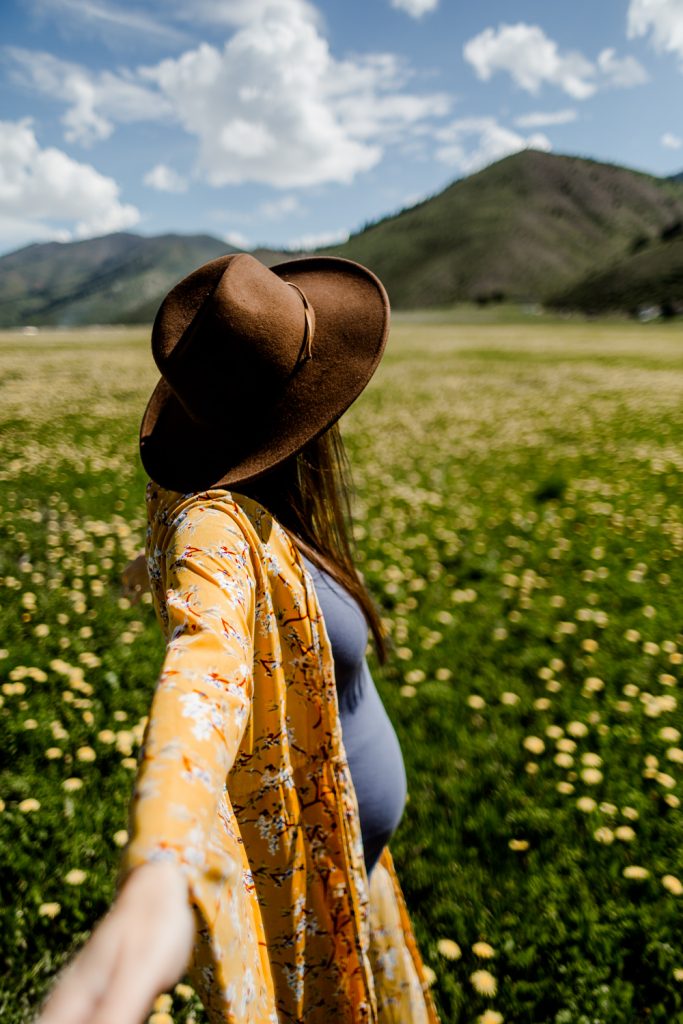 Best Parenting Books To Prepare For Baby
I can see Jake and I re-reading this book over and over during our parenting years. This is the one we listened to on our roadtrip 🙂 Esther not only has successful children herself, but she has been a school teacher for years breaking boundaries and helping kids learn for themselves and learn to make their own guided decisions at an early age. She really focuses on helping kids succeed with what they are passionate about and let them figure it out. This book offers lessons for raising, education and manage people to their highest potential.
This sounds like a fun book I can't wait to read! It is all about the guide to French parenting. It is written from an American that had a baby in Paris as she studied French parents. She thought they were great role models who had kids who were full of joy, but slept by 3 months, ate well rounded meals, and reasonable relaxed parents as well.
The "Babywise" book has been around for 25 years and came recommended by tons of parents. In the book it shares how to help your newborn naturally synchronize feeding, wake time, and nighttime sleep cycles so the whole family can sleep through the night.
In this book it shares how to raise self-confident, motivated children who will be ready for the real world. A few friends said this is their favorite that they read on the regular!


Jake and I have read "The Yes Brain" from these same authors so we have been wanting to read this book of theirs. This book shares 12 strategies that foster healthy brain development, leading to calmer, happier children. It sounds like it dives into the brain of a child, how it matures and make decisions.
Because we love this book so much, it's worth mentioning on here in its own spot. This book is more for when your kids are getting a little older, but its a great way to start thinking and wrap your head around before the kiddos arrive. In this book is shares how to respond with reactivity instead of receptivity in daily situations and potential battles with kids. It even has scripts and activities to help!
Finances with kids coming into the mix are super important to talk about with your spouse and work through together. This book is written by Dave Ramsey and his daughter Rachel on how to set your kids up for success with learning lessons on money, how to save it, and how to be ready for real life at 18. Its also a parents guide to saving money for weddings, collage, and how to get your finances in order. Highly recommend this book!
The authors of this book explain how to reach your child, redirect emotions, and turn a meltdown into a growth opportunity. It seems like a great book to get strategies on how you want to discipline as a parent, connect with your child, tips for navigating tantrums, etc.


My friend Jackie said this book was amazing and shared lots of info for first time pregnancy she had no idea about. This book is geared towards mom and dads and everything you need to learn, the "pregnancy bible." It looks like a long book (33 hours on audible), but full of everything you could imagine or think of.
The reviews on this book were really amazing! A lot of parents said when they need a motivational book on parenting this is their go to. In this book it discusses how children do better with less in materialistic things, activities, etc.
Being a soon to be mama of twins I have tried to keep an open mind with breastfeeding as well as bottle feeding. I am actually open to both but want to learn as much as I can before the babes get here. This book is a all inclusive guide to breastfeeding, tips, tricks, nursing positions, milk supply, etc.
Ok this book looks super useful and cool! Its written by a doula/pregnancy coach. She talks about ways to empower you to find what works best for you and your baby. In her book she shares health information, nutritional advice, techniques for labor, etc.


Outfit Details
HER LOOK- Hat: Brixton | Kimono: Asos | Dress: Target | Shoes: Marc Fisher | Sunglasses: Celine | Lipstick: Mac-Blanketty
HIS LOOK- Shirt: Levi's | Pants: All Saints | Shoes: Johnston & Murphy

Thanks so much for stopping by today! Is there any books you have loved as you were expecting or as a parent?!? We would love to hear your favorites in the comments below. Thanks so much for stopping by today, you rock! Have a wonderful day!
book club
Maternity Style
Pregnancy