Viva Las Vegas!
Jake and I just got back from a fun adventure to visit Las Vegas! We got to stay at the beautiful Four Seasons resort. It was a fun and relaxing babymoon with some time in the sun! This is our last couples trip together before the twins come so we soaked it all in as much as we could! Once I hit 25 weeks in pregnancy with the twins, it's so crazy how my body is still feeling super great, but gets pretty swollen if I am standing for more than 20 minutes at a time. We did lots of pool time, hung out at the spa and of course ate some yummy meals! Today we are sharing highlights from our favorite things to do at the Four Seasons Las Vegas!
Dining At Veranda
Veranda is such a fun and yummy Italian restaurant that is located inside FS Las Vegas. You can sit inside or out on the trattoria-style terrace. There are dinning options here all day for breakfast, lunch and dinner. They specialize in handmade pasta, wood-fired pizza and refined Italian desserts. YUM! We ate here one evening on our babymoon and got to sample a ton of different dishes! It was pure heaven! Our favorite thing we ate was the homemade gnocchi topped with fresh truffle. Seriously it was one of the most amazing things I have eaten in my life! WOW! My mouth is watering just thinking about it!
Jake and I also did a brunch at Veranda one morning. We were shocked how nice the mornings in the shade are in Vegas so we decided to dine outside on the terrace. Perfect breakfast atmosphere! Jake ordered the huevos rancheros and I got the peach french toast. It was all so tasty and fun! The french toast is like the one you get at Flo's at Cars Land where it is a big loaf of yumminess!
Cabana/Pool Time
Is there anything better than being pregnant and being able to cool off in a gorgeous pool?! Seriously it was my favorite part of the trip! This was my first time swimming pregnant and now I want to go all the time! I could tell the girls loved it because every time I got in the water they would be active and it made me so happy! They are already little water bugs like their dad 🙂 We felt so spoiled to have this gorgeous cabana all to ourselves for the day too! It was stocked with games, a tv, fresh fruit, lock box, never ending ice cold water, etc. Talk about dreamy! Around the pool was also sunscreen, and other pool necessities that were so convenient. We ended up ordering dinner in our cabana we were having so much fun out at the pool! I got mahi mahi fish tacos and they were the perfect poolside dinner! It was a great way to end the day.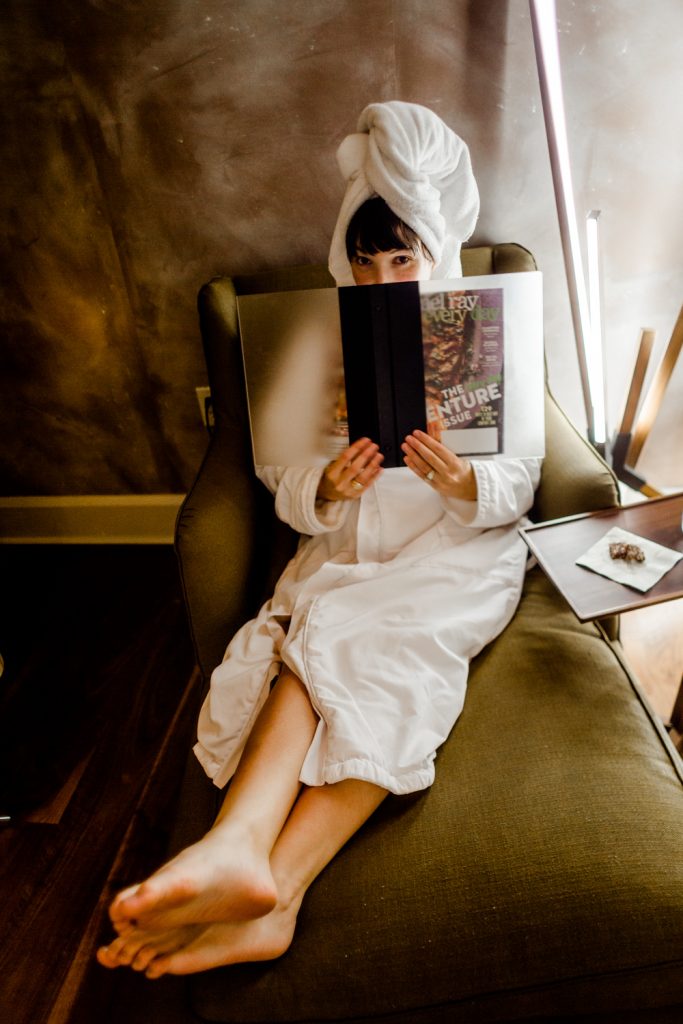 Spa Time
If you ask me, I say every babymoon should include some pampering for you and the baby/ies! This is the time to put your feet up, relax those swollen legs and get some good relaxation time in before all the baby excitement comes!
One afternoon on our stay at Four Seasons Las Vegas, Jake and I had so much fun spending some time at the spa. When you first walk into the spa you go into a women's/ or mens area. There you can put your things in a locker, get your robe and enjoy the amenities. There was a eucalyptus sauna, reading room, area to shower, get ready, etc. It was a super peaceful and beautiful area. If you schedule a spa appointment there are lots of fun services you can do too. I felt so spoiled and got to do the Babymoon massage. It was so relaxing and awesome! The baby girls and I were lovin it! After our appointment we met up with Jake in the co-ed lounge area. Thats were we took these photos in the spa. This was honestly my favorite room! I loved the dark walls, cool lighting and awesome seating! We have fun hanging out and sipping on tea and eating sugar cookies and protein bars.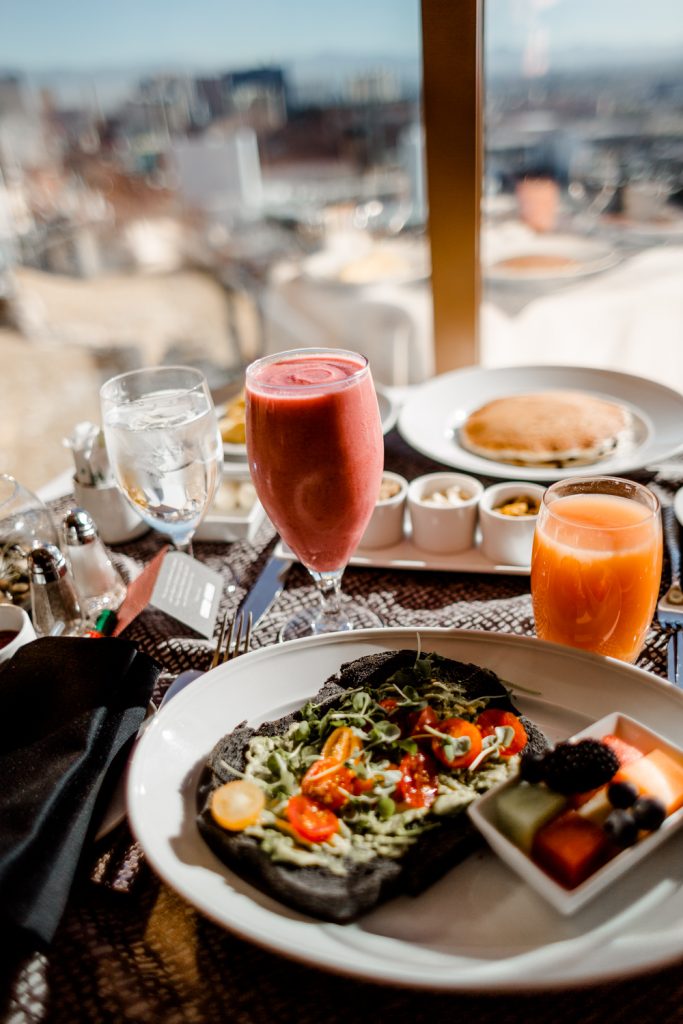 Room Service
Anyone else a huge fan of room service??!! To me it is such a special treat and such a fun perk that hotels can offer. On our last day before our road trip back home we ordered some in room dining! It was the best ever looking out at the amazing Las Vegas strip views and eating our breakfast! We had our table set up by the window so we could look outside and enjoy our meal! Jake and I ordered some avocado toast, pancakes and oatmeal. It was a super tasty spread and a great way to start the day off before a long drive home!
Hello Views!
Is there anything better than an amazing view?!!?? Seriously one of the coolest parts about staying here! If you plan a trip here, make sure to book a room with a view! It's so fun to wake up seeing the Las Vegas strip and then going to bed and seeing the night life. They have awesome black out curtains too so if you don't want to see the night lights when you go to bed they won't keep you up. The thing I love about the Las Vegas Four Seasons is it at the very beginning of the strip so you get the views of the entire thing! It's pretty neat!
(I am 25 weeks pregnant in these photos with the twins!)
Well thats a wrap on our babymoon adventures! Jake and I are so grateful for this time we have had together before the babies come, but now it is time to get ready for these twin girls arrival! We will be working on the girls nursery soon, taking a breastfeeding course and a hypno birthing class too! Only a few months till we meet these babes!
Want to see the resort for yourself and join in more Vegas fun?! Check out our vlog below and come Hang With The Bangs!
Thanks for stopping by today! Hope you have a great weekend!
babymoon
Four Seasons Las Vegas
Las Vegas
Maternity Style
Pregnancy
Summer