Looking for a way to spice it up when guests come to visit?!? Today we are sharing 9 ways to help your house guests feel more welcome in your home!
How To Help Your House Guests Feel Welcome In Your Home
Welcome Sign
This is my favorite thing to do when guests come into town! I love to make a welcome banner and hang it up in the guest room for them! You could also hang the banner in the kitchen or area that the guests would see it right away when they walk in.
Another idea could be to get a letter-board and to make a welcome sign that way! Letter Boards are super cute and easy to change up for different house guests.
Local Treats
Do you have a favorite local hot spot to get a treat?! If you do, pick some up for when your guests arrive! This is a fun way to share with your guests something you love and introduce them to something unique to your area!
Stocked Toiletries
This is one thing I like to do for guests. It's simple and easy to do. I have heard back from guests that they love this so they don't have to bring or unpack all their toiletries. In our guest bathroom I used to stock it with personal size toiletries. A lot of times we have guests back to back and it will be families as well. We have since found having full size toiletries in the bathroom has worked great! Whenever they get low, I'll buy replacements and restock!
A Guide With Restaurants & Things To Do In The Area
This idea takes a bit of work, but once you have it done, you can use it for all future guests! Create a printable list with favorite restaurants and popular dishes served at those places. Make a second list of activities to do in the area. Print those out and put them in a folder. I also like to have on the folder our WIFI password and instructions on how to use the tv. Then when guests come over, they can have a great resource to help plan out their stay.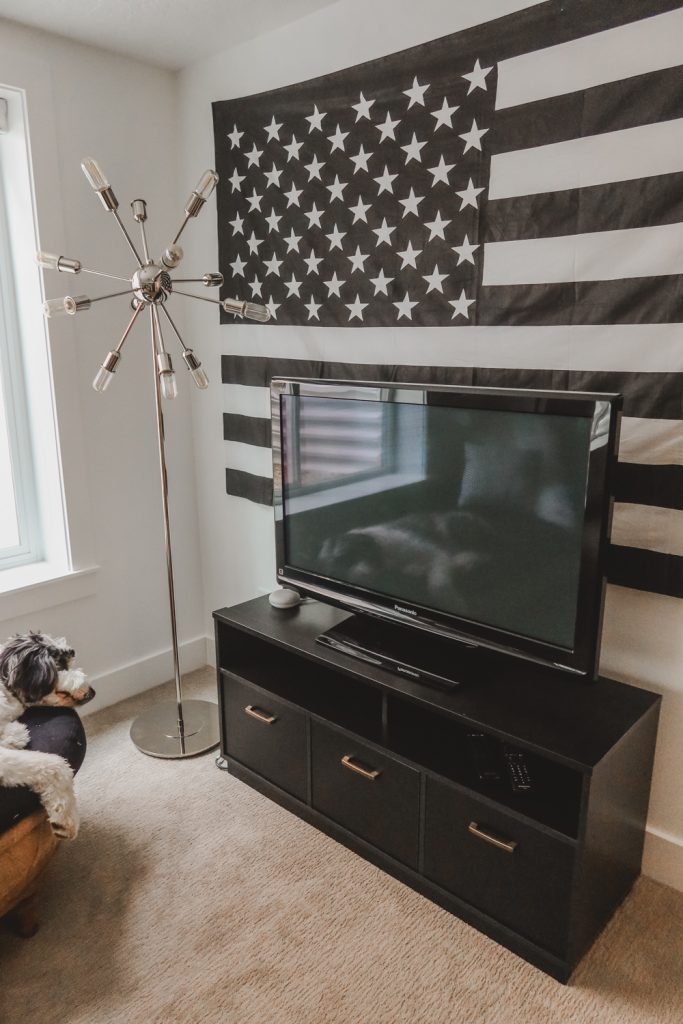 Water Bottle/Chocolate On The Pillows
Have you ever visited a hotel that has turn down service?!!? It's the best thing ever! Typically they turn down your bedding, plus have a water bottle and treat on your pillow! Make your house feel like a 5 star resort with a water bottle and chocolate for your guests!
Reading/ Night Light
We like to get those plug in night lights and have one in the hallway and bathroom for guests so they can see where they are going at night if all the lights are off. It's also fun to have a portable reading light for guests too.
Do Not Disturb Sign
A do not disturb sign is not a must but a fun option! If you have kiddos at the house, this can be a way for them to know if the guests are available to play or not.
Diffuser
Anyone else love essential oil diffusers?! This is something you could have going in your guest room when your guests arrive. Or you could just have it available in the room for anyone who would like to use it.
Comfy and Easy Bedding
I am a huge fan of comfy and easy bedding. Especially for a guest room! Most of our guests are my nieces and nephews which is why we did a bunkbed room. We needed to have extra beds for when there are a few of them here at a time. With bunkbeds, we tried a few different bedding options and ended up having to return them all because it was so hard to make the beds. A friend told us about Beddy's. We decided to try them out and LOVE them! This checkered bedding is all from Beddy's and they are super easy to use and wash. We have had this bedding for over 2 years now and it has held up awesome and is still just as cozy. Plus it has held up the black and white color even being washed so many times. You can read all about how they work here.
We love this bedding so much, I reached out to Beddy's to see if they would offer you all an awesome discount! Use code KELSEY for 15% off your order.

What are there things you like to do you help your guests feel welcome? I would love the hear them in the comments below! Thank you so much for stopping by today!
IF YOU LIKED THIS POST, YOU MIGHT LIKE THESE POSTS:
Shop This Post
Bedding: Beddys (use code KELSEY for 15% off)| Bed Spare Blanket: Beddys | Bunk Beds (similar): Walmart | Bookcase: Target | Letterboard: Etsy | TV Stand: Walmart | American Flag: Amazon |Spuntnik Standing Lamp (similar): Restoration Hardware | Chaise: Restoration Hardware | Faux Fur Through: Front Gate | Chaise Pillow: Target | Large Mirror: IKEA


Guest Bedroom
Home
Home Decor
Tips