33 Weeks Pregnant
Wow this pregnancy is flying by sooo fast! Jake and I have had so much going on with packing, moving, closing on a home, selling a home, unpacking, new jobs, buying a new car, selling a car, home projects, and the list goes on….. I am so grateful these baby girls have been troopers!
These pictures are taken in our new home in the girls nursery!!! EEEEEEEEEK! I have seriously been waiting for this moment to be able to put together this room for the girls! It is still a work in progress and so I'll make sure to post pictures of it when its all done 😉 This past weekend we got to put up the wallpaper and put together the cribs. Half of the girls bedding is still in boxes and we are waiting for a few decor items to arrive as well! I just can't wait to see it all come together!
Current Symptoms
SWELLING!! And not just a little …..everything gets puffy and swollen! My face, feet, ankles and wrists seem to get the most swollen. My doctor said to drink lots of water and stay hydrated to help!
My bellybutton is 100% more that popped out! It's kinda funny to see 🙂 I am grateful to still be feeling super good though overall! Which is good because there is still lots of unpacking at the new house that needs to be done!
Weight Gain
Of course 😉 Doesn't that just come hand in hand with having a baby?! I am so grateful the girls are growing strong and healthy and so grateful my body is able to carry them. This is an experience I never knew if I would have, so weight gain and all, I am so grateful for it! I not into weighing myself but saw the scale at my last doctors appointment. From when we started IVF and got pregnant with the twins I have gained 55 pounds. I have never been so proud of my weight gain! Really though! It's a badge of honor for me. The extra weight has been hard on my body, but I know it will be worth it! Currently non of my maternity clothes fit anymore, so big baggy dresses for me till these babes come out!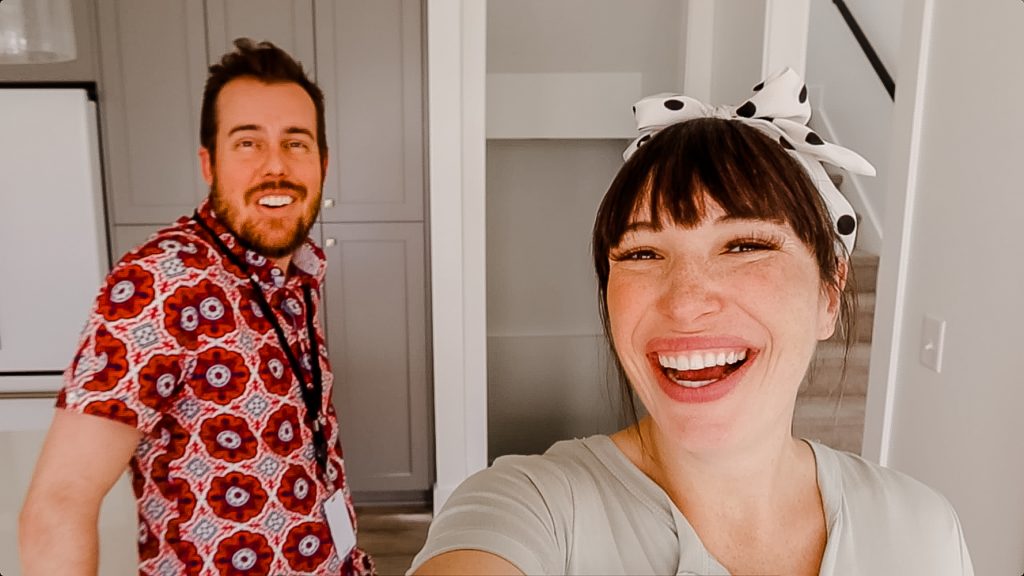 Recent Highlights?
Working on the nursery and unboxing all the girls items!!! Wahoo! It's all a work in progress with unpacking but that is the fun part! I can't wait to organize all their clothes in drawers, put toys in baskets, hang up their adventure board and put their car seats in the car!
Moving into our new home! Wahoo! This picture on the right is from when we closed on our home and just signed all the paperwork! Seeing the twins stuff around the house is already making if feel like home!
Electric wheelchairs when shopping! Any time we run to Home Depot, the grocery store, etc. I always get one of those electric wheel chairs to go around on! It's seriously my favorite!
Favorite Pregnancy Moment?
Feeling the girls move around! They are pretty chill babies so far and don't move around a ton but it makes me so happy when they do! Baby A really likes show tune songs. We went to the Hugh Jackman concert and she was bouncing around the entire time! Baby B really likes when I eat apples and hears her dads voice!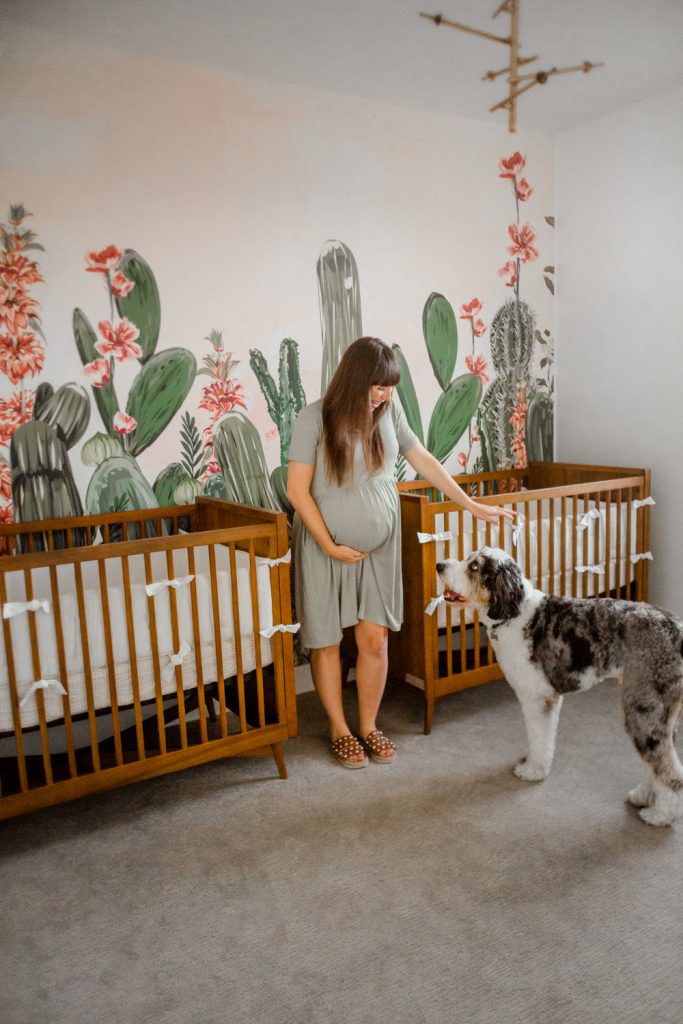 Sleep?
Super grateful sleep has been good! I need to go to the bathroom a few times a night and it's hard to roll over, but luckily I have been able to go back to sleep right away. Jake and I really need to get a new mattress so we are thinking we might get one of those that move up and down since I might need to get a c-section.
Baby Names?
This is something we have been so back and forth on! There are several names we really like, so we decided well meet the girls and then decide then. I want to see their personalities and get to know them a little bit before we officially name them!
Whats Next?
Currently I have doctors appointments every week to do non stress test on the babies and check in with the doctors. The doctors said be ready for the babies to come September 1st, but we are hoping they stay in my belly till end of September. The goal for the babes is 37 weeks. As of now we are on track for 37 weeks, so that is great! The girls are each a little over 4 pounds each, growing strong and healthy!
Baby A is in a breech position, so the doctor is scheduling me for a c-section for end of September incase she doesn't flip around. My ideal would be to have a vaginal birth, but I want to do what will be safest and best for the girls. After talking to lots of ladies who have had c-sections it seems like there can be some good things about it too 🙂 My biggest concern is not being able to pick up my babies to nurse them. Luckily I have a great support group that I know will be able to help when the time comes!
Jake and I are still working on getting through some breastfeeding courses, so well need to finish that up to before the girls come! Can't believe IN LESS THAN A MONTH they will be here!! I can't wait to have them in my arms and be their mom!
Thanks for stopping by for todays 33 week twin pregnancy update! I can't thank you all enough for the love and support you have shown us during this time in our lives! Jake and I are so grateful these baby girls and can't wait to meet them soon!
Home
Home Decor
Maternity Style
Pregnancy
Twins