Looking for some fun summer date nights?!? Today we are sharing 40 summer date night ideas that are perfect for an outdoor date night at home, or for a fun night out on the town!
Creating A Date Night Environment
Summer is here! Time to have some fun with your loved ones! Earlier this year, Jake and I decided it was time in invest some time and money into our backyard. We wanted to make a patio space for cozy date nights at home and to be able to entertain there as well.
The main feature we wanted on the new patio space was a fire pit. We knew it was something that would get a lot of use this summer for at home date nights!
I was looking for the perfect fire feature for this space and found THIS one at Wayfair! I instantly loved it! We wanted a propane gas fire pit that we could move around if we needed to, something that would make a statement, be easy to use, and be able to store the propane tank inside itself. This one checked all the boxes and more! We have been enjoying it so much and roasting lots of marshmallows. Finding the perfect outdoor fire can be an adventure but whatever you are looking for, Wayfair will have it!
We have been so grateful for this outdoor space and the easy atmosphere it has provided for quality time together at home. This new space has got my juices flowing on all the fun actives to want to do this summer with my hubby. It got me thinking about all the date nights we would like to host and do. Today we are sharing 40 fun summer date night ideas.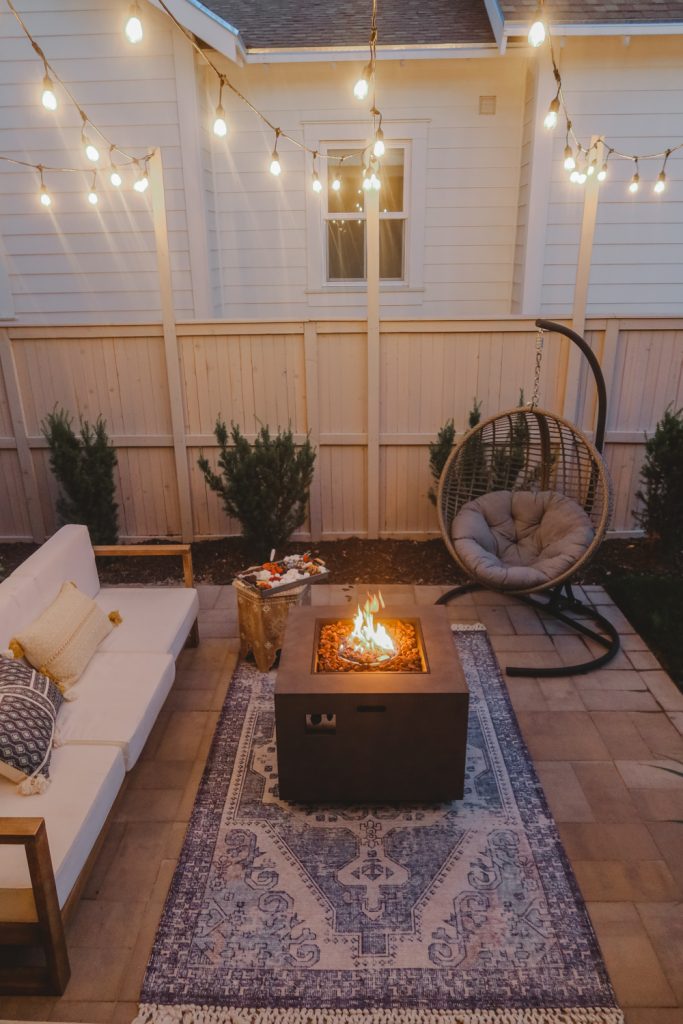 Summer Date Night Ideas At Home
Outdoor Movie Projector
Host a movie night and watch a movie outdoors. Lay out a bunch a blankets and lawn chairs for the occasion. Even setting up a little concessions stand could be super fun too!
Picnic
Backyard picnic anyone?! Take dinner and a blanket outside and enjoy the ambience!
Water Balloon Fight
You are never too old for a water balloon fight. Have you seen these cool balloons?! They fill up with water and tie off all by themselves in under a minute! Such an amazing invention! Have a water balloon fight and let your inner child out!
Outdoor Game Night
Bust out the board games and play them outdoors. If you have a projector, plug in the Nintendo and host game night outside! Enjoy the beautiful weather and have some fun!
S'mores Night
It doesn't get any better than a s'mores night! Create a fun s'mores board, enjoy the great outdoors and great company.
At Home Car Wash
Need a car wash?! Have fun creating your own car wash at home! Grab some buckets, soap and a hose and go to town! If you are feeling super adventurous, grab that vacuum and detail the interior!
Host A BBQ Cook Off
Invite a some friends over and hose a bbq cook off! Have everyone bring a fun side, or different meats for everyone to taste test!
Water Gun Fight
Need to get some aggression out?! Just kidding…but really though… a water gun fight could be therapeutic! haha Grab some water guns, invite some friends over and have a water gun fight! BRING IT ON!
Try A New Recipe & Make Dinner Together
Has there been a new meal or dessert you have been wanting to try? Buy all the ingredients and have a fun time cooking together, then enjoy a romantic meal afterwards.
Make Candles
We recently made candles and had so much fun we ended up buying additional supplies to make more. There are candle kits out there for around $30-$50 that come with everything you need. This is a fun and simple way to be creative together and have fun!
Summer Date Night Ideas on the Town
Mini Golf
Farmers Market
Attend An Outdoor Concert
Float Down The River
Paddle Boarding
Bird Watching
Fly A Kite
Dance Class
Roller Skating
Volunteer At A Food Bank
Visit A Carnival
Hot Air Balloon Ride
Water Park
Bowling
Rock Climbing
Drive In Movies
Laser Tag
Roller Skating
Attend A Rodeo
Visit A Book Store
Go Kart Racing
Outdoor Play
Segway Tour
Art Festival
Bike Ride
Take a Cooking Class
Go For A Hike
Stargazing
Baseball Game
Tennis Match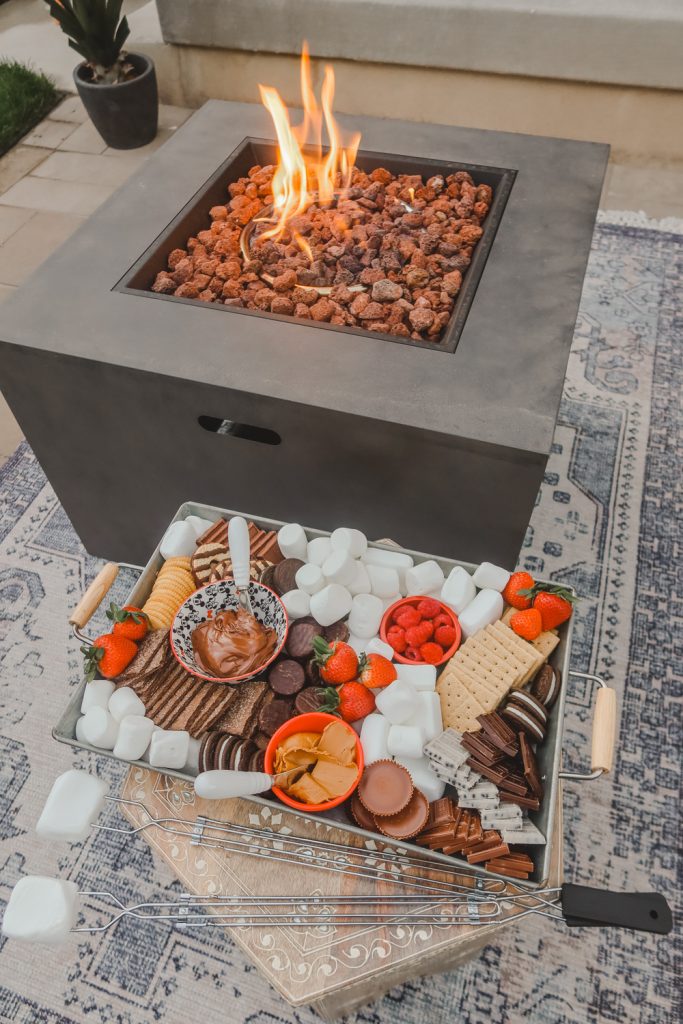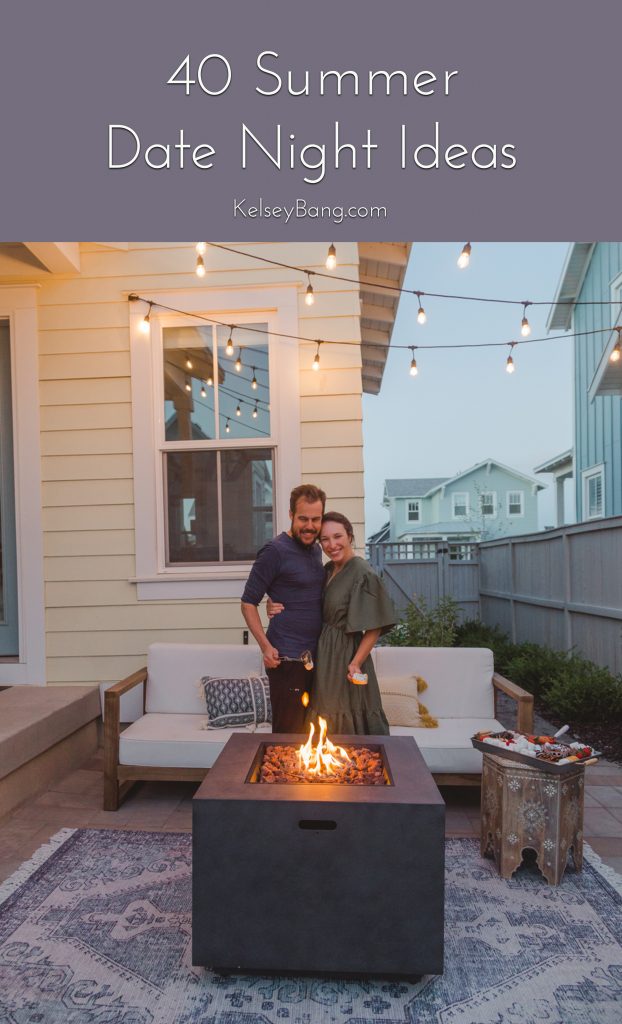 Looking for the perfect fire feature for your yard?!?!? Make sure to check out Wayfair. Here are some of our favorites below!

Thank you so much for stopping by today for 40 summer date night ideas. Hope you have a wonderful day! Happy summer!
Thank you Wayfair for sponsoring this post. All opinions are my own 🙂
If You Liked This Post, You Might Like These Posts:
How To Make A S'mores Board + Tips & Tricks
Watermelon Summer Splash Party
Shop This Post:
Kelseys Dress | Fire Pit Feature | Rug | Outdoor Couch | String Lights

date night
Summer